HOW I MAKE THAT DRINK 

(AND WHY IT'S SO GOOD)
Matt Vogel and The Bird of Prey
Matt Vogel is the bartender at Park Hyatt Beaver Creek, near almost mythical Vail, Colorado. He could serve ginger ale in a paper cup there and it would be magical, but he does not call it in. No, sir. That's not his attitude.
"Guests come from all over the world," he explains. "Most of the time it will take an airplane ride plus a two-hour trip through the Rockies to gather in my bar. To be hospitable I must experience the moments shared with guests. Observing and contributing to experiences when needed. My favorite mantra is simple: Smiling is easy; when you love what you do!"
The Bird of Prey is a wonderfully inventive drink, morphing between two classics with his own creative spin. "Cutting my teeth as a bartender in a martini bar, I was forced to sink or swim early. Being a native of the Midwest, hospitality is not just a service industry term, it's a way of life. I have worked all positions in this industry; management, hourly, contracted and a bit of consulting as well. Tending to the bar always brings be back to my core love.  Making differences in lives, even if subtle and overlooked."
He's been at the Park Hyatt for a decade now.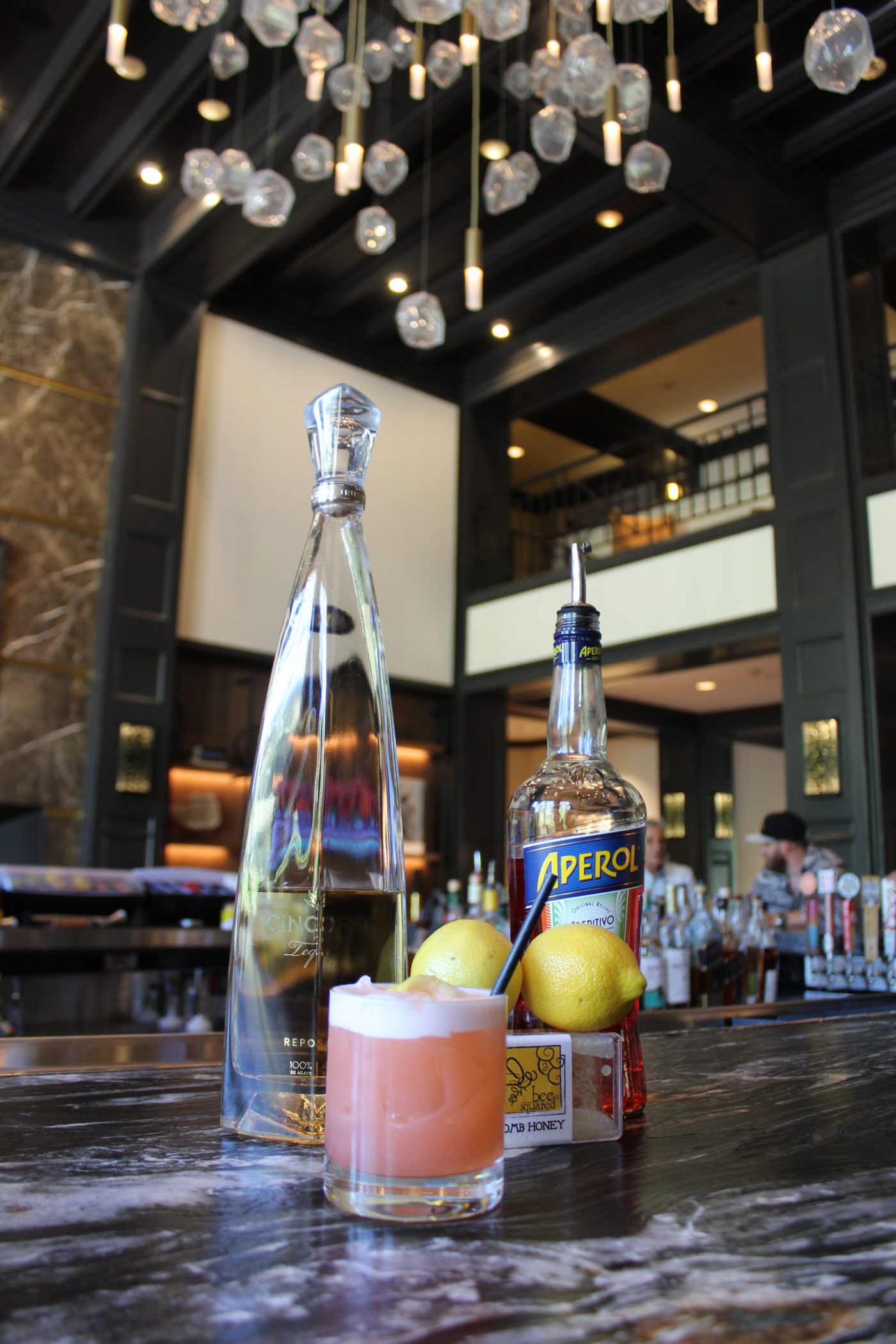 The drink
Bird of Prey
This is a combination of 2 drinks, "Naked and Famous" and "Smoke Show Sour".  I wanted to create a cocktail that would make a tequila lover smile, as well as anyone venturing out of their norm.
Tequila is making great strides as of late. I spent a good amount of time looking at recipes, books and websites from all over the country to keep a fresh point of view. 
What makes it so good is there is no sign of lime. Agave based spirits are not just for shot glasses anymore. I love reposado, although it may not be someone else's favorite. Using mescal for a smokey flavor. Instead of honey, using a mint syrup would complement as well. Even the egg whites can be omitted for aqua-fava, for vegans or anyone not wanting a boost of protein with this cocktail. Aqua-fava is the liquid in canned chickpeas. 
My intention is creating drinks that a guest can enjoy on premise, as well as take home to enjoy with the family and friends. Cocktails that are simple to put together without renting a lab. Mixable not Mixology.  
Ingredients 
2 oz Cincoro Reposado Tequila
1 oz Aperol
¼ oz Pure Honey (Local)
¾ oz Lemon Juice
¾ oz Egg Whites
Preparation 
In a Boston shaker, combine lemon juice, honey and egg whites.  Dry shake (shake without ice) 7 times or 4 seconds.  Fill remaining ingredients.  Fill with ice half full and shake again.
The beauty of this drink is it can be modified to suit anyone's flavor preferences.  To make it more smokey, use mescal.  Blanco if not excited about tequilas strong agave flavor.  Most importantly, using local ingredients like fresh lemon juice and honey farmed in the mountains.