FARM-STAY LIVING IS THE LIFE FOR ME!
Seed and Spoon at Husky Meadows Farm is a sensory and culinary revelation.
Seed and Spoon at Husky Meadows Farm in Norfolk, CT, is a unique, dynamic community farm experience that provides the necessary unplugging everyone expects from a retreat, while giving you a genuine opportunity to participate and/or observe life on a working farm with deep community connections.
Husky Meadows used to be a dairy farm until the Low family fell in love with the land as a country retreat for themselves and a playground for their two huskies, hence the name. Eventually they decided to reimagine the property as a diversified, organic farm growing everything from fruits, berries, and vegetables to a wide variety of mushrooms and edible wildflowers. The bounty is available to local residents through their popular farmstand as well as a CSA, or Community Supported Agriculture, where you pay a membership fee at the beginning of the season to help pay for compost, seeds and farm equipment, in exchange for discounted prices on food, members-only farmstand hours, and discounts to events.
It's a great way to integrate the community as it keeps locals visiting regularly.
Husky Meadows actually hosts a wide range of events, from cooking classes to local farmer-hosted dinners, as well as events open to the public such as a lunch about the importance of wildflowers and native grass with field expert Mike Nadeau. Wonky, yes, and absolutely lovely. Other offerings include chats with the farm's new grower Brett Ellis about the dynamic relationship between soil health, nutrition, and flavor, and a brunch focused on the importance of native plants in the home garden.
However, it is the Seed and Spoon farm stay experience that fully immerses you into not only the farm, but the knowledge and lives of the hosts, featured guests, and fellow farm stayers.
My stay was in the fall, and the beauty of being surrounded by New England's fall foliage, and the gently breezy, perfectly mild weather in the Northeast was not lost on anyone. The featured guests for my two-night stay were Terry Theise, the legendary importer who introduced this country to proper German and Austrian wines as well as grower champagnes, and his wife, Odessa Piper, a James Beard award winning chef, founder of the famous L'Etoile restaurant in Madison, WI, and a champion of the "slow food" movement.
The property sits on a long flat patch of land between two dramatic rolling hillsides surrounded by mature, stately trees. After a quick introduction to chef and property manager Steve Archasi and Culinary Director Tracy Hayhurst, I headed up to Wolftree, which was to be my room for the next two nights. Wolftree was the perfect combination of upscale, traditional farmhouse décor with modern, luxurious touches like a steam shower and a gorgeous, modern stand-alone bath tub.
After a quick stroll about the property, and being startled by a couple of massive ostrich statues, I returned to the Seed and Spoon kitchen/dining room/living room area which is the beating heart of the farm stay experience.
Terry was opening the first bottle of Austrian bubbles as Tracy's homemade pretzel garlic knots were hitting the table and we were off to a delicious start. Dinner began with a sun root (sun choke) bisque with sunflower shoots and edible wildflowers, deftly paired with a 2020 Theo and Regin Minges, made from the obscure Scheurebe grape in Pflaz, Germany, that provided a nice balance to the earthy, floral, creamy textured soup. The main course was an elderflower glazed local pork shoulder on seared fennel, pears and frisée with caramelized rutabaga, and yes, it tasted as good as it sounds. Terry chose a Von Winning Sauvignon Blanc and three Rieslings of varying levels of sweetness to pair with the pork and I thought the sweetest of the three was the best pair.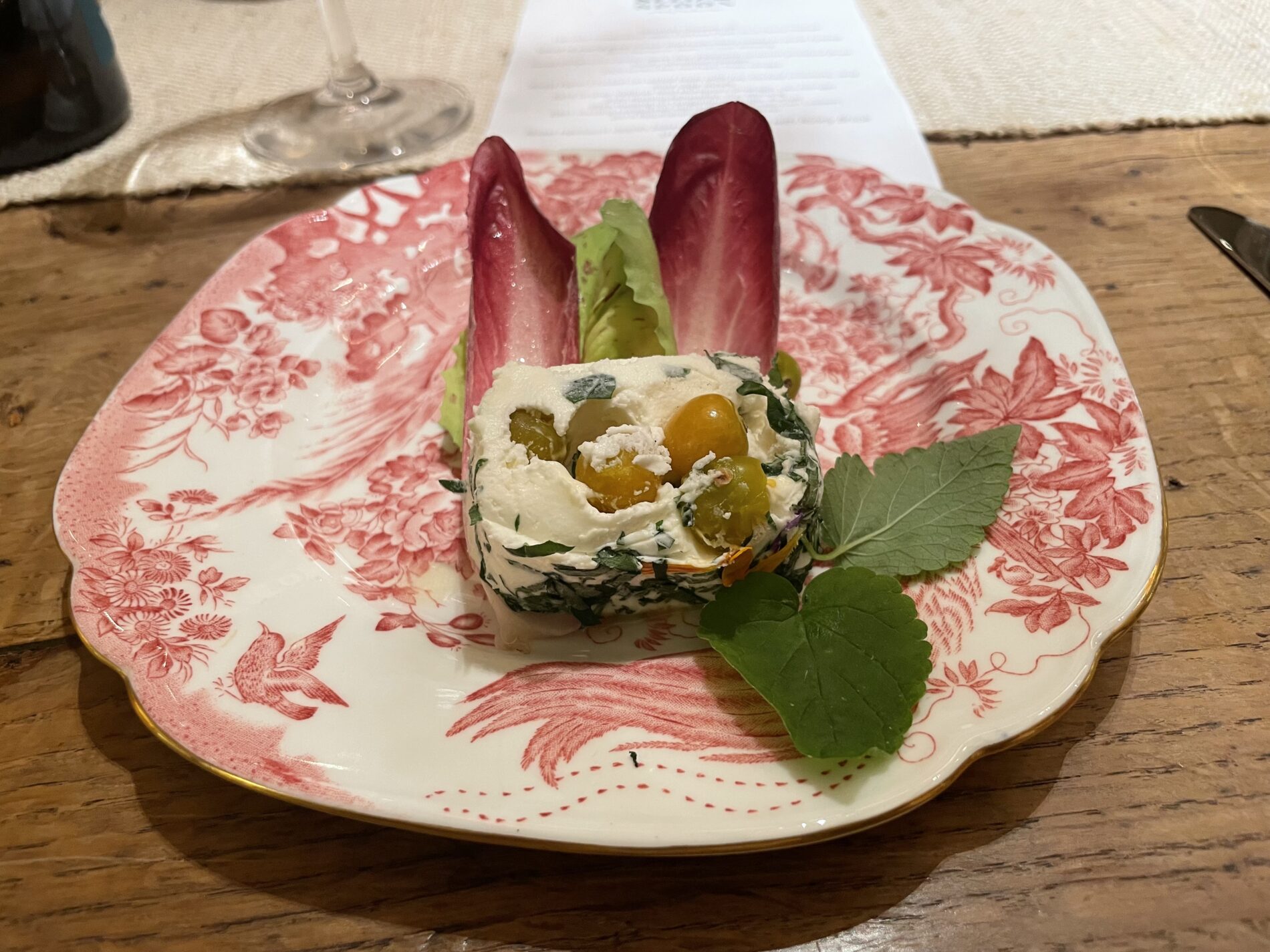 For dessert, a suite of cheeses from High Lawn Farm, about 40 minutes away in Massachusetts, was followed by a salty cultured butter cake with maple crystals and homemade whipped cream all paired perfectly with a 2009 spätlese Riesling from Germany.
The next morning after a light breakfast we were scheduled for a farm tour and harvesting session but decided as a group that we would rather go for a hike. After a 5-minute car ride we were on the trail to Flagstaff Mountain, on top of which sits a memorial tower with stunning 360 degree views of the whole valley. If you plan on visiting the farm, I highly suggest this hike. We still had time for the farm tour and harvesting when we got back.
Later that day Odessa gave her pre-dinner workshop, where she demonstrated making sourdough using a Dutch oven and a quick way to spatchcock a chicken (splitting it open to better grill it). The loaf of sourdough was mostly used for croutons, which gives you an idea of just how "from scratch" all of the food is here. Dinner began with a salad of young goat cheese from nearby Lost Ruby Farm that Odessa rolled in anise hyssop (a plant in the mint family) stuffed with fresh husk cherries we had harvested after our hike. The juicy pop of each cherry engulfed by the tangy smoothness of the goat cheese made for an invigorating back and forth on the palate, especially when paired with the same Von Winning Sauvignon Blanc from the night before.
Next up was Odessa's Cinderella squash jewel box, filled with autumn produce we harvested from the farm, surrounded by a ring of grapes. This dish looked fabulous on the table as the bright orange interior of the squash provided a colorful backdrop for the roasted romesco, turnips, and rutabaga resting on top.
The main course was roasted local farm chicken au jus on wilted kales with herb roasted sourdough croutons and fried sage leaves.
I love this style of rustic, farmhouse cooking because it can appeal to both sophisticated and simple palates. Terry chose an Austrian Gruner Veltiner, three German Riesling's and an Austrian Blaufrankish to pair with the chicken, with Von Winning's Riesling Reiterpfad being my favorite. Dessert was a gorgeous roasted heirloom apple phyllo purse, with local crème fraiche from nearby Ronny Brook farm.
The next morning Steve Archasi, who is a talented chef in his own right, made his locally famous biscotti, then showed us the surprisingly simple process he uses to make one of the lightest, most flavorful loaves of brioche I've ever tasted. These from scratch culinary surprises, that come with bits of education and simple instruction on how to pull it off at home, are a centerpiece of a stay at Seed and Spoon, and part of what makes this a unique experience.
Husky Meadows Farm
26 Doolittle Drive
Norfolk, CT 06058
(860) 540-4757
https://huskymeadowsfarm.com/