PUPPY LOVE
Hotels are much more dog-friendly than they used to be! Hooray!
In 2016, an American Hotel and Lodging Association survey suggested that 75% of hotels in this country are pet-friendly. That's a lot of hotels, and a big change over the last 10 years. It used to be, until fairly recently, rare for hotels to allow animals.
On the surface, it seems risky for a hotel to allow guests to bring their pets, especially dogs, given not everyone is happy to see them. Even owners who believe their dog is perfectly behaved may be surprised by how they change in a new setting.  And dogs have the tendency to make a mess when they are in unusual surroundings.  
The Boston Park Plaza is a four-star hotel that welcomes up to two pets per reservation.  Representative Suzanne Wenz, explained that their pet policy has been quite a success.  "Dogs are really part of the family, and some people really want to bring their entire family with them.  It's become more common for people to bring their dogs for a weekend stay."  
Services like BringFido.com, Trip Advisor, and the American Kennel Club have dedicated sites to help travelers find dog-friendly hotels. "People like making a hotel a home away from home, and what's more like being at home than having a pet with you?" suggests Jocelyn Tetrault from Studio Allston, another hotel in the Boston area accepting dogs, adding that some like the image of being dog friendly. "It mostly has to do with our demographic and the style of the hotel, it's a very fun place to stay and who wants to vacation without their best friend?"
As to the possible risks of allowing dogs, Wenz observes: "Generally, a dog owner that would travel with their pet is travelling with a dog who is quite well behaved anyway, and probably it's not the dog's first time in a hotel.  I think a responsible owner knows when it's appropriate."  That makes sense. "There's a cleaning fee, so we can deep clean any room that has had a dog in it, and we do have allergen free guest rooms," says Wenz. 
Says Tetrault: "The payoff is pretty good. And it's just really fun for us!"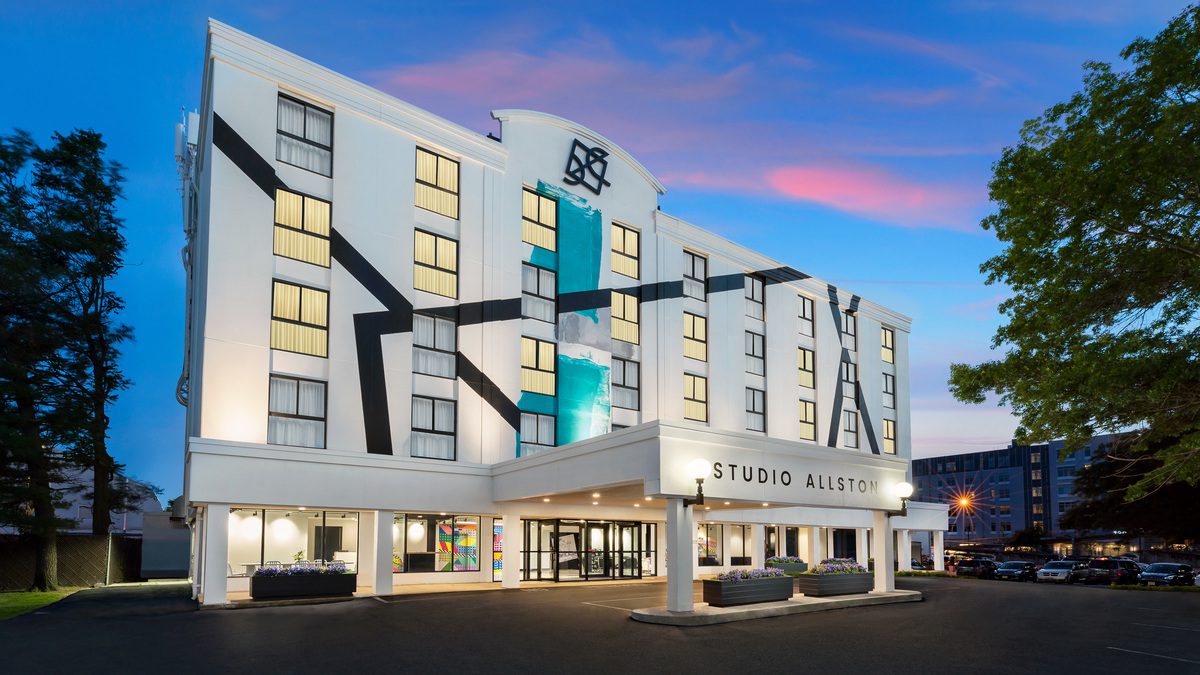 Dr. Terri Bright has some wonderful suggestions for any dog owner thinking about making a trip.  She is the Director of Behavior Services at MSPCA (Massachusetts Society for the Prevention of Cruelty to Animals) and has a doctorate in Applied Behavior Analysis with an animal specialty.  She warns that not every dog is suited for a stay at a hotel.  "If they are dogs who bark when people walk by, or when the mail carrier comes to your house then, probably pretty quickly, they're going to learn to bark when they hear people outside your door at the hotel because that's a behavior that's been reinforced in the past, and as soon as they're comfortable with their surroundings they're going to be like, 'oh, look, I can bark here and make people go away just like I can at home.'  So whatever behavior you see at home for your dog, it's likely to happen in a hotel."   
Dr. Bright also points out there are dogs who are quite fearful by nature, and won't do well in a brand new environment where strangers may try to pet them or other dogs are around.  So aside from manners, your dog should have a certain level of confidence and deal with travel as well as you do.
"For a dog to be acceptable in a hotel, number one they should be crate trained, so that you can keep the hotel clean.  When you leave the room, the dog is sleeping quietly in your crate rather than making a mess of the place," Bright says. 
There will be almost no opportunities for your dog to roam around off leash, and a dog's anxiousness on leash can lead to a lot of unnecessary stress.  There are several resources online that can help you teach your dog good leash behaviors: The American Kennel Club, Animal Humane Society, and The SPCA, for starters.
If a dog pulls hard on a leash or can't easily be controlled, they will not be welcome, or very happy, in a hotel.
Another key command a dog needs to learn before going to travel is to "go potty."  Dr. Bright told me a story about when she took her bull terrier Fanny to be in a photo shoot for Target.   "They put us up in a hotel in the Battery in downtown New York and there was one bush within five blocks.  My dog was trained, that when I say 'Go potty' that she's like, 'okay, this is the place,' so she immediately went to the bathroom, but there were dogs part of this event who didn't go to the bathroom for days because usually they go around the block, or only in their yard."  
Some parting tips from Dr. Bright: consider bringing along food toys that are like puzzles for your dog.  These will keep them entertained while you're away.  And play some ambient music or invest in a noisemaker to drown out exterior noises so your dog won't be tempted to bark.
In the end, the onus is on you. It might be difficult to judge how your pup will react in a new environment so take them on smaller excursions first. The last thing a hotel, another guest or you want, is an unhappy dog so far from home.