WOODSTOCK

I DID IT MY

 WAY
A guide to a perfect country weekend in the fabled New York town
By now everyone knows that the famous 1969 concert wasn't held in the actual town of Woodstock, so we'll skip that bit. However, since then, Woodstock has never waned in popularity.
Originally established in 1787, the town has a creative vibe that tips towards innovators rather than social influencers. After all, this is where the celebrated Byrdcliffe Arts Colony, still going strong, was founded in 1902. There have always been artists and celebs who live in the environs — for instance, Bob Dylan (and other musicians both then and now), and folks like Iman who settled down in the area and takes classes at the local art school.
So as not to disappoint, the town still has requisite hippies often spotted at the weekly Sunday afternoon drum circle, open to anyone who's feeling the beat. There are tie-dye offerings at souvenir shops on Tinker Street, the cozy main drag, where it's easy to while away pleasant hours. There's a little bit of something for everyone here. Locals are small town friendly with a distinctly non-judgmental peace & love demeanor that never goes out of style and attracts day trippers and life trippers alike.
Nature wise, Woodstock enthralls. There are swimming holes and excellent hiking just a short stroll away from Tinker Street. Comeau Property has a well-maintained hiking loop (can't get lost) winding through its 76 acres, where my husband can often be found painting Sawhill Creek, the waterfall, and trees. Beguiling moments are to be had everywhere, though be forewarned that Woodstock can cast a spell on you — maybe it's those magic mushrooms popping up in the forest.
It's easy to spend a few days in Woodstock or stay and rest a spell longer. Here's a sample of weekend offerings that you can explore:
Woodstock Way Hotel
This property is smack in the middle of town though you wouldn't know it. It's tucked away behind a winding one-carriage dirt lane. Like a Shangri-la vision — poof! it suddenly appears — an unstained wood, green roofed complex with most buildings on posts positioned to overlook the scenic creek and waterfall and avoid flooding. Architecture buffs will note the gracious retro-reminiscent nod to California's environmentally friendly Sea Ranch of the 1960s. At Woodstock Way the superbly comfortable high-end rooms boast turntables and vinyl records, though nary a coffee maker in sight — all the better for guests to mingle during breakfast period in the lobby. Some people love nothing more than meeting others while traveling, while some are just not the Club Med type. If you're the latter, you can always bring a small electric travel kettle, buy a couple of breakfast treats the day before at Bread Alone Bakery, and enjoy the zen-solitude of your suite, some with balconies that overlook the waterfall.
Woodstock Library
Even if you haven't stepped in a library since grade school when you checked out The Hobbit — this is a library that makes you feel tax dollars are being well spent. Facing Tinker Street and sweetly located on Library Lane, this happy feeling, one-story, comfortable library is well loved and visited by locals. Excellent selection of books both classic and current, a bountiful children's room, and in keeping with the Woodstock spirit there's a giveaway rack of good magazines and periodicals. Incidentally, it's a handy place to stop by if you need to use the restroom.
The Golden Notebook
The town's quintessential indie bookstore since 1978, it's expertly curated by people like Gretchen who is also a poet and English professor. Hence the reason for her kind and informed bookly comments when helping customers out. Here you get the feeling that the staff really loves books. Because they do.
The Garden Cafe
A trip to Woodstock wouldn't be complete without a visit to this superb vegan restaurant. You'll be assured a peak summer evening dining experience sitting in the lamplit garden under a canopy of leafy trees. Even meat lovers won't feel left out with the pasta marinara un-meatball dish. You can opt for a daily special or just sip a freshly blended smoothie or down a frosty 1911 hard cider.
Candlestock
The name says it all. A vast range of candles and similar offerings to light up your life. There are trippy mushroom candles, peace sign candles, the drip down on a wine bottle kind, as well as elegant tapers in an array of rainbow colors. Even if you don't make a purchase, you can come away with a free Candlestock matchbook souvenir. It's somewhat of a treat, as those once ubiquitous matchbooks (so handy for jotting down phone numbers back in the day) have become rare sightings at retail venues.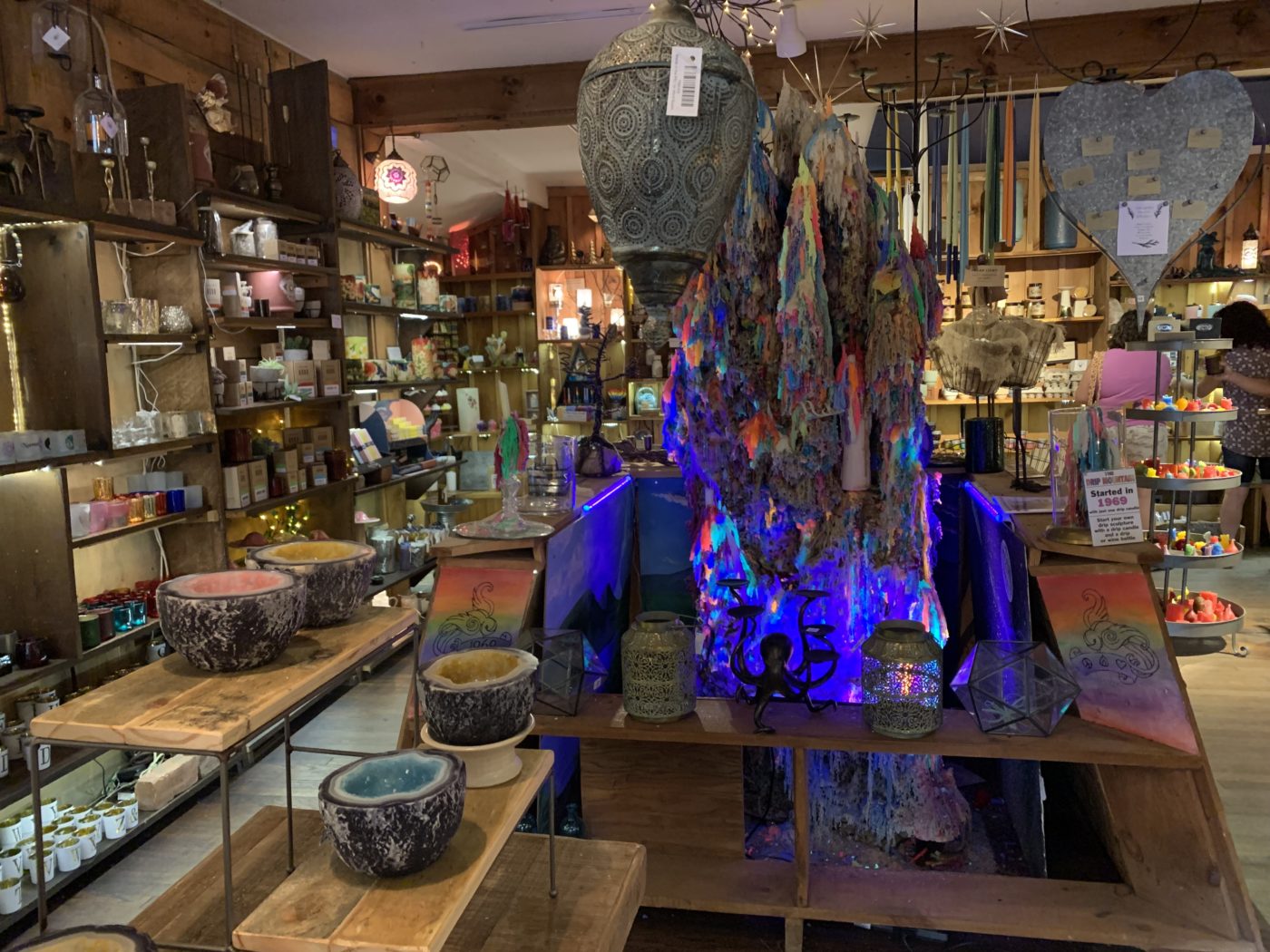 Happylife Productions
When it comes to tie-dye t-shirts, they're not all the same. Just stop in Mike DuBois' store and you'll see for yourself. Mike is the guy and the artist who designed much of The Grateful Dead's colorful apparel, as well as sartorial trappings for a legion of rockers and the like. At this shop you can meet Mike, buy a t-shirt designed with his original artwork, or peruse the adjoining art gallery with photography and other well curated pieces all under $1000 — deliberately priced in this range, his wife told me, so art can be affordable for (nearly) all. 
Sunflower Natural Foods Market
I've been accused of perusing grocery store aisles (particularly in foreign countries) as though I'm in a museum. I deny nothing. Sunflower Market is where you can shop for all kinds of natural and organic grocery items, that is, basically everything you'd need for a weekend, ranging from Nag Champa incense to tick repellant, and frozen dinners in case you're staying at a place with a microwave. The employees here always seem to be in a good mood and not in the least bit sullen. Props to them. You can pick up a nice Sunflower Market canvas bag for a reasonably priced $8 to tote your purchases back home.
Lovewild Design
This is a cheery little gift shop — for yourself or others — that honors the female goddess and earth mother within, though it's certainly a store for everyone. The owner, Sierra, draws and designs items like tea towels with female nudes or organic washcloths imprinted with a series of bosoms. She says she was inspired by the female form as an emblem of empowerment when she was pregnant. You'll find greeting cards, pillows, and other items you won't see elsewhere like the special line of bath salts the owner created: Mexican Moon Bath. The bottle informs, the salts contain the "unique powers of the Rosita de Cacao, an ancient medicinal flower used by the Aztecs and Zapotec people for centuries."
Anatolia Tribal Rugs and Weavings
You can find the rug of your dreams at this family run store founded in 1981. The owner and his son have traveled the world, so you don't have to go to the Grand Bazaar in Istanbul (as nice as that would be) to savor a glass of mint tea, while rugs one more splendid than the next are expertly unfurled before you. Experience an excellent selection at Anatolia — minus the mint tea (hint, hint). You'll find ballroom size to postage size, from authentic Persians to kilims to contemporary-to-antique pieces that can be placed on the wall or floor or anywhere in between.
Oriole 9
This cafe is fast, easy, and popular with locals all day long. Whether you come with the kids in tow or by yourself, you'll find a somewhat traditional diner menu, but with a wider range that also offers daily specials. And if you're dining solo, you can take a seat at the long communal table and leisurely read a book, like the person I saw engrossed, appropriately, in Hemingway's A Moveable Feast.