An Out of Print Book We Love…
Out of print books are recyclable and inexpensive. If you don't mind reading on a screen, they can even be downloaded for free. No virtual strings attached. 
SENTIMENTIAL EDUCATION by Gustave Flaubert
Wordsworth Classics of World Literature, (2003)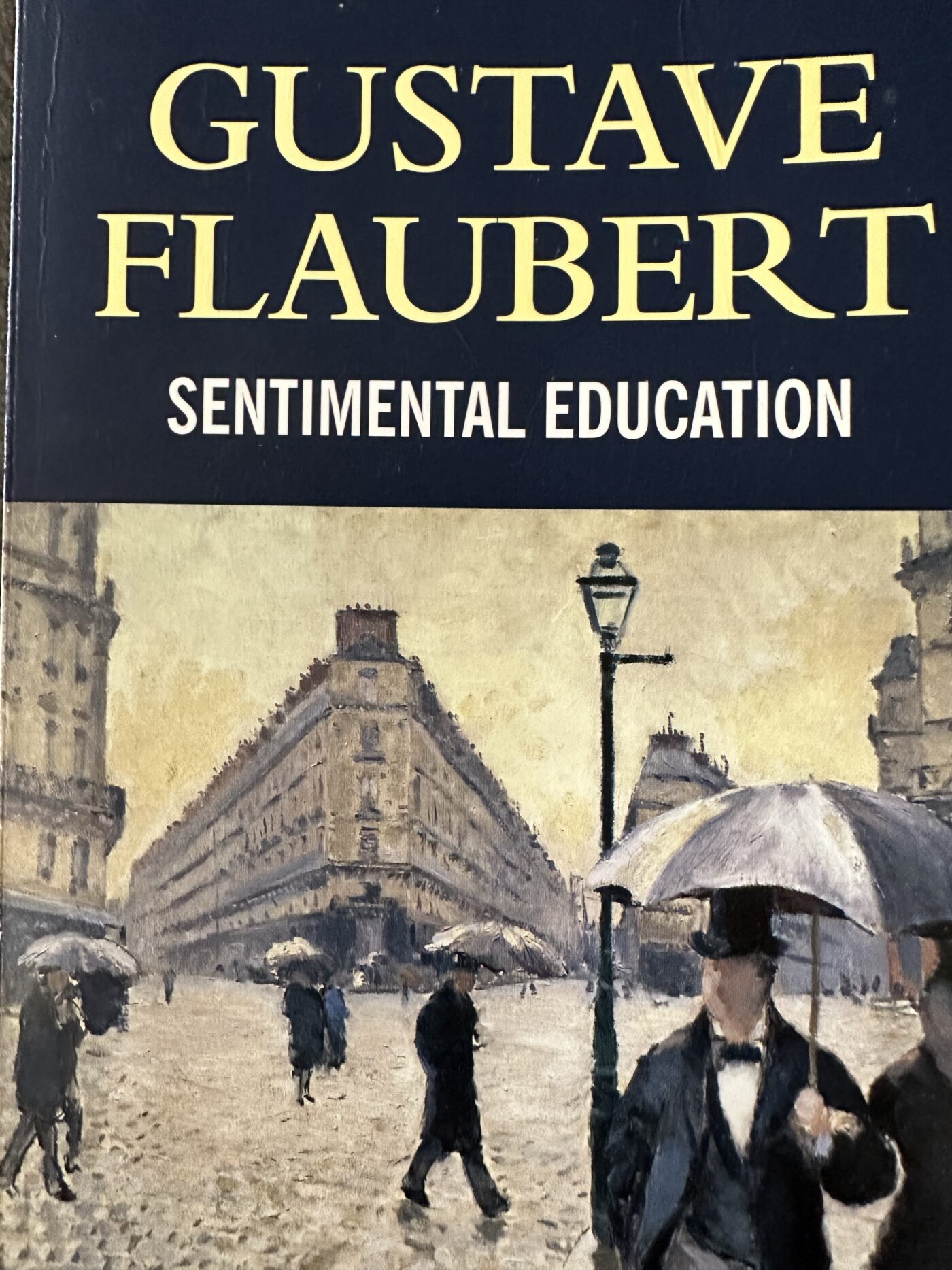 Madame Bovary is his most famous novel. Perhaps equally famous is Flaubert's pronouncement   Madame Bovary c'est moi. But it was his next novel Sentimental Education, published thirteen years later in 1869, that was even more "moi" than Madame Bovary, because the protagonist Frédéric Moreau was largely based on Flaubert himself. 
Flaubert fell in love, a forever kind of love, with the married Elise Schlesinger whom he first met when he was fourteen. She was his ideal and no other woman ever lived up to her, perhaps the reason he never married. Flaubert's love formed the trajectory of his life – much the same as his fictional alter ego. Like Flaubert, Frédéric is not particularly ambitious, comes from a wealthy family, is a lackadaisical law student, and after falling in love with an older married woman, proceeds to befriend her husband in order to be near her. Will this be another Madame Bovary – an intrigue of bourgeois adultery – will Frédéric's beloved Madame Arnoux succumb to his ardor?
Frédéric ponders and plots, and in just one example of Flaubert-writing that makes one smile, he remarks about depression that, "It was all very well while one was young, but later on, it's just a waste of time." And then… and then… follows one of the most astonishingly written novels I've ever read. In a final encounter between Frédéric and Madame Arnoux, their time together is something unforgettable, with writing so exquisite and true it brought tears to this reviewer's eyes.  
The goings on of the characters' lives in the novel are set against a backdrop of turmoil and political unrest during the 1848 Revolution and the Second Empire ruled by Napoleon's nephew, Napoleon III. (As an aside, Victor Hugo called him Napoleon the Small, and as you might know from French history, things didn't go all that well for him.) In Sentimental Education the personal and political meet in brilliant counterpoint. Incredibly realistic in detail and modern in plot structure, one might even think the novel was written yesterday. 
~ Helen Mitsios
BODY DROP: Notes on Fandom and Pain in Professional Wrestling By Brian Oliu
The University of North Carolina Press, $19 (2021)
 
Wrestling, or professional wrestling, is not fake. It is choreographed sports entertainment with predetermined outcomes. The athleticism is real. Many injuries are, too. Let's see you execute – or be on the receiving end – of a frog splash, through a table – and not feel just a little bit sore the next morning. And let's not dismiss the ongoing soap opera that hangs over wrestling, inside and outside the squared circle. This is why us wrestling-ophiles tune in week in and week out.  
Brian Oliu loves wrestling. He loves it so much he decided to write a nearly 200-page ode to it, and the superstars, and their moves, and its storylines, and all the mystery and intrigue that has been associated with wrestling for decades. He takes a philosophical approach about what all this means to him and how he views this quasi-real world, from the allure of the "giants" and "the stylin', profilin', limousine riding, jet flying, kiss-stealing, wheelin' and dealin' son of a gun" that is Ric Flair, to the horrific murder-suicide of Chris Benoit (a name no longer mentioned in WWE, even in this book) and something as old and simple as ye olde arm bar. Oliu's take on wrestling is one that may finally get my wife to understand why I watch and to tune in with me.
~ Jason Stahl 
WHERE TOMORROWS AREN'T PROMISED: A Memoir of Survival and Hope by Carmelo Anthony
Gallery Books, $18 (2021)
I have two things in common with Carmelo Anthony: we both were born in Brooklyn, New York, and both attended Syracuse University. That's about it. Despite rooting really, really hard (and attending his first-ever college basketball game for the Orange), I cannot take credit for the lone national collegiate championship Melo brought to Central New York.
But that's where this book ends. Melo focuses his memoir on his time leading up to fame, the trials and tribulations he went through to steer clear of falling into the wrong crowd or taking the wrong path and any other cliché revolving around inner city kids: he lived in the projects around hustlers and drugs, loved ones were shot, bullets were flying past him en route to and from schools that failed him; he admits to dealing with bouts of depression.
His story of "getting out" and becoming a success is not new. Sadly, though, it's a story, not many kids in similar situations, regardless of talent – in anything – get to tell. And Melo tells his in a very innocent way with simple, yet clear prose that makes the reader realize he's among thousands, if not millions, of other kids struggling just to get by. Tomorrows aren't promised, but they should be.
~ Jason Stahl