COMPLETE GUIDE TO THE NATIONAL PARKS By Erika Hueneke
Centennial Books, $25
I have never been one to get frothy about National Parks. I didn't even think I'd been to one, except post facto realizing I was somewhere and discovered that it was in a National Park. I spent time in the Smoky Mountains, for instance, because I was passing through Tennessee, and ditto Yosemite and Sequoia, and all three places were spectacular. But it has never occurred to me to actually plan to go to one. Even the Grand Canyon, which I have no overwhelming urge to see. For which I think I could technically be tried for treason.
But I got pretty excited about this gorgeous coffee table book — a staggeringly and perhaps wonkily comprehensive round up of all 61 US National Parks, including in Alaska (which has eight — well, why wouldn't it?, the whole state is basically a country-sized park), Hawaii, American Samoa and the not-too-often-thought-of in terms of National Parks, the US Virgin Islands. The photography is exquisite, National Geographic-jealous level, and the book is full of little bites of interesting information, enough to keep even a Philistine like me enthralled.
Mostly the book is a stunning illustration of how vast, varying, unspoiled and breathtakingly beautiful this country is. We sometimes think of America as lost in the spilled spaghetti bowl of strip malls and chain restaurants and box stores, exactly the same no matter what time zone you're in, and that dystopian truth is part of our reality. But our National Parks are an insuperable antidote to that, thank God.
Bob Guccione, Jr.
Here's a link to order the book online
THE SIMPLICITY PRINCIPLE By Julia Hobsbawm
Kogan Page   $20
You'd think a book about simplicity would be simple, but it's not! It turns out simplicity is not simple to achieve or even comprehend. Which is why I like this book, it isn't one of those empty, sweeping panaceas that suggests a few candles, some "you time" and cleaning out your garage will bring you to Nirvana. This book is 236 pages, three parts and 12 chapters, and when you think you have the grasp of the matter the final chapter is "Six-Fixes and more", so, clearly, you don't (the book's subtitle is Six Steps Towards Clarity in a Complex World, so six is a theme).
The author is one of those particularly English entrepreneurs, brilliant and eccentric, who sees patterns and connections in the falling rain, metaphorically speaking (although it rains a lot in Britain, so, perhaps literally too). This book is inspired by the humble, certainly quite simple but very effective, Honey Bee. It has some wonderful personal stories and pulls in diverse anecdotes from Maya Angelou to Greta Thunberg. It may not be a simple book, but it's comprehensive and entertaining, and business/life management books are rarely both.
BG
KRAPP'S LAST TAPE By Samuel Beckett
Grove Press, $14
I rather facilely say that every story is in some way a travel story, in that someone has to go somewhere, but this one act play by Beckett is not! No one goes anywhere! (Even I don't count walking across stage to sit down at his desk, or getting up and walking around it, as traveling.) It's Krapp's 69th birthday, and he listens to a tape recording he made when he was 39, then starts to make a new tape, covering his most recent 12 months. When first performed in 1958, the play was set somewhere in the future, (so somewhere in our past, then). The script is spellbinding and unsettling and glorious in its dismal contrasting of segments of an imperfect and filthy life. Perfect beach reading! It was David Bowie's favorite Beckett play. Buy me a drink sometime and I'll tell you how I know that.
BG
Out of Print Books We Love…
By Helen Mitsios
If vintage clothing and recycling/reclaiming is in, then why not books too?
No reason not to download a free one from Project Gutenburg, or buy a used hard copy for under $10, or sometimes $5.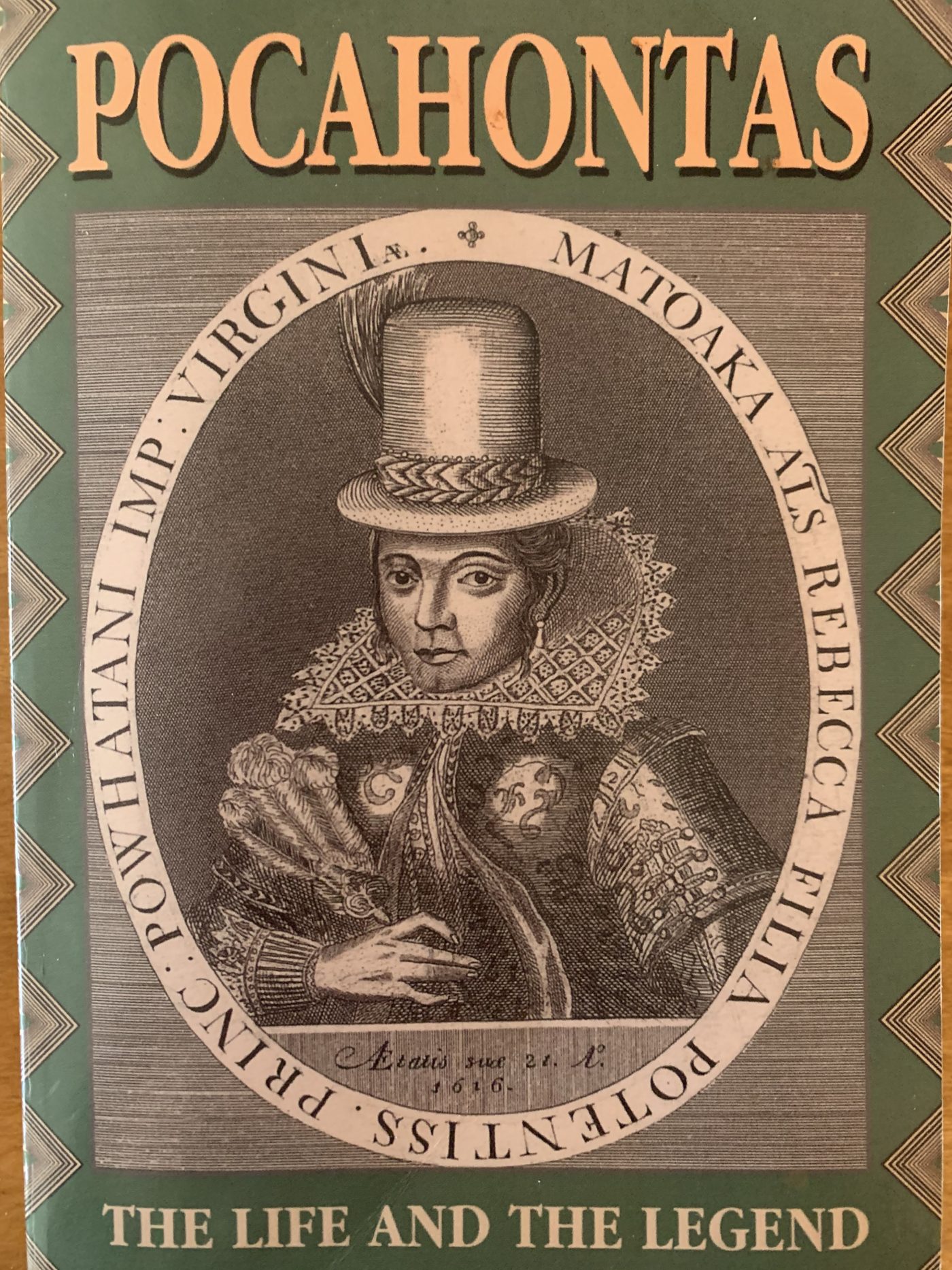 POCAHONTAS: The Life and the Legend By Frances Mossiker
Published 1976
Pocahontas and Captain John Smith are forever linked in history. Like Antony and Cleopatra or Napoleon and Josephine, myth and historical fact enshrine their fated coupling. Though it's true that Pocahontas saved Captain Smith's life, she chose not to marry Captain Smith, but convert to Christianity and marry Jamestown settler John Rolfe, the man tagged as "The Father of Tobacco." 
Pocahontas' life (1595-1617), so devotedly researched in Frances Mossiker's biography, will teach us what history class didn't. We read about the Starving Time (winter of 1609-10) when the desperate English boiled leather shoes for nutrition and cannibalized their dead. We learn that the natives, called "Naturals" by the English, lived in sophisticated harmony with nature. Mossiker informs their belief, "they hold it as a disgrace to fear death." Their knowledge of plant-made pharmaceuticals would rival a modern pharmacy–remedies for nasal congestion, fever, wound healing, headaches, childbirth labor pains, and more. 
Was Pocahontas a heroine or a victim? We know she was an Indian princess trapped between two worlds: one world was her father's, the Great Powhatan and Supreme Chieftain of the Powhatan Confederacy. The other world was Jamestown (founded in 1607), the fragile business enterprise financed by The Virginia Company of England. Pocahontas' life reads like popular fiction: kidnapped by the English, converted to Christianity, received as a royal princess at the British court, and yes, there is a surprise ending too.