GEORGIANA: DUCHESS OF DEVONSHIRE By Amanda Foreman, 
Random House, $15.95
It was the best of times and the worst of times. Not a Dickens' novel, but England's Georgian era. Yes, this is Netflix series Bridgerton's time period too. But to learn about the REAL Georgian era and not Bridgerton's gelato hued frothy fairy tale, we need to dig deeper and read Amanda Foreman's historical biography of Duchess Georgiana. Georgiana (1757-1806) was one of the original It girls. A member of society's elite clique called the "ton," every inch of her wardrobe and seemingly every inch of her movement in social and political circles found its way to the gossip pages.
Georgiana, and women in general, were considerably freer to leave home and hearth than in the following Victorian era (1837-1901) — partly because Queen Victoria was at heart a bossy hausfrau who, it happens, didn't want to give (other) women the right to vote. But back to Georgiana's Georgian era. We learn for instance, that wives could carry on affairs — and they did! — as long as they first produced the requisite male heir. But we also learn the law allowed husbands to beat their wives as long as the stick they used wasn't larger than their thumb. There were plenty of laws and plenty of loopholes in this richly complex period of high and low civility.  
—Helen Mitsios
JEW(ISH) By Matt Greene
Little A, $15
Author Matt Greene is a 34-year-old Jewish writer, born and raised in the U.K. His wife is not Jewish and they have a son. I, too, am Jewish and married to a gentile, and we have a son, and I spent time in England, so I was hooked by this book, from an imprint of Amazon. Yes, they just don't sell books, they publish them, too.
Greene's book is about what it is like to be Jewish in 2020 and questions his own Jewishness after the birth of his son. He delves into the rise of anti-semitism and how the internet has aided in that, and asks should Israel be its own state?
In his quest for answers, he makes you think about the timeline of Jewish history. It seems after Moses parting the Red Sea, not much happened to our people until the Holocaust. It's almost as if the Jewish calendar should adopt the suffix BH (Before Holocaust) and AH (After Holocaust) as that period changed everything…forever…for everyone. Even to the deniers, who he addresses, too.
Greene had relatives that were murdered in the Holocaust. He visited the concentration camps in Poland and the accounts of his trip and speaking with tour guides, pointing out where Jews were gassed or shot in the head or had their heads shaved, made me choke up. It isn't until you hear first-hand accounts that you – anyone, Jewish or not – realize the true horror and why Jews are the way they / we / me are in the 21st century.
–Jason Stahl
The Lost Adventures of James Bond By Mark Edlitz
Self published, $33
The title of this book does not, yet, refer to the latest Bond movie (and Daniel Craig's last as 007) No Time to Die, but it might soon. That movie (conspiracy theory starter kit: does it even exist?) has been delayed from release for nearly two years. Soon we'll all lose interest… But in the meantime, there's this box of fun! Edlitz's book is a cornucopia of delights for even the most rabid Bond fan, and I am speaking as one. I was a boy in England in the sixties when the first movies came out and I was, like just about every other boy in the sixties in England, forever stamped as a devotee.
So what a thrill to encounter this trove of untold James Bond stories, and see dozens of previously unreleased on-set photos and illustrations for unmade movie and TV scripts and comic books. Here is where you learn about the intended theater play for Casino Royale that never got produced, and James Bond, Jr., James Bond's incorrectly suffixed nephew, David. That was a children's book, published in 1967, and supposed to spawn a TV series, which never happened. 
But chiefly Edlitz's book gets into the two unmade Timothy Dalton Bond movies, for each of which there was a frivolous/more comic and irreverent script, and a more serious one, explored comprehensively herein. (Frankly I don't think the world lost anything by either of these not being made, having read the rich backstories here, and I also think Dalton was the weakest Bond, the most ponderous, least fun.) Also, there were complete versions of Pierce Brosnan and Roger Moore as Bond that got shelved, although eventually those movies were made, with different scripts.
And in this over 400 pages of delicious Bond folklore and trivia, we learn that the man who played the timeless and invulnerable super spy most is someone just about no-one could name: Toby Stephens, who played him nine times, in radio adaptations of Ian Fleming's books, all in the 21st century, for the BBC.
Here's a link to get the book!
                                                                                                    —Bob Guccione, Jr.
5 Questions with Charles Handy
Charles Handy's most recent book is 21 Letters on Life and its Challenges. Written for his grandchildren and everyone else too, the various letters range from the lifelong influence of Aristotle on his life to suggestions on learning a sport and foreign language. Known as the premiere management guy and social philosopher king in the UK, he knows a thing or two (and WAY more) about not only managing corporations, but how to manage for oneself the happiest and best lived life.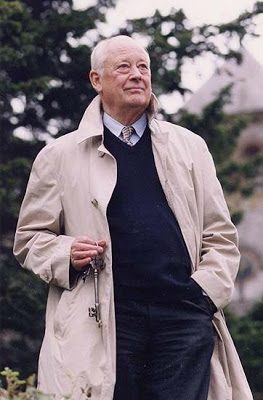 What's on your nightstand?
A book of poetry by Wendy Cope, If I don't Know — a balm for the soul in troubled times — sends me peacefully to sleep each night. And Epicurus — A Philosophy of Nature, by Haris Dimitriadis — a reminder that life is meant to be about happiness (which at the moment it is for me).
Favorite city?
Rome
London restaurant you frequent and favorite meal there?

Rex Whistler restaurant at the Tate. We always go there on birthday meals…. food for the soul and for the eyes. To begin: fennel, orange, persimmons, walnuts, crispbread, citrus dressing, Hake roast fillet, salt & vinegar beef fat potatoes, split peas with hollandaise. 
Your thoughts on whether life will get back to normal after the pandemic?

Covid has reminded us how important are the ordinary things in life. We should go back to enjoying them, and I'm sure we will.

Which country has the best management system?

I think the Dutch do things very well and the big corporations there, Shell and Unilever are icons of management respectability.