Out of Print Books We Love…
By Helen Mitsios
If recycling and reclaiming is in, and it is, then why not books too?
There's no reason not to buy an out-of-print copy often found for just a few dollars or even download one for free from Project Gutenberg.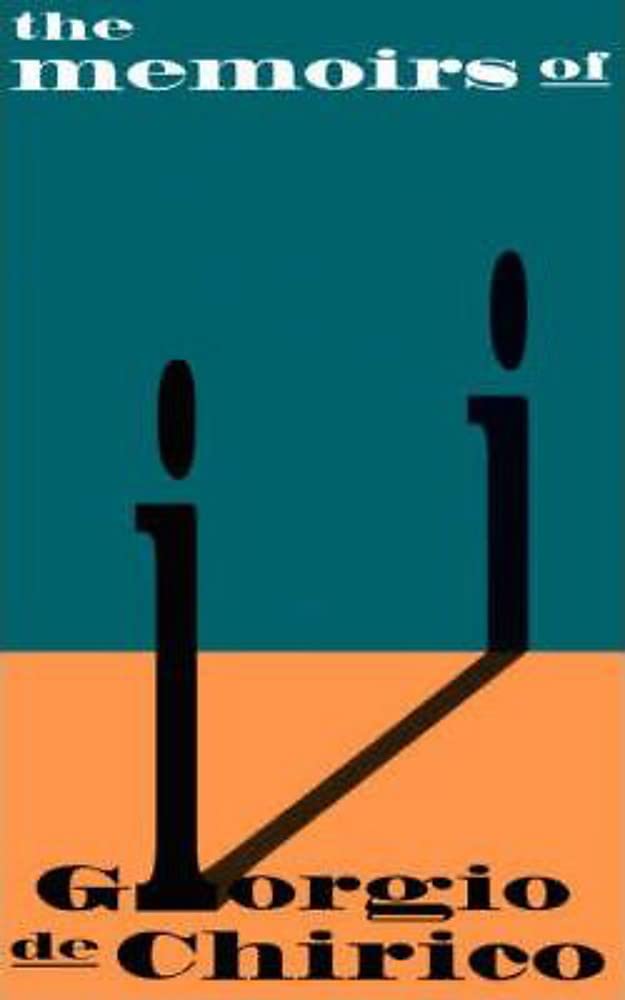 THE MEMOIRS OF GIORGIO DE CHIRICO,
Da Capo Press, 1994
I knew next to nothing about de Chirico until last September when I visited his house museum that overlooks the Piazza di Spagna and is only a few buildings away from another notable house museum, that of Keats and Shelley, where the poet Keats spent his last tubercular ridden months. Mistakenly, I had pegged de Chirico for a Surrealist artist only to be informed by our personal guide (we were the only visitors) that the artist loathed the Surrealists, and in fact, if forced to label himself, reluctantly called himself a metaphysical painter. 
To say de Chirico loathed the Surrealists as well as modernist art is not an understatement. In this marvelous biography that steps and ladders through his days in Rome and Paris, he raves and rants about the art world, reveals grievances and gripes, writes about acquaintances like Jean Cocteau and Picasso, and reveals his favorite painter is Courbet. A typical complaint is, "It is strange there are very few [painters], who know more or less how to hold a brush in their hand." 
Part one of the book begins with the author's earliest memory as a child in Greece. After a hiatus of not writing for thirteen years, he takes up his pen again in August 1960 and starts writing part two, to express his opinion "with clarity, sincerity, and courage." So he does throughout the book, whether he's writing about art world machinations in Paris before WW 2 or the dolce vita of Rome in the heady glamour of the 1960s. No matter the decade, he repeatedly laments that his paintings are not understood.
THE ANSWER IS…. Reflections of My Life By Alex Trebek
Simon & Schuster, $26 (2020)
This Canadian-born game show host was known for his quick wit and mustache.
Who is Alex Trebek?
I love watching Jeopardy! It's one of my favorite television programs ever. When the clock strikes 7:00 p.m. I do my damnedest to tune into my local ABC station to watch what's now considered the greatest game show ever. I've applied to be on the show, but never called. I attended a special taping of the show at Radio City Music Hall. I even went through a phase where I tracked how many clues I answered correctly and money I (could have) won if I was a contestant. 
I was deeply saddened when Alex Trebek, Jeopardy's host from 1984, died in 2020 at age 80 after a battle of cancer. Thankfully he penned his quasi autobiography.
Trebek didn't want to write a book detailing every aspect in his life. He found that to be perfunctory. Instead, he beautifully chose all the important, most memorable and difficult times in his life and tells you quick stories. Sometimes in 100 words. Sometimes in 1,000 words, but rarely more than that. Given the time, I could probably read this entire book in a single day. But, it's best to read just a few entries a day, perhaps even one, and let that all that is Alex Trebek soak in.
Of course, he tells how he became the host of Jeopardy! (it's hard to not say these last three words without hearing Johnny Gilbert's voice). But it's the non-entertainment stories that I enjoyed reading, from how his real name is George Alexander Trebek, meeting Queen Elizabeth – twice(!), preferring to drive around in a pick-up truck, how much he enjoys cursing, and what courage means to him.  
 – Jason Stahl
EAT A PEACH: A Memoir By David Chang
Clarkson Potter, $28 (2020)
David Chang, a winner of six James Beard Awards, is considered one of the most influential chefs from the past 20 years. Sure, he's the man behind the Momofuku empire, but like in Star Wars, the empire was evil. Chang, an educated man and a golf prodigy, was known for striking back at anybody who he deemed crossed him – whether in private or in front of diners – a stereotype the restaurant industry has had enough with. The genesis of Chang's anger goes back to growing up as the youngest in a very religious Korean family in Virginia.
Chang's memoir, which some say is his mea culpa for his manic behavior, details his time in therapy, being depressed, having suicidal thoughts, being on medication, not being on medication, not having a clue where he stands in the world; as well as teaching English in Japan; his father giving him over $100,000 to open his first restaurant, dealing with the health department, dealing with critics, and becoming a father. 
Despite all his rants and raves, Chang loves what he does. He is a chef who genuinely wants to feed you and wants anyone who's crazy enough to enter the restaurant world to succeed. He closes out the book with his 33 Rules for Becoming a Chef, actually a "good chef," Chang says, because "Nobody needs rules to become a shitty chef."
Yes, David Chang can be considered a shitty chef – for his antics – but he's spent a great deal of time working on becoming a good one, both in the kitchen and, more importantly, among us.
– Jason Stahl
MY MOTHER'S KITCHEN: Breakfast, Lunch, Dinner, and the Meaning of Life By Peter Gethers
Henry Holt, $28 (2017)
Peter Gethers' mother was Judy Gethers. That name may not be front of mind for most, but if you worked in the culinary world beginning in the late 1970s, then it certainly is.
Judy didn't enter the food world until her 50s, yet went on to become one of the most beloved people in it. She accomplished so much, writing six cookbooks and being a mother figure and mentor to many young chefs at the time: Wolfgang Puck, Nancy Silverton and Jonathan Waxman, just to name a few legends. Judy also cooked alongside Julia Child when she ran the cooking school at the famed Ma Maison restaurant in Los Angeles. However, she's not "The Julia Child of" anything – she's the Judy Gethers of whatever it is. 
Judy's family owned Ratner's, a dairy restaurant on New York City's Lower East Side. Infighting led to her walking away from it, yet she still wrote their cookbook. The trials and tribulations of dealing with her family and establishing herself among chefs is nothing to what she went through – and overcame – physically. She miraculously recovered from a stroke in her 80s, and after, at 93, doctors told her she had a few weeks left to live after finding a mass in her stomach and could only dine on ice chips and pain meds. In an interview with the Pittsburgh Jewish Chronicle, Peter said she went out for a pastrami sandwich three weeks later. She lived for several more months.
Her son, Peter, a hulking figure in both presence and career (he's a big man and a big-time cookbook editor) decided to painstakingly learn with several dashes of humor to cook his mother's favorite foods while learning her secrets to life – one that was done with elegance, class and an open mind to embrace and take on whatever was right in front of you. His story about his mother is a 300-page menu with something appetizing on every page.  
– Jason Stahl