City Wine
They're making some great wine in Portland, Oregon. That's right, actually IN Portland, not outside it…
Close your eyes and picture scenery that surrounds a place where great wine is made. What comes to mind? A picturesque landscape of rolling green hills covered with row after row of vines? Perhaps a rugged island where the salty breeze caresses cliffside vineyards. Or even a long and winding river where vines are grown on sloping riverbanks that rise above the cool running water?
Point being, you probably don't think about a city.
There is a side of the wine world where Mother Nature doesn't provide the scenery. The 'Urban Winery' is a facility that is located in the middle of a city where stainless steel tanks, oak barrels, pumps, and grape presses can be employed as easily, if not as prettily, as in a countryside winemaking chateau.
When it's done right, don't call it a "wine factory". There is a major difference between the business of replicating mass quantities of a "product" compared to crafting a finished wine, where the senses are thoughtfully and leasurably stimulated.
Similar to a microbrewery, in its most basic form, it is simply a beverage production facility in the midst of a concrete jungle.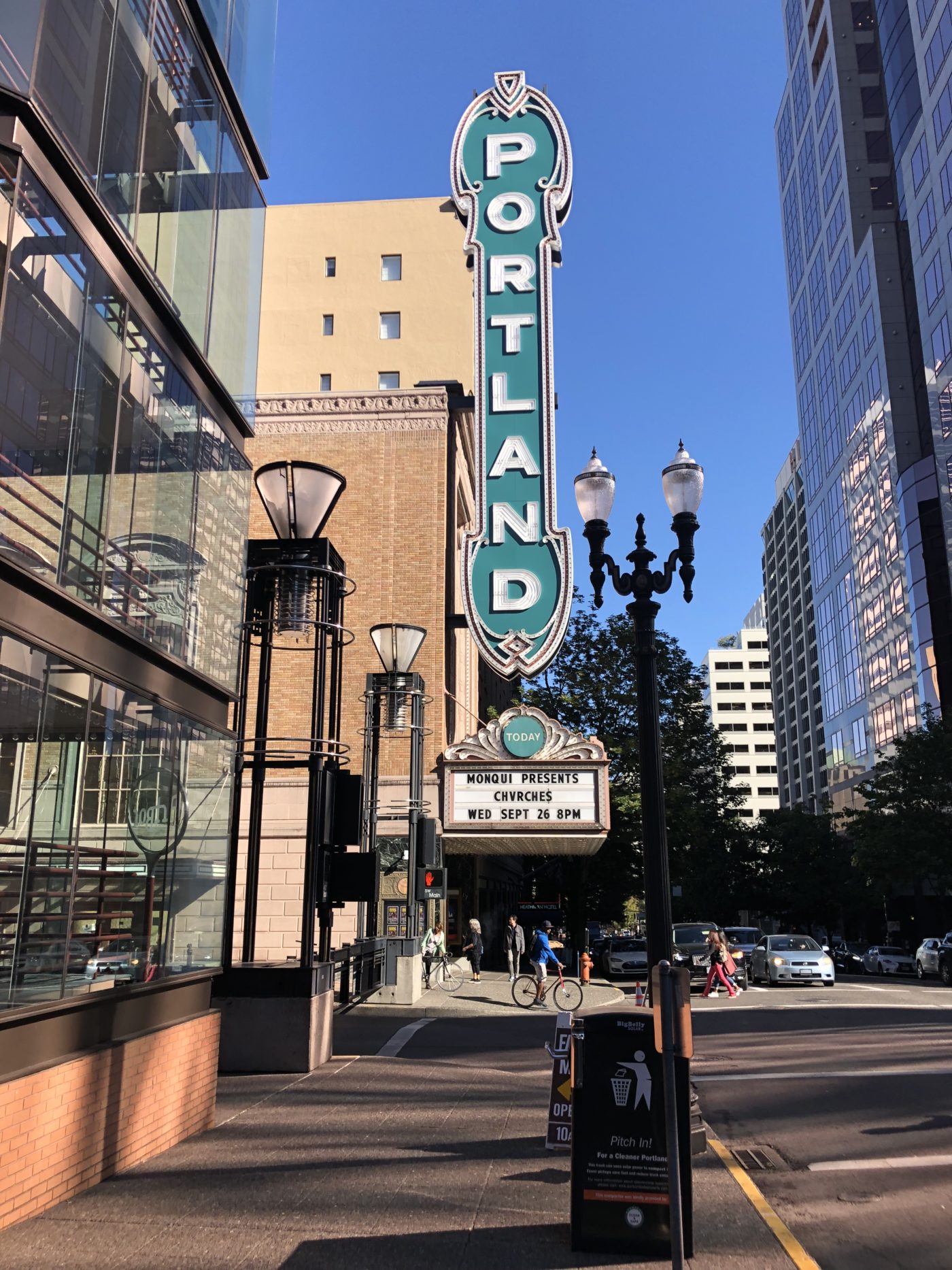 Portland, Oregon, located in the northwest corner of the state where the Columbia River meets the Willamette River, is home to a few serious urban wineries. In most ways it's a typical city but it maintains a small town feel. Strangers often nod hello and bicycles share the road with cars in equal numbers during the morning commute.
What makes Portland unique for being a winemaking location is that a 20-minute drive out of town on any of the main highways puts you in the midst of vast natural, pastoral, and mountainous landscapes. The fact that Portland is so close to an abundance of land where it's easy to grow fresh fruits, nuts, and vegetables is key to understanding why urban wineries exist here.
Heading west immediately puts you in the Columbia River Gorge. The river is the natural border separating the states of Oregon from Washington and vineyards are planted on both sides of the river. This area is so well-known for providing a wealth of cherries, pears, apples, grapes and more, that the section near Hood River is called the "Fruit Loop". It's also home to the Columbia Gorge AVA (American Viticultural Area), the official name for this wine region since 2004.
After days of stomping grapes in the basement, taking a trip out to the gorge is a necessary refresher. The gorge is a stunning stretch of natural wonderment that was carved out by the Missoula Floods in the last ice age. These floods were recurring events that struck between 12,000 to 15,000 years ago when a glacial lake in modern-day Montana would cyclically break through an icy dam. This sent mineral-packed glacial water rushing down the gorge carrying with it all forms of natural debris. Despite the destructive power, once the flood waters receded the upside was nutrient rich soil ideal for growing crops.
The Missoula flood waters also washed over the land south of Portland into the vast Willamette Valley. This fertile stretch of land centered on the Willamette River. About 70% of the state's population lives in the valley and the Willamette Valley AVA is responsible for 71% of the state's wine production. Portland happens to be at the north end of the valley and is ideally situated to receive everything it has to offer.
During the harvest season the grapes are picked in the morning and arrive in Portland by midday. Upon arrival it's business as usual. The bins full of grapes are unloaded and brought into the winery where the fruit is stomped, crushed, destemmed, pressed, and pumped into tank, as at any winery in the world. Amazingly nothing seems strange about this until a homeless person walks by and you're immediately reminded of metropolitan life.
As it was described by Kate Norris of Division Wine Co. — where she and Tom Monroe make wine from vineyards across Oregon and southern Washington — there are plenty of producers in Europe that make wine in towns near the vineyards in the countryside. But applying this to Portland takes some cultural adjustment because it's such a large city.
It's not so crazy when you see their urban winery at the heart of S.E. Portland, and taste the quality of wine made there. Besides, when the workers get off, they can just walk down the street to Pok Pok for world class Thai food or head to Reel-M-Inn, a locally famous dive bar, for Fried Chicken & Jo-Jos with a shot and a beer.
If you're coffee obsessed, like Scott Frank of Bow & Arrow Winery, it might not be possible to make wine anywhere else. Observing his uncanny ability to find the best iced-Americano within a one-mile radius is like watching a heat-seeking missile that's always aimed at premium brew. A steady stream of quality caffeine from Coava Coffee, Heart Coffee, and Stumptown Coffee Co, fuels Scott's talent to make vibrant, fresh reds and serious whites from the Willamette Valley. Ask anyone in the world who knows the first thing about making wine and they'll tell you that it takes a lot of good coffee and cold beer to keep spirits up during harvest.
The other notable urban winery in Portland, Teutonic Wine Co., is operated by the husband/wife team of Olga and Barnaby Tuttle. As we consider the restorative effects of a cold beer during the laborious harvest season, it's worth mentioning Barnaby's obsession with making top quality German-style wine — and his love of the local beer, Rainier, a blue collar classic. It's the only beer he serves in the winery's tasting room and that says something in a city so in love with microbreweries and craft beer. As you're tasting their vivid and energetic selection of mostly single vineyard wines made from grapes like Riesling, Pinot Gris, and Silvaner (or their mouth-filling white blend called "Umami Tsunami") you may find yourself searching for a frothy, cold Rainier to reset your palate before returning for another glass of wine.
Interestingly none of these wineries own any vineyards — and they like it that way. It is the main reason they're able to remain urban dwellers. They work with grape growers they trust and visit the vineyards at strategic times during the growing season. Much like great chefs who source the best possible quality ingredients from nearby farms, these urban winemakers find themselves similarly reliant on the growers. Yet unlike a chef that can simply start over if a dish has been over-seasoned or burned, there is no way to restart the process for a winemaker once it begins. At least not until next year.
Regardless if the wine is made in the city or the countryside the decisions, the risks, and the rewards are the same once the process begins. The grapes certainly don't know the difference. The real difference is that if you're in a city there is the added responsibility of sweeping the street outside of the winery for hypodermic needles, used condoms, broken bottles, beer cans and coffee cups. Isn't making wine romantic!
Portland Wine Recommendations (available for purchase in the USA)
Division Wine Co. "Trois" Chardonnay 2016 — $36.00
Light to Medium body, floral, pear, and mineral on the nose and palate. Textured, refined and refreshing.
Bow & Arrow "Rhinestones" Pinot Noir/Gamay blend 2017 — $23.00
Light to medium body, dark berried fruit, spiced, and firm. The wine is gentle and fresh, yet packed with tons of flavor.
Teutonic Wine Co. Willamette Valley Riesling 2017 — $20.00
Light to medium body, gently sweet, with fruity flavors of honeysuckle, pear, and apple. Lip smacking and very crisp. The sweetness is mild, but it is noticeable.