LOVE INTERESTS

  TRAVELING TOGETHER, BEFORE YOU'VE SLEPT TOGETHER
Our new columnist, elite matchmaker Rori Sassoon, advises on love and sex while traveling
Firstly, I can afford my own vacation. If we haven't had sex yet, I don't want to feel pressured to have to owe anybody anything. I'm not whoring myself out for a vacation! Of course there's a 'sexpectation' that comes with vacation —  from both parties I might add. Come on, what is the guy supposed to do? Get two separate beds? It's not the 1950's!
If you haven't gone the distance yet, you should hold off on taking the trip. Before you vacation together you have to know if the sexual chemistry is there or not.  You should want to sleep with them well before a trip, and should have done if you've progressed to traveling together. This way you won't be uncomfortable while you're away.
Try having a staycation together first. Test drive the car and make sure all moving parts are working. If you are not sexually compatible, find out before the plane takes off. Otherwise what are you going to do when you are away? Is this where alcohol comes into play? Are you going to play board games and book back-to-back excursions in order to avoid the elephant in the (bed)room? What boat, plane or cliff are you going to want to jump off of to escape? If the sex is great that would be ideal…If the sex is bad, then you're stuck together for the whole time.
But say he asks you on vacation when you have been dating for awhile, and you haven't had sex yet. Maybe you're even at the point where you're telling your girlfriends that you are the "Everything But" girl — done everything but seal the deal with him. This is a different story. You feel a certain confidence that your chemistry is there and everything is in working order. So, to you, sex is the natural next step. Taking the trip could be a super romantic move.
At the end of the day, my belief is that relationships are cemented between the sheets.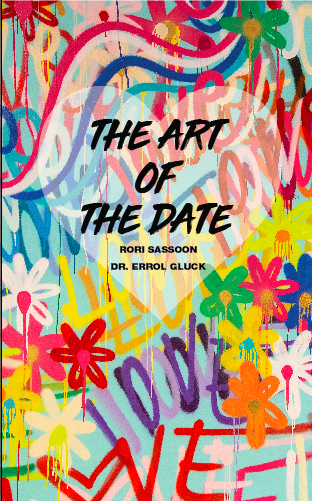 Since I wanted to get a man's point of view, I decided to call in the big guns and ask Dr. Errol Gluck, relationship expert, Executive Life Coach, and my partner in Platinum Poire to weigh in.
"Going on a trip is about exploring a foreign place and exploring each other," he said. "Every exploration comes with a heightened sense of your partner, and increased intimacy. Being in the same mindset is important. Keep in mind that the worst sex in the world comes from where two people are not in the same space mentally, and one or both are not ready to take it to the next step.
"At the same time, there should be no expectation, except there should be good food, laughs, and a little alcohol never hurts. If the mood is right and it becomes organic, then go for it! But There's a lot of bases you should run between first base and home."
Top photo courtesy of Online For Love  https://onlineforlove.com/
Rori's first book, co-written with Dr. Errol Gluck, The Art of the Date, is coming out April 9th, published by A & G press. And you can see Rori on The Real Housewives of New York, straightening those poor ladies' love lives out…