ONE ARTIST SAVING CALIFORNIA'S COASTLINE,
ONE STRAW AT A TIME
80 year old Sierra Pecheur is a visionary artist and determined environmentalist, and she's not slowing down
Sierra Pecheur's bio statement on Instagram reads "I'm 80. I've got plans!"
The first time you hear the names of coastal Los Angeles County, it feels as if you've been dropped into a fairy tale land of Angels and Amazonian warrior women, beginning with the land known as Los Angeles. From the sea, an orb of fiery gold rises on a Spanish King's harbor, Marina del Rey, and Saints abound. It is the land of Santa Monica, the fierce mother who stands with back to the sea and arms crossed over her heart for the salvation of a son she has cast out, the land of fishermen catching their day's meal on El Pescador Beach, and story-telling gondoliers on the canals of Venice. 
Thirteen thousand years ago an ancient people, the Chumash, lived on this land and named much of it — Topanga, Malibu, Mugu, Pismo. Their descendants live here still. It is a land of towering, iridescent blue birds thriving in the lagoons and wetlands of Ballona, perhaps once called Ballena, or 'whale' in the language of the Spanish King. Here, where the Ballona Creek empties into the sea, it is believed there was a time when one could watch the migration of the whales. The kingdom is on the Sea of Peace, Pacific, in the country of California, named for the Warrior Queen Calafia who ruled her island paradise of strong and brave, dark women. Their island is without men, is the strongest in the world, and their weapons are made of gold. They tame and fly a huge flock of griffins, upon whose backs they protect the mainland. The heart of the kingdom is the Santa Monica Bay, and it is here the King's Harbor lies. 
It is a prosperous kingdom, one of the finest on California's Coast. The beaches are wide, white sands that are miles long. The Pacific carves these beaches into entirely different landscapes throughout the seasons. Yes, Los Angeles has seasons. No, pilot season is not pods of whales migrating up the coast.
The reality is not much different. Marina del Rey is the largest man-made harbor in America. With nearly 5,000 slips, it is filled with luxury yachts. Some of the most expensive real estate in the country is on this part of the coast (with prices of as much as $110,000,000 a little north, in Malibu). Stars of every ilk –– Lady Gaga and Prince Harry amongst them––have been spotted at Gjelina's, a laid back, Italian infused, Cal-cuisine restaurant on Abbot Kinney Boulevard, a six-block stroll of one-of-a-kind Venice boutiques and eateries.
It is in this land, on Marina Peninsula, a small stretch of beach that lies between Marina del Rey's channel and Venice Beach, that sculptor Sierra Pecheur walks each morning at dawn. With two small dogs and a curious clay creature she calls Space Alien, she strolls along, picking up an alarming amount of trash––plastic straws, lost toys, cans eroded by the sea till they look like something from a nuclear apocalypse, masses of tangled fishing line and hooks, plastic cigar tips, an occasional knife, and, once, a bullet casing. Pecheur photographs each day's haul of refuse, as well as dead things––decomposed bird carcasses, harbor seals, an ethereal octopus, mountains of reddish brown seaweed, broken from the warming of the seas and then washed up onto the beach. For years she has been the archivist for this small strip of land. The photos tell a story of the land, sea, and creatures, all changing at a terrifying rate. Every piece of trash, every bone or bird skull is fodder to be incorporated into Pecheur's sculpture and Space Alien is the witness who observes it all. But more about Space Alien's role as art ambassador and environmental activist later. 
Sierra Pecheur has been an artist for a lifetime, but it is only in the last decade that she has begun to show her work in earnest, with three major installations since 2008 and inclusion in a number of group shows. PUMP, her most recent show (Studio C Gallery, LA, Aug/Sept 2018) focused primarily on the environment with a series of Tidal Hearts. These substantial heart sculptures are wall-mounted, some as large as 2 x 2 feet, and include Pecheur's beach trash embedded into the clay or anchored to its surface. Ten percent of the show's proceeds were donated to NRDC (National Resources Defense Council) to help the organization's fight against the destruction of the environment. 
Pecheur explains that she uses the heart as her base because, "All human emotion and action possesses a heart metaphor, the heart of a tree, for example. The heart is a muscle. It pumps. In a lifetime it will beat over 2.5 billion times and pump over 200 million liters of blood to sustain life for one human being. To do this the heart is the strongest muscle in the body. We know that muscles hold memory, including trauma, but every ravage of the heart, stored over millennia, has potential to transform. This theme shows up in all my work––transformation. The trash I collect every morning becomes the art that rails against that very same trash strangling the creatures of the sea and sky. If history, as I believe, is made of skulls and bones and hearts, then the heart is the animator for the earth and all that is on it. When the heart is broken it animates war, hatred of others, and inhumane cruelty. Extinction is forever. Humanity can alter it."
So where does Space Alien fit into Sierra Pecheur Land? Space Aliens will inhabit Pecheur's next show and they, too, make use of the beach garbage she collects as they chronicle rapidly changing climate, extinction of species, and the baffling insistence of humans to destroy their own planet and each other. Space Aliens are parthenogenetic. They reproduce without fertilization. They are neither male nor female. They are called them. Pecheur will tell you that Space Aliens' observations about planet Earth keep them silent about their own planet, where water is plentiful (they surf there) and the atmosphere could support human life. They see what we have done to our own world.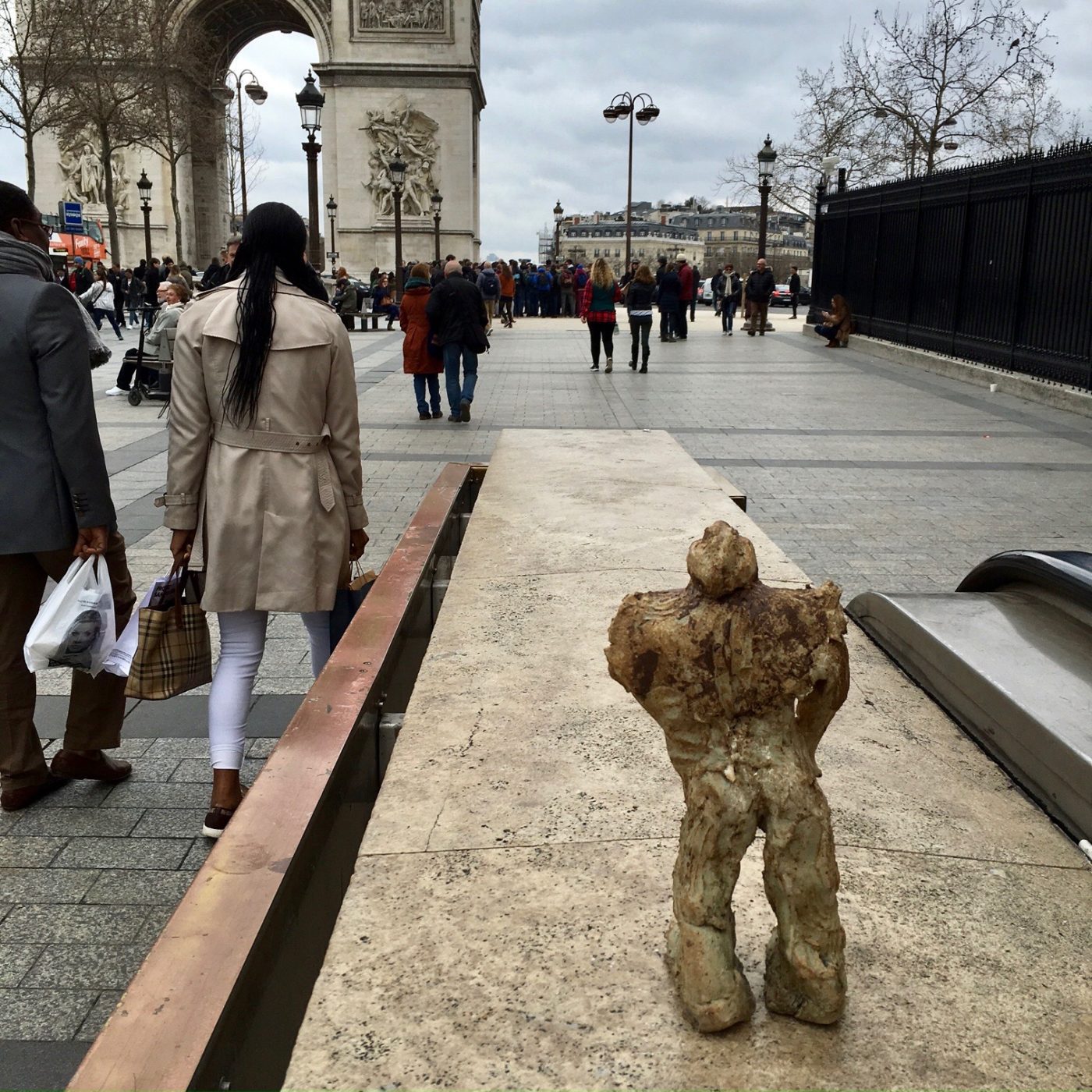 There are many Space Aliens now but SA, who walks with Pecheur every morning, was the first one she built and is now referred to as OSA (Original Space Alien). For three years Pecheur has been creating these enigmatic beings and their observations of human folly, intolerance, compassion, or greed. They rescue and befriend plastic animals lost on the beach. They wear crowns of bird skulls. One carries a bunny purse. Several wear sunglasses by Celine, Gucci, Louis Vuitton. Attempting to understand human behavior, they mimic us, which is often profoundly silly. Pecheur has coined the word "ridiculosity" to describe the most endearing quality of Space Aliens and it is this ridiculosity that enables her to hold despair at bay. It is easy to fall in love with Space Aliens, to laugh at them. They are ridiculous but there is a pathos, a sweet sadness about them that could not exist without ridiculosity. Space Aliens are witnesses. They will tell the story of our beauty and destruction. Pecheur will exhibit them alongside their observations, as chronicled through their long time Instagram journey. 
This prolific artist has an unusual roster of collectors: Justin Tranter, (in collaboration with Julia Michaels) one half of  "pop music's hottest songwriting team," according to The New York Times; John F. Kennedy's good friend, Michael Butler, who produced the original production of Hair on Broadway; Shea Diamond, who's song "American Pie" has become the Anthem for the Trans community. It is the young, in particular, who gravitate to Pecheur. They are stunned by the power of her work, its ability to jar them in a world where they are bombarded by images that strive to jolt. It is precisely because her work is not created to shock, but is rather the product of years of commitment to express all the rage and love she feels, that the young recognize it and want to live with it.
And Pecheur is not about to slow down. At five feet ten inches tall, a corona of bright, white hair that many women would kill for, she has the strength to routinely lift sculptures as heavy as 20lbs and more. At 4:00 am every weekday, before her beach patrol, she heads to the studio where she fires the kiln. After the beach, it's back to the studio to work till noon or so. Then home to work on Instagram screen grabs that will be exhibited alongside the Space Aliens included in the Space Alien show. She also facilitates workshops, small Dig Sites, where participants create their own artifacts — hand-sized items that will tell future generations who they were and what they loved, a mark of having lived on this planet. 
And the work itself is astonishing to behold, stunning in its beauty and its gruesomeness. One feels compelled to touch the pitted or porcelain smooth lines that are one of Pecheur's signatures. Her lines are organically elegant, yet powerful in their sweep. They are fearless. The scope of the work is daunting in its volume, its never-ending mission, and its insistence that we look at history. Pecheur's sure-handed manipulation of clay evokes a realism that is all the more powerful for its not being realism. The clay is pockmarked and scarified. There are gashes and gun holes in skulls. Polychromed glazing and after painting create dried blood, vividly colored, climbing mold, and oxidation. In the Ghost Hearts series, the porcelain is a desolate white, devoid of color, yet breathtaking in much the same way as a Pterodactyl's ghostly wingspan of bones. Ghost Hearts are a grieving. They are both testament and warning. They tell the story of massive losses that are happening all around us, even as we turn our heads away. They weep and we weep with them. It is no wonder that an artist who experiences this depth of grief and rage needs the ridiculosity and endearing decency of Space Aliens to keep her anchored to this world. The irony must be noted. Beings from space hold Pecheur's tether to Earth. 
The influences in her work are clear––pre-Raphaelite Nouveau and Arthur Rackham. The astute will understand why Anselm Kiefer is another inspiration and her favorite artist. During a Paris trip in 2015, she inserted OSA, who travels with her, into Kiefer's "For Madame de Staël: Germany" installation at the Pompidou Center in Paris. In The New York Times article about the Keifer retrospective, Doreen Carvajal described this particular work as: "Waves of undulating sand are dotted with upright slabs of mushrooms. A rusting machine gun lays across a hospital gurney made of lead inscribed with the name of the 1970s German terrorist Ulrike Meinhof. At the rear, a huge canvas shows a ravaged, wintry forest receding into the distance." OSA looks right at home. Yes, Pecheur did that. And then she photographed them, a solitary creature in the sand at the edge of Kiefer's installation. She is an undeniable artist amongst artists.
The Kingdom of Marina del Rey should declare her a national treasure.
Sierra Pecheur, at 80, has plans, indeed!
By Alexis Kelley, Los Angeles, CA