How Haunted is Haunted?
Is being haunted a thing? Or is it all a marketing ploy. Well….
Across America, dozens of hotels want guests to believe they're haunted. You'd think that was counter-intuitive: "Come to our hotel! Get possibly attacked by vicious undead spirits!" But it's actually a huge draw, likely fueled by the popularity of the everyday paranormal investigator portrayed in tv and film.
Are any of these hotels actually dangerous? Plenty of them sure are creepy, or at least a little unnerving. How much is just subtle, or not so subtle, marketing? Is there really a ghost in the ice machine?
As college freshmen, barefoot and creeping around in the dark, my friend Tori and I were tempting fate at California's notoriously haunted Del Coronado Hotel, where nineteenth century spurned ingénue Kate Morgan was said to have taken her own life. Someone tipped us off that it was in a dark, shadowy room on the third floor. So, we crept down the stairs, in effort not to wake Kate's tragic and vengeful ghost. As we tiptoed closer and closer to the room, our imaginations eventually took over and we screeched and ran – and started all over again and again.
A few decades later I was watching one of those destination haunting shows where ghost chasers—those who travel in pursuit of paranormal encounters—filmed themselves sleeping at a supposedly tormented hotel. In the infrared video, a couple and their toddler sleep in bed while some invisible force plays with the little kid's toys, wheeling the wheely things to and fro, ringing bells, and activating electronic musical games. The parents explained that they traveled to haunted places, as some do, recreationally. (Though it does beg the question of why you would bring your kid along for the potential creep ride.) I could have sworn they claimed to be at the Hawthorne Hotel, in Salem, Massachusetts, where the infamous Witch Trials took place in the  late 1600s. Some consider the hotel the most haunted in America.
The Hawthorne is one of those older, classic hotels, shamelessly dowdy with its clunky wall carvings and floral couches. No sleek minimalism here. The rooms are nice enough, the food's home style and satisfying. But no discernible ghosts. Not even a ghostly vibe. I went to the front desk, both relieved and disappointed and asked the attendant: "Hey, um…I've heard you guys are haunted. Have you ever seen a ghost?" The lady there replied with a cheery, coined statement: "I've heard people say that, but I myself have never seen a ghost and neither has any of my colleagues." I responded with: "But…you realize this is supposedly a famously haunted hotel…right?" Still smiling, she said: "Yes, I have heard that, but I've never seen or experienced anything." Satisfied, she went back to tapping on her monitor. At the Hawthorne, it seems the most intense haunting is in the grand ballroom, austere with its mile-high ceiling and tacky brass finishes, though not by ghosts, but a perpetual fleet of rowdy wedding parties whooping it up to Kool and the Gang.
So, how haunted is haunted? It doesn't serve hotels like the Hawthorne to make a statement either way. I stayed there for the spooky factor (and since came back again and again for the hominess, which the Hawthorne does better than anyone I know).
Eric Perry is a three-time Paranormal Award winner and producer of the Amazon Prime show Haunted New England, and has been investigating the paranormal for ten years, from Maine to Virginia. He's both a believer and a skeptic. When asked if hotels might use their haunted status to sell rooms, Perry replied: "I do. Some overcharge people to stay at a truly haunted location. Yes, they can possibly lie about what's really going on in the hotel. I had one in New Hampshire that lied about the activity. And charged my team a lot of money. And the history did not match up."
The folks running the Lizzie Borden House in Fall River, Massachusetts, demonstrably insist it is haunted. And tell you that you can stay the night there, if you dare. They will tell you most nights you'll hear something, almost as if guaranteeing a spectral experience. Odds on if you are in the rather dingy gift shop, there will be someone visiting you can strike up a conversation with who will tell you they heard something or, even, felt someone touch them (no, really).
Want to sleep with Marilyn Monroe? Well, you might just get your chance if you stay at Hollywood's Roosevelt Hotel, where she's said to haunt the hallowed halls. Or perhaps you're more literary and would like to dine with Dylan Thomas at the Hotel Chelsea? Perhaps, if it ever (imminently) reopens you'll be able to, or to see Sid Vicious, who's also supposed to reside there in the afterlife, although he didn't die there (but he killed his girlfriend there, if we're being nitpicky).
The Queen Mary, possibly one of the most haunted attractions in America, offers land-locked Long Beach, California tours, even at night. A day tour will cost the average adult $27.00, but, since we're told the spirits come out after sundown, naturally the price would go up to $44.00 per person ($79.00  for an official paranormal investigation). They offer several different packages, that don't promise you'll meet the famous wandering sailor phantom or the kids that drowned decades ago, but some do include dinner, if you really want to make a night of it (pun intended). That one will cost you $134.00.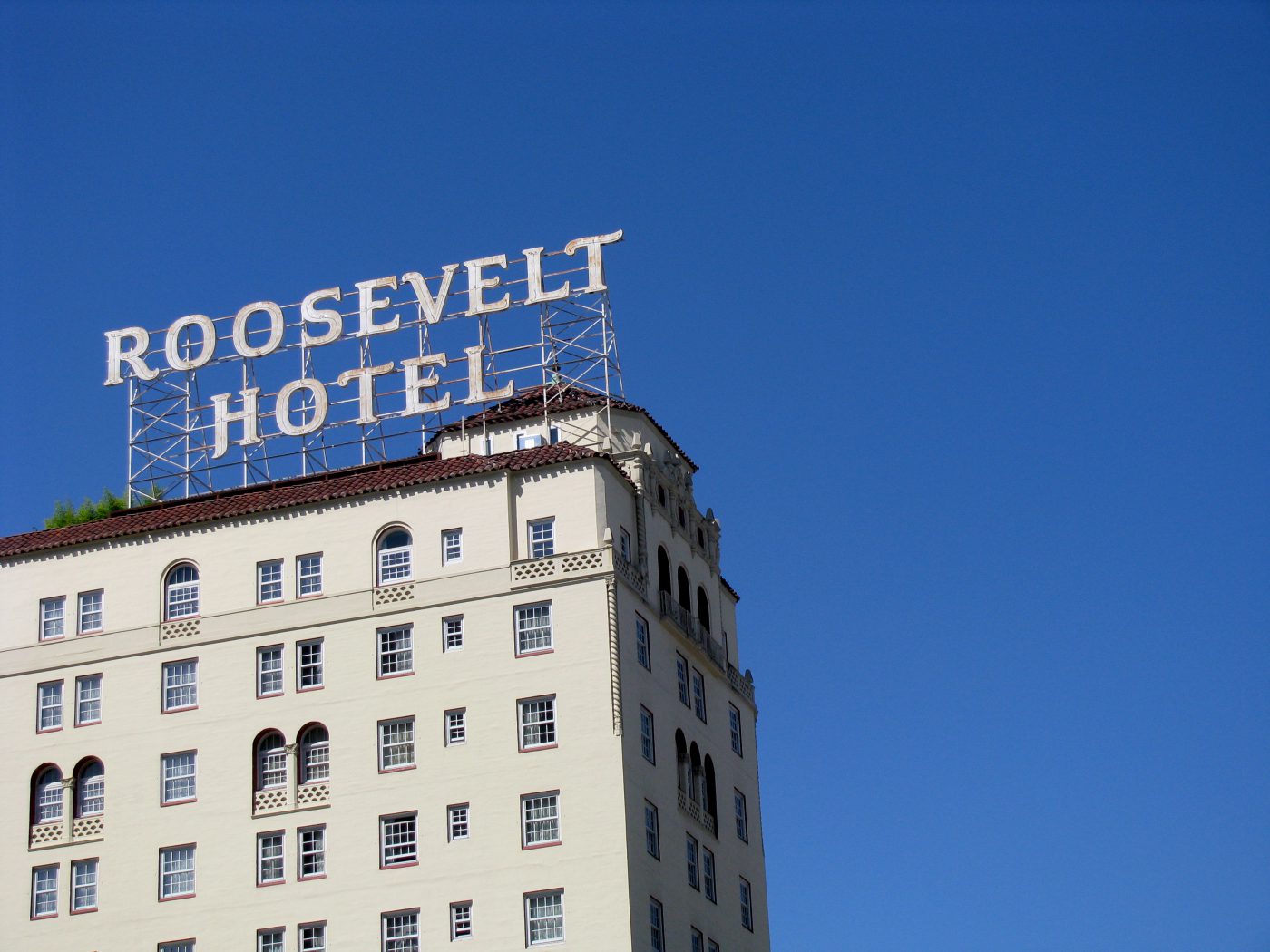 But some pro baseball players who stay at the Pfister Hotel in Milwaukee have famously branded it as a very unsettling property. ESPN The Magazine's Stacey Pressman spoke to some of them in a thorough 2013 article, and quoted the Marlin's Giancarlo Stanton: "Man, I hate when we have four games there. Two, three, anything's better than four. It's freaky as shit, with the head-shot paintings on the walls and the old curtains everywhere. It reminds me of the Disneyland Haunted House."  And USA Today published a similar article about the Skirvin in Oklahoma City, where some visiting NBA players in town for games with the Thunder, have also been mightily spooked. Apparently the hotel is haunted by a young woman who threw herself and her baby from the 10th floor.
If you call the Pfister Hotel to discuss this, as I did, you'll be cheerfully ushered to the marketing department where, after denying any presence of ghosts, a truly lovely person with authority will tell you that they'd "rather not" be quoted in any kind of story.
Okay. So what kind of influence does good old fashioned lore have on your mindset when you go into a place? Let's ask Eric.
"The mind is a very complex. Our mind sees what it wants to see. With athletes like baseball players not only do they fine tune their bodies but their minds as well. But not every baseball player that has stayed at the Pfister has seen or believed in activity at the hotel."
That's not to say it's all in their hard-hatted heads. Pressman's article on the Pfister includes haunting specifics. The Cincinnati Red's Brandon Phillips claimed his radio turned on and off by itself. The Nationals' Bryce Harper said that he woke to find his clothes and the table he laid them out on had moved to the other side of the room. The Giants' Pablo Sandoval said his iPod played music on its own. CJ Wilson of the California Angels said his lights flickered on and off. But then there's Red Sox Shane Victorino: "C'mon, I don't believe in all that shit. I know one of my teammates freaked out once because the lights were flickering, but it's not haunted. There's nothing wrong with that hotel."
Guess he ain't afraid of no ghosts!
When in doubt, take a cue from Phillies player Michael Young, who embraces the idea that if you can't beat them, join them: "Oh, fuck that place [the Pfister]. Listen, I'm not someone who spreads ghost stories, so if I'm telling you this, it happened. A couple of years ago, I was lying in bed after a night game, and I was out. My room was locked, but I heard these footsteps inside my room, stomping around. I'd heard all these stories about this hotel, so I was wide awake at that point. And then I heard it again, so I yelled out, 'Hey! Make yourself at home. Hang out, have a seat, but do not wake me up, okay?' After that, I didn't hear a thing for the rest of the night."