My Summer of (Books I) Love
New and classic reads (and re-reads) on paper or audio
IT'S MESSY By Amanda de Cadenet
Harper Wave
If you're a woman and you haven't read this yet—WHY NOT? Tireless girl-power crusader and host of The Conversation Amanda de Cadenet has created a book you should feel embarrassed not to know. If it's possible for a collection of essays to be a modern-day woman's ultimate tome, this is it. This frankly honest and down-to-earth author leaves no topical stone unturned in her bare-all collection of essays that serves as the smart sister you never had who says, "This is what happened to me, this is what I'm going through, you're not alone." Topics range from career, to body issues, to motherhood, to men—admitting every step of the way she's still figuring it out. Think you've heard of books like this before? You haven't. This is the book all of those books want to be.
If you've already read it, get it on audio, because de Cadenet reads it herself like she's your new best friend.
A LITTLE LIFE By Hanya Yanagihara
Anchor
I love a good literary read, and I'm not sure a book of this mastery has found such a cult following since John Irving's A Prayer for Owen Meany (1989). A Little Life doesn't hit you in the gut. It guts you—and then leaves you cowering in the corner to put the parts back together on your own. At 832 pages, Yanagihara has managed to make her readers unabashed gluttons for punishment, all because her writing is that damn good.
Though the top of the story revolves around four close male friends trying to navigate the trials of post-college big city life, straight away you'll notice two things happening: First, you'll fall in love with these characters, simply because you already know them, and; second, you know in every fiber of your being this story is going to go very wrong very quickly. As with any Ang Lee movie, Yanagihara wields a soft tension you're sickly seduced by. And the best and worst part is, she really makes you care about the people in these pages, most notably Jude, the tortured main character, who, as we watch the young men grow through the years, attempt to slay some of the darkest of all possible demons from his past. Beware: Yanagihara doesn't hold back. She trusts her reader, which is, in its own weird way, a refreshing compliment.
THE MALTESE FALCON By Dashiell Hammet
Vintage Crime/Black Lizard
The Maltese Falcon is by no means my favorite book, but it's been a ritual that I re-read it every year for so long, I simply can't stop now. Aside from the fact that I consider it to be the godfather of all modern crime novels (and I love a good crime story!), as an eternal student I am remiss to find any fissures in the plot or character development. This book is as sound as they come, and it amazes me every single time.
In order to read Hammet in our modern age, you must dive right in and forget what you know. It's full of all the clichés that made Hammet's career possible (Bogart's, too), a private eye from 1930 named Sam Spade, as typical and iconic as they come.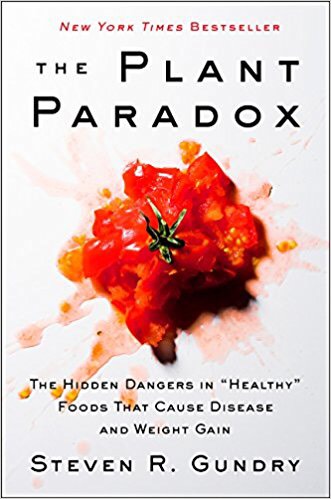 THE PLANT PARADOX: The Hidden Dangers in "Healthy" Foods That Cause Disease and Weight Gain By Steven R. Gundry, MD
Harper Wave
I've been a health food nut my whole life, paying nutritionists and diet coaches obscene amounts of money to create the perfect meal for me. Gundry claims to have cracked the health food code, calling out gluten's evil cousin lectin, a common, highly toxic plant-based protein that's found practically everywhere, including fruit, vegetables, nuts, beans, and dairy. Are you ready to find out what demons are lurking in your salad? I am.
CALYPSO By David Sedaris
Little Brown & Company
As with most of Sedaris's books, I got it the day it came out and read the whole thing cover to cover. Also, like many of Sedaris's books, I'll re-read it again and again. This one, though, is a bit of a departure, as it seems to focus on the here and now, the grown-up Sedaris, and the witty yet very real issues he's faced in the last half of his life, particularly with his family and those relatable tattoo-permanent dynamics, focusing on his father and mentally ill sister, whose suicide left a rightful mark. Somehow, no matter what the subject matter, we're happy to be along for the ride.
WHAT WE TALK ABOUT WHEN WE TALK ABOUT LOVE By Raymond Carver
Vintage
The human population can be divided into two categories, those that love Raymond Carver, and those that don't. I love him—but I've never read this one, a collection of shorts which, from the little I've read already, turns the ordinary everyday into a hypnotic and heartbreaking celebration of life, as only Carver can. Yes, it's about love, but more so the spindles that love naturally creates: loneliness, regret, desperation, loss, and everything in between.
KITCHEN CONFIDENTIAL By Anthony Bourdain
Ecco
This will be a re-read, just 'cause.