VINEYARDS ON THE LAKE
Swiss wine is superb, and a trip through wine country around Lausanne on Lake Geneva will explain why the Swiss keep almost all of it to themselves
Lausanne, perched in the western hills of Lake Geneva, is a French-speaking lakeside town to the west of Montreux. Known as the seat of the international Olympic Committee HQ, it also hosts one of Europe's largest and oldest cathedrals, dating to the 12th Century. Stately, centuries-old palatial and service-oriented hotels, hilly cobbled streets, and inspiration to writers as diverse as Byron, Shelley, Joyce and Dickens — this is Lausanne — but few of us think about the great and hard to find Swiss wine coming out of this area. 
 A visit to Lavaux, and its succession of walkable wine villages a stone's throw from Lausanne, is an excellent afternoon for a tourist, oenophile and French food lover. The Romans have had plantings in Lavaux since the 12th Century.
So when an iPhone-gripping, Alpine valley view-dazed tourist enters through the delicate wooden doors of Cafe de Riex along the Corniche off of Lake Geneva about ten kilometers east of Lausanne, he experiences the three rules of French cafe engagement.
1  A sniff of officiousness from Rogerio, the matre d', as he consults the leatherbound reservations book with, um, reservations, about the single American planted plaintively in front of him.
2  Gentle hospitality with notes of an accepting posture as the first course of crudo of local fish renders an otherworldly look of sublime flavor on the face of said tourist. Appreciation heartens Rogerio. 
3  All out Gallic conviviality as the local pinot noir, picked and produced in UNESCO designated steeply terraced vineyards maybe 200 yards from the table, is poured by Rogerio with gusto. And it pairs hand in glove with possibly the freshest magret de canard in an inky, plum & red wine reduction ever consumed this side of the Gascogne.
With l'edition, Rogerio points me, the tourist, with a slap on my back to a caveau for further local wine tastings just up the Corniche in sunlight dappled Epesses.
If one were to combine the geographic territories of Vermont and New Hampshire (and wouldn't that be interesting) you'd have something roughly the size of Switzerland, and in the Lavaux, the French language and cuisine pervades, and strolling among the many ancient family-run vineyards of the Bourg-en-Lavaux makes for a serene afternoon. No car is needed, and they are few and far between in the tiny 15th Century wine villages of Cully, Epesses, Riex and Grandvaux accessible in hilly, undulating village path walks punctuated by gripping mountain views of Lake Geneva along the Corniche. 
It is said that 80% of the wine produced in Switzerland stays in Switzerland, and why not? The warm Alpine sun and cool Lake Geneva breezes keeps these vineyards at optimal for fussy pinot noir and gamay but also for the delicious local white, Chasselas. At Les 11 Terres, a smart, compact two-story caveau in Epsesses a few hundred yards up from Cafe de Riex, Julien, a young, affable and knowledgeable host can give you a lovely survey of local wines, as he refers to the producers by their first names or points to their homes in the hills. I favor whites, and the Epesses "L'Embleme" 2018, which at about $18 per bottle is a lovely dry white wine — and a bottle that literally eludes all US wine search engines.
Ambling down the steep steps toward the village of Cully one encounters polite children on scooters, and local cheese, wine and other agriculture vendors among the patchwork of ancient walls, iron gates, and spring-fed brooks flowing to Lac Leman, as the locals refer to Lake Geneva. The municipal train line stops even in the tiny village of Epesses, just across the motorway from the California modernist cool of Hotel Lavaux.  Instead of the train, I decide to walk into Cully and catch one of the remarkably beautiful, old world bateaus that every hour or so ferry commuters and tourists circumnavigating the lake, dotting into France and Switzerland along the way. From Lausanne, the relative metropolis to the villages of Cully and Epesses, it is a twenty-minute ferry ride, which you pretty much don't want to end as the fleet of Belle Epoque boats originally commissioned in 1910 are a throwback to another, far more genteel era. Kids will love the enormous paddle wheels operating inside the boat, pushing and pulling the dark lake water to propel the craft, and for the parents, the dining rooms always have iced, cold champagne packed into silver vessels on the oak bar.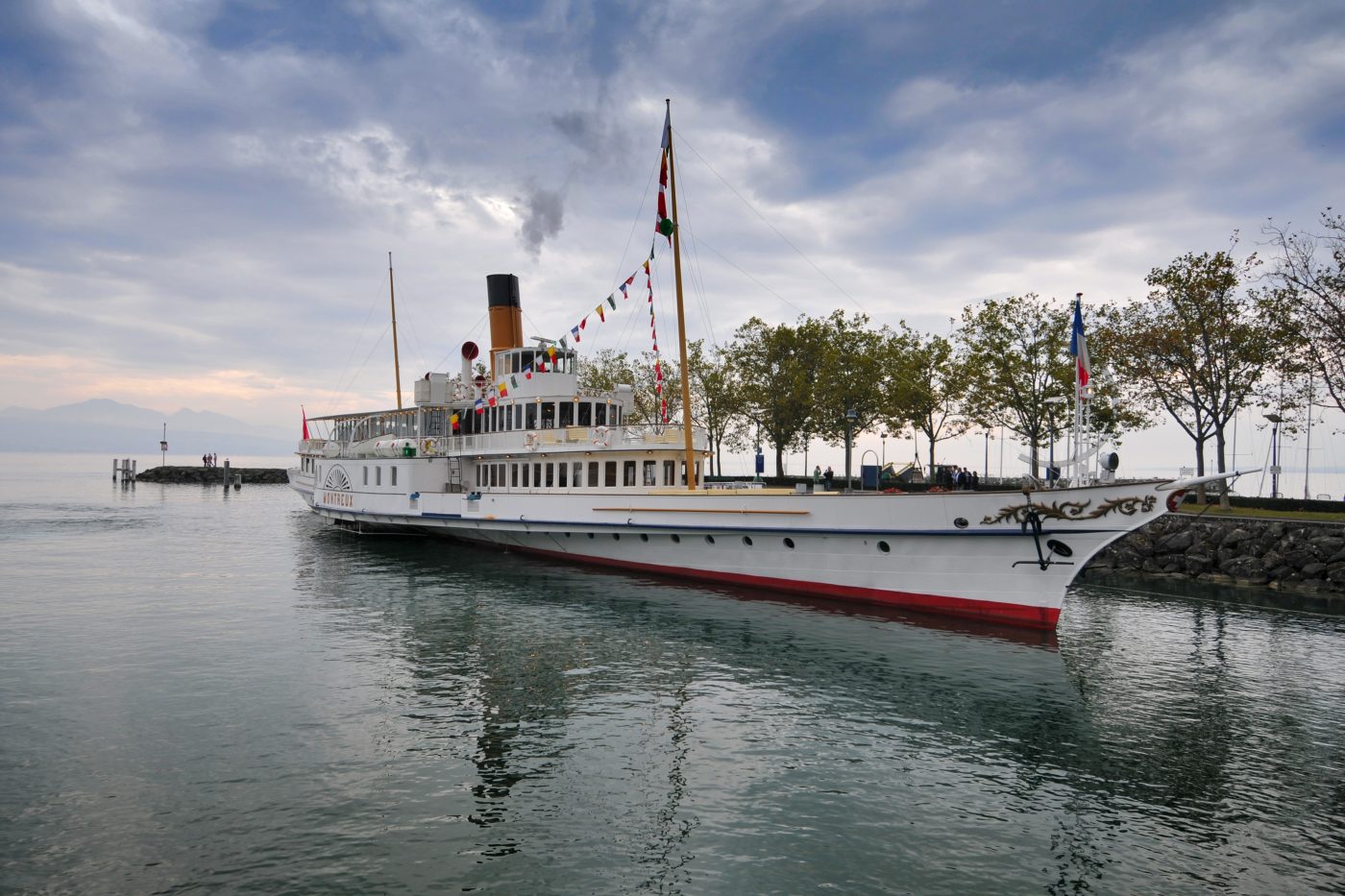 Reminding me that on my return to Lac Leman to visit the many other lakefront villages or perhaps Montreux or Evian-les-Bains, I'll be sure to seek out those local sparkling wines as well.
With l'edition, Rogerio points me, the tourist, with a slap on my back to a caveau for further local wine tastings just up the Corniche in sunlight dappled Epesses.