ON THE LAKE
The Swiss do not miss at Zurich's Baur au Lac hotel
My dinner companion at Zurich's legendary 93-year-old, art-filled, high-Swiss dining institution, Kronenhalle, was describing an unusual sight in late 2016 during an otherwise typical early morning bike ride to her office on the bond desk of one of this city's many formidable financial services firms.
Bed sheets. Presumably high-thread count Italian bed sheets being held aloft by lines of uniformed hotel personnel shielding FIFA executives from view as they were carted into awaiting police vehicles in their jammies inside the parking terminus at the Baur au Lac hotel nearby.
Exceptional hotel service, indeed.
The Baur au Lac hotel is a bastion of gentility, and discretion, perched just off the eastern head of the 25-mile-long Lake Zurich around which this metropolis is spread. With gently rising highlands in the distance in most directions, Baur au Lac itself has its own private green park, dotted with rotating contemporary sculpture exhibits, that sits just outside its Terrasse open-air bar. You are smack in the city, though, with main thoroughfares like the busy Talstrasse and the luxe shopping high street, the Bahnhofstrasse, steps away.
Zurich is, as one would imagine, an exceedingly clean and highly efficient city. It's common to see urban shopkeepers vacuuming the cement sidewalks in front of their establishments. The metropolitan tram system is a model of simplicity and effectiveness at moving around the 400,000 or so Zurchers. (Maybe the current administration of NYC's MTA should attend a seminar or something). But what sets it apart from other Germanic locales — it's Switzerland's largest metropolis — is the proximity to and influence from Northern Italy and France. You can be in either Beaune, the heart of Burgundy, or Milan in just three and a half hours by car. So there are countless fine Italian and French restaurants in Zurich, and those cultures subtly influence the Zurcher ethos.
No slouch, the Baur au Lac's fine dining room is Restaurant Pavillon, a one Michelin-starred affair that takes haute cuisine classics and filters them through the prism of both Swiss fastidiousness and an affinity for contemporary art (after all, Cabaret Voltaire, the cradle of the Dadaist movement, was opened in this city in 1916). In short, expect sculptural food artfully plated in preparations with exquisite ingredients.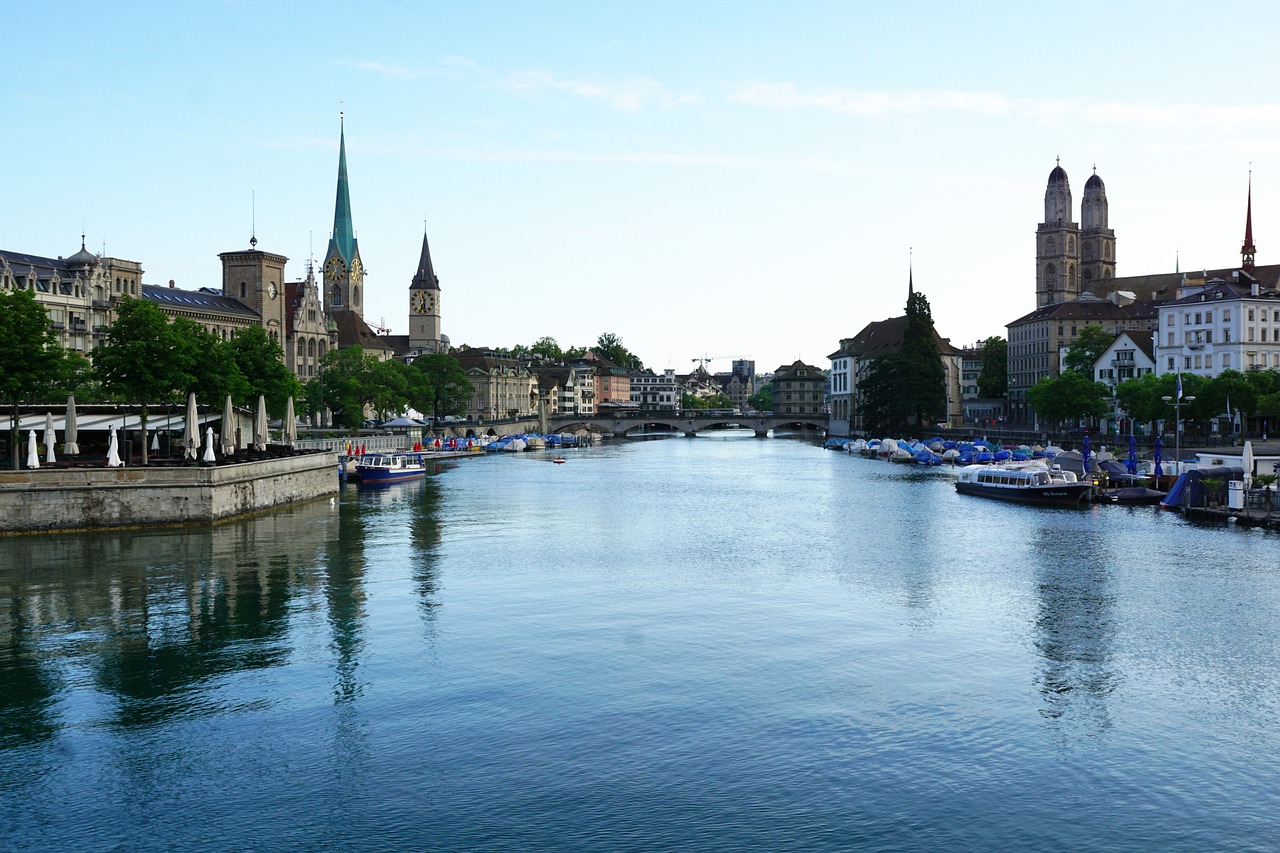 The first time I walked into the Pavillon was in 1990 when my father took me to Zurich as the very first stop on my obligatory post-college European sojourn. It was empty during the day (there is no lunch service) and the light streamed through the immaculately sparklingly picture windows that surround the dining area, giving it the feel of an orangerie or solarium. It was a really really nice room — still is — almost exactly as I remember it. I think my father was trying to show a sheltered midwestern boy a bit of the Continental. "You'll take your son someday." The Baur au Lac and fine, old-school, service-oriented European hotels were cathedrals for him, a sensible bon vivant who'd stay a night or two at someplace like this then "average down" elsewhere on an European itinerary.
But a 21-year-old wants to be on the prowl, so if you're agelessly on the prowl, and want an alternative to utterly refined haute dining like the Pavillon, Baur au Lac now has a bar and bistro they call Rive Gauche.
It seems like whenever a restaurant or shop adds "gauche" to their name they're trying to suggest — 'we're a nice place, but we can roll, we've got a bit of the bobo.' Rive Gauche lives up to its name with a beautiful, long, polished oak bar, attentive bartenders and a clientele that — after a day of mastering the universe — wants to have a few cocktails and loosen up those Hermès ties. There are a couple of flatscreens festooning the bar but it's not soccer or CNN International bleating out, but silent rotating pictures of Rive Gauche clientele in high-def color at holiday parties and costume parties and that sort of thing in various states of "getting loose." It's sort of amusing, in the way that certain European cultures occasionally lose possession of any sense of irony. One thing Zurchers seem to give off is a mild, benevolent sense of not-giving-a-shit. This is the place to go for a casual meal at Baur au Lac, and by casual I mean not eye-poppingly expensive like Pavillon or any number of restaurants in a city known for being at the upper end of the cost of living scale.
Still, Zurich is an overlooked place among Europe's major cities but I think it's got the charm, soul and metropolitan esprit de cours of some of the other more heavily traveled ones. Its charms are understated. Its magnificent lake — that in the summer comes to life with swimming clubs along its shores and sailboats gliding about among a mountainous backdrop — well, I can't think of a better urban vacation destination. It's certainly not lacking for excellent food or hotels, with the Dolder Grand sitting magisterially in the foothills on the outskirts of the city, the erstwhile Swiss home to sheiks, the Stones and the exceedingly well-insured, complete with bulletproof steel clad hotel room doors, and a futuristic Antonioni movie-set spa recently completed after the nearly half-billion-dollar renovation.
I think the Baur au Lac eschews such aggrandizements, much like Zurchers themselves. My Kronenhalle dining companion and I played the "where would you live if anywhere on the Continent" game over digestifs. Multi-lingual, armed with a PhD in law, she conjectured Barcelona, Turin, maybe Cologne (London was out). Sighing, she seemed to give up, as if to say 'why would I leave here?' I couldn't agree more. And I'll be back to the Baur au Lac to bring my sons in short order.