HOTEL
Tourists is a new hotel in the Berkshires, for art and other lovers
Art aficionados slot The Massachusetts Museum of Contemporary Art high on their bucket lists for good reason. A vast art and performance space housed in a former 19th-century textile mill complex, MASS MoCA specializes in large scale immersive installations. For example, during my recent visit, I was able to admire Liz Glynn's The Archaeology of Another Possible Future, the five-part exhibition spreading across 30,000 square feet. Visitors begin by wandering among the "analog caves" of reclaimed forklift panels, then through shipping containers which stand as "relics of a global economy in acute transition," then up scaffolding towers where 3D printers produce usable pieces of hardware, to end in "the post-industrial vacationland" where hospital stretchers, modified into lounge chairs, recline under tanning lamps. Glynn's project, which invites viewers to ponder "What happens to stuff, and the people who make stuff, in the age of an increasingly virtual, dematerialized economy?" is ambitious both conceptually and physically. And it's just one of the many works at MASS MoCA that could be displayed in few, if any, other settings.  
Museum goers can easily spend an entire day there, but — even if they planned to visit the nearby Clark Art Institute, valued for its French Impressionists, the next day — they'd have a ways to go to find a hotel that complemented the art experience they'd just enjoyed. The Southern Berkshires, home to towns like Stockbridge and Great Barrington, has long catered to visitors, but there simply hadn't been a hotel in the Northern Berkshires that would appeal to the kind of folks, say, who'd happily drive three hours from Manhattan to view Jenny Holzer's LED light projections. That's changing.  
Enter Tourists, a hotel and retreat on Route 2 in North Adams, newly renovated and expanded from the slowly dying Redwoods Motel. With 48 rooms, Tourists has the expected luxuries — a pool and deck bar — as well as the unexpected, such as a suspension bridge spanning the Hoosic River, leading to fifty acres of hiking trails.  One trail leads to a yoga/meditation deck. Another leads to "The Chime Chapel," an outdoor sculpture of playable windchimes, created by the New Orleans art collaborative Airlift. Yet another path links to the Appalachian Trail, so hikes can extend beyond the fifty acres, perhaps even to Mount Greylock, the highest peak in Massachusetts. Greylock's distinctive silhouette, covered in snow, looked like a great white sperm whale to Herman Melville and inspired Moby Dick.   
The name "Tourists" came from a giant wooden sign the hotel's creators found in the derelict Redwoods. They kept more than just the sign; the aesthetic at Tourists is moto-lodge chic. A "camp out" feel reigns, from the cedar-clad lobby to the coffee served in retro Stanley thermoses, to the guest rooms' high-end toiletries redolent of — could it be — Vic's Vapo Rub?  James Beard Award-winning chef Cortney Burns' "sweet bite" menu includes the ingredient "spruce" before the more familiar "chocolate chip cookie," and "sumac" modifies "granola." Burns' high-end restaurant, LOOM, currently under construction in an old church on the property, won't be finished until winter, but one can enjoy her playful "jar food" starting July 30, when the hotel opens.  Remember sitting around a fire at sleepaway camp, grilling hot dogs on sticks, potatoes in tin foil, making apple pie in a tin can? Burns' jar of fermented butternut squash and sesame dip served with spelt porridge bread was indeed consumed around a fire at Tourists — though that might be the only similarity with my years of Camp Singing Hills cuisine.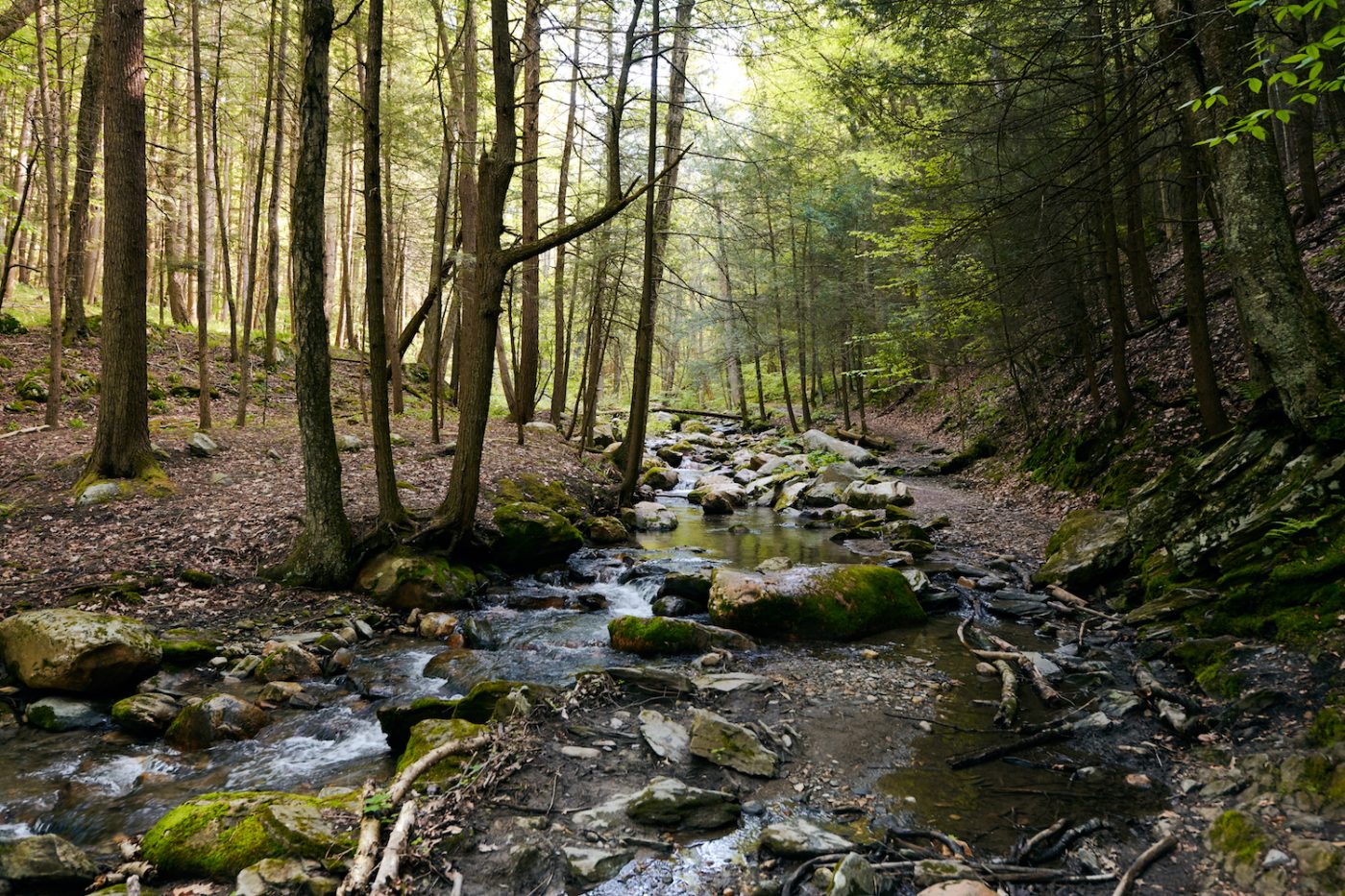 Perhaps the uniqueness of Tourists has less to do with details of design and more to do with the spirit of its creators.  The origin story captures this well: Several years back Scott Stedman, founder of Northside Media, was chatting with a friend of a friend at a Chicago party.  When their talk turned to passion projects, they discovered they both harbored the dream of creating a resort. They exchanged ideas on hospitality, discussing how hotels shape travelers' desire to engage with their locale.  The guy Stedman was talking to? Turns out it was John Stirratt, the bassist for Wilco, who has seen a hotel or two in his time. "You gotta meet my cousin Ben, a real estate developer," Stedman told Stirratt. So cousin Ben got on board; and Ben's brother, Eric; and Eric's brother-in-law, Dana, and so on. Eventually there would be eight partners, which they'd need to pull off the buying of twenty-two different parcels in North Adams, an area Stirrat had first fallen in love with when performing at the Solid Sound music festival in 2010.  
How does this spirit of serendipity and creative collaboration play out on the ground?  Consider that the Tourists team used the hotel's soft opening not as an opportunity to reward investors or charm travel industry insiders, but to bring poets together.  Good-time guru Stedman (who does NOT seem like the head of a successful marketing company, and that's a compliment) invited five poetic co-hosts — Jeff Gordinier, Dan Chiasson, Sandra Beasley, Jana Prikryl and myself — to invite poets we admire for a poetry-pop up retreat, free of charge. Poets NEVER turn down anything free of charge.  We recited poems about booze standing on picnic tables at cocktail hour, capturing perfectly, says Stedman, "the inebriated joie de vivre of Tourists." We recited poems, ours and others, at the chime chapel under the stars, around the fire with our jars of food, and while being led by a local forager through the woods. I can't imagine that treating 35 thirsty poets and partners of poets to a free vacation is sound investment strategy. Which is exactly why Tourists might be on to something. The place has mojo that comes from participating in the gift economy. It's launching into the world on the turbo jets of love.
So maybe visitors who come to Tourists in order to visit MASS MoCA should consider booking more than one night. Otherwise, they might be so lured by the charms of the hotel that they forget to visit the museum.  
Tourists
915 State Road
North Adams, MA 01247
(413) 346-4933
Beth Ann Fennelly is Poet Laureate of Mississippi, and most recently the author of Heating & Cooling: 52 Micro-Memoirs (W. W. Norton).