T

HE

 9 

BEST 

SKI & SNOWBOARD DESTINATIONS

WINTER 2020
Skip the usual spots of Colorado and the Alps and speed down slopes in Romania, New Mexico, and even Israel…
Between overtourism and climate change, it's becoming more challenging every year to find fresh, soft powder to ski and snowboard. Don't worry. There are still plenty of mountains for us to leave lots of traces along well-groomed trails all over this planet. But we're not talking about the quintessential resorts in the Swiss Alps or in Vail, Colorado. Winter 2020 will be a skiing odyssey as you swish from piste to piste in often overlooked resorts in such places as Ontario, Vermont, the Pyrenees. Heck, we're even sending you to the Middle East. Just don't go crossing any borders.
STRATTON VERMONT
When Stratton Mountain opened on December 29, 1961, it had only three lifts, eight trails and 22 inches of snow.
Today, the southern Vermont ski resort has 99 trails, gets 180 inches of snow a year and has the fastest ski lifts on the East Coast. They're so fast, they can transport 33,928 skiers and snowboarders per hour. That's equivalent to transporting the entire city of Beverly Hills. One of those lifts is the gondola that takes you to the highest peak in southern Vermont. Along the ride, the views are just as impressive as the well-groomed trails with the Adirondacks (NY), White Mountains (NH), Berkshires (MA) and Green Mountains (VT) off in the distance.
Despite being one of the region's most convenient ski destinations – Boston (3.5 hours away), New York City (5 hours), Portland, Maine (4 hours) and Montreal (4.5 hours) – Stratton has a long history with snowboarding. Jake Burton founded Burton Snowboards in his barn in Stratton in 1977 and in 1983 Stratton became the first resort to allow snowboarders on its slopes. It went on to host the Burton U.S. Open Snowboarding Championships for 30 years before that headed to Vail in 2013.
Besides the traditional après-ski scene of craft beers, Stratton offers a package that includes a group snowcat ride to the Mid-Mountain Lodge for a four-course dinner. Or should you find love at first sight, or feel like praying you don't wipeout, there's the non-denominational Chapel of the Snows, which has weekend mass and is open for weddings, even baptisms.
STAY
Long Trail House  Smack dab in the middle of Stratton Village and walkable to the lifts, Long Trail takes your winter comfort seriously. Each room has a gas fireplace, the hearth room has a wood-burning fireplace, there's a heated pool, sauna, hot tub; free coffee in the lobby; even an indoor heated parking garage.
Snowbridge  These mountainside townhomes are the ultimate ski-in, ski-out properties for families or groups.
EAT
Verde Restaurant  Tamarind BBQ glaze pork belly with Grandma's broccoli salad and a quail egg. Need we say more? Grilled octopus, grilled ribeye, salmon from the Faroe Islands. There, we said more.
Snowfish Sushi  Sushi in Vermont? Where could they possibly get quality fish from? Hawaii. And it arrives daily so say aloha to your next great dining experience. Note: Snowfish is in the backroom at Mulligans.
ONTARIO CANADA
Canadians need to do something to get through winter and why should a little cold and snow keep you inside. Make the most of it. There are mountains to be conquered!
Blue Mountain, along the shores of the Southern Georgian Bay in the Great Lakes region, is a two-hour drive from Toronto. Opened in 1949, Blue Mountain has 43 trails – including 30 that are lit at night, should the mood strike – with a good mix of blues, greens and blacks. Three terrain parks will open your world to freestyle skiing. You know, all of those insanely looking flips and spins and grabs seen at the X Games. Grove is designed for those wanting to start progressing their skills, Badlands has bigger jumps to further your badass progression, and the L-Park is for anyone curious about entering this world of extreme.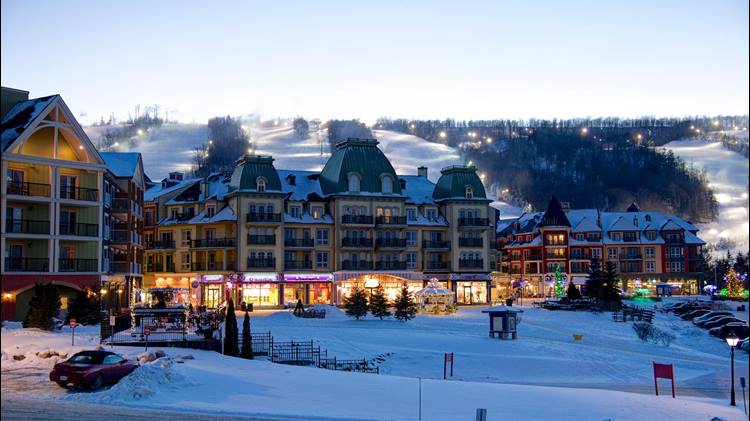 Off-piste are a plethora of family-friendly activities. At the base is the pedestrian-only Blue Mountain Village, filled with shopping, restaurants, bars, a spa, festivals and live music. There are two types of snowshoeing: one where you're driven around in a Hummer and the other involves a visit to a nearby vineyard to sample wines and cheeses. Head to the mountaintop for ice skating or get into that Christmas spirit with a sleigh ride. And who can forget about old-fashioned fun like snowtubing. Since Blue Mountain is along the Niagara Escarpment, you can even explore caves in winter. Go 70 feet underground to witness ancient rock.
STAY
The Westin Trillium House  Right at the base of Blue Mountain, the pet-friendly Trillium House has its namesake presidential suite with views of Georgian Bay from floor-to-ceiling windows. Forget staying in your room to relax because they also have an outdoor heated pool and two outdoor hot tubs. And since it's a Westin, you get to sleep on their trademarked Heavenly bed, which they assure that your sleep will be divine.
EAT
Tholos  This upscale restaurant has all the classic Greek dishes from saganaki to grilled octopus to souvlaki to moussaka to thalassina and that salad with feta everyone raves about. Plus an extensive wine menu with Greek, Italian, French, Australian and even local bottles from Ontario.
The Pottery Restaurant  If you don't want to be too full the following morning, then skip, but you'll be missing out on the Smoked Tomahawk Pork Chop with maple mustard sauce. 
Jozo's Bar  Swish directly to the Blue Mountain Inn at the base of Happy Valley for après-ski: a seasonal menu, drink specials, big screen TVs and open mic nights.
GOLAN HEIGHTS ISRAEL
Despite Israel being in the hot and sandy Middle East, you can drive two hours from the desert to a winter wonderland, Mount Hermon, Israel's sole ski resort.
Mount Hermon, in the northern Golan Heights, lies near one of the most contentious borders on this planet: Israel, Syria and Lebanon. The Israeli side of the mountain reaches 6,500 feet. It's open for two months every winter from January to March and has 14 ski runs and 11 chairlifts for the approximately 10,000 daily (!) visitors, which is on par with world-renowned resorts like Vail.
In addition to skiing and snowboarding, Mount Hermon's other winter activities include an alpine coaster, sledding (though nobody over 12 is allowed. We're bummed too) and the Sky Rider, a circular rail system that's like a roller coaster hanging above the ground.
Because of the resort's location, there's a serious military presence on the mountain. The green huts at the top of the lifts are occupied by members of the Israeli Defense Force and their Alpine Unit patrols the slopes carrying M4 assault rifles. And since there are no true borders, you may find yourself in Lebanon or Syria if you go off the marked trails. In January 2019, the army closed the mountain due to concerns of a missile airstrike from Syria.
Mount Hermon does not tout itself as being a world class resort, but it offers the basics one would expect at one – a pro shop selling brands like Columbia and The North Face, a ski school with certified instructors and an equipment rental shop, because, well, when you're planning a trip to Israel skis and snowboards are the last thing you're thinking about packing. Non-snow activities include viewing Israel's largest waterfall at Hermon Stream Nature Reserve and touring Nimrod's Castle, the largest castle remaining in Israel from the Middle Ages.
STAY
Merom Golan Volcano Resort  Yes, it's 40 minutes from the mountain, but it's within an actual volcano crater! Room options include mountain view suites and cabins. There are nearby hiking trails with views of the Golan Heights and wineries. The resort also has onsite restaurants, the meat-centric Habokrim Restaurant and Coffee Anan coffee shop, named for the late United National Secretary General, Kofi Anan.
EAT
The Green Apple  Named after the apples grown in the region, the Green Apple is a pub with a European atmosphere serving up Italian cuisine with an Israeli approach, meaning vivid, if schizophrenic, flavors. Try the chicken liver gnocchi in onion jam sauce. And they stay open from 11.00 a.m. to "last customer" should you choose to be that person.
Après Ski Restaurant Cafe  For après-ski, obviously. Just a 15-minute drive from the mountain serving imported beer, Mediterranean classics like hummus and Israeli breakfast staple shakshouka: eggs baked in a tomato sauce spiced with cayenne, cumin and paprika, and served with challah bread to sop up the juices.