Orson Welles called Palm Springs paradise. And that man had an IQ of 185. 
I fell in love with Palm Springs upon seeing the first pink palm tree. Initially I was inspired by the legacy of modernist architects like Albert Frey, Donald Wexler and Richard Neutra who all worked out here in the desert. Then I found out Old World Glamorous Hollywood spent their winters here. Think Joan Crawford and Ginger Rogers. That old.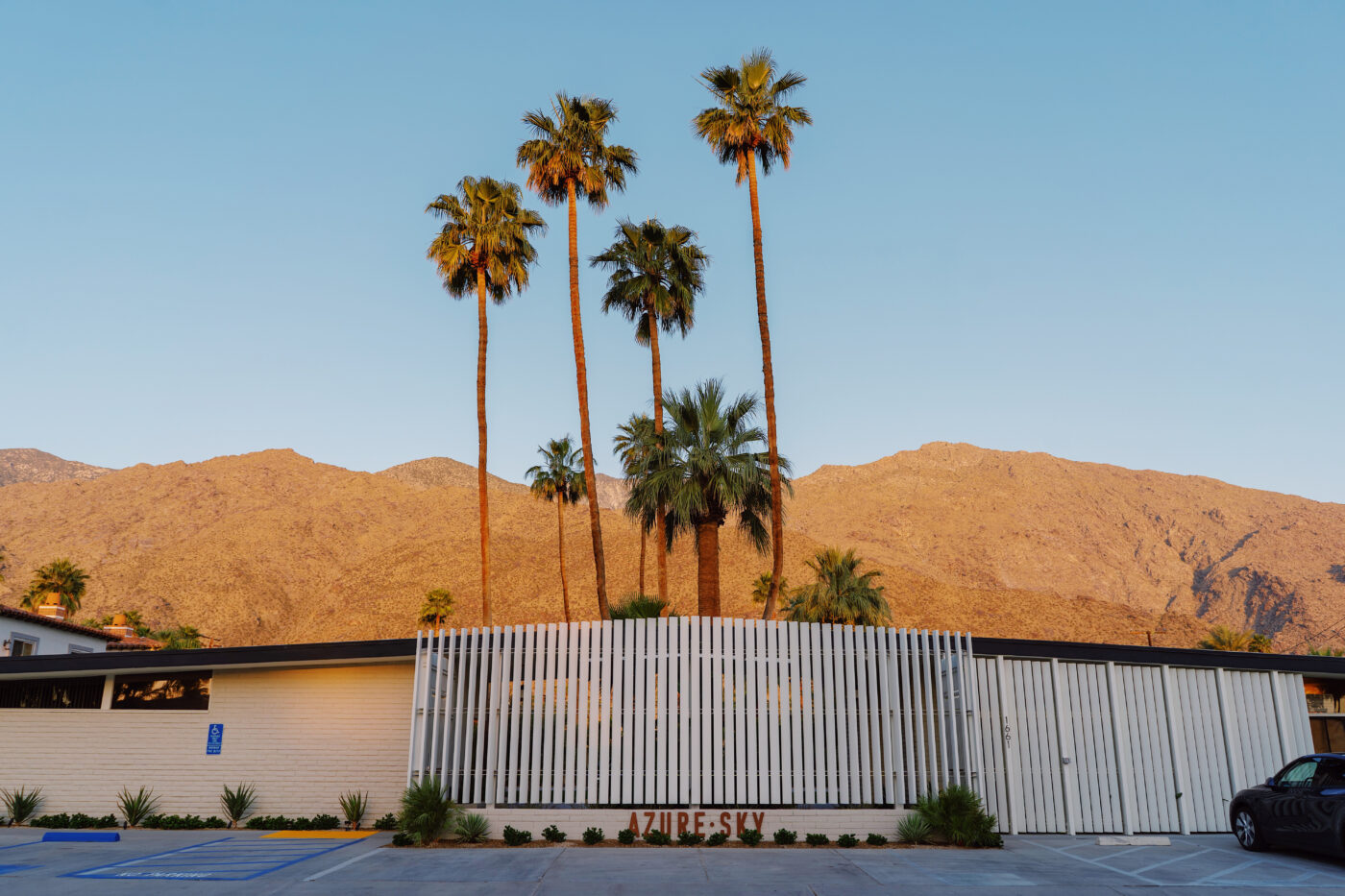 And then my favorite drag queen, Trixie Mattel, opened a very pink, very sickly pink Palm Springs motel — and I've never been the same. The city itself, with an entirely LGBTQ government, has long been the retirement mecca for the queer community. 
In recent years the city has improved itself from just a weekend getaway for twinks and Bettys, by opening chic establishments with thoughtful mid-century design aesthetics. And one such place, is the small boutique property, Azure Sky.  
Uniqueness
The idea of a carefree escape away from the world is exactly what the town of Palm Springs was built on. Throw in that jollity of modern desert mid-century architecture, a minimalist palette, and you have an elegant yet informal oasis amongst the palms at the base of the San Jacinto mountains. And thus Azure Sky was born, originally in 1959 (with a brand new, worthy refresh last year). The hotel has no phones, and no televisions, as they aim to get into that desert spirit of switching off. Just a quiet sway of palm trees to meditate with. 
Read that second to last sentence again and rejoice.
Fun
Majority of my stay I spent in a hammock reading. Since Truman Capote lived in Palm Springs for a period (first he rented, then bought a cute mid-century modern bungalow) I, of course, dipped into his maligned Answered Prayers. Capote spent his time in Palm Springs drinking dangerously and wishing he had love. I decided to lay out in the sun and day dream in the perfect quiet of this little private resort. When I had to leave to get some wind in my hair I used the hotel's bikes and pedaled downtown. 
Fare
Here it's all about the drinks in the lobby and at the pool bar. They serve slushy drinks, craft beers, interestingly designed fizzy drinks I've never seen before plus locally curated fancy snacks. Like back-in-the-day, they've added kitchenettes into the rooms with all the facilities you may want. So instead of traditional fare at a hotel, I love being able to go to the market and make simple throw-together meals (or order fancy restaurant food for take out to have on the little private patios) when I am on the road. I also much adore hand grinding my own coffee and doing a perfect slow pour over in the mornings. It's these little things that make it feel homey when you're traveling and validate exactly why things are better at a not-just-another snooze fest corporate hotel.   
FOOTNOTES
Pool    Yes. Once you sit on a lounger you may never leave, I warn you.
Gym / Spa   Took the loaner bikes for a hot desert ride and did yoga on my terrace
Restaurant   Nope, but having take out was divine
Bar / Scale on 1 to 10   Let's say 7 since it's less bar and more a spot to grab some drinks, however the lounge is gorgeous and meeting other guests was part of the joy
Service  Minimal but just as you want it
Ease in getting to   A breeze from Palm Springs airport, and a solid 2 hours drive from LA. 
Foibles   I needed more snacks and drinks easily accessible, but the world is my oyster and she delivers. Small complaint.
Most unexpected feature   The kitchenettes, so well designed. And the vibe, it is just what you need for the desert.
Price range   Let's say somewhere between $200 and $400 will get you a perfect spot