Fantasy Islands
The best private islands in the world to rent, what they'll cost you, and what to look out for in the fine print
Is your royal honeymoon coming up? Planning a casual birthday party for all your closest friends? Want a private island for that? Sure you do! Well, we're here to help.
Below are some fabulous private islands to consider. All boast gorgeous beaches and breathtaking sunsets. Most have dazzling reefs and offer water sports and whilst on each, you can expect a luxurious stay, amply pampered by staff trained to take care of you and your every not too radical whim. (No one will be flying to Belgium to pick up your favorite mustard by the way.) We're on island time now.
Some private islands charge for things that others don't – you want to find out before you go. For instance: Your spontaneous fireworks event may run you an extra $25,000.
While they may have all the latest hi-tech gear for your kids, that might not include babysitting! Your 3-hour treasure hunt could cost you $20,000 – we're expecting some fabulous treasure for that….
On some private islands listed here you can endlessly dive, channeling your inner Cousteau, and some will charge for each trip. Probably a lot. And while they may give you unlimited local alcohol, you could be paying extra for your favorite tipple or brew. We know that can add up. Don't ask us how we know.
Remember hotel tax and a service charge. On some islands, massages are endlessly included (yes!) – on some they cost a substantial fee. (Which seems, frankly, wrong, and counter-productive.) Unlimited down dogs with your personal yoga instructor? Check on that….
Transportation to and from your island from the nearest airport or land may not be included. Really.
Read the fine print: Know your options and what's covered and what's not. You'll most likely be liable for 100% of your booking fee in the event of a cancellation, within a specific time frame (so be sure what that is). So, if an emergency (or anything) comes up, travel insurance is a good thing!
If for whatever reason you can't leave the island, through incapacitation or sickness, you'll be charged for staying longer, at least the minimum stay, whatever that is declared as at the time of booking. To date, no one we spoke to on any one of our chosen islands have had issues with guests unable to leave due to bad weather. They are equipped with solidly built shelters and an action plan if you do need to take cover. Island people take the weather in their stride, but if in doubt, book the dry season.
We've presented the facts you need, including current rates, who to speak to, and whether or not a local warrior can carry you from the seaplane to the shore. (You're gonna have to keep reading to find that out.)
NECKER ISLAND, British Virgin Islands
Hurricane Irma, as you doubtless know, destroyed much of Necker Island. It has been repaired and rebuilt and made available to rent again.
Let's start with the Big Daddy of private islands you can rent, publicized in extremis with the cuddly Branson/Obama bromance, and then, more darkly, as Branson rode out Irma in the property's bunker/wine cellar. 
"Vegas rules apply" on 74-acre Necker Island in the British Virgin Islands, so you have carte blanche to live out fantasies of tropical debauchery. Necker has been happy to facilitate these.
Once this re-opens, book this one for your blowout birthday or if you're shooting a sexy, beachy music video. What's the point of "What happens on Necker, stays on Necker" if you're just going to lounge around? Which, by the way, is an option that doesn't suck either.
Your Landlord  Sir Richard Branson. It's his house when he's not renting it out.
For BFFs only  The maximum occupancy is 40 adults, spread over the 20-bedroom, rather redundantly-named Great House, and 9 additional Bali style villas. Whoever's footing the bill has dibs on the Master Suite (and its private outdoor hot tub) in the Great House.
Starting From  Exclusive island rental is $102,500 per night through December 31st. Split 40 ways, that's $2,562 per person. Ha! They're virtually giving it away.
Included  Accommodation, all meals and drinks, two pools, Jacuzzis, all water sports equipment, tennis courts (plural). Oh, and a personal chef.   
100 Staff for a Maximum of 40 Guests?  Yeah, including an 11-person team dedicated to water sports, overseeing kitesurfing, sailing, windsurfing, waterskiing, and kayaking. And presumably swimming lessons. And yes, it's overkill.
Splashiest Way to the Beach?  Wake up in the Great House, stretch, change into a swimsuit, and zip line down to Turtle Beach. The flight is just a few seconds. A Champagne brunch can be waiting for you at the bottom.
Party On  Fireworks, a pirate-themed treasure hunt, sushi served on floating islands in the pool – whatever you want, just about, can be coordinated by the reservations team.
Access  It's a 35-minute flight from San Juan, Puerto Rico, or a 1½ hour flight from Antigua. And no worries – we don't want you to worry – your private helicopter can be accommodated, too.
A little-known Necker fact Celebration Weeks pop up throughout the year where you can book individual rooms without having to rent the entire island. Depending on the room, rates start at around $5,000 per night and don't forget the extra 2.5% service charge.
Contact Katrina Gomez: 1-212 994 3070
Toll-free: 1-877 577 8777
High season: Mid-Dec thru mid-April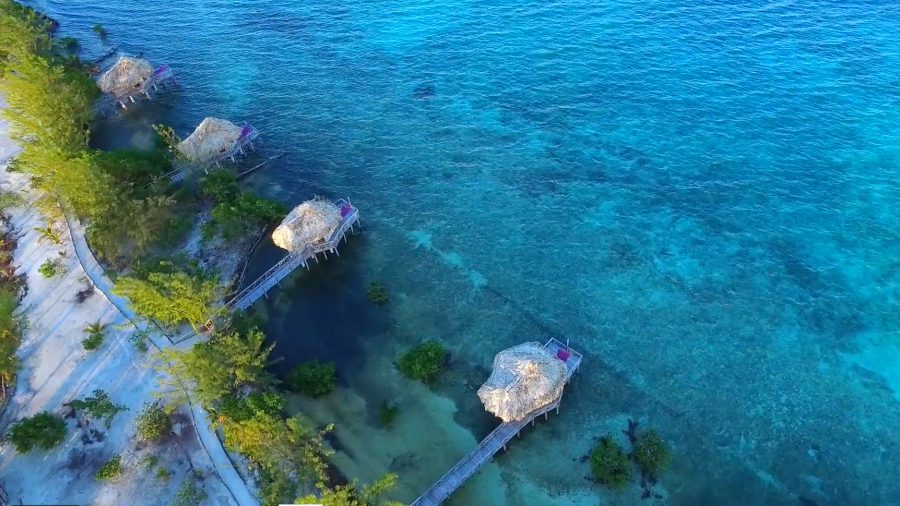 THATCH CAYE, Belize
There are islands where the main physical requirement is the ability to raise a refreshing alcoholic beverage to your lips. Then there are islands where you wake up pre-dawn so you can paddleboard into a rising sun, then strap tanks onto your back for dives to the world's second-longest barrier reef, then take a Garifuna drumming class, and then head out on a night snorkel… We could go on.
Thatch Caye can fulfill these desires. That's great news, because we guarantee that not everyone you're inviting to your private island getaway is going to follow through on their commitment to daily pre-dawn yoga.
Starting From  Starting from $9,950 for total-island rental, per night for up to 30 people, which works out to $330 per night per person all inclusive. 15 villas (8 over the water, air-conditioned!). For perspective, try finding that deal in Manhattan, where you'll probably get a hotel room that when you raise a refreshing alcoholic beverage to your lips, you'll bang your elbow into the TV/ironing board.
Do You Like Pina Coladas?  The rate includes three meals a day, and all local beer and liquors – which includes no less than six types of Belizean rum (1 Barrel Rum, 5 Barrel Rum, Crystal Light Rum, Extra Mature, Coconut Rum and Belizean Rum, since you wanted to ask but thought it might be gauche).
The tale of the dog  Dewey, a mutt, is the island's unofficial mascot. When the island's owners left Belize to head back to city life, he pined so much for the island that they returned with him for a vacation. Back on the beach, he was a different dog, and he has remained in the care of the island staff for two years now.
In homage to the island's hairy champion, Thatch Caye is developing a signature cocktail called the Salty Dewey. Apparently it's still in the works, because you don't rush this kind of thing.
Dress Code  This isn't somewhere you need to blow-dry your hair to be suitable for dinner. Prepare to wear a swimsuit, flip flops, and a cover-up the whole time.
The Life Aquatic  The best dive sites for the barrier reef are between 30 minutes to an hour and a half away by boat. For more experienced divers, if you want to take the full-day excursion to the famous Blue Hole deep dive, bring your diving log book. You'll need to prove you've already done 25 dives in the past.
Photo Op  Paddle out at dawn, then take a selfie with the island in the background.
Access  Most travelers take a commuter flight from Belize City to Dangriga; from there it's a 30-minute boat trip to the island, nine miles away.
Contact Michelle Hopkins: 1-800 435 3145
High/Dry season: Late November to mid-April
MUSHA CAY, Bahamas
Illusionist David Copperfield is the owner of this archipelago, and he knows a thing or two about magic, so yeah, this experience is definitely going to be magical.
Starting rate  Starting from $39,000 per night for up to 12 guests, any additional guest is $1,500 per night. The island can accommodate up to 24 guests for $57,000 per night. (You do the math, we're tired.)
Minimum night stay  4 nights (so, er, multiply it all by four?).
We can put Grandma over there  Musha Cay isn't just one island: It's an archipelago of 11 islands with 40 beaches set in divine turquoise waters. 700 acres in fact. So in other words, there's plenty of space to spread out from the relatives. Please don't leave any behind, it's considered rude. And you'll be charged, we're pretty sure.
Access  It's a 90-minute flight from Miami to Great Exuma island; from there, it's another 20-minute charter flight or a 45-minute boat ride.
Private Island Dining  Have lunch on a sandbar which later disappears into the sea (so you'll know when lunch is over) or dine on Coconut Beach under the moonlight.
Included  All meals, alcohol including fine wines and champagnes, unlimited use of all island amenities, including a state-of-the-art gym, tennis court, volleyball, swimming pool and billiards. A night at something called Dave's Drive-in is also included.
Not included  Transportation to and from Musha Cay, international phone calls, massages, scuba diving, deep-sea fishing, fireworks, musical groups and the custom treasure hunt. Are you paying attention? We already warned you about this.
Contact Cathy Daly: 1-242 355 4040
High/Dry season: Late November to mid-April
TURTLE ISLAND, Fiji
The message of Turtle Island isn't one of hedonism or self-indulgence, although, naturally, it isn't off the table either. For instance, you can pack up a lobster salad lunch and head off to a private beach somewhere on the 500-acre island for an entire day, which is not something you can do every day, is it?
Instead, come for mindful stewardship, a turtle sanctuary, and authentic cultural exchange. Here, you're more likely to witness the dancing and music of a traditional meke ceremony, dine on a lovo feast prepared in an underground oven, or learn some of the language, rather than get down to some island DJ spinning – God knows why – Justin Bieber.
Starting From  $26,995 per night, for a minimum of 5 nights. The island accommodates up to 28 people.
Size  500 acres. Should be enough, right?
Learn the Lingo  Bula is hello, and you'll always be greeted by your name. A bure is a villa or home, and your bure mama – a guide, housekeeper and general chief of staff – cares for you throughout the stay. Sevu sevu is a ceremony in which guests ask permission from the chief to enter a village. Kava is a drink with mildly mouth-numbing and narcotic properties that usually accompanies an important social event, which is every night on this island.
Your Nearest Neighbors  While there's no evidence that a (non-resort) community ever existed on Turtle Island, the island sits amidst the Yasawa island chain and is surrounded by seven villages on nearby islands.
Local Customs  When visiting a village, cover your knees and shoulders, remove your shoes before entering a bure, and remove your hat. Wearing one can be interpreted as an insult to the chief.
Included  Pretty much everything – even the fine wine, champagnes and scuba diving. There's also nightly kava ceremonies and meke.
What's Not Included  Noisy water sports like waterskiing and jet skis.
Turtle Graffiti  Sea turtles nest onshore, and the island also pays fishermen to deliver turtles that would otherwise be hunted for their shell. Each new arrival is "adopted" in an island auction, and the winning bidder sensitively marks the turtle's shell with eco-friendly, ocean-safe paint, thereby making the turtle undesirable to poachers.
How to Get There  Make your way to Fiji: 10½ hours gate to gate – nonstop flights to the island of Nadi from LA; 19 hours from NY. From Nadi you take a 30-minute seaplane ride to Turtle Island, but it can also be done by boat. There's a 33-pound luggage limit on the seaplane. That pretty much means it's the boat, right?
Chivalry's Alive and Well and Living in Fiji  Your seaplane will land in a lagoon where the water is 12 inches deep. Wear shorts for the wade to the beach. If you don't want to get your feet wet, Fijian warriors are on standby to carry you to the sand, something you rarely see at a resort. Or a Hampton Inn. Just saying.
Contact Linda Kavanagh: +61 417 903 209 
High/Dry season: May to October
COCO PRIVE KUDA HITHI ISLAND, Maldives
When you're thinking of luxury islands, you're often thinking of the Maldives, which comprises about 1,200 islands, 200 natively inhabited, with resorts claiming almost 100 more. The Maldives are located approximately 500 miles southwest of Sri Lanka.
Access  Get to Male airport and it's 35 minutes via luxury yacht. Transfer is included in the rates which is good news after an 18-hour flight from New York.
Actually, they probably are your closest friends  12 people total, perfect for a little tropical garden party. With a master residence and 5 guest villas, a wine cellar, library, fitness areas, sauna and 40-meter pool, this approximately 3½-acre island is the perfect harmony of elegance, healing and relaxation.
Available for exclusive hire  At a rate of $45,000 per night plus taxes for up to 10 guests.
Most people stay at least a week. (You need that to get over the flight). This is for exclusive use of the island and 30-plus staff.
What We Like  Unlimited diving, your own private chef (that's not diving on the chef, although you may be doing just that with the endless cocktails and beverages also included).
We're running off with the in-house marine biologist. What a sexy job!).
Island Fever? Not a Chance  Go on a big game fishing adventure, dive with reef sharks or explore hidden parts of the Maldives on a private seaplane.
Sleep on the Beach  You scoundrel! Or have a Robinson Crusoe-style castaway picnic where clothing may be optional, as you probably lost it in the high seas. Or said you did.
Did We Mention  After all this fun activity, your own personal spa therapist is awaiting…and included.
Contact Sarah Hilmy:  +960 334 4470  
High/Dry season: Late November to mid-April
THANDA ISLAND, Tanzania 
Mention Tanzania and most people think safari. Thanda Island is where you go to wash off the safari dust, but don't want to compromise on wildlife or adventure. The island is located in the Shungi Mbili Island Marine Reserve, roughly 19 miles from the coast of Tanzania and is along a whale shark migration path and its waters are home to five species of turtle, dugong and dolphin. If you're a millionaire zoologist, which is about as rare as a dugong (a cousin to the manatee), this is the island for you.
The whale sharks migrate through the neighborhood from October through February. With a little luck, you can catch that and the wildebeest migration on the mainland in one trip.
Starting From  $10,000 a night to rent the island exclusively. The island's villa has five bedrooms and two open-air thatched-roof chalets, which can serve as bedrooms.
Size  Roughly 20 acres.
Included  Beyond accommodation, you've got a Steinway piano, copper beach baths, a gym and an "extensive Ernest Hemingway book collection." Good to see someone still cares enough about literature to advertise it!
Spring Cleaning  After the owners bought the island, they removed three barges worth of trash. Now Thanda has East Africa's largest solar field, is 100% self-sufficient and partners with the government and NGOs to protect the marine reserve.
Cape Cod East  The villa was modeled after the Kennedy compound in Hyannis Port.
Not that Mafia  The nearest inhabited island is Mafia, part of the Zanzibar archipelago. According to the website, "The name 'Mafia' is derived from the Arabic morfiyeh, meaning group or archipelago, and from the Swahili mahali pa afya, meaning 'a healthy dwelling-place.'"
Must Eat  Did you know tropical oysters were a thing? They are, and you can pluck them from the reef.
Access  This is part of the whole adventure. The closest international airport is Dar es Salaam, on mainland Tanzania. From there you can charter a helicopter right to Thanda (roughly 45 minutes), or fly to remote Mafia Island and then take a boat to Thanda. Good thing there's lots of beach to relax on once you get there.
Contact:  +27 32 586 0149
High/Dry season: Late June to October