You're Invited: The Art and Science of Cultivating Influence by Jon Levy
HarperCollins Business $29.99
Jon Levy has, over the last decade, become the Host with the Most, famous for his "Influencers Dinner" salons which bring a diverse cross section of interesting people to his home, where they cook dinner for him and each other, and sit together and share the stories of their lives. At least partly inspired by this he has written an horizon-wide philosophical slash cultural slash business book about… well, everything really, but centrally the potency of influence. Subjects range from building trust (in which he couples Marines Boot Camp, Ikea and something chillingly called the Moral Molecule), to how to connect with anyone and succeed after prison, this last part something Levy is extrapolating about, not giving us his first hand experience. 
I normally don't like these kinds of books because they are almost invariably bullshit, full of steamingly worthless platitudes and obvious but rarely practical advice. But not this one! It is so entertainingly written and a silky web of storytelling that illuminates how certain people changed the world and the common threads between, say, the founder of Weight Watchers and Frederick Douglas. Levy is a behavioral scientist and his dinners, which are highly entertaining and affirming, are lab experiments with burritos. (I know this from being at one, where I asked the awkward question, "has anyone ever died from food poisoning at one of these events?", more concerned about my legal vulnerability than my own health.) He says he has hosted thousands of people across hundreds of these meals, so not only has he probably built up the most eclectic network of anyone in America, he's had first hand observations of how a lot of people who have accomplished something or other, connect and react to each other. He's used those insights, and great research, to make a sparkling book about our eccentric and flawed species building endless concentric circles of community.    
–Bob Guccione, Jr
HUNGRY: Eating, Road-Tripping, and Risking it All with the Greatest Chef in the World by Jeff Gordinier
Tim Duggan Books, 2019, $26
What do you do when the world's best chef from the world's best restaurant seeks you out and invites you to meet him? It's a simple four-step process: 1) say yes, 2) book a flight, 3) pack a bag and 4) go to the airport to board the plane.
That is what happened to Jeff Gordinier, one of America's preeminent food writers (he's the food and drinks editor at Esquire and was a reporter at The New York Times when this story all went down) when Rene Redzepi, owner and chef of Noma in Copenhagen, invited him to meet in Mexico.
Gordinier travels the world with Redzepi, including to Oaxaca, where most of the time is spent with the chef contemplating how to replicate the iconic local dish, mole. The author profiles the people Redzepi counts on to make his world-renowned, once-in-a-lifetime dishes come to life, from his own in-house forager to the guy who actually dives into the Arctic waters to personally catch the catch of the day.
With a writer like Gordinier trailing a man like Redzepi, one would think a book called Hungry would be filled with writing to make you hungry for all of the eclectic dishes that come out of Noma's top-rated kitchen. There is plenty of talk about food and mentions of specific dishes, but this book is more about what people are hungry for in life. For Redzepi – and most chefs – they simply want to cook for you, feed you, and try new things. They feel such pride in their work when a plate is returned to the kitchen licked clean.
Redzepi, 43, is half-Danish, half-Macedonian. He's 100% inquisitive, questioning how anything — from coconuts to insects — can be incorporated into a dish he can beautifully present on a plate to the diners who fly to Denmark from all over the world. By the way, the humble Redzepi, whose New Nordic restaurant won best restaurant in the world four times, believes the world's best restaurant does not exist.
–Jason Stahl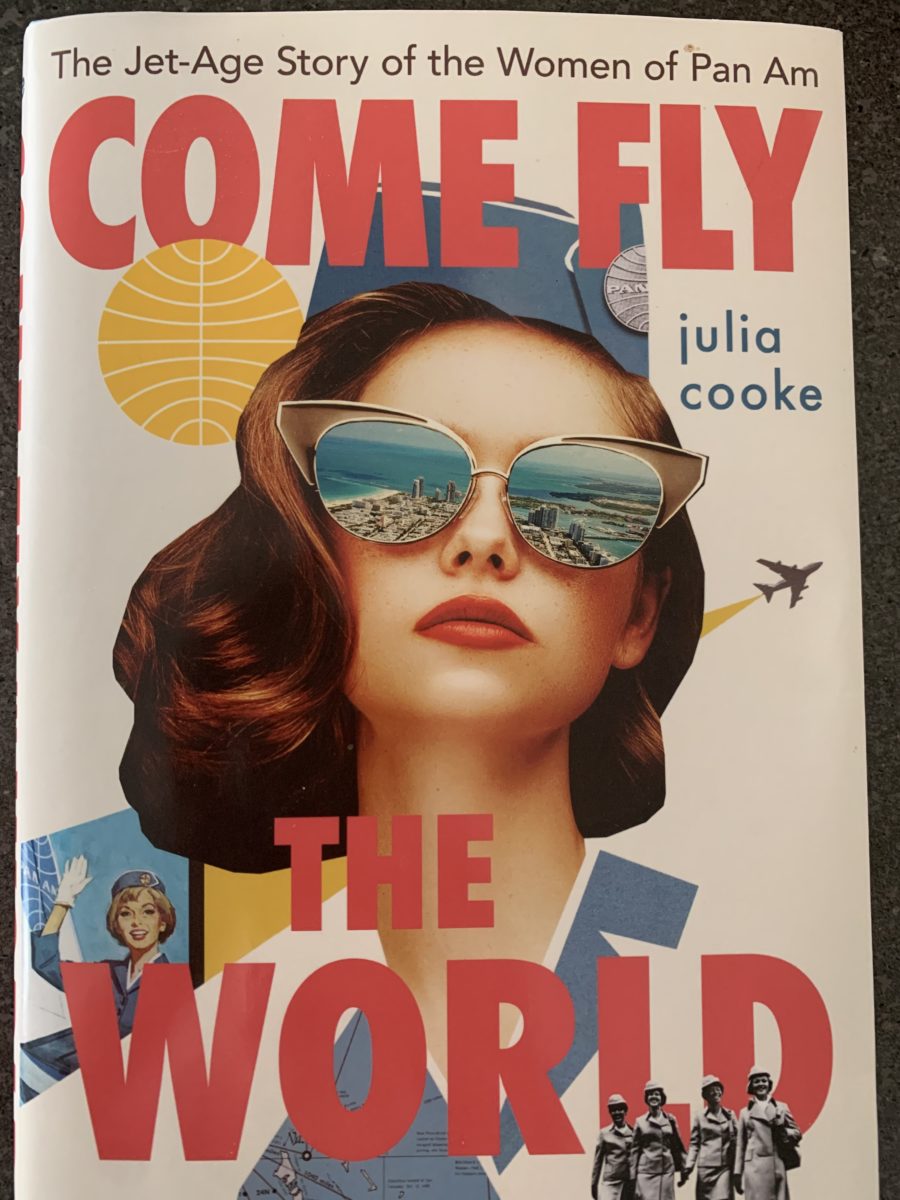 Come Fly the World: The Jet-Age Story of the Women of Pan Am by Julia Cooke
Houghton Mifflin Harcourt, 2021, $28
Back in the day when those identifying as female were called gals, the job of Pan Am stewardess was a ticket to high glamour and worldliness. Stewardesses were given a free pass to abandon hearth and home. Job requirements meant an aspiring stewardess was desirably attractive, single, age 26 or less, 5'3" to 5'9" tall and weighed 105-140 pounds. These early jet-setters, so prim and coifed on duty, were known to party hard during Pan Am's heyday of 1966-1975. The airline's recruitment ads read: "Stewardess wanted. Must want the world." That is, must not want a husband. Or not yet.  
In Come fly the World, Julia Cooke picks up the thread of various stewardesses' lives and follows their journey from job interview to retirement. Legal battles ensue concerning age and marital status. Of note, few, if any, of the women interviewed felt objectified or exploited by their occupational requirements. Attracting the male gaze was once a good thing. The women, Cooke writes, "shared an instinct to roam that propelled their personal and professional growth." Many of the former stewardesses attest their Pan Am days were the best time of their life. The job was a stepping stone out of the humdrum and into the potential arms of a "first-class husband" and a first-class life.
–Helen Mitsios
THE NIGHT OF THE GUN: A Reporter Investigates the Darkest Story of His Life. His Own. By David Carr
Simon & Schuster, 2008, $26
An encounter with a gun is something most people would remember whether you're shooting it, brandishing it, or being threatened by one. But for newspaper reporter David Carr, he had no recollection of his encounter with one in 1987. He was so hopped up on [insert substance here] he could not remember the night that changed his life.
Twenty years later, the former cokehead who would go on to become the David Carr — media and culture reporter for The New York Times — wanted to find out what happened on that mysterious night in Minneapolis. So, he did what all journalists are trained to do: he did reporting… on himself.
Carr conducted 60 interviews and examined medical records to get to the bottom of his rock bottom. Before he died in 2015 from lung cancer complications, it took him 3 years to put the million little pieces together — along with learning other outlandish stories of his self-destructive behavior from friends who were just as messed up as him — to pen what's considered one of the top memoirs of the 21st century.
–JS