ASK A GREAT CHEF
Where should I eat in Hawaii?
Mark, a longtime transplant from the mainland and chef/owner of venerated Frida's on Maui, is one of the legendary chefs who revived classic Hawaiin cuisine after decades of it disappearing from hotels and fine restaurants, which served continental food to cater to tourists. 
In 1985 there were great Chinese and Japanese restaurants, great fresh products and service. Hawaii's largest populations were Japanese, Filipino and Chinese. Then throw in Micronesians, Samoans, Tongans, Hawaiians and then us, White Folks. We were and are the minority.
So lots of mom and pop shops serving Musubi, Saimin (Hawaiian Chinese Ramen), Japanese Sando sandwiches, and a few terminologies I never encountered before — Plate Lunch, Bentos, Mixed Plate — basically potato mac salad, white rice, and a choice of one or two proteins. There was Hamburger Steak, Shoyu Chicken, Pork and Peas, Chicken Long Rice, which does not have rice but Mung Bean Noodles, and lots of Kalbi Short Ribs. 
And the most famous of all, Spam Musubi, which is like sushi, only with a slice of grilled spam! Thousands are sold everyday in plate lunch joints, 7-11s, gas stations. It is quite delicious, and they are made fresh every day. You would never find day-old musubi, because no one would eat them. Spam got here through the military based in Hawaii, Pearl Harbor, Schofield Barracks and Hickam Airfare base . 
These are some of my favorite spots over the years:
Nagasako Okazuya for a great Plate lunch. The Nagasako family has owned this landmark for many many years.
Tasty Crust for breakfast, a true mix of Asian and Hawaiian favorites. 
Sam Satos which has been in business since 1933, they make their own noodles for their famous Saimin. Still the original family operated, open for breakfast and lunch. 
Tokyo Tei is another local hang for families — Japanese food with a Hawaiian twist. They make great sashimi and Tempura.
There is the large store called Maui Chemical and Paper, which is a wholesaler to hotels and restaurants and in their very large space they created the biggest Asian grocery store on Maui. They have everything from Japan and Korea. Plus, the number one reason folks walk into MCP is for the fantastic bentos, a huge assortment of BBQ meats and chicken & fish, tempura, Mochiko Chicken. I got miso butterfish with white rice for my lunch today for $9 bucks. It's called "Broke da Mouth" (Delicious).
Tin Roof, very close to the airport, is owned by Chef Sheldon Simeon, from the show Top Chef.  His food is Hawaii, Asian and Filipino all rolled into one, Open for lunch only. Do not miss Tin Roof.

If you want the real thing, baby, there are so many varieties of places to get it…
Foodland Supermarkets have always led the way for many, many years of having the best Poke selection (at least two dozen different types). Now Safeway, Times and Whole Foods are getting in on the act with great success. no matter where you are in Hawaii you can find fresh Poke. Mom and Pop shops, 7-11's fish markets, Poke trucks, even Tamura's Liquor stores.
Great Poke is everywhere, and it's not just for locals anymore.
There is a lot of great seafood in the world, but for my money, for the freshest and our ocean being so clean, there is nothing like Hawaii Islands seafood. The best and the most popular fishes for locals are: 
Akule, Opelu, Nabeta, Menpachi, Papio and Yellow Spot papio
Opakapaka, Onaga, Weke, Hebi, Shutome. 
Spiny Lobsters, Samoan Mud Crabs, Kona Crabs, very rarely make their way to Restaurants 
There are some ancient Hawaiian ponds that have been forgotten about for many many years that there is a slow building interest in rejuvenating them. Which is a good thing. I look forward to the future of Hawaii's Flash ponds.
If I was young and a foodie tourist, I would hit every ethnic small restaurant while on vacation. You will save a lot of money, you won't need reservations, and most of the food is delicious. Be adventurous, order something you have no idea what it is, and you will be presently surprised more often that not that it will
Broke Da Mouth! 
I almost forgot about the food court in Ala Moana, a shopping center in Oahu. it rocks as well with Chinese, Japanese, Korean, etc.
OK, now for the sit down restaurants that you might need a reservation at…
Let's start with Oahu. My favorite Japanese Restaurant is Yanagi in Honolulu. Roys Restaurants are impeccably great. His other concept called The Eating House rocks it as well. Senia in Chinatown, and Jade Dynasty for Dim Sum and Peking duck in the Ala Moana Shopping Center. 
Sensei Sushi and Steakhouse at the Marriott in Waikiki. Town in Kaimuki and their sister restaurant Mud Hen Water. Also Kaimuki Superette, a cafeteria style restaurant for local veggies and sandwiches.
A brilliant, dedicated chef of the islands, Peter Merriman is also a true farm to table guy who has always walked his talk, and has so many concepts and restaurants just on Oahu: Merriman's, Monkeypod Kitchen, Moku. On Maui, Peter has Monkeypod and Merriment, on the Big Island he has the original Merrimans, in the upcountry Waimea.
On Maui, the number one restaurant for food location and natural beauty right outside of the famous Jaws beach is Mama's Fish House, which has been there since the 70's. Their Executive Chef Perry Bateman started there as a dishwasher and is one of the most important chefs in Hawaii. He believes in the culture and the Aina ("the land") of the indigenous Hawaiians through his culinary core. DO NOT MISS MAMA'S.
Then there is Chef Beverly Gannon, who has been a trailblazer in the food scene here in Maui since the late '80s, with her Hali'imaile General Store and Gannons in Wailea. And her very famous and busy catering company, Celebrations.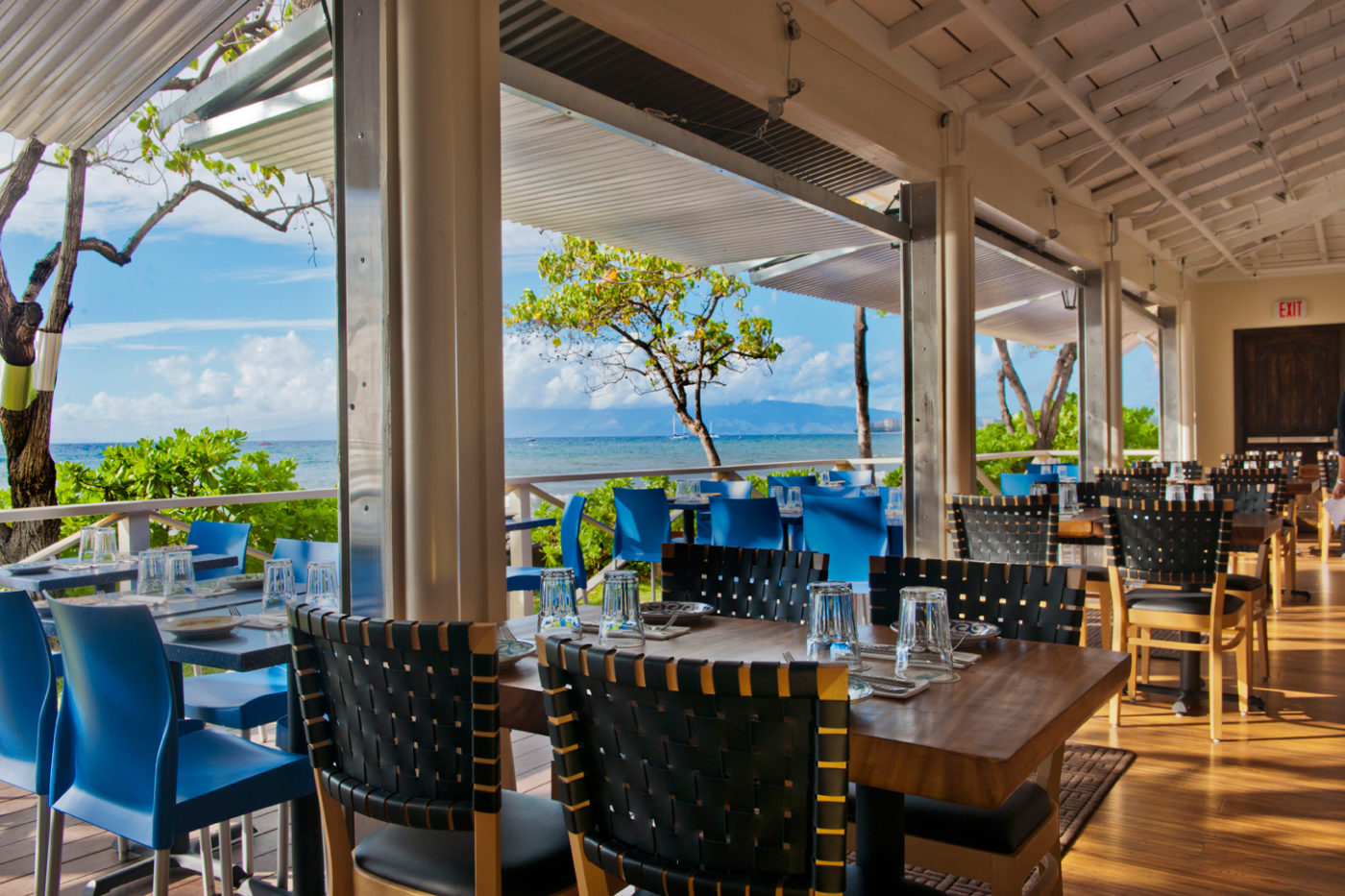 Unfortunately, the Pandemic left some chefs and businesses on hard times and could not make it through. And a sad posthumous note — a legend on Maui, who was the Executive Chef at the Kea Lani Hotel in Wailea, Chef Tyler Pang created a culinary oasis, and students and cooks flocked to his kitchen to work with the Sensei Chef Master. A huge kind soul who gave more to his staff, and in return made him the most beloved Chef on Maui. 
There are so many more big and small spots to tell you about but you know what? Trek on over to the Aloha State, where you will find so much beauty, so many cultures, such love of the Aina.
The Hawaiian people are some of the most beautiful people in the world. I pinch myself everyday, because you know what,
we live in Hawaii.
 A hui Ho…
[Until we meet again]
On another note: want to know what to do, where to stay and go in Maui? Read Mark's most excellent advice here.