Restaurant

Republiek, Bruges
Forget how you pronounce it and enjoy the fine Flemish fare
If you haven't seen the movie In Bruges (2008), starring Colin Farrell and Brendan Gleeson, then a) you should rectify this oversight immediately; b) I feel sorry for you. If you have seen it, or — let's go far out on a slim limb — perhaps even visited Bruges itself, you'll know that the Belgian city is famous for the its well-preserved medieval architecture and general picturesque qualities — the word "quaint" was invented for places like Bruges. Along with the phrase "tourist trap," because Bruges (or Brugge, if you're a Flemish speaker, like many Bruges natives) survives mainly on the money two million annual tourists bring into the old city center, where most of the old-timey attractions are located.
You can find good food here, but, as you'd expect, you have to work for it. Everything around the Burg square or the Markt, which is where everyone goes first, to see the famous 13th century belfry (also an important plot point in In Bruges, but I don't want to give too much away), is a complete rip-off. Either the food is good but way over-priced, or the food is bad and way-overpriced. But if you're smart, or lucky, like I sometimes am, your hotel concierge (let's call him George, because his name was George) will confidentially advise you to steer clear of the crap and offer a couple of discreet recommendations that feature local cuisine and a mostly local clientele.
George's most ardent recommendation was a place just off the Markt, up a side street but easily located. You can call the place Republique, Republiek, or just Republic if you can't be bothered with the schizophrenic native name. At dinner in the off-season, at least, its ambience is hushed and comfortable, and its seasonal menu (we went in late October) features local specialties including a beet salad called Beet the System and something called Gelakte Varkenswangetjes. It also has real food. There's a very nice risotto with rosefish, a kind of North Atlantic haddock, which was neither overly creamy nor overly fishy, and a quinoa-based vegetarian burger for the weird vegetarian in our party. He said it was amazing, but vegetarians are easily amazed. The beer expert among our group (not me — I'm a wine guy, and can report that Republic's wine list is modest but well-considered and the 2013 Languedoc I had complemented the risotto perfectly) was impressed by the range of local beers, including a stout called Viven Porter that he wouldn't shut up about. That is classic beer expert stuff.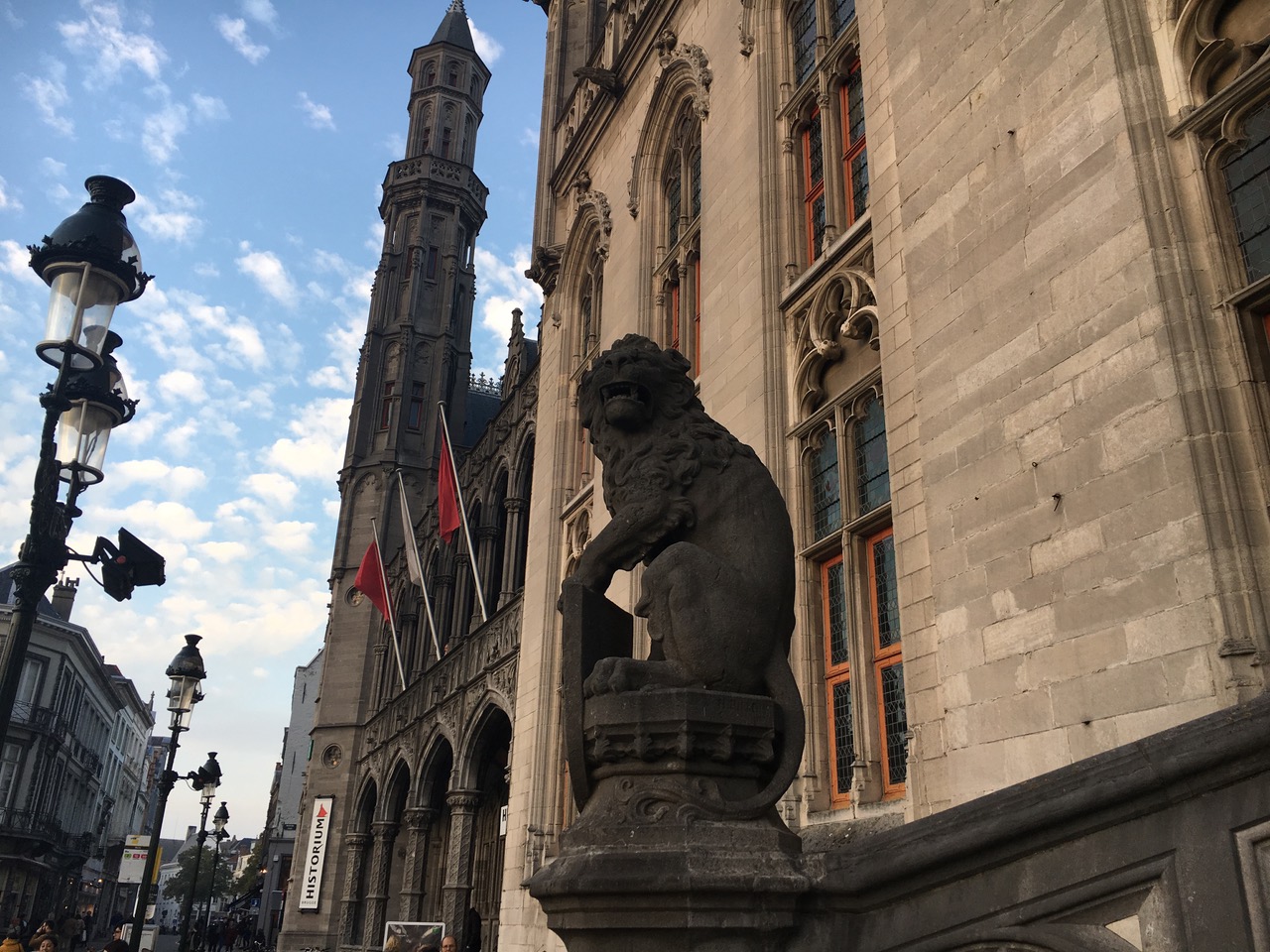 Though Republic clearly means to cater to the local Bruges hipster, there is fortunately no such thing (yet!) as a local Bruges hipster, so it caters to people George sends them and several apparently normal Brugians, though I can't say for sure they were normal, because I never know what language I should lead with when speaking to Bruge-ites, and I only know two of the three they speak there (French, albeit Belgian French, which sounds really dumb, Flemish, which I'm not sure is a real language anyway, and tourist, by which I mean "just enough English to confuse native English speakers," which I'm fairly certain is a wildly popular elective course in most European schools because everyone in every country speaks it fluently.)
For dessert I had what was described, it turns out accurately, as a "fruit crumble tart with cream," which was okay, but left me feeling conscience-compelled to at least try to walk off some of the calories by climbing the aforementioned 13th century belfry, which is 366 steps and 272 feet high. I made it to the entrance before wisely deciding to cab it back to the hotel, where George greeted us with a knowing smile and didn't even bother to ask how dinner had been. He knew it was good. And he was right.
Republiek
Sint-Jakobsstraat 36, 8000 Bruges, Belgium
Phone: +32 50 73 47 64