May Festivals
Cannes, the Queen napping at the Chelsea Flower Show, Vienna and music and art galore! Go somewhere, already!
In May we start with art, performances, international films, opera, books, rhythm blues and country… and dancing. Good, because we like celebration. Celebrating anything will do.
Brighton Festival
Brighton, UK
May 4 – 26
Known for its 'pioneering spirit and experimental reputation'. Brighton festival started in 1967 and now draws performing artists and audiences from across the world as one of Europe's leading arts festivals and the largest in the UK. It has previously attracted performances by such luminaries as Laurence Olivier and Anthony Hopkins, prior to either being knighted. Former guest directors have included Brian Eno, Laurie Anderson, Vanessa Redgrave and Myanmar leader Aung San Suu Kyi.
There's a whole host of music and theater performances, dance, comedy — and debates — scheduled across Brighton. It's really very good.
The Cincinnati May Festival
Cincinnati, USA
May 3 – 30
An annual choral festival held every May in Cincinnati, Ohio, since 1873. It's the oldest choral festival in the western hemisphere.
Imagine in 1931 when maybe the largest work in the repertoire, Mahler's Symphony No. 8, often called The Symphony of a Thousand, received a then-rare performance at the festival with a chorus of 900, a massive orchestra, and eight soloists. That's the sort of thing we're talking about here.
Events run between May 3 – 30 with ensembles featuring the May Festival chorus and the Cincinnati Symphony Orchestra.
The Vienna Festival
Austria
May 10 – June 16
Opening the Festival on May 10th is a free open-air event in Vienna's City Hall Square. It attracts thousands of people and is broadcast around the world, so if you can't make it there physically you can virtually visit.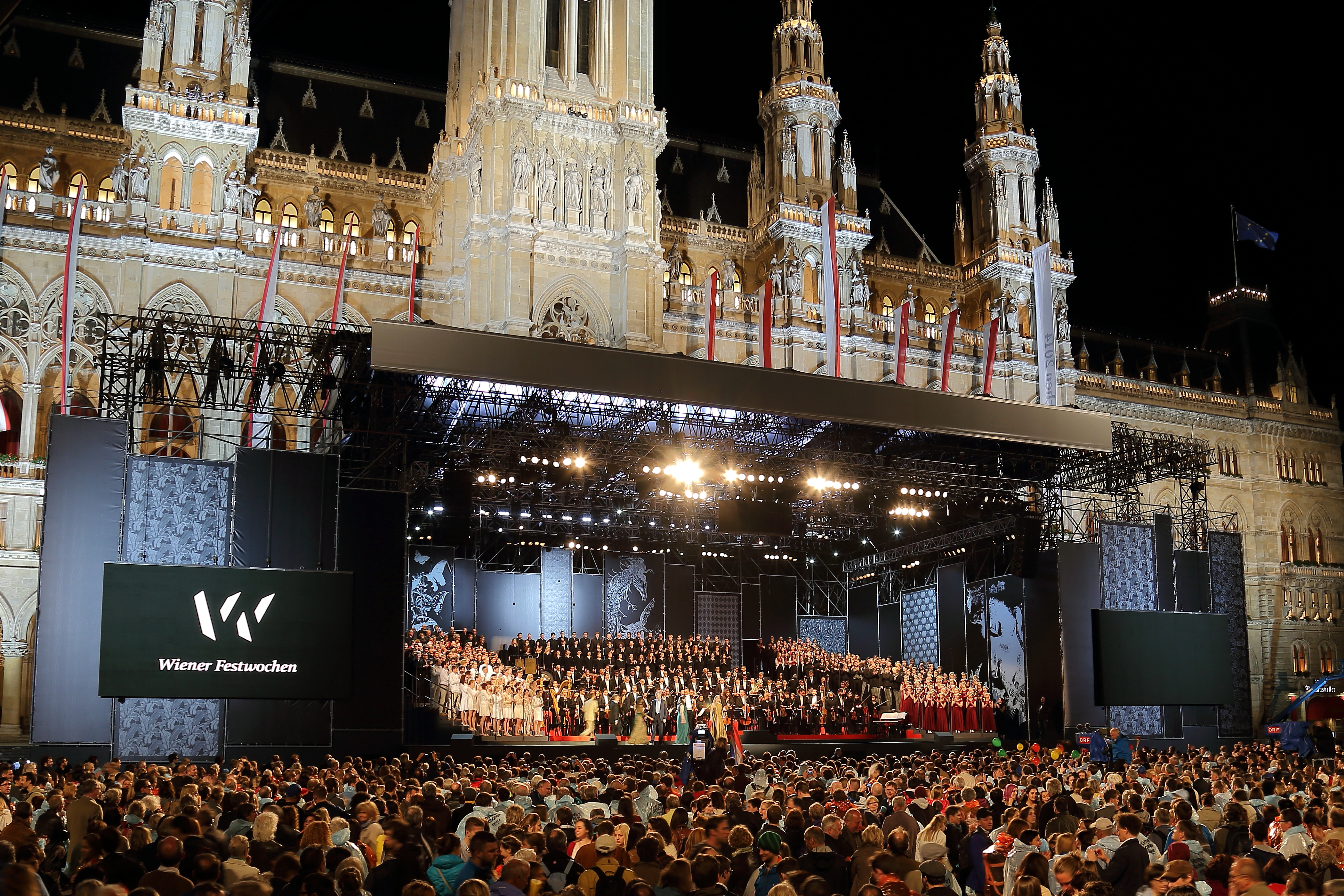 Starting the following day, there are five full weeks of dance, music, concerts, theater performances, DJ's and visual arts, set in 27 performance venues covering everything from the classics to the avant-garde. Wonky stats: 430 artists come from 19 countries.
A highlight this year will be French film star Isabelle Huppert reading a monologue on the Vienna stage, "Mary Said What She Said", on the heels of the play's world premiere in Paris.
Cannes Film Festival
Côte d'Azur, France
May 14 – 25
If you don't have a film running in Cannes, you can still feel a part of the festivities. There are many screenings that you don't need a pass for, and some are free. It's a first come, first seated (in a deckchair in the sand) every evening at Mace Plage (Beach) at 9.30pm. Its open air and free! Sometimes the odd random person shows up, for instance John Travolta is presenting a screening of Grease on May 16.
There are plenty of other screenings, from classic films to screenings around town with tickets available through Cannes Cinephiles, plus large screens are posted in various spots so that you can see what's happening live on the red carpet. It's a very fun effervescent event.
Chelsea Flower Show
London Gate, Royal Hospital Road, UK
May 21 – 25
The world's most prestigious flower show held in the grounds of The Royal Hospital in Chelsea, London since 1913. It's set across eleven acres so walking shoes are recommended, as is smart attire. Long floral-patterned dresses are in vogue right now, so you can play camouflage with the flowers. Now you see me, now where did I go?
Tickets are highly sought after but are still available on their website.
Presented by The Royal Horticultural Society (RHS) and privately opening Monday May 20 for the Queen. And just the Queen, and whoever she brings. One imagines her coming alone, bringing one of those folding camping chairs, sitting on it deep among the flowers, taking out a good book, and eventually nodding off for her afternoon nap. But that's just one.
The following two days are Members and VIP days, prior to the general public days, Thursday through Saturday, which are packed! However, you can take your time as there are plenty of gourmet food options on site, and many around Chelsea. A short walk or a couple of minutes cab ride will take you to the new Ivy Chelsea Garden on Kings Road. Gordon Ramsay's new Maze Grill is even closer on Royal Hospital Road. Flowers, scrumptious food, a napping Queen — how far away can summer be!
Monaco Grand Prix
Monte-Carlo
May 23 – 26
Sunday May 26 marks the 77th year of the world's most famous and exciting Grand Prix in one of the most sumptuously luxurious places in the world. The big Formula 1 event starts at 2pm.
This may be a fun test for your new noise canceling headphones. I recommend taking at least ear plugs, which won't work by the way. Vibration baby.
Twisting around the streets of the municipality of Monte-Carlo, it's the tightest and therefore slowest course in the world, and one where the drivers need the most precision.
Amazingly, there are still a choice of suites with terraces available along the departure/finish line, starting at around 1,490 Euros for the weekend, including VIP gourmet service. Yacht services are also available. They cost more, guessing…
A seven-minute helicopter ride can transfer you from Nice airport. Takes two weeks by car (nah, we're just kidding…)
The White Nights Festival
St. Petersburg, Russia
May 23 – June 2
The White Nights Festival is a pageant of the arts set around the longest days of the year, which is an incredible time to visit St. Petersburg as there are almost 24 hours of sunlight a day from mid-May to mid-July.
Carnivals take place in the suburbs where actors recreate historic events in period costumes. The suburb of Peterhof is popular, as is Catherine Palace and The Palace Square.
At the city's Mariinsky Theater the festival showcases some of the world's best opera and ballet. As well as hearing the St. Petersburg Symphony Orchestra, there are films and outdoor celebrations and walks along the River Neva where you can see roving gypsy bands, sword swallowers, jugglers and fire eaters.
There's a firework display and a fleet of red sailed tall ships, the Scarlet Sails celebration that has symbolism from the 1922 children's book written by Alexander Grin.
If you can't get there, here's a video of the red sails from last year:
Hay Festival
Hay-On-Wye, Wales
May 23 – June 2
This is the world's most famous traveling book festival, held annually in one of the UK's prettiest market towns on the edge of the Brecon Beacons National Park.
At Hay Festival you'll find over 600 events from workshops to enlightening talks with award-winning authors and global policy makers, alongside family-friendly entertainment, and plenty of music and comedy in the evenings. And The Waterboys — who are immortal — are playing May 23.  
If you can't make it to the UK, Hay Festival moves to Columbia, Spain, Peru and Mexico later in the year.
Red Rooster
Euston Hall, Suffolk, UK
May 30 – June 1
A great vibe Rhythm and Blues and Country festival in England. Harry Grafton, the 12th Duke and owner of Euston Hall used to live in Nashville and toured with the Rolling Stones. Now back home and set at his idyllic estate built in 1666, he brings American Deep South lifestyle to Suffolk with Red Rooster, and has for the past seven years, complete with gumbo, burgers, and wings that you can wash down with a moonshine cocktail.
The Governors Ball Music Festival
Randall's Island Park, New York City, USA
May 31 – June 2
Break into summer at this three-day electronic/hip hop festival on Randall's Island where Florence & The Machine, Major Lazer, Tyler The Creator, Lil Wayne and The Strokes are headlining.
You can eat lobster rolls from Luke's Lobster and giant ice cream sandwiches from Coolhaus, and then go and dance it off.
The 'Gov Ball After Dark' program,off the Island, boasts various shows extended over the three days and beyond, in Manhattan, some for all ages, some 21 +. Venues are diverse, from Irving Plaza to smaller venues such as The Mercury Lounge in the East Village, and some are sold out so hurry!