10 Places to Eat Before You Die (And Then You Can Die)
It is a big world, and you'll never fully eat your way around it. Doesn't mean you shouldn't try!
But this is not just about restaurants, as amazing as the most stunning ones are — and below are some of the ones you shouldn't leave this mortal coil without experiencing. It's also about the unorganized and unexpected, perhaps untethered. Or at least informally tethered. You should eat on the road from New Delhi to the Himalayas in India — some of the best food of any kind I've ever eaten was at open air stove-stalls on the side of the road, where someone cooks one dish (and only one) that his or her family have been making for generations, in that spot. And then you walk 50 feet and buy a different dish from someone who's family has been cooking just that dish for generations, and you will discover exquisiteness of flavors that hitherto even an experienced mouth has never known. Frankly, you should eat fish and chips in England at a genuine, long-time there, fish and chip shop, if you can find one. They're almost all gone now. You should eat a grilled sausage from a street vendor in Prague — it's transcendent — and a crepe in Paris from a stall that has been doing it so long grandparents get misty about their youth. You should, if you get the opportunity, eat barbecued chicken on flimsy white paper plates from either of the two wheel-less caravans outside the soccer stadium in Marigot, in St Martin, on the French side.
And none of these made our list. Which is not in order. What are you, sadists?
THE SOUK, MARRAKESH, MOROCCO
A souk is a market, but it is a magical and exotic place, a world unto it's own. It's more about stalls selling goods than food, as you'd expect a market to be, but here you will find some of the most glorious food on the planet. Arabic cuisine is magnificent anyway, distinctively, multi-dimensionally flavorful, but in the souk it is a sensual organism in a living, pulsating, chaotic and yet thousand-years ordered cultural body. Eat anywhere. Feel everything. You will never feel more alive, more essentially connected to humanity over a meal.
THE RIVER CAFE, LONDON, ENGLAND
The River Cafe is an elegant, immaculate and cherished (iconic if you listen to the locals) Italian restaurant. Michelin starred, it sits on the River Thames and feels like it could be in the English countryside, but is actually in Hammersmith, a bustling borough of London.
When Michelin gives a star to a restaurant that's not French, it's like eight stars. The River Cafe doesn't actually re-imagine or "interpret" Italian food, it transubstantiates it, if I can be forgiven a touch of hyperbole. "I'm never not excited to go there, and never not happy when I'm eating there –- and always feel uplifted when I leave!" says Danny Meyer, one of America's best and most accomplished restaurateurs.
THE CARMEL MARKET, TEL AVIV, ISRAEL
On the other side of the great middle east divide is the Carmel Market in Tel Aviv, similar to the Souk in that it is an expansive market for locals first, to buy everything from produce and spices to electronics, and tourists second. But the food served there is sublime, and the atmosphere joyous, and the ingredients invariably come from a vendor at another stall, in short walking distance.
The market is just one (long) street, and was established a mere eleven years after the city itself was established in 1909. John Currence, one of the South's leading rising culinary stars, who incorporates middle eastern and Indian cuisine into his cooking, calls it one of his favorite spots to eat in the world.
HOSTERIA GIUSTI, MODENA, ITALY
In that fabulously eccentric Italian way, this tiny restaurant in the back of a salumeria in Modena, a city in Emilia-Romagna in central northern Italy, is only open for lunch. Mario Batali is a devotee. He recommended it for this article and has been going for years. The food is made with magic fingers and a Heavenly spirit. The simplest dishes, like stuffed zucchini flowers, are ephemeral experiences that, paradoxically, never leave you. The store has been around for 400 years. The wait for a reservation is almost as long.
NHA BE NHU Y, VINH HY BAY, SOUTHERN VIETNAM  
Chris Johns, renowned Canadian food and travel writer and, more importantly, star WONDERLUST contributor has this to say:  "There's a little place on a barge not far from the Amanoi –- itself home to a pretty respectable restaurant –- that I could have happily died after eating at. Nhà bè Như Ý is the name and to describe it as ramshackle would be to overstate its charms. The restaurant itself is little more than a few plastic chairs balanced on some boards above these enormous live tanks where fish of every size and shape swim around until they're plucked out for lunch. Most everything's cooked on flimsy grates directly over live coals right on the barge. Some of the fish is boiled or steamed, some is fried. There are rice paper rolls studded with black sesame seeds, red and green sauces of uncommon deliciousness and heaps of fresh herbs. Guys in wetsuits pull up in boats and unload buckets of crazy, rare looking shellfish that the owners sort through. You eat some. Everybody drinks beer and at some point someone grabs a bullhorn, starts telling apparently hilarious jokes in Vietnamese and then everybody sings. Oh, and because it's moored directly off this important Vietnamese military base you have to show your passport before you can get on the tender that takes you out and brings you back. It's Heaven."
HO LEE FOOK, HONG KONG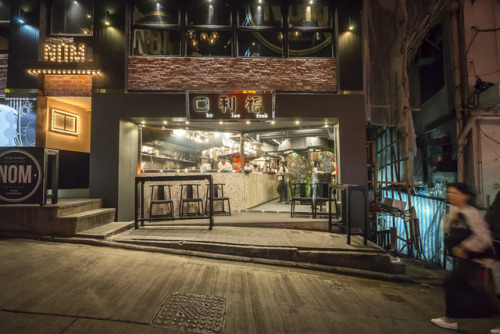 It is a widely held opinion that the typical, local food in China is awful, nowhere near as good as in most American cities, but that the Chinese food in Hong Kong is otherwordly. There are a multitude of extraordinary native cuisine restaurants there, but even among those Ho Lee Fook is mythical and, if one speaks its name phonetically, lives up to its exclamation.
Despite the unfortunate/extremely pertinent English reading and sound of its name, the words Ho Lee Fook actually mean, in genuine Chinese, "good fortune for your mouth." Which I'm not sure is a vast improvement in the potential misinterpreting stakes.  
At any rate, chef Jowett Yu has created a radical, innovative take on traditional Chinese cooking that is locally and internationally famous. (And, hell, you have to steal a coaster or something.)
LA MADIA, LICATA, SICILY  
This is former Del Posto genius chef Mark Ladner's favorite restaurant in Italy. He enthuses: "The chef owner Pino Cuttaia and his wife execute much of the duties themselves. They're laser focused on traditional flavors, but they also responsibly use modern equipment and techniques to innovate — never at the expense of the product."  
They specialize, unsurprisingly since they are on the coast, in seafood. Their current fixed eight course menu includes such tantalizing offerings as octopus on the rock, the two baccala and pasta and crustacean soup.
NOMA, PROBABLY COPENHAGEN, MAYBE IN THE COUNTRYSIDE, DENMARK
Noma, multiple times the Best Restaurant in the world according to Restaurant magazine, the internationally recognized arbiter in these things, is closed. In fact, it's not opening again at its original location, which was dockside in the harbor, virtually incognito in a warehouse. But it is going to open again — their website says by December, although they're not sure where.
When it reopens — they refer to it as Noma 2.0 — it'll be worth the pilgrimage. It was one of the truly original and revolutionary restaurants of the last half century. The chef, René Redzepi, singlehandedly put Nordic cuisine on the map, becoming famous for foraging both the seashore and the Danish forest for ingredients most people never knew were ingredients.
In the meantime, for the next two weeks (until Sept 3rd, so maybe less, depending on when you read this!) you can join them for something they're calling Under The Bridge, a family style, open fire, outdoor (but covered they are quick to point out) pop up restaurant. While Redzepi and his top creative team scour the Nordic region to reconnect with previous collaborators and find new ones, which all sounds very positive, Noma's sous chefs and staff are preparing "a menu of simple delicious food that they would eat themselves on a summer night", as they put it.
LA FRATERIA DEL PADRE ELIGIO, CETONA, ITALY
This is a sublime restaurant that we reported on at our launch wonderlusttravel.com/mondo-x/. On food alone it belongs in this pantheon. But it is also one of the most special restaurants in the world, set in an immacuately restored 13th century convent, founded by St Francis, because it is actually part of an amazing drug rehabilitation center with an almost 100 pecent success rate, and everyone who lives and works there is a recovering addict.
Some of the old monks' cells (it was lastly a monastery) have been converted into exquisite guest rooms. Staying there is divinely peaceful, and eating the meticulously prepared, almost entirely sourced from their own property meals is, in every sense of the word a spiritual experience. 
THE STATE FAIR. ANY STATE, USA
We're actually not joshing with you here — if you haven't eaten the delicious crap served up at any/every state fair — there must be one, federally mandated menu, because it is all exactly the same no matter where you go (he says, with unnatural amounts of knowledge) — then you are missing a gastronomic treat.
None of this is being said for irony. At a state fair you eat stuff you wouldn't allow yourself to gorge on ten feet outside the perimeter of the fair. You devour over or under cooked questionable sausage, further questionably designated "Italian", on chalky bread with green peppers that look like socks, and it is celestial. You eat cold hot dogs on spongy buns and love them, and tearfully wonder why you don't just sit eating many more till they close the park. Hot, deep fried in front of your eyes funnel cake, doused in powdered sugar like someone just spilled an urn of your grandmother's ashes all over it, injects evil pleasure into you and overwhelms your senses, and you couldn't be happier. The sounds and chirps and alarms and screeches of metal grinding against tracks that are a cosmic Russian Roulette with your or someone else's life, envelop you as you wash this banquet down with a half gallon of sugary, watery, lemonade. And you want more of it all.
Because a state fair is a time machine, and it takes you back years, decades, parts of centuries to when you were a kid, when you didn't have cares, when your greatest stress would be the approaching darkness and the inevitabilty that the parents would eventually break the magic spell and say it was time to go home. And it really was magic. And it really nearly went on forever.