The Pioneer Woman Boarding House
This is Cowboy Luxury. What, you haven't heard of that? Read on!
Cowboy and luxury are not two words you often see in the same sentence but they're the ones that have been used to describe this new hotel in Oklahoma -– yes, Oklahoma -– where you can't get more cowboy.
The Pioneer Woman, Ree Drummond, added hotelier to her list of occupations in April 2018, the others being television host, star chef (the Food Network), writer, photographer and blogger, and, most important, wife and mother of four.
Ree and her husband Ladd have renovated a building in their hometown of Pawhuska in Osage County, which is close to Tulsa, (don't you just love these true Americana names?). The building was built in the 1920's and was once a J.C Penney department store, when Pawhuska's population peaked at almost 6,500.  
Now it is the marvelously christened The Pioneer Woman Boarding House.
This new so-categorized Cowboy Luxury hotel has eight rooms, each with their own style, personality and name: The Photograph Room (the smallest at 468 square feet), The Emerald Room, The Butterfly Room, The Boudoir, The Ranch Room, The Prairie Room, The Tack Room and The Drugstore Room (the largest 814 square feet).
Ree and Ladd each took four of the rooms to design and decorate. Ree says of Ladd's style: "it is very rustic, practical and utilitarian. He would be happy if he never saw a crystal chandelier."  However, for herself, she confesses: "I appreciate some aspects of his 'elevated ranch' style but my soul goes to sleep without color and glamour. I have to have curves, scrolls and sparkles. Often, we meet in the middle, but since we both had four rooms, neither of us had to hold back."  From the names can you guess which room was done by whom?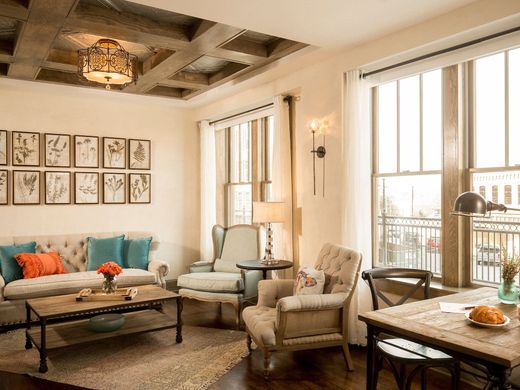 The Pioneer Woman brand has already spawned both the Pioneer Woman Mercantile -– a restaurant, bakery and yes, of course, a store, and a pizzeria called P-Town Pizza. Apparently there is a steakhouse in the works.  They are, it seems, single handedly revitalizing Pawhuska.
As I said, cowboy and luxury don't immediately spring to mind conjoined, but Ree Drummond and her hubbie Ladd are working on changing that.
The Pioneer Woman Boarding House
540 Kihekah Avenue
Pawhuska, OR 74056
Telephone: +1 918 528 7705
 Email: info@pwboardinghouse.com
Here's who designed which room….
REE DESIGNED THE 2ND FLOOR: The Photography Room, The Emerald Room, The Butterfly Room and The Boudoir
LADD DESIGNED THE 3RD FLOOR: The Ranch Room, The Prairie Room, The Tack Room and The Drugstore Room