We stumbled upon Cafe Droog visiting the Droog design shop, at Staalstraat 7B, in a beautiful corner of Amsterdam. Droog is a design collective with humor and plays with scale, texture, pattern while questioning assumptions about familiar everyday objects. You will find something you need — a perfect drinking glass, a dishtowel, furniture — all with a clever twist and a wink.
"Hotel Droog", as they whimsically call it, has one room — a lovely all white apartment at the top of the Droog building overlooking the garden courtyard. It was booked when we were there. That the hotel has but one room, is well, funny.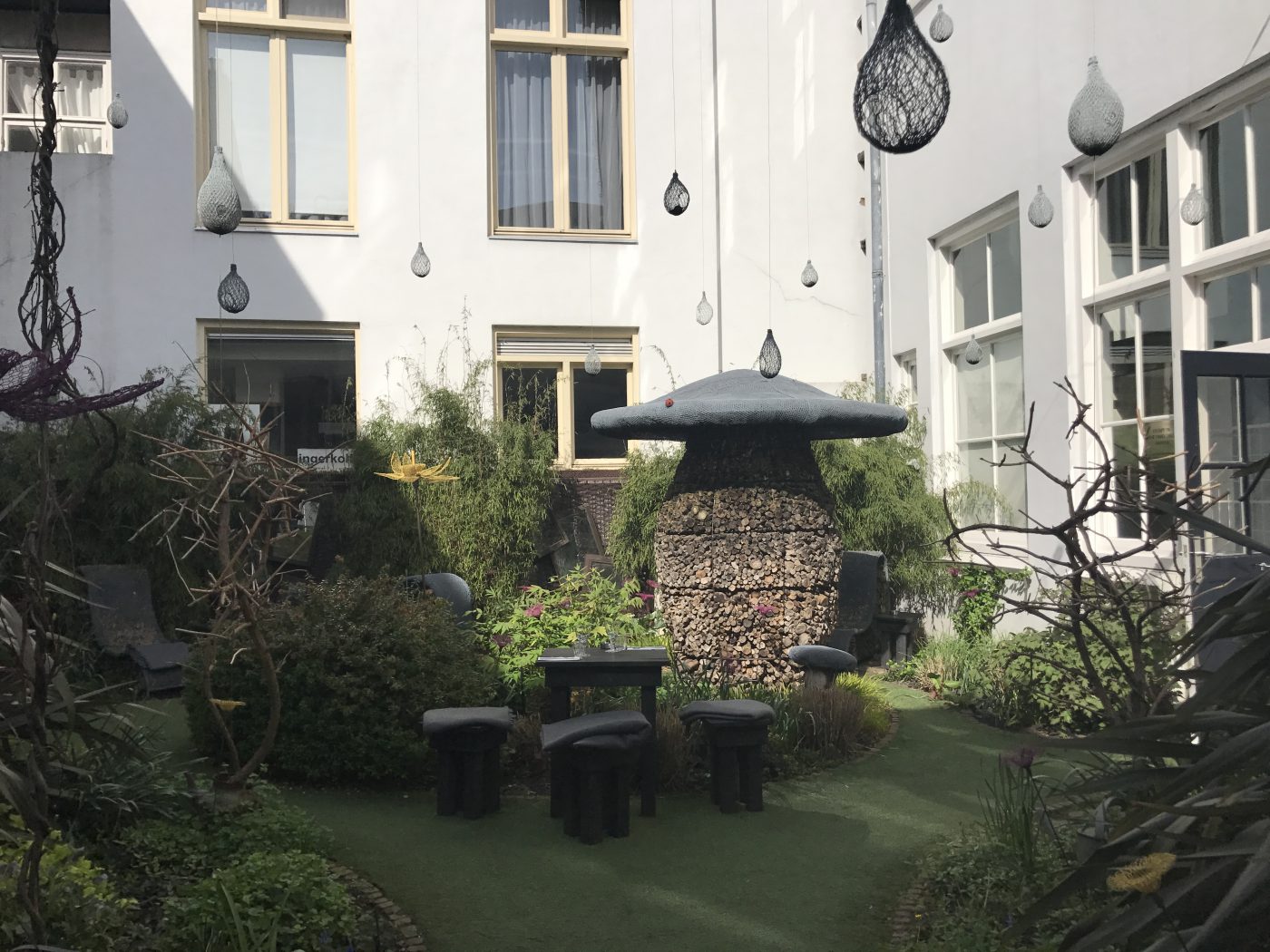 Cafe Droog felt like a marvelous secret. Light, white and airy, it was accessed by stairs from the back of the first floor design store.  There is a gallery space behind the cafe and large scale windows that overlook the canal and the cozy city — you are tucked into a neighborhood with typically tiny streets — and the Fairy Tale Garden, which is wacky and delightful.
It is a great place for lunch, or snacking throughout the day. We stayed a few hours, watching the rain run down the window panes and ordering more farmer's cheese, lentil salad, a tomato soup and triangular slices of nutty nordic breads. Everything fresh, local, and carefully composed, casually served on boards and glass plates which came out as things were ready. Droog glasses and cutlery were their daily ware, naturally. Pots of tea and homemade cake for dessert. Clothes hung in the back of the room, mostly black and muted monochromes — another shop in this Droog universe with unique collaborations and wearable design pieces.
A highlight:  A fish tank in the cafe, to the right of our table, had a fish-sized table and chairs in it! Its own restaurant for the fish. And you can buy the Fish Dining Set online. www.droog.com
This place is just different from anywhere else… somehow. Everything feels (and in fact is) artfully designed but completely accessible.
There were no other Americans there at the time. Just us and other design-seeking folks!