THERE IS A PLACE
Il Baco da Seta in Rome is an extraordinary and unique clothes store
There are many famous shopping streets in central Rome, and I often find myself traversing Via Vittoria. Only a few blocks away from Piazza di Spagna, it's the street where one finds a supermarket, trendy shops and cafes, and the organic fruit stand (and restaurant) where I like to get freshly squeezed juices. Along the way, I'd pass a remarkable little clothing shop called Il Baco da Seta (means silkworm) and each time I'd think: I love everything in the display. And reader, as you've predicted, naturally, I had to go in.  
Il Baco da Seta is a reflection of owner and textile designer Paola Albanozzo's heritage and personal golden travel triangle, which is Paris, Rome, and Jaipur. She designs many of the patterns which are then hand blocked in Jaipur. Much of the clothing in the shop tips toward classic, like soft corduroy jackets and trousers, cotton cashmere blend t-shirts, and for summer there are irresistible Indian cotton blouses and dresses that float like a cloud. The shop also carries clever accessories like recycled rubber bangles made from flip-flops washed up on shore in Africa.
After a few (okay, maybe more) visits to the shop and purchases of a perfectly designed navy cotton dress with large white paisleys, a French scarf of Giverny-like blooming florals, and a featherweight French Bensimon crossbody tote, I started chatting with Paola and at each visit our conversations grew longer. We made a date to meet at a café, where we talked about her artistic inspiration and travels.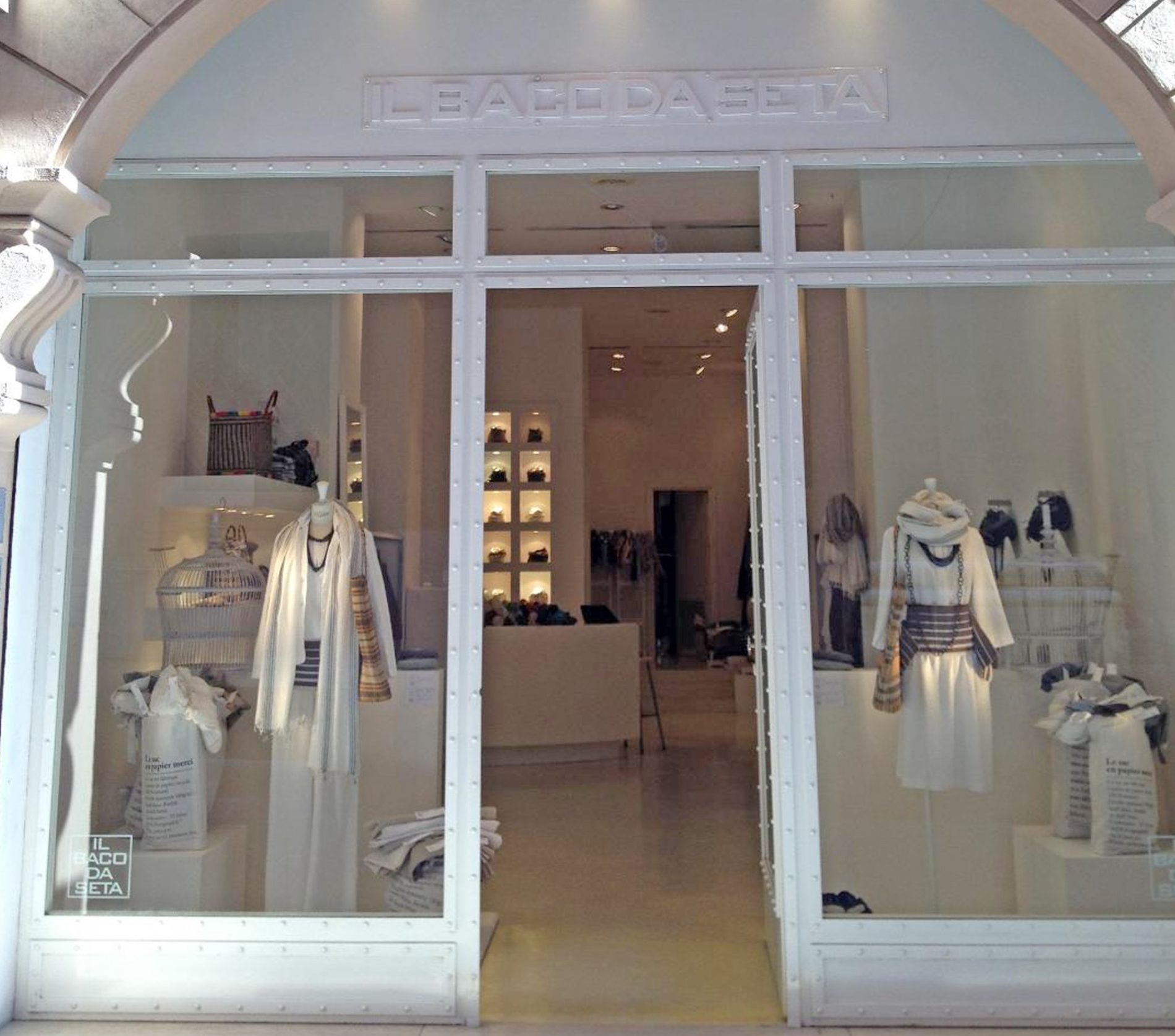 How did you become a textile designer?
I was inspired by the Indian world and traditions when I was very young. My father was a tea trader and was very closely connected with this world.
Where do you go for inspiration?
Nature, colors, and art are a source of inspiration. When I'm in Paris, I get inspired by visiting art galleries. 

Your fabric designs and colors are wonderful. Tell us more.
I use natural, sustainable, and eco proceedings to dye and print my textiles. I have a preference for indigo, especially for my Indian Khanta coats. The prints are manually realized with wooden blocks that are engraved with different motifs like paisleys, florals, stripes, and madras. 
Favorite city to visit?
I very much like spending time in Paris, a place I also consider home. I enjoy walking around, "flannel dans la ville," feeling the "air du temps," visiting expositions, art galleries, the renovated Bourse du Commerce by Fondation Pinault, gardens, and especially le Jardin du Luxembourg.
I also love India. Once a year I join my sister Sandra in Jaipur. She is also a textile and clothing designer. In Jaipur we enjoy the slow rhythms and sounds of this magical pink city.
When in Rome?
Walk in the archeological area when the day is almost over. 
Visit the Accademia di Belle Arti in Via di Ripetta.
Walk in Villa Medici and its gardens at the top of the Piazza di Spagna, with the most beautiful view of the Coupoles. 
Stay at Piazzadispagnahome.com our hospitality apartment for friends and family.
When in Paris? 
Walk in Jardin du Luxembourg.
Visit the Fondation Pinault.
Visit the Fondation Vuitton.
Visit the Fondation Cartier.
Visit a small and beautiful art gallery that represents interesting artists — Galerie Peinture Fraiche, a step from Musèe Rodin that I cherish for the intimate atmosphere and for preserving the aim of Rodin and Camille Claudel, and its gardens are a nice walk 
When in Jaipur? 
Visit Fondation Nila House  nilajaipur.com, indigo tradition and Indian traditional metiers d'art.
Stay at hotel The Johri in the Jaipur Johri Bazar.
Eat at restaurant MERAAKI KITCHEN  meraakikitchen.com that features local products and simple Indian food. 
Visit the Gyan Museum  gyanmuseum.com with its collection of ancient textiles.