SEPTEMBER FESTIVALS
Places to go and things to do in Paris, Massachusetts, Jackson Hole, Croatia, Munich, Barcelona, Rio, Malawi and Ladakh, India
September — you thought summertime is over, but it's still going, hopefully in cooler temperatures. Here are some last-minute things to do, music festivals but also lots of films to wind down the season, art, bourbon, beer and, yes, sausages…
Jazz a la Villette
Paris, France
Ongoing until September 10th
Take the Paris Métro, Line 5 to Porte de Pantin, and you'll come across an eclectic paradise of jazz, hip hop, soul, funk and Pan-African beats. The festival is co-produced by the Philharmonie de Paris, and this year pays respect to the great Queen of soul, Aretha Franklin.
Happening since 2002 at the third largest park in Paris, the Parc de la Villette, they call it the Indian summer of Jazz. There's a wonderful program for kids with interactive fun, music and dance.
London based Afrobeat group, Kokoroko are playing, as well as Malian singer Oumou Sangaré, Sons of Kemet and BCUC Aka Bantu Continua Uhuru Consciousness from Soweto, South Africa. If you missed them at Glastonbury, you can catch them here.
Martha's Vineyard International Film Festival
Martha's Vineyard, Massachusetts 
September 3 – 8
With the laid-back coolness of Martha's Vineyard and the end of summer days this film festival is a delight. No wonder the island is a celebrity haven, so near but so far from the rest of the world.
As well as celebrating films from across the globe, there are selections from the bigger Toronto, Berlin, Cannes and Sundance festivals.
An all access pass for the festival is $250 which gets you into screenings, parties, galas, and a t-shirt.
Jackson Hole Fall Arts Festival
Jackson Hole, Wyoming
September 4 – 15
Happening in the Rocky Mountains for the 35th year, there's live music, food and wine tasting, art and silent auctions, all spread out over 12 beautiful days.
Jackson Hole offers a wide variety of cabins, old style lodges and luxury historic inns to stay in and most will have stunning unspoiled views of mountains.
Outlook Festival
Pula, Croatia
September 4 – 8
In an abandoned 19th century naval fortress and a 2000-year-old amphitheater in northwestern Croatia — and an adjacent beach and multiple party boats — this is some serious celebration of underground electronic music. It also plays in tunnels from subterranean WWII bomb shelters.
It was started in 2007 by some Brits, and the Brits know how to party. There are four days and nights of music on ten stages, with over 300 artists, over 50 party boats.  An historic experience next to the Adriatic Sea. This is the final year in this location before it moves, and it's worth the trek.
Fly into Pula.
Toronto International Film Festival
Toronto Canada
September 5 – 15
Known more colloquially as TIFF, this Toronto mainstay has, since 1976, showcased a collection of the best regarded films from other major festivals. They show hundreds of films, premieres, documentaries, and special presentations and attract almost half a million people annually.
This year 'In Conversation With…' includes Michael B. Jordan and Jamie Foxx, Antonio Banderas, Allison Janney and Kerry Washington. Meryl Streep is the years recipient of the festival's lifetime achievement award.
Tickets went on sale to the public on September 2nd.
American Film Festival
Deauville, France
September 6 – 15
In Normandy in northwestern France lays Deauville, the nearest resort to Paris, sometimes referred to as the Parisian Riviera.
The American Film Festival has been happening there since 1975. About a hundred American films are chosen, from Hollywood blockbusters to independents, premieres, documentaries and in-competition. Catherine Deneuve heads the prizes jury.
The Festival is partnered with Chanel, Air France and Dessange Paris among others… so expect a nice goody bag if you go!
35 Euro for a day pass, 160 Euro for a festival pass
Kentucky Bourbon Festival + Louisville's Bourbon and Beyond
Louisville, Kentucky
September 18 – 22
Two great opportunities in one! Close to Louisville, in Bardstown, is a warm up festival consisting of bourbon tastings, car shows, food vendors, art displays, and mixology classes. In Louisville, overlapping September 20 – 22, is Louisville's Bourbon and Beyond with more bourbon, a food festival and music. This year headlined by The Foo Fighters, Hall and Oates, Joan Jett, Grace Potter, Robert Plant, ZZ Top and The Flaming Lips. That's an eclectic line-up to say the least, and says a lot about the pull of Bourbon.
Taos Fall Arts Festival 
Taos, New Mexico
September 20 – 29
The oldest arts festival in Taos. Renowned as an inspiring haven for artists, visitors arrive from all over the country to see the local residents exhibiting their art.
The town also offers cultural tours to the adobe pueblo, inhabited for over 1000 years, and live theater, opera, chamber music, ballet and fantastic places to eat.
Oktoberfest
Munich, Germany
September 21 – October 6
The Granddaddy of all beer gatherings! It's not all about beer and sausages… There's a fairground too! We highly recommend trying the fairground rides before you hit the beer and grilled sausages. There are also parades and giant pretzels. You'll be busy.
If you can't make it to Munich this year, get to Cincinnati. From September 20 – 22, you can attend Zinzinnati — the largest Oktoberfest in America, where you can, should the desire grip you, see dachshunds dressed as hot dogs racing over short distances. It's called The Running of the Wieners. Really, it is. 
La Mercè
Barcelona, Spain
September 20 – 24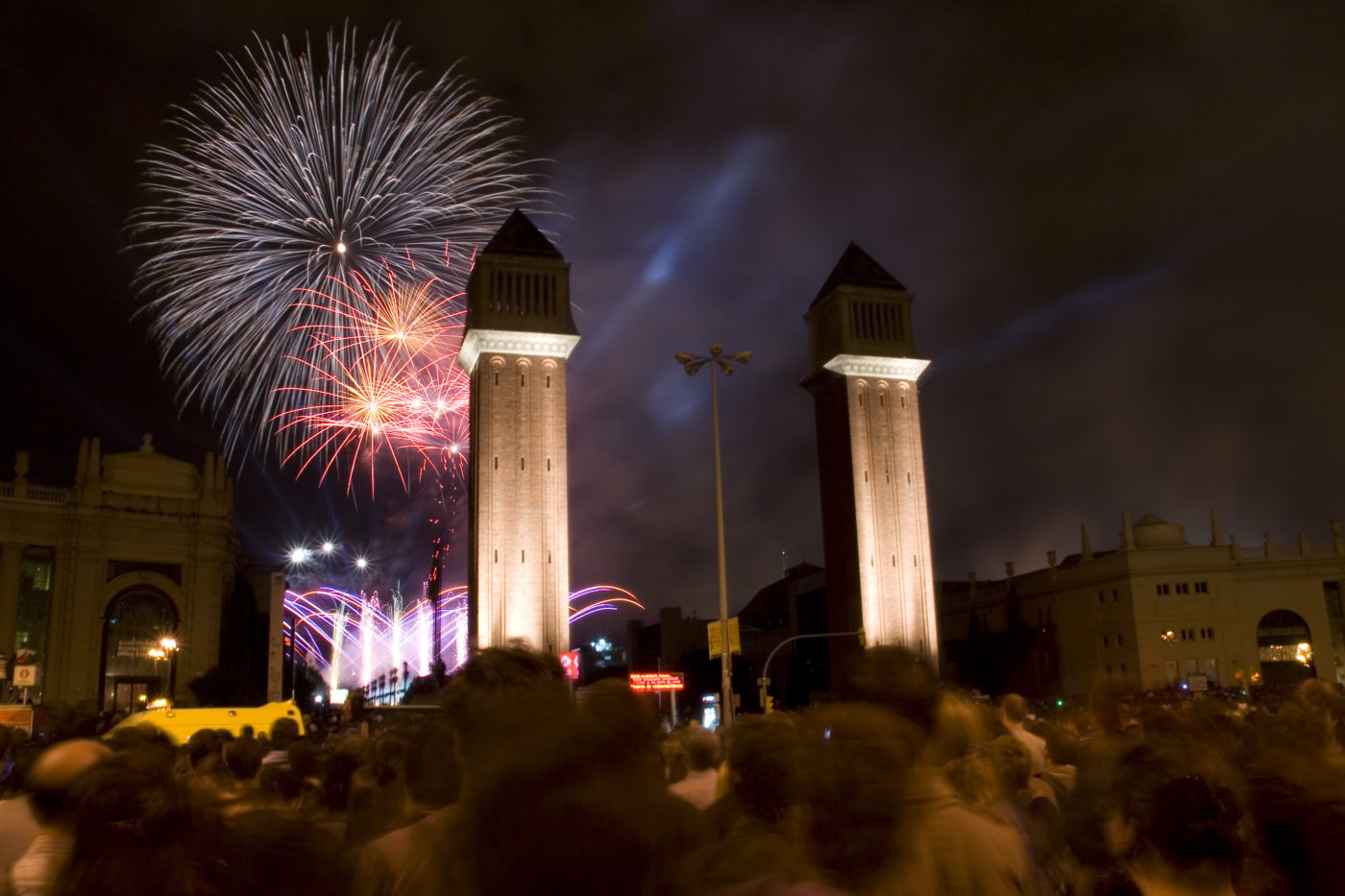 If you're anywhere near Barcelona, there's an animated street celebration happening with five days of parades, cultural and musical events, and huge human towers that they're really into, called castells. And it's free.
Lake of Stars Malawi Arts Festival
Malawi, East Africa
September 27 – 29 
On the palm-fringed shores of Lake Malawi (the third largest lake in Africa) at Kachere Kastle and founded by British promoter Will Jameson in 2003, Lake of Stars continues to grow with Malawian music at its core, playing alongside odd international artists such as Major Lazer, Gilles Peterson and Groove Armada. It's a warm ambiance festival in a stunning location with world vibe music, great people, food, dance, fashion, theater and art.
Get shots before travel and take your malaria pills! You don't want malaria harshing your mellow…
Fly into Kamuzu International Airport. It's a four hour drive from there. Take your own camping gear as your ticket covers you for a camping spot. Apparently you have to be on the lookout for the odd crocodile sauntering on by. But, you know, it's Africa, not Disneyland.
Rock in Rio
Rio de Janeiro, Brazil
September 27 – 29 and
October 3 – 6  
Writing this as we're watching in horror the problems Brazil is facing, with the devastating Amazon fires and the bizarre ego/eco logics of those in charge.
If it goes ahead, (so, yeah, keep checking the festival's status, there are some massive headliners booked. Rock in Rio exemplifies a wide range of serious rock legends, and Drake. The intended line up is: September 27, 28, 29 – Drake, Seal, Foo Fighters, Bon Jovi; October 3, 4, 5, 6 – Red Hot Chili Peppers, Iron Maiden, Pink, and Muse.
Ladakh Festival 
Ladakh, India
September 22 – 25 
A once in a lifetime must do experience at the top of the world. If you've been following us, you know we have a soft spot for the top of the world…
There are dances in traditional, colorful costumes, music performances, archery, polo and masked dances from ancient times.
Fly into Leh, and get a window seat.