The Island of the Lost Boys
Thailand's Ko Phangan is magical, unspoiled and can be a hell of a party at night
"Of all the delectable islands the Neverland is the
snuggest and most compact, not large and sprawly, you know…
When you play at it by day…it is not in the least alarming,
but in the two minutes before you go to sleep it becomes very nearly real.
That is why there are night-lights."

–  J.M. Barrie, author, Peter Pan
Most people head there by following the moon. The compact Island of Koh Phangan in the Gulf of Thailand is an hour's plane ride south of Bangkok and once each month hosts the Full Moon Party; the largest beach party in the world. Ten thousand dance under the moonlit sky. But I was there for more than partying.
I came for the whale sharks. 
The deck swayed deeply as we pulled out of Ban Tai harbor on my first dive trip out and I was glad Ally, my guide and the hottest dive master I had ever seen, passed me a seasickness pill. We sat near the front of the boat, but not too close to the ribbons, red and white like the Thai flag, were tied. "That is where the Thai people believe the spirit of the boat lives." She tells me and fiddles with her strappy pink bikini. I ask her how she ended up on Phangan.
"There was nothing for me in Perth. I had a job I didn't like, I was going nowhere. I don't think I'll go back. I guess a lot of us come for a visit and stay here."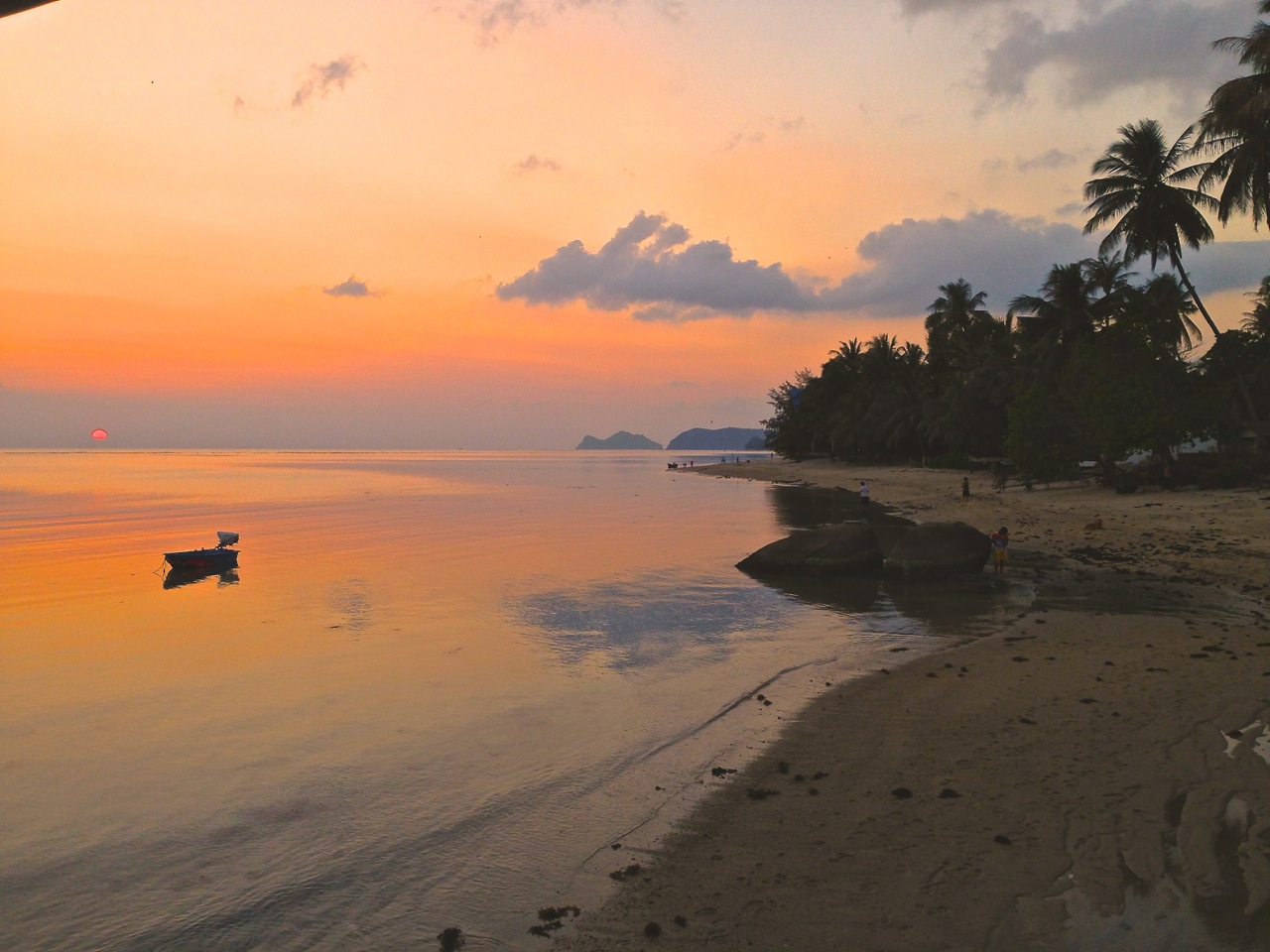 Underwater, lime green and neon yellow soft coral gardens, hundreds of silver skinny barracuda, blue eels and fiesty clown fish fill my mask and set my heart racing — but after two dives — no whale sharks appear.
On the surface, we help each other peel tight neoprene wetsuits off our salty bodies. "Don't feel bad. I've only seen them once since I've been here," Ally tells me.
"They're really rare, but I'll see them again."
I've rented a lofty beach house I found through Airbnb, my current go-to online rental site for eclectic gems. The house is managed by a stout grinning Thai woman, "Juan". At dusk she and her family, along with a black stray dog and a white man, sit on a woven mat and eat little white clams out of a bucket, grilled white fish and large prawns straight from the ocean. Juan hands me a few warm shells and giggles. She giggles a lot. Most people in Thailand do.
"What's your name?" I ask the one girl across from me.

"Ta."
"Ba?" I ask stupidly. She giggles gently and slips a juicy prawn into her mouth.
"No. TA-A," the foreigner corrects. He has a strong English accent, and clear blue eyes. I ask if he speaks Thai.
"A little. I've been here a long time," he says softly from his position on the matt, at the head.

"Do you meet a lot of people from England here?" I ask.
"I don't talk to many people. Why do I want to talk to other English people? I've been talking to them my entire life."
"What does it mean, her name – 'Ta-a'?"
"It means 'star'". Juan holds out her hand cupping a piece of slippery grilled fish. It's still hot — heavy in my palm.

"Their names, the ones they tell you, they're not theirs, you know."
I didn't know, I said.
"They hide them. Most people here use nicknames so the spirits can't get them as they come across the water."    
I learn he's been living in the forests of Phangan on and off for 23 years and goes by John but I wonder if that's his real name or his nickname.
The signs on the sides of the roads advertise VOODOO PARTY, HALF-MOON PARTY, JUNGLE PARTY but tonight was the big one: the FULL MOON PARTY. I walked half a mile into the ocean. The water was the temperature of a lukewarm bath after an hour's soak. It came up to my crotch when I stopped to light the hand-rolled and somewhat lumpy cigarette the German in the house next door had given me. The woodsy tasting ciggy burned between my lips until the sky darkened and the moon lit up.
Time to party.
Thudding deep bass and voices yelling to each other in dozens of languages. On the beach, the electric night of half naked, painted bodies writhe and beat the sand as they go between bars featuring DJs spinning hard beats. Flags from Israel, Canada and Finland wave by as the crowds ebb and swell. A 21st century Woodstock with an Asian flair. Men stand out in the Gulf, peeing into the waves, and on the sand limbs jerk and fly, set free by party drugs – all part of the Full Moon love affair – one which the Thai government says they are cracking down on. Although the pictures of psychedelic mushrooms on bar signs advertising "SPECIAL DRINKS" and the smattering of Thai police wandering the beach chatting happily, don't jive with the message and the madness under the moon continues, much to my delight.  
By day, I give in to the islands' laid back vibe and spend the week devouring spicy green curries in the street market of Tong Sala, a scary fun elephant ride thought the jungle followed a muscle stretching Thai massage (200 Bhat or 10 dollars for an hour). The evenings are hammock hanging at the Hard Rock beach Bar run by Philippe. A Frenchman left Toulouse last spring to open his "student bar" over the ocean, complete with spectacular sunsets and free WiFi. Over Mai Tais we write home on glowing phones and listen to music with the tracks deep and low – fantastic lounge, often mixed by the "students" drinking bottle after bottle of Chang beer.
On the boat the next day, Tony, a visiting divemaster from Rhodes, is my partner. He tells me he's just in Thailand working for a season to see the sharks. He's been diving since he was eight and this is his dream. "If we see them, we just book it ok?" I give him the OK signal and jump in. At a comfortable 20 feet, he starts flapping his arms wildly. An abyss beyond the rock, a hulking dark mass with the one infamous dorsal fin as high as a man hovers before us. We kick hard and follow until we are below its shadow. The massive shark's quiet beauty is all we've hoped for. One tiny black eye peers out at us as the spotted gray beast glides past. Schools of fish flank its blunt snout, feeding with their host. Whale sharks are not the man-eating horrors of Hollywood; they are filter feeders, scooping up plankton and small fish in their gaping maws. We get close enough to see the fine bones behind the fluttering giant gills. Who knew you could smile so much with a regulator in your mouth.
At the surface, we spit out our mouthpieces and are free to laugh together. "I feel like I should hug you!" Tony shouts giddily.
Koh Phangan is a place of water spirits and whale sharks, of elephant rides and aromatic curries, where strangers hug or strip down and dance under the moonlight.
A place you can get lost for days or, maybe even years.