Born Again
The re-opening of the immortal TWA terminal at JFK airport as a hotel is inspired and wonderful
In 1962, the soon to become iconic TWA terminal, known formally and more grandly as the TWA Flight Center, opened at what we know as JFK Airport, but which was then known as simply New York International Airport, and more commonly Idlewild. (It was rechristened John F. Kennedy International Airport following the President's assassination a year later, in November 1963.)  
The terminal was designed by visionary Finnish American architect Eero Saarinen, who also designed the whole Washington Dulles airport by the way. Equally importantly, although less legendarily, the building was prevented from collapsing on itself by the equally visionary engineer Abba Tor, who insisted, over the aesthetic objections of Saarinen, that the 55,000 square foot concrete roof not be one contiguous piece. Tor had it built as four interlocking vaults so the concrete wouldn't crack, with skylights where the joints were, additionally giving the terminal it's heavenly luminescence, which it wouldn't otherwise have had with a solid, un-seamed ceiling.  The building was quickly hailed as a mid-century modern masterpiece, a mouthful that doesn't usually stand the test of time, but which in this case possibly understates its lasting beauty.
In 2001 the terminal closed when the airline itself closed. In 2015, MCR Development started the transformation of the gorgeous, now silent and lifeless building, into a hotel, which will be JFK's only in-airport hotel. Before that it had been seriously prospected as a new location for Italian mega-market Eataly.  
The original structure has been preserved and restored. The 512 guest rooms, predictably and delightfully, retain their 20th century futuristic-inspired design and are in the building added to the terminal, which functions as the entrance and public facing.  The rooms all have a wet bar (genius!), made in walnut by Amish carpenters, for an even more gloriously retro, counter-intuitive touch, and have views of the airport runways.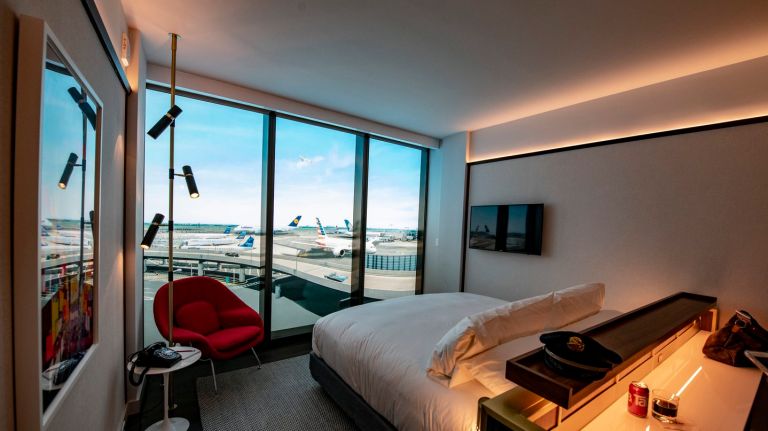 But runways mean noise! Really, really loud, ear and sleep piercing airplane thunder noise… But don't you worry, they anticipated that, silly! The windows, manufactured by the very manufacturey sounding Fabbrica, are the second thickest in the world. Only the new US Embassy in London has thicker windows, or apparently needs them. There's your daily trivia….
On the flip side, you probably can't open the windows… a curse of modern hotels.
Furnishings, fixtures and fittings are all similarly Saarinen inspired, quirkily and wonderfully down to the detail of the 1950's era Western Electric 500 phone, which, in no small irony, will probably work better than your cell phone. The hotel proudly boasts that you can make unlimited free international and local calls — it wasn't that long ago that naive hotel guests could discover their phone bill exceeded their room rate, so this is actually a nice touch, if about twenty years late.
There will be six restaurants, including a Jean-Georges, hooray. There  are eight bars, and a coffee bar, and multiple coffee carts scattered around the property, so, you know, lots of opportunity to get coffee, which is so very airporty.
Not that you care, but there's a 50,000-square-foot event space. There's also a 15,000-square-foot ballroom and a 10,000-square-foot fitness center, and a rooftop pool to do laps. Plus a rooftop observation deck.
The hotel has been taking reservations since Valentine's Day — which we can't help but appreciate as another nice, warm fuzzy touch —  and opens May 15, 2019, for what they are protectively calling their "soft" launch. The recorded message on the one phone line that can be found (why are they hiding the humans?) cutely says, in flight captain-announcement style, "Ladies and Gentlemen, this is your captain speaking from the flight deck of the TWA Hotel. We are looking forward to an on time arrival at New York's JFK airport in early 2019…"
Room rates average under 300 dollars. A more elaborate launch is scheduled for late summer/fall.