HOTEL 

THE BEAUMONT, LONDON
Less than 10 years old, The Beaumont is a beautiful orchid in London's hotel flowerbed
When I grew up in London in the early sixties, it was very much still a post-war city. The city was grim, shabby. The streets and buildings were sooted, and all over the metropolis were "bomb sites" — bombed out buildings and blocks that hadn't been cleared yet, which just sat there like giant unmarked graves, and which often hid, in the folds of their devastation, unexploded German bombs, mostly impotent, not all.
In London, then, the Second World War was very much present. Never in a self pitying or maudlin way. London wasn't celebrating the war, or trying to remember or forget it, it was convalescing. 
When I walked to school in the morning or walked home in the late afternoon, most of the year it was dark, the sun already exhausted. In the evening, puddles of light from open stores and chip shops smudged rain slicked, onyx pavements. Buses loomed by like wheezing shadows, and quiet, darkened traffic, dotted with pallid headlights, crawled through streets never wide enough for it.
This wasn't depressing, I hasten to add, just glum. The London I traversed when I was a boy was mostly gray or dark, and pretty invariably cold and wet. 
But not Mayfair! That, even then, was somehow exempt, an oasis of brightness! There the buildings glowed and restaurants, night clubs and casinos sparkled. Street lights shone brightly and neon lights scarred the sky, like crazily drawn lipstick. The streets of Mayfair were populated by fabulous people who seemed to just appear, spiriting their way through the gloom. I'm not even sure it rained there.
It has always been a mythical part of London. It's home to some of the most expensive real estate in the world, ludicrously expensive shopping, and many revered and quasi-immortal British hotels: The Connaught, Claridges, The Grosvenor House, and the Dorchester. Even Browns is there, one of the early beacons in the boutique hotel movement. 
But the most interesting hotel in Mayfair is The Beaumont.
"The Beaumont was a passion project," says Martine De Geus, head of public relations and traveling ambassador for the hotel. Original owners Jeremy King and Chris Corbin, famed London restaurateurs, had a burning ambition to open a hotel. And in 2014 they converted Macy's, a famous, almost century-old parking garage, sometime car showroom, service station and lastly an Avis rental facility, into what became, almost improbably, one of London's most beautiful and special hotels.
"In 2010, The Beaumont was no more than a façade, fronting a large hole in the ground," Martine says. "Needing to brief the architects and designers, the founders concocted a fictional backstory about an American hotelier, Jimmy Beaumont, to provide a useful means for informing the ethos, interior design and style of the hotel. 
"The dilemma with any new hotel is to determine what will give it the 'heart and soul' that engenders a sense of belonging and comfort, over and above the requisite physical comforts. They created a sense of history to match the 1926 building."  
That was kind of wonderfully odd and clever. Corbin and King were scrupulous in the detail they paid to every element of hospitality and the gorgeous design, coating the property in an art Deco patina with works by French, American and English artists. Rare books — really, books of any kind are art these days and worth their weight in gold — and whimsically curated objets d'arts accessorize the rooms and public spaces. Wisely, they retained the original facade — not sure they would have had a choice, it is "Grade II listed", which sounds intimidating, and Britain takes landmarks very seriously, appropriately. But who wouldn't have kept it anyway? 
When it was erected in 1926, Macy's, which has no connection to the American department store, was an emporium for cars — not the grubby, dark garages we're familiar with in big US cities. Automobiles were very much the province of the rich and this garage innovatively (well, they stole the idea from America) had a big lift to carry the incredibly heavy vehicles to the upper floors, and a lounge/upscale cafeteria for chauffeurs. It also offered free parking for nearby Selfridge's — they knew their market — repair and service facilities, a dining facility, and rest rooms. (Rest rooms! In a parking garage, that you, the parker, could use… I'm getting nostalgic.)
In 2018 the landlord, owner of the actual ground — England has strange and labyrinthine property ownership laws — sold the hotel. Corbin and King bid to retain it but lost out. It remains, in Martine's words, "privately owned and independently managed, rare in a world (and city) stuffed with big hotel brands." She stresses that the service the Beaumont became known for, and which is no doubt behind an extraordinarily high return rate, remains resolutely in place, and that many of the opening staff are still there.
Until 2018 the U.S. Embassy was on Grosvenor Square, just around the corner from the Beaumont. The embassy occupied several buildings around the square, which they vacated when they moved to 33 Nine Elms Lane, just south of the Thames river.  The Beaumont's new owners, the Said family, smartly took advantage of the vacancies and bought an adjoining building behind the Beaumont, the former U.S. Office of Naval Research Global, to increase the size of the hotel.
That expansion is now more or less complete and as of this Fall new rooms will open up, floor by floor, throughout the rest of the year, until there will be 29 to add to the existing 50 in the main building. The two buildings will be seamlessly joined and will include two private dining rooms.
Art is definitely the overriding theme of the Beaumont — along with what would seem a strange and overbearing obsession with America, with it's Roosevelt suite (which can be expanded to the whole top floor), it's Gatsby's Room bar, "Jazz Age" afternoon tea and framed black and white photos of old American movie stars, if it wasn't for the mist of myth about an imaginary American starting the hotel in 1926 as a nexus for visitors from the east and west (which would more accurately place it in Istanbul, but let it pass).  
There's art from the masters — Matisse, Georges Braque, Gino Severini, Man Ray, Miro, and British abstract painter Howard Hodgkin, plus contemporaries Nigel Hall, Tim Woolcock, Nicola Green, and Pablo Bronstein. In the elegant and time-forgot-us Le Magritte Bar & Terrace, Rene Magritte's Le Maître d'École, his signature figure of the bowler hatted man with his back to us, watching a sliver of the moon, hangs in the center of the bottles-covered wall behind the barman. 
Cliche-alarm soundings notwithstanding, the hotel, which has just completed a two year room by room refurbishment, is a piece of art. It didn't need an avatar to create soul, the soul was already in the concrete and steel walls and metal framed windows, in the elegance and luxuriousness meticulously created for a parking garage, which took applications for membership, long before our restaurant lads pursued their inspired dream.
The rooms are, in that particularly stylized and British hotel way, comfy, rich and layered, like you'd find in an English country estate home. The lobby is exquisitely designed and furnished, like an expensive movie set for a period film. The restaurants, The Colony and Gatsby's Room, are superb and are destination dining for locals not staying at the hotel.
And part of the building is literally a piece of art! When Corbin and King bought the site and applied for permits to build their hotel, the local council determined it would be a new building, since only the facade remained. That, by law, necessitated creating a piece of public art, and our heroes decided that, instead of plopping a new statue or some avant garde sculpture in front of the entrance, they'd build something artistic into the structure. British artist Antony Gormley created a slightly more than two storey sculpture of a crouching man, looking a bit like a Lego version of The Thinker, which, if he were to stand, would be about 72 feet high, according to Gormley. This is called ROOM.
Within this appendage that abuts the side of the front of the hotel is a single bedroom, that will cost you about $1,760 a night, with nothing but a bed clothed in white linens. There is no furniture. The ceiling is high but the bedroom itself is small and sounds claustrophobic, really just enough room to move around the bed. There is a window high up which gives a view of the sky, but the idea — because this room has an idea to it — is (more or less) to experience complete darkness, "to be both in the city but absolutely removed from it, giving a feeling of enclosure within and exposure without," says Gormley, who goes on to say, somewhat nonsensically, "it is the first time that I have attempted to sculpt darkness itself."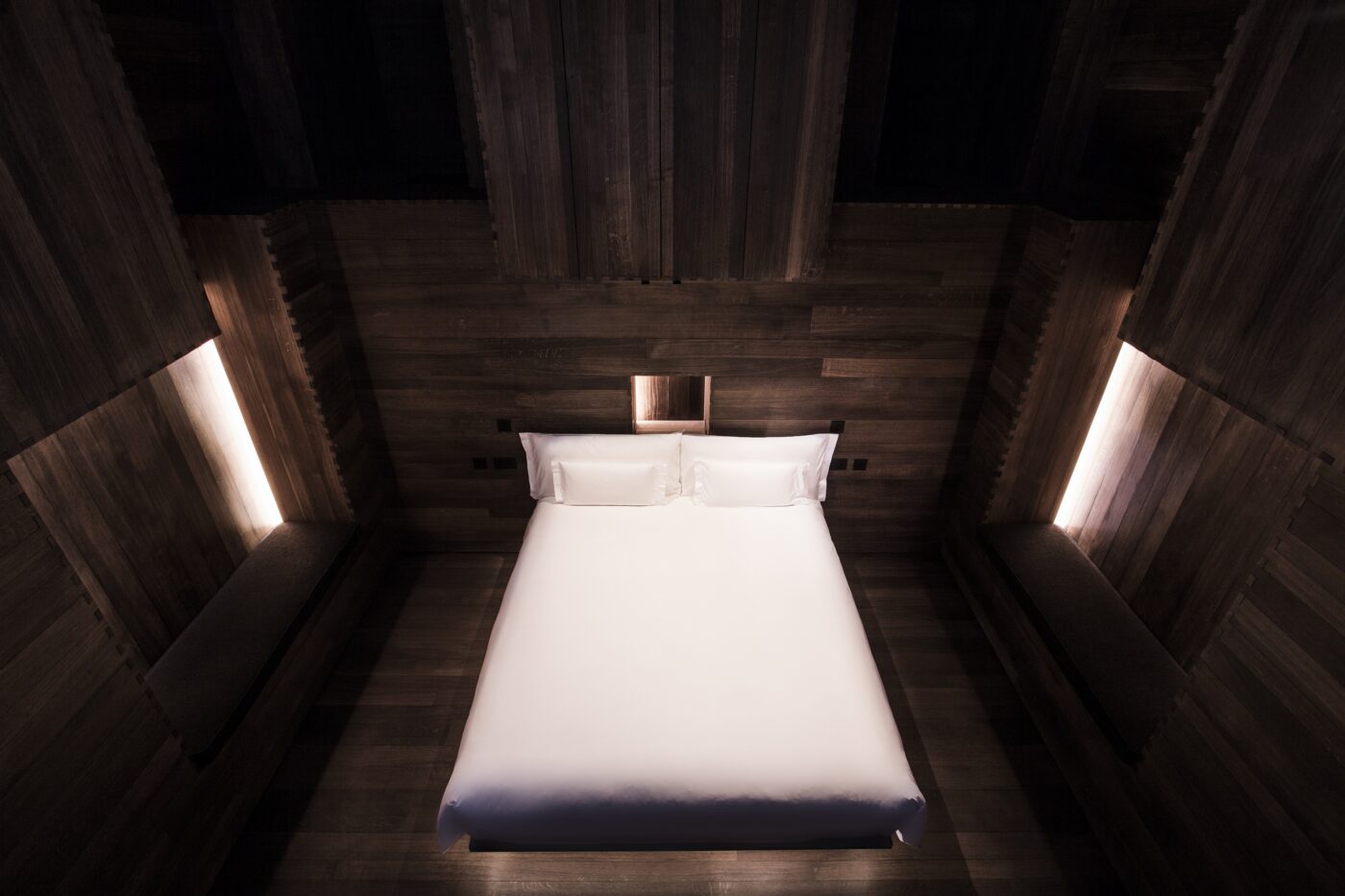 The hotel, as I mentioned, does an astounding amount of repeat business — it's certainly got some mojo going for it. What's the catnip, I wondered.
"The hotel feels like a club – the layout is small and intimate, which allows for interaction. The staff are constantly updating guests' preferences, whereabouts, enabling personalized service. It's people that make guests return, not a high thread count. Loyalty is emotional, not transactional," Martine says. 
Who's the highest level Royal to visit or stay at the hotel? Openly, or illicitly — you know, for a "meeting", I ask her.
"We have hosted a European ex-King, a King, and a Crown Princess. But not all together!" 
She gives no names. But who is a European ex-King? That's a pretty narrow subgenre right there.
Where are the best places to eat nearby, not in the hotel? 
"Within walking distance, BiBi – exceptional Indian small plates in a little jewel of a restaurant. Mount Street Restaurant, above a pub, has an easy menu of crowd-pleasing favorites, and an outstanding collection of art. And Scott's —- the most requested restaurant by our guests. More than 100 years old, it serves some of the best seafood in London." 
What two places do visitors always miss in London that they shouldn't, I inquire.
"The view from Waterloo Bridge – so much better than Westminster Bridge. Many visitors will probably not take the trouble to walk there, but Waterloo Bridge is set on a perfect curve in the river, with amazing views towards Westminster on one side and the City of London on the other.  And, if you follow the advice of The Kinks, 'Waterloo sunset's fine'!
"And Highgate Cemetery – probably a little too far for most visitors but well worth a visit – overgrown, gothic and eerily atmospheric, it is full of incredible architecture and mausoleums, and is the burying ground for so many notable writers, musicians, philosophers and artists. A guided tour is definitely recommended."
If there was just one room left at the hotel, I posit, lastly, and both Prince Harry and the Pope wanted to stay there, who would you rent it to?
"Prince Harry, for his empathy, humanity and charity work, and his touch of naughtiness."
The Beaumont, 8 Balderton St, Brown Hart Gardens, London W1K 6TF, UK  
+44 20 7499 1001
https://www.thebeaumont.com