Cyprus

, George Papadopoulos & Me 
This Mediterranean island, where legend has it Aphrodite was born, is a fantastic place to go, notwithstanding its dysfunction
If ever I saw a country crying out for a rescue — apart from an obvious candidate like Syria, of course — it would have to be Cyprus. It's an ancient island and a divided one, too, with Turkey occupying the northern third (having invaded the country in 1974), an internationally recognized government in the south and a frankly bizarre and very expensive United Nations buffer zone running for some 112 miles between them from one end of the island to the other, splitting the landlocked capital of Nicosia in two and making it hell on earth for drivers who, under non-schizophrenic geographical conditions, would consider themselves sane.
In his latest book Figures in a Landscape, renowned author and contrarian Paul Theroux mentions Cyprus as one of those islands that "went to war with itself, with disastrous results." And while the Republic of Cyprus (now for all intents and purposes, the southern two-thirds of the country) has quite capably managed its affairs since Turkey gobbled up the top third in '74, the existence of the buffer zone, a weirdly divided capital city, and the "ghost" city of Varosha, all add up to a slow-motion disaster: only it's one that most tourists who stick to the beach bars and generic hotels won't see.
But if this island's scars could be healed there's no doubt Cyprus could go from "oh, that little island by Greece" to positively epic vacation spot. Fix Cyprus and other toxic stalemates in this part of the world might slowly come undone, too.
My own connection with Cyprus began in graduate school. While many of my fellow students tackled the serially overanalyzed Israeli-Palestinian conflict in their Master's theses, I was drawn to a situation that at first glance would appear much easier to untangle — what has come to be known as the Cyprus Problem. Delving into the political dimension of what led the third largest island in the Mediterranean to its present division also led to my doing tourism promotion work for Cyprus, and several visits to the island in the early 2000s.
With each successive trip I was convinced that tourism could help where the United Nations was just going through the motions. In 2000, the 49th Miss Universe pageant was held in Cyprus, during Donald Trump's ownership of the Miss Universe organization. Many Cypriots thought the pageant was in poor taste, after stringent protests from the Orthodox Church. Ironic, considering Cyprus is the credited birthplace of Aphrodite, the Ancient Greek Goddess of Love and Beauty. They weren't entirely wrong: 79 contestants strutting around in polyester swimsuits with host Sinbad presenting the show might be Snooki's idea of glamor and prestige, but pretty much no one else's.
As for reuniting the two sides of Cyprus, many have tried, or at least were paid to pretend to try — even former Texas Governor Ann Richards got in on the act — and all have failed spectacularly. For my part, I've often thought that simply better awareness of Cyprus and of its strategic importance — for example, there are two large British military bases on the island, one of which was instrumental in the already forgotten U.S.-led air strikes against chemical weapons facilities in nearby Syria — would help get those pricey UN peacekeepers out and move the needle along to some kind of reconciliation agreement between the Greek Cypriot and Turkish Cypriot communities.
Enter Donald Trump, again—this time, as presidential candidate. When I saw that he had tapped a young fellow with a Greek-sounding name, George Papadopoulos, to help with the campaign I was intrigued. Had the Donald recalled, perhaps in a fit of nostalgia, his dalliance with the Island of Aphrodite so many years before? Was bringing Papadopoulos into the fold his way of telegraphing that his team had the foreign policy chops Obama's never really did, and that his administration would try to ramp up diplomatic efforts in the troubled eastern Mediterranean? I don't know. So not knowing him personally I reached out to George Papadopoulos (who shares a last name with one of Greece's best commercial bakers, I might add) the most millennial way I knew how: via LinkedIn. I introduced myself and suggested we put forward a new tourism promotion plan for Cyprus.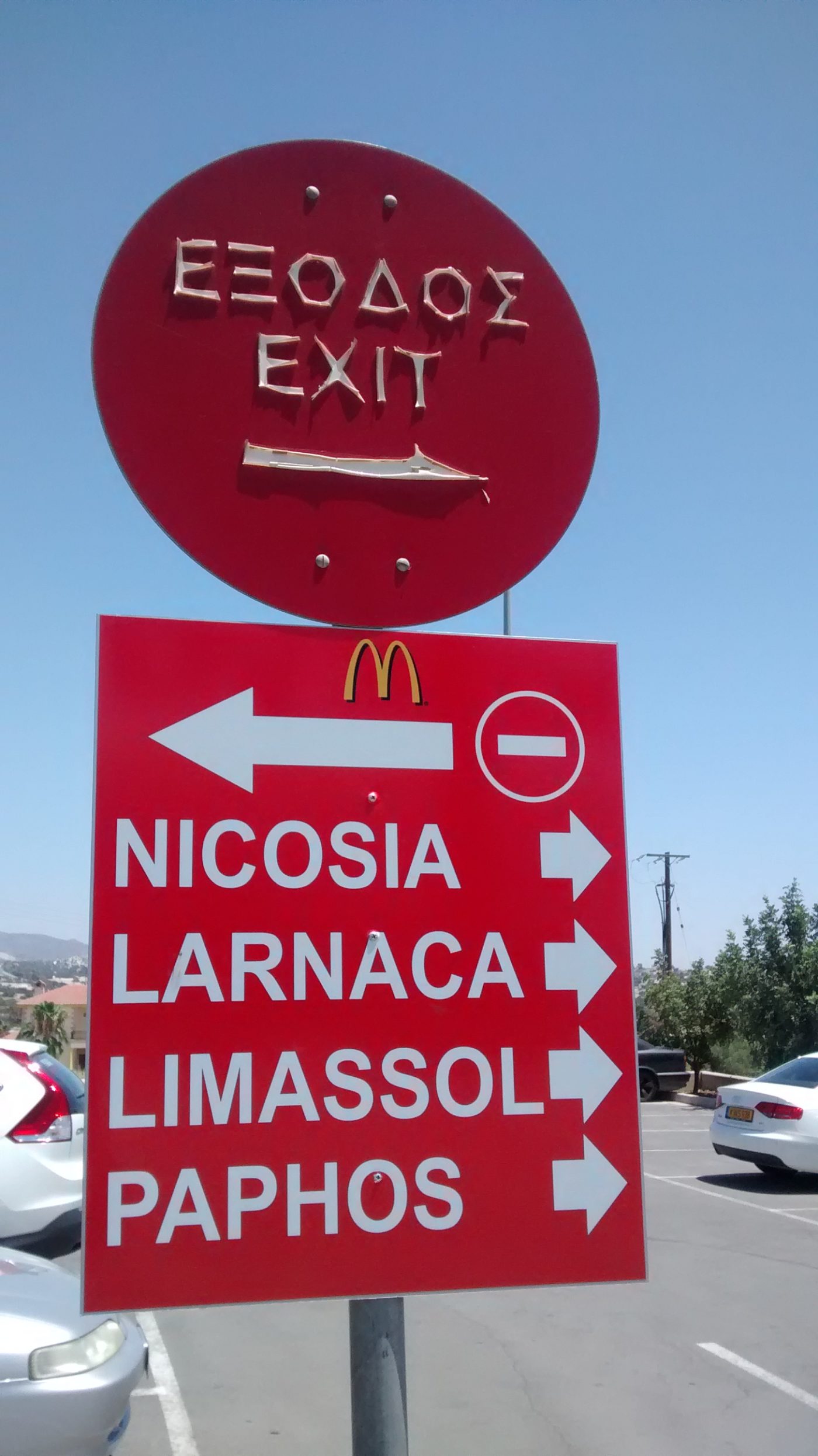 Between my familiarity with Cyprus and his newfound clout I figured that together we could make a good case for developing a more intelligent kind of approach to tourism development than you might find at, say, a beauty pageant advisory committee. He didn't immediately say no, which in some Mediterranean cultures means you may proceed, if gingerly. There were some delays, and one day I saw his name in the news. I just waited, as many in the media pounced on their mouse du jour. Some reporter mistook looking up George's LinkedIn page for actual research, knocking him on Twitter for seeking a publisher –– though if shopping for a book deal makes one a lesser American, then we're all in trouble.
As for the tourism plan, I still think it's a pretty good one. Otherwise I wouldn't have put my name on it.  Would it solve the Cyprus Problem? Maybe! Perhaps only incrementally.
Before it is completely ruined by the predations of mass tourism and militarization — last I checked the Turks were said to be planning a new naval base — Cyprus can and should be healed. Its historical import is considerable, its young people deserve better than what the "international community" has doled out to them, and they even make a cheese that doesn't melt. But bureaucratic tunnel vision from below and cray-cray politics from on high intervened, throwing up a roadblock to any kind of solution.
In ever-lovely Cyprus, tragically, they always do.
GOOD TO KNOW IF YOU GO…
Often mistaken for one of the "Greek islands," Cyprus has Greek cultural roots that run deep however the island is considerably closer to Turkey and Syria then mainland Greece. And it doesn't have much of a seafaring tradition, as historically inland areas were safer from pirates and invaders — which helps explain why the capital, Nicosia, is landlocked. That said, the principle areas of interest tend to be on or near the coast: Pafos, on the west coast, is famous for its ancient Roman mosaics (a great hotel there is Almyra) and proximity to the still unspoiled Akamas Peninsula. The Limassol area has both medieval castles and a modern beachfront; the coastline between Pafos and Limassol includes some gorgeous stretches like Petra tou Romiou, where Aphrodite rose from the waves. Like many Mediterranean islands Cyprus is more crowded in the summer, but it's fairly large and not a slave to the seasons: January might not be beach time but the cities are bustling all year long. Also, to get around you really need a car—remember, go local for rentals, and driving is on the left.
How to Get to Cyprus
There are no non-stop flights from the United States to Cyprus, so the next best thing is to fly to a European gateway like London, then take a connecting flight (about four hours) to Larnaca International Airport on a regional airline like Aegean, the Greek flag carrier.