5 Things You Didn't Know About

Israel 
Unfailingly dynamic and beautiful, home to numerous Holy sites and a geopolitical hot mess, Israel is enigmatically suspended between East and West
1   Jerusalem is not really the capital of Israel.
Okay, so the Israelis stuck the Knesset (think Capitol Hill on crack) in Jerusalem and Trump made good on a decades-old pledge to move the American Embassy there from Tel Aviv. And forget that the Palestinians claim the city of uneasy multi-faith convergence as their own capital, and that for the Lebanese it's at best "occupied Jerusalem." Because the commercial heart of the country is without question some 40 miles to the east: Tel Aviv.
Culturally too. Jerusalem is no match for the Miami Beach of the Mediterranean. Consider what happened after Israeli singer Netta Barzilai won Eurovision's song contest in 2018. By tradition, the capital of the winner's home country hosts the following year's competition, hence the honor fell to Jerusalem. However, it didn't take but a matter of weeks before some invented controversy over funding led to the venue switching to Tel Aviv: "Eurovision is a perfect fit for our city, which has been internationally acclaimed for its vibrant energy, creative spirit, lively cultural scene and its celebration of freedom," Ron Huldai, the Mayor of Tel Aviv (and former fighter pilot) gushed in a press release.
Incidentally, the Kirya, the Israel Defense Forces' (IDF) military headquarters, sits not in Jerusalem but in the center of Tel Aviv. Bottom line is that if you have no official business to conduct with Israelis, and you don't thrill to religious bucket list travel, omitting Jerusalem from your Israel itinerary is no sin.
2   New Israeli cuisine will astound you.
Time was the food in Israel was little more than oranges, pistachios and culinary humdrum. Even today, sampling a McFalafel from your local Hebrew outpost of the Golden Arches is ill-advised—and don't even try looking for a halfway decent doughnut in Haifa. But in Tel Aviv especially, the dining scene has gone waaaay beyond heaping plates of hummus, as the wave of inventive, flavor-mixing New Israeli cooking is going strong. In fact, at risk of upsetting a few locavore foodie-istas, when you have powerhouse tables like OCD, Mashya and Pastel Brasserie to choose from, you can happily go for weeks in Israel today without ingesting a single smashed chickpea.
3   You'll love the nightlife.
You don't have to be a hardcore clubber, or gay, to know the name Offer Nissim, though it's no stretch to say the superstar Israeli DJ's most loyal fans tend to be both. In addition to being the producer behind some of the most badass Madonna remixes ever made, the long-haired, unapologetically effeminate Nissim regularly spins at cavernous nightclubs in the north or south of Tel Aviv. Israelis are drawn to his dark tribal house beats like wild pack animals to raw meat. Of course, Nissim isn't the only DJ to fire up Tel Aviv dance floors. Between spots like Barzilay and The Block, there's a raucous energy that turns Tel Aviv into a bona fide party mecca virtually every night of the week.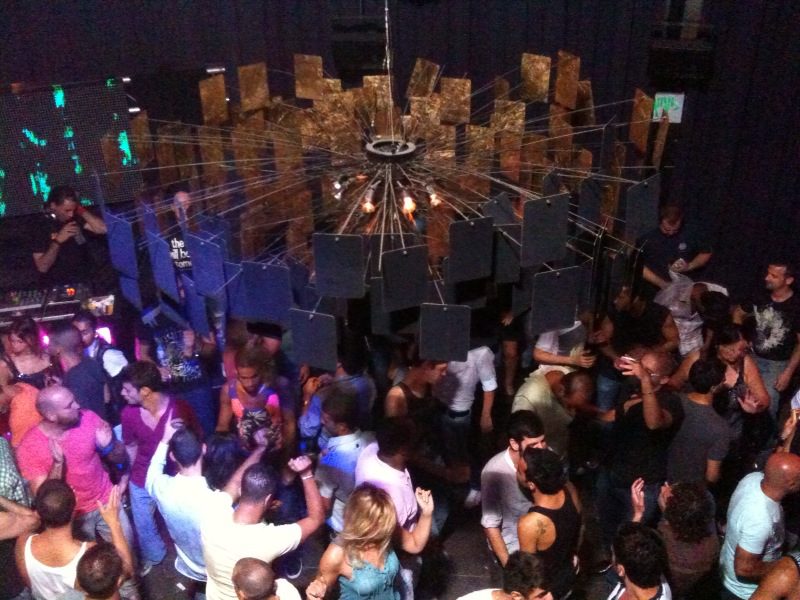 And If you don't feel like rallying for a night out in clubland – it does take some stamina, and intoxication by whatever method of choice comes with the deal – you can throw any preconceived notion of what you think the Middle East is all about a curveball by sidling up to any of the exuberant bars around the first several blocks of Rothschild Boulevard, where it's curvy Bauhaus by day, craft cocktails, clamor and heavy-duty socializing by night. And generally speaking the less Hebrew you speak the better, you exotic creature you.
4   You can join the army for a week and eat for free.
No fooling—I even did it, twice! And you don't even have to be particularly young or Jewish (but it helps). Thanks to a program called Sar-El, anyone who meets some pretty basic qualifications (being mobile is a plus, and if you started a local chapter of a Roger Waters fan club, try not to brag about it) can do volunteer service in the IDF. You get to stay at an army base for a week or two, help young recruits with various routine base tasks, and generally get a sense of what life is like for young men and women in a country where mandatory military service is a fact of life.
On my first volunteer stint I asked my commander to put me in a base anywhere but in the West Bank. So I ended up, naturally, in the West Bank. It was in the base cafeteria there that I had the best tomato salad I ever tasted, with second helpings at no charge, plus I learned how to say "you're a dork" (and, after chatting with some off duty soldiers, a few others things, too) in Hebrew. And it's all free, though you will need to bring your own powdered coffee creamer.
5   The new wave of luxury hotels will rock your world.
If you're not into barracks-slumming, Israel has got options for you. Long gone are the days when the main hotels were a toss up between stuffy old beasts like the King David in Jerusalem and the generic beachfront block hotels of the kind Simon Le Bon checked off in his early tune Tel Aviv. All those are still there, but so too is a new crop of hotels that are by turns boutique/artsy and lavish/palatial. Consider The Jaffa, art world kingmaker Aby Rosen's jaw-dropping transformation of the former French Hospital in old Jaffa into a five-star luxury urban resort. Or the Setai, also in Jaffa, which went from former Ottoman Turkish prison to one of the poshest perches in town, rooftop pool and uninterrupted views of the Mediterranean to boot. There's also a Setai by the shore of the Sea of Galilee, and a dramatic resort on the edge of a desert crater called Beresheet.
6   You can strip on the beach and (and actually not get arrested).
Did I say five things? Well, in the Middle East it's a given that saying one thing often means another. In that spirit…
Take your notions of stuffy Middle Eastern mores and chuck them to the side—or to someplace like Dubai or Kuwait. Let's face it, people have a lot of steam to blow off in this troubled part of the world, which makes going to the beach a year-round balm. Tel Aviv has about ten miles of beachfront and in warm weather things get as congested as Gaza (just 47 miles to the south, by the way) but Israel's Mediterranean coastline stretches for some 170 miles end to end. That's a lot of sand folks, and not that many lifeguards. Or chaperones, for that matter.
GOOD TO KNOW IF YOU GO…
The general rule of thumb about travel to Israel is that if there's no war, you're good to go. That said, there's no getting around the fact the Middle East is a combustible place and it pays to stay informed both before and during your trip.
Security is obviously a big issue for the Israelis, so it helps to look at the sometimes burdensome interrogations you'll face when entering or leaving the country in that light. Regardless of your background or nationality, you can expect an extra grilling if you're a single male traveling solo: that's just how it is, and a little patience with customs and security officials goes a long way indeed.
Weather-wise there is no bad time to visit Israel. That said, Mediterranean winters tend to be rainy and rather dreary, and coastal locations like Tel Aviv hit their sunny prime from April to June. Summers are hot and very humid, though inland areas like Jerusalem and around the Dead Sea are drier.
For travel planning purposes it's prudent to remember that Israel is still a quasi-religious state, meaning that Shabbat is observed from sundown Friday to sundown Saturday. Trains don't run during that time and public transportation is limited. In bigger cities like Tel Aviv the sherut — shared taxis — run all the time.
Best way to get to Israel
Ben Gurion International Airport outside Tel Aviv is Israel's main international airport, although the modern Ramon International Airport near Eilat is now open. In the past your main choices for flying to Tel Aviv were El Al, Israel's flag carrier, or the big American airlines like Delta and United. Thanks to the Open Skies agreement however, now it's often cheaper to make a connecting flight from Europe to Ben Gurion on a low-cost carrier like easyJet, Ryanair or Wizz. Starting in September, Virgin Atlantic will be offering non-stop flights from London Heathrow to Tel Aviv.