The Rider on the White Horse By Theodor Storm
This is a ghost story but not in the way you think. It's a short masterpiece, a German novella set in the late 1800s about a surveyor, Hauke Haien, in charge of the dykes on the northern coast of Germany a hundred years earlier. The story is being told to a relative of the surveyor's, who has visited the remote town to learn about him. Hauke's wife and daughter were swept to sea when a storm destroyed the old embankment, and Hauke rode his white horse into the churning ocean after them, begging God to take him instead of them, and is also lost. Ever since, when there was a particularly bad storm, people sometimes reported seeing a mysterious figure riding a white horse along the top of the sea wall. He's a myth, a superstition and a guardian angel. And the night the story is being told, there is a terrible, terrible storm…
— Bob Guccione, Jr.
The Buddha Made Me Do It By Marla Martenson
Cupid's Press, $12
Contributing Editor Marla Martenson writes exquisite pieces for us when she's not either matchmaking for her curated client list, or seeking and counseling on spiritual enlightenment. And writing memoirs, like this brilliantly written, funny, tremendously honest and poignant one. 
When her husband's much beloved and apparently talismanic Buddha statue is thrown away in a "decluttering frenzy", as she puts it — see the dangers of decluttering? — Marla has to search high and low for a replacement. She enlists her generally skeptical friend Julie and thus begins an inverse, as in no-one gets hurt, Thelma and Louise-style journey deep into the mazy worlds of self-realization. This involves conversant Angels, "Magick" — the extra "k" imbuing a certain enigmatic aura and property to the concept — crystal healing, a Hindu Bajan, and Orgasmic Meditation. So, no-one gets left behind! Quite literally.
— BG
Daisy Fay and the Miracle Man By Fannie Flagg 
Ballantine Books, $17
Fannie Flagg's debut novel in diary form about a young girl from Jackson, Mississippi is her best, and I read it every year as a way of reminding myself that writing can be funny while breaking your heart in tiny, beautiful ways.
— Emily Gatlin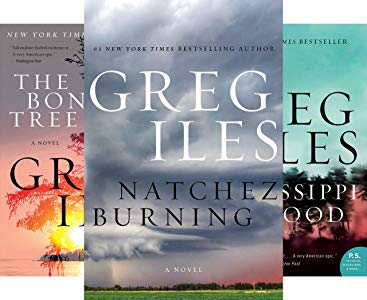 Natchez Burning, The Bone Tree, Mississippi Burning (Penn Cage Trilogy, Books 4-6) By Greg Iles
William Morrow
OK, so this is three books — with a total of 2,289 pages — but man, it's worth it. You'll blink and think, "Did I really just read 250 pages?" Smart, culturally relevant thrillers written by one of the South's best? Sign yourself up. 
— EG
Shucked: Life on a New England Oyster Farm By Erin Byers Murray
St. Martin's Griffin, $19
The author left her life as a magazine editor in Boston to work with the crew of Island Creek Oysters for 12 months. Byers Murray beautifully chronicles this year of her life — waking up before dawn, boating in freezing cold waters, learning to, er, well, shuck an oyster or two — which has turned her into one of the top food writers today.
— Jason Stahl