NIGHTSTAND

HOLIDAY BOOK GIFT GUIDE

From cookbooks to WWE history, our editors share their top picks for book gifting during this holiday season
We holiday gifters at WL have range…from BBQ spices to the latest Rolex watches with newly added reserve power (you'll know what I mean if you're looking to buy one). And from our far-flung perches, our editors concur when it comes to holiday gifts: it's not a diamond that lasts forever, but a book. We are what we read. Period. (I admit I'm a little biased on this one.) We read for pleasure and escape, for edification or companionship, for windows into different worlds, and it's groovy if there's no reason at all. 
Books are forever the best way to travel in our mind and spirit…and we'll pop one into our carry-on when it's time to dust off the passport and oyster into the world again.
Here our editors share their top picks for holiday gift books.
– Helen Mitsios
WE PROMISED YOU A GREAT MAIN EVENT: An Unauthorized WWE History By Bill Hanstock
Harper, $29
Let me tell you something, brother! All of you Hulkamaniacs need to read this book to learn about the realities of a quasi-sport that prides itself on being fake, all the while being run by one of the world's biggest megalomaniacs. But don't ever say the f-word in front of these jacked up yet very athletic superstars. Journalist Bill Hanstock does a great job at retelling how WWE owner Vince McMahon (aka Mr. McMahon to the viewers at home) rose from growing up dirt poor without indoor plumbing to become the very influential billionaire apex predator in the world of sports entertainment. From steroid scandals to backstabbing (no, this isn't a wrestling move) the curtain gets pulled back on all of the crazy characters and what really goes on backstage. A lovely small package this is indeed….  
– Jason Stahl, Deputy Editor
FEATHERHOOD By Charlie Gilmour
Simon and Schuster, $12
A holiday gift I'd like to give —
My Dad has a thing about magpies. He hates them. He even sets traps for them and only them in his garden. The trap consists of a cage, with a fake life-size magpie sitting on a swing, and as it sways in the breeze you could swear the thing was real. Apparently other magpies think so too, as they find their way into the cage to be trapped to an unknown fate. My English country gentleman Dad claims that he captures them to keep them away from the swallow's nests, and then he drives them into deep countryside and frees them. My one skeptical eyebrow is raised at this however.
So recently I was driving and heard the end of an interview on the radio from author Charlie Gilmour, who has just released his memoir entitled Featherhood. The book is the story of his friendship with a magpie (!!!) and how it helps turn his life around as a young boy. Pull out the trumpeters and marching band, this has Daddio written all over it!
As it turns out, the book is also a journey with Charlie's father, a wayward literary genius and a magician who played cruel tricks on his son. Sir Elton also recommends it as his book of the season:     
"Featherhood is one of the best books I've ever read. I urge you to seek it out, buy it, and be enchanted. It's incredibly moving and I loved every single page." ― Elton John
 I hope Daddio doesn't read this before Christmas.
– Lucia Gillot, European Editor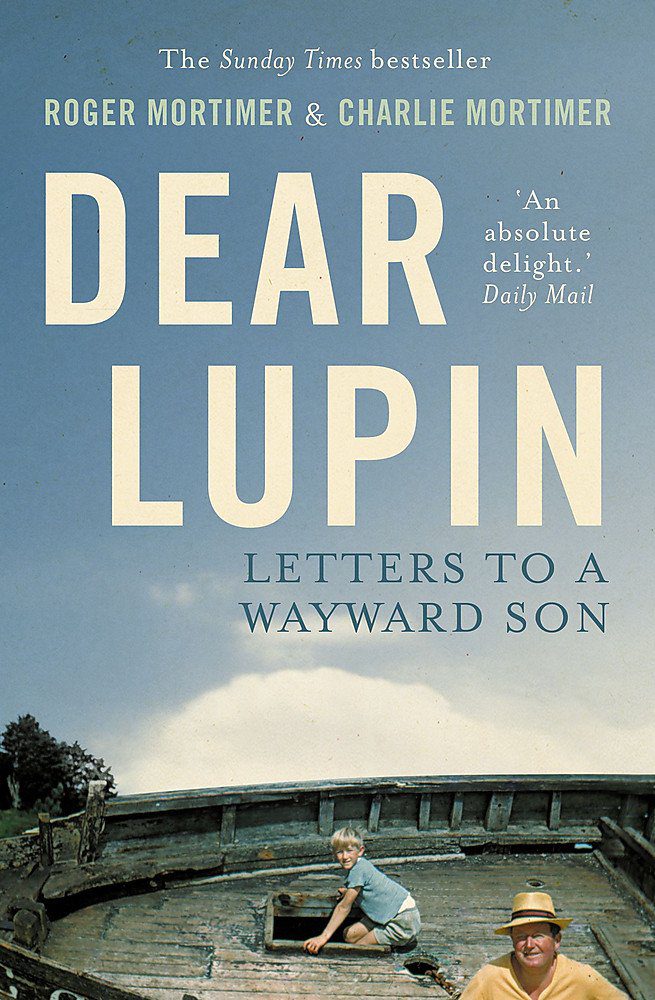 DEAR LUPIN: Letters to a Wayward Son By Roger Mortimer and Charlie Mortimer
Constable and Robinson, $28
I first heard about this book through my mother, who told me one of Charlie's friends was a gorgeous cousin of mine, who I had a crush on from an early age.
Dear Lupin is a tribute to the art of letter writing from an age when letters were the best form of communication. It follows the relationship between a father and son told through letters from the father to his totally out of control offspring, attempting, usually unsuccessfully, to guide and keep him on a productive path over 25 years.
This book is the perfect pick up and put down as the letters are mostly short and cover Charlie's life from his time at Eton, through his various and diverse occupations which included an officer in the Coldstream Guards, roughneck on an oil rig, pop group manager, vintage car restorer, a mechanic in Africa, an estate agent, an antiques dealer and a manufacturer of boxer shorts, all of which caused his parents exasperation and disappointment, although they always conveyed to him their unflinching love and support. To parents it is confirmation that you are not alone -– to children it should be required reading. As Roger Mortimer says, "I am very fond of you, but you do drive me round the bend."
– Camilla Paul, Managing Editor
RELATION OF VIRGINIA: A Boy's Memoir of Life with the Powhatans and Patawomecks By Henry Spelman, Introduction by Karen Ordahl Kupperman
York University Press, 2019, $15
I've become besotted with everything Jamestown since watching the TV series (produced by the same folks who did Downton Abbey). This stocking stuffer slim book is the only first-hand account written by an English boy who lived with the "naturals" as they were called. Both the Native Americans and English colonists exchanged adolescent boys who would then become translators and cultural ambassadors for their respective people. In Henry Spelman's case, he was 16 in 1611, when he was taken in by the Powhatans and later the Patowomecks. We learn there was no discrimination when it came to riches. Everyone held out their hand whether the prized possessions were copper and beads or land ownership as far as the eye could see.
– Helen Mitsios, Books Editor
IL BUCO Stories and Recipes By Donna Leonard with Joshua David Stein
HarperDesign, $60
This is a cookbook, but better displayed on your coffee table than wedged in somewhere between God knows what in your kitchen. Because this is a beautiful book, full of photographs as good as the food — I say that with authority, as I've been eating at Il Buco since it opened in the early '90s, when it was an antiques store by day that became an impromptu pop-up restaurant a couple of nights a week, long before the now ubiquitous pop-up notion was a thing. 
The title declares the intention to tell stories and the authors do that engagingly and appetizingly, as they describe the unorthodox journey of the restaurant and the processes for their specially sourced ingredients. The restaurant was started by Donna Leonard and her then boyfriend Alberto Avalle, an Italian with the gifted touch of a great chef, who were intent on running an antiques store and export business. But they shared their homemade lunches with whoever happened to be in the store, and then cocktails and snacks with customers in the evening, and soon it was a sensation and they had to go full bore. The idea was you not only got a great Italian meal, cooked from the simplest preparations, which is the magic, but you could buy the furniture you were sitting at. And people did, and eventually Alberto and Donna had to stop selling it, because they were losing their seating capacity. 
The recipes here tell you exactly how to recreate the amazing dishes, from exotic bottarga in olive oil, and thinly sliced octopus crudo, to the most exquisite lamb ribs, fried rabbit with rosemary and several spectacular and distinct fish preparations. A person can get lost in these rich and colorful pages, and that's a fine thing, but whoever you give this to should not forget to use the recipes. And invite you over when they do. 
– Bob Guccione, Jr., Editor in Chief