STYLE

POWER
A Girl and Her Flannel: A requited love story
As the leaves change color and begin to fall, they are supposed to remind us of how beautiful letting go can be. Instead, I still get teary mourning the twenty-plus-year loss of my favorite flannel shirt from a rusty laundromat on Main Street in Carbondale, Illinois, where it was abducted sometime in the late 90's. Since Southern Illinois University was rumored to be the inspiration for Animal House, it's no surprise that a fellow student plucked it out of a pile of jeans and T-shirts.
The shirt was a Lands' End red and white tartan plaid men's shirt I'd purchased as part of an unofficial undergrad uniform while I was a freshman in college. A quality flannel only gets better with time. Wash after wash, it became softer, though not thinner. It was my travel companion, the ultimate second layer, a stuff-in-a-bag-just-in-case talisman. In my grief, I purchased the exact same shirt in blue and white, just in case the first one found its way home, but it was never the same. I would wash it even without wearing it. And though I've kept it all these years, it's never replaced the first one. 
If you're looking for an excuse to shop today, here's your assignment: Go and buy a quality flannel shirt. Blame your body chemistry. Our bodies love to feel comforted as the seasons become cooler. More so, our brains react to soft, feel-good fabrics. 
Feel free to use this info to purge on cashmere, too. 
Isabel Marant Etoile Awendy Plaid Ruffle-Front Shirt
$340
Shop saksfifthavenue.com
Filson Alaskan Guide Shirt
$125
Shop filson.com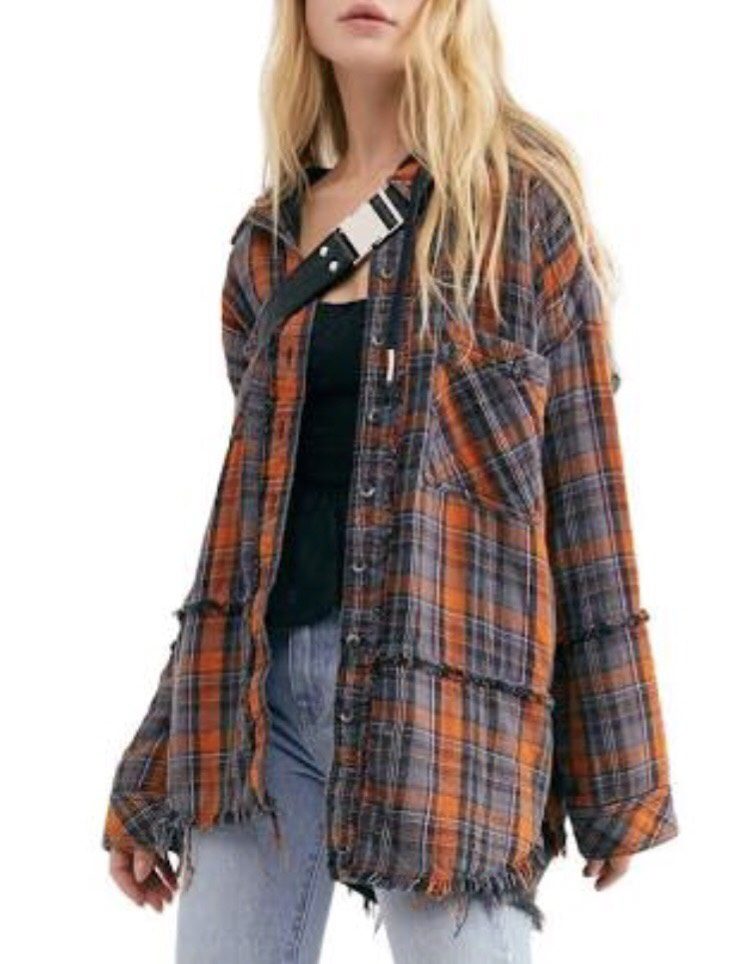 Free People We The Free Calico Basin Plaid Buttondown
$148
Shop freepeople.com
Aside from singer Tom Jones it's possible flannel may be one of the greatest Welsh exports, if the story holds up. It's said that flannel originated there, a necessary warmer alternative to wool. This was likely a heavier, more textured flannel. It would make sense that these flannels would be designed in the clan's signature tartan. Plaid, to you and me. Flannel was said to have arrived in the US in the mid-1800's, just in time for the Industrial Revolution, and about 150 years before Pearl Jam. So, if you really do want to start a grungy girl gang, invent a plaid of your own and put it on a flannel shirt. 
Dianne wears hers because "it used to be his." It's no surprise many woman wear beloved flannels they've inherited by beloved men. Dawn's reminds her "of days with [her] grandpa on his farm. And Amanda admits "I used to steal my dad's…buying my own never had that comfy/worn feel…" Susan's favorite makes her feel as though she's wearing "a cup of tea and a nap". And Liz's makes her feel "both protected and strong, wrapped in softness and covered in armor. Like a sleep cuddly baby and a bad-ass lumberjack…not to mention the thoughts it brings up of Kurt Cobain."
So, really, a great flannel shirt is about survival. It's a non-tax-deductible life essential. It will take care of you if you take care of it. 
Buy a great flannel. Buy one today.