25 GREAT INDEPENDENT BOOKSTORES IN THE U.S.
Skip the virtual cart and visit these physical bookshops. Yes, they're a real place
Of all the small businesses in America, the bookstore is one of the most revered. They're synonymous with a city's downtown and Main Street. And any time you talk about a bookstore, the word independent somehow always precedes it, further identifying its importance to a town's sense of community — and nowadays to further distance themselves from that online Goliath, which has caused chains like Barnes & Noble to close stores or places like Borders and Waldenbooks and B. Dalton to no longer exist. 
But the independent bookstore does more than just exist. After years of clawing and scratching their way, independent bookstores are thriving. The New York Times reported in 2019 that sales at independent bookstores have steadily grown over the previous five years. That's because bookstores are enchanting. They're welcoming, warm and cozy. Bookshop owners are inviting you into a special world, to escape between the pages of stories you just stumbled upon. 
Sadly, independent bookstores are back to clawing and scratching to stay alive. As a so-called non-essential business during the Covid-19 pandemic, they've had to close to having customers inside. They now offer online orders and curbside pickups or deliveries, and some are reopening as new safety measures come into place. 
Here are 25 of the most magnificent bookstores in the United States for you to stumble into and go back to supporting. They are all writing a new chapter on what it means to be independent. 
Jason Stahl
PARNASSUS BOOKS  Nashville, Tennessee
Located in a nondescript shopping center in Nashville's Green Hills neighborhood, Parnassus quickly became one of America's favorite independent bookstores after co-owner and recent Pulitzer Prize finalist Ann Patchett opened its doors in 2011. She is now handselling books on Instagram and it is so pure. While wearing a ballgown, "I just read Peter Pan for the first time because Donna Tartt told me to."
They have the best collection of signed first editions and thanks to a partnership with Nashville Public Library's Salon 615 series, everyone comes to town! I always keep an eye on the schedule and pre-order books to feed my signed edition addiction. 
Their blog Musing is better than most newspaper book reviews, and I trust their booksellers' recommendations. I'll see a book somewhere and think, "Yes, but what does Parnassus say about it?" 
— Emily Gatlin 
LITTLE CITY BOOKS  Hoboken, New Jersey
With a name like Little City Books, it has to be quaint. It is. Located across the Hudson River from the Big City, the all-women owned Little City Books is Hoboken's only second independent bookstore (there's still the non-profit used bookstore Symposia; a Barnes & Noble closed after 15 years in 2010 due to skyrocketing rent).
Little City's shelves, like its Mile Square City of over 55,000 residents it serves, are densely populated with the latest releases and endless staff picks in every category. A recent book I bought from here was Bruce Lee's biography.
LCB – that's what us cool bibliophiles call it – has been so successful since opening in 2015 (the first book they sold was Harry Potter and the Sorcerer's Stone), they needed to expand, adding an entire children's wing and opened an annex inside of Bwe Kafe, a lovely family-owned coffee shop in uptown Hoboken.
If there's a book that's not in stock, Little City will be happy to order it for you (no commitment to buy until it comes in) from their warehouse in Bayonne, and takes just a couple of days, sometimes only two. Sounds like Little City Books is the prime choice.
— Jason Stahl
THE STRAND BOOKSTORE  New York City
If there's a bookstore with something for everyone it's The Strand. Originally founded in 1927 in what was once called Book Row (an area of 40 bookstores), it's the only one left standing. The Strand is a venerable grand dame that's become the Dolly Parton of bookstores — forever youngish and relevant.
On four expansive floors you'll find current bestsellers, regulars, a still too-small poetry section, great art section, luscious history section, cute children's section (plus nice elementary school-vibe bathrooms on that floor, which is good to know if you've had too much coffee at a nearby café), out-of-printers, expensive rare books on the top floor — in short, books and more books of every ilk. In fact, The Strand's slogan is "18 miles of books." And hey, if you don't want to buy a book, you can always sell one at the back of the store where the sign says, "Sell your books here." You'll get cash on the spot, though rarely more than a few bucks for a hardback in good condition, or get a store credit.
The Strand has great merch like logo T-shirts, canvas bags, magnets and the like — my source for gifts when I visit friends abroad — with quotes by famous peeps, especially the crowd-pleasing one by John Waters: "If you go home with somebody, and they don't have books, don't fuck 'em." Word! 
So far, there's no coffee outpost or Lorelei waft of cinnamon buns in the air, all the better to leave room for what belongs in a bookstore. 
— Helen Mitsios
PORTER SQUARE BOOKS  Cambridge, Massachusetts
Settled in an unassuming plaza just north of Harvard and Lesley Universities, Porter Square Books boasts a large collection of work from Massachusetts-based writers like Richard Hoffman and Alyssia Abbott. Outside, a sign advertising for the cafe brags that it's "The perfect place to run into that person you were trying to avoid."
The store won Publisher Weekly's 2020 Bookstore of the Year award for their leadership in bookselling innovation through the introduction of adult book fairs, a Writer in Residence program focused on uplifting local authors. And they offer customers the option to pre-order "books from the future." Sounds pretty innovative to us. It is initiatives like these that make this small bookstore a powerhouse in the Cambridge community and a favorite in the dense literary field of the greater Boston area. 
— Lukas Harnisch
HELLO HELLO BOOKS  Rockland, Maine 
It takes a village, and a friendly one at that, to make a hugely successful bookstore like hello hello on friendly sounding Main Street in Rockland, Maine. Walking into hello hello feels like getting a giant bookstore-hug. Customers know they're über valued with options that range from bringing in used books for trade credit, to posting customer reading lists — sans age discrimination as even a 5-year-old's "kid's picks" list is posted. To round things out, there's a social justice program and the store posts a list of 14 (at latest count) organizations it donates to, including Flint Water Fund, OUT Maine and Save the Children. Buy a basket of books and leave room for a bottle of wine, bread and cheese — yes, also purchased on Main Street — and search out a grassy spot on the famous rocky coasts of Maine, where moose still roam the woods.
— HM
ARGOSY BOOK STORE  New York City
Argosy is New York's oldest independent bookstore. There's an unstudied posh about the place — starting with the store's name that brings to mind Jason and the Argonauts sailing the Argo on the wine dark sea. The six-story townhouse (I never actually made it upstairs as the sirens lure me to the old maps and less expensive books on street level every time) from 1925, carries a browser-friendly vast assortment of books and antiquarian items like prints and maps at an equally vast range of prices. For example, a $6 book in the bargain bin to a $40,000 first edition of Moby Dick.
The three sisters who inherited the townhouse and bookstore from their father are three graces who love their job. No bookshelf is too high for their ladder to reach and no city is too far away. Argosy mails books to all over the world. Stopping by, you'll feel like maybe you once read classics at Cambridge…minus the effort and expense.
— HM
NORTHSHIRE BOOKSTORE  Manchester, Vermont
Northshire is a magical place, like it belongs somewhere in Middle-earth. Instead it's in southern Vermont, and filled with books by Tolkien, of course. Situated smack dab in Manchester's town center, Northshire opened in 1976 by husband-and-wife team Ed and Barbara Murrow in a century-plus-old New England inn. There are more nooks and crannies in this place than a Thomas' English Muffin. (And if you want a fresh baked muffin, there's a café attached.)
Consistently rated as a top top attraction in Manchester, you may need at least a day to peruse the 10,000-square-foot bookstore. There are three floors, including one dedicated to children's books. It was so easy spending $90 on kids' books for my son, coming away with an instant classic, The Knish War on Rivington Street. Northshire also has plenty of books about lions, witches and how to organize your wardrobe.
— JS
LITERATI BOOKSTORE  Ann Arbor, Michigan
When the head of the bank who gives you a loan to open a bookstore also issued a loan to the original Borders brothers, you know it was meant to be. That's what happened to owners Mike and Hilary Gustafson when they opened Literati Bookstore in 2013. (The store's bookshelves are from the original Borders Store No. 1.) The Michigan natives have completely adopted the mantra that a bookstore needs to do more than just sell books. They hold hundreds of events, both on and offsite every year, they have partnerships with nonprofits and host multiple book clubs. 
Literati has 25,000 books, but the store's main attraction is in the lower level. Among the volumes on cooking and gardening, history and travel, is a public typewriter (y'all remember what one of those are, right?). Referred to as the "world's smallest publishing house," this typewriter is available for anyone to use, and in 2018 Literati published the aptly named book, Notes From a Public Typewriter, a collection of notes left by the thousands of people who've used the vintage piece of technology. 
— JS
WOMEN & CHILDREN FIRST  Chicago
As one of the last remaining feminist bookstores in the country, Women & Children First have always put women and children first, selling 30,000 books by and about women including a vast LGBTQIA+ section and children's books make up 20% of their sales. Despite its name, and what it's known for, WCF has expanded its offerings over the past 15 years to appeal to a broader audience, selling cookbooks and art books as well as books on politics and parenting.
Since opening in 1979 — and moving around Chicago's north side several times before finally settling into the artistic and eclectic Andersonville neighborhood in 1990 — Women & Children First's mission has been to shine a light on marginalized women voices, mostly through their dozen mission-focused monthly events.
— JS
CLASSIC LINES BOOKSTORE  Pittsburgh
Steel, bridges, rivers and Terry Bradshaw. Those may be more top of mind when you think of Pittsburgh. But, the Steel City is actually a cornucopia of bookstores. Leading the way is Classic Lines. Opened in 2014 — and just down the street from Amazing Books and Records — by Dan Iddings, Classic Lines has old world charm. And Iddings is old school when it comes to his digital footprint, having only a Facebook page. 
Iddings wants people to think of his bookstore as a place to, well, buy books of course, but also as a meeting place to exchange ideas. What better place to do that than sitting outdoors in Classic Lines' teal Adirondack chairs underneath its matching awning. Their sign says they sell more than just books. Classic Lines, whose inventory is a split between new and used books, also sells home decor, vintage housewares and jigsaw puzzles. 
www.facebook.com/Classic-Lines
— JS
SKYLARK BOOKSHOP  Columbia, Missouri 
Skylark Bookshop is relatively new to the independent bookstore arena, but it is by far one of my favorites in the country. It's located in the heart of downtown Columbia on 9th St., walking distance from the University of Missouri's campus, and the interior makes you want to stay a while and browse. It's beautiful. 
The books are carefully curated and the staff is so knowledgeable that I can pick up the phone on a whim, ask manager Carrie Koepke to ship me some goodness, and viola! Without thinking, I've got my next great reads. 
Owner Alex George is himself an accomplished author (with a fantastic new book out called The Paris Hours, which you can order signed from Skylark, the only place in the country where you can get a personalized copy), and founded Columbia's Unbound Book Festival in 2015. These folks know what's up.
— EG
WATERMARK BOOKS & CAFÉ  Wichita, Kansas
If you find yourself in Wichita — because it may happen (11 cities offer direct flights) — head straight to the award-winning Watermark Books & Cafe. For over 40 years, they've been connecting readers to the state of Kansas and the entire Midwest, stocking a vast collection of books about these two places, with such books as A Girl Stands at the Door by Rachel Devlin and Heartland: A Memoir of Working Hard and Being Broke in the Richest Country on Earth by Sarah Smarsh. Watermark also has its own imprint so if you're in Wichita with a manuscript, stop on by.
This homegrown independent bookstore also has a café, serving up literary-themed sandwiches, like The Iliad, Moby Dick, Anna Karenina and The Great Gatsby. There's also one called Great Expectations. We heard it's a real Pip…. 
           — Lucia Gillot
WILD RUMPUS BOOKS  Minneapolis
When my two boys learned to read, I always gave each one a book at Christmas as one of their presents, not something they were thrilled or so I thought until one year I didn't! "Where's my book?" they both demanded…. Music to my ears. 
Wild Rumpus is a unique children's bookstore. Since opening in 1992, their theme is based on the book The Salamander Room by Ann Mazer. The store's ceiling opens up into a sky through paintings and cracks on the walls making the feeling that the outside and inside are connected. Wild Rumpus is geared for the young, and the young at heart, with rows and rows of books, arranged by age and interest. And when you have found that perfect book, cuddle up with the kids on a comfy sofa and read to them. 
The staff are saints. They totally accept that children will take (um, more like grab) more than a few books off the shelves and collect them in a stack on the floor (um, more like just forget to put them back). 
If animals are more your thing, Wild Rumpus has a menagerie of exotic and domestic pets, chickens and cats wandering around freely; mice, chinchillas, birds and a hairy tarantula called Thomas Jefferson are also on site. It is OK, they are in cages! In late spring all the pets have an annual checkup from the vet and families are invited to watch.
— Camilla Paul
BOULDER BOOKSTORE  Boulder, Colorado 
The entrance to Boulder's largest independent bookstore is the quaintest, resembling that of a curio shop. This makes walking in even more amazing as you step inside the 20,000-square-foot building, which dates back to 1899. With a shop this large and over three floors, you might get lost or reach your Fitbit goal of 10,000 steps. 
Back in the day, when Allen Ginsberg lived in Boulder, he would come and read here to small groups. Now Boulder Bookstore hosts over 200 author events per year. In the grand ballroom, (yes it even has one of those, too) you can expect to bump into such diverse literary beings from Stephen King to Deepak Chopra, Elizabeth Gilbert and Neil Gaiman.
Boulder Bookstore's website claims that chocolate is the perfect add-on to your book order. Well, they sell over two dozen different brands of chocolate bars, so we'll simply agree.
          — LG
KING'S ENGLISH BOOKSHOP  Salt Lake City 
Founded in 1977 by Betsy Burton and Ann Berman, King's English Bookshop is Salt Lake's most memorable. It's charming, it's little, and it's located in a cozy blue stucco house — exactly where an indie bookstore should be. There are different rooms for different genres, including a poetry room, and a children's department that was built with a donation by James Patterson (yes, that James Patterson). 
King's English is a place to hang out and you probably won't be leaving empty handed. The staff are super helpful and they pride themselves on knowing their customers, wanting to know their preferences and matching them up with the right book every time they come back. And you will too.
— LG
MARCUS BOOKS  Oakland, California
Every mention of this wonderful place states it's "more than a bookstore", so let's start there. Black bookstores, which focus on black literature and culture and where African Americans congregate to discuss social and life issues, are unique oases — although it's incorrect to characterize bookstores like neighboring San Francisco's City Lights as a "white bookstore". Bookstores aren't, generally, tribal. But the number of black bookstores still open in the U.S. — of which Marcus Books is probably the most renowned (it's the oldest independent black bookstore in America) —  has almost halved in the last 30 years.
Marcus Books opened in 1960 in San Francisco and has been an epicenter for its community ever since. Malcolm X was a frequent customer and Maya Angelou and Toni Morrison gave readings there. It's a place that not only exposed so many to books they might not have otherwise found, but to ideas and voices too. "A black bookstore is not only about the exchange of merchandise," says Jasmine Johnson, granddaughter of the founders, the Richardsons. 
During the lockdown it's selling books curbside, but because the store doesn't have a website, they aren't able to sell online, which has been the life support for most other independents. They are running a fundraiser, though, at Go Fund Me.
— Bob Guccione Jr.
CITY LIGHTS  San Francisco
City Lights, the bookstore/publisher combo, was co-founded in Chinatown by the combo poet/social activist Lawrence Ferlinghetti, whose imprint published many of the Beat poets. Specializing in world literature, the arts and anti-authoritarian politics, and known as a literary meeting place since 1953, City Lights, is now a historic landmark, becoming well-known initially following the obscenity trial of Ferlinghetti for publishing Allen Ginsberg's controversial Howl and Other Poems.
For years afterwards, City Lights remained on the tour bus trail, with visitors hoping to catch a glimpse of the San Francisco free-spirited beatniks hanging around outside, or maybe down Jack Kerouac Alley.
With his incredible appreciation of literature, Ferlinghetti created a place to encourage people to read, write and create. He once said: "If you would be a poet, create works capable of answering the challenge of apocalyptic times, even if this meaning sounds apocalyptic. You are Whitman, you are Poe, you are Mark Twain, you are Emily Dickinson and Edna St. Vincent Millay, you are Neruda and Mayakovsky and Pasolini, you are an American or a non-American, you can conquer the conquerors with words…."
— LG
POWELL'S BOOKS  Portland, Oregon
Powell's Books opened in 1971 by William Powell. In 1979 he was joined by his son Michael and they moved to a former car dealership on West Burnside and NW 10th Avenue, in what, at that time, was considered a bit of a dodgy area. In 1999, the store expanded and today, claiming to be the world's largest independent bookstore, occupies a whole city block in the Pearl District, which is definitely not considered dodgy anymore. 
Powell's was, for 15 years living in Portland, my second home and there was always a book to find, and I didn't really know I was looking until I found it. With over 3,500 different sections covering every subject or category imaginable and unimaginable, and nine color-coded rooms filled with new, used, rare and out-of-print books, Powell's also buys used books. In the Pearl District entrance, there is a glorious "Pillar of Books", a Tenino sandstone carving of a stack of eight of the world's great books and on the base is a Latin inscription: "Emere librum, librum legere, frui liber, libri vendere" ("Buy the book, read the book, enjoy the book, sell the book")
In 1993 Powell's established an internet presence launching their website for online sales, a year before Amazon launched. 
Michael bought the bookstore from his father in 1982 and his daughter Emily Powell took over from her father in July 2010. Says Emily: "My grandfather taught me that our job is to connect the writer's voice with the reader's ear and not let our egos get in between. My father taught me not only the love of the book itself but also how to love the business of bookselling."
— CP
BOOK SOUP  Los Angeles
Book Soup has been a cultural fixture of the Sunset Strip since Glenn Goldman and David Mackler opened it in 1975. This labyrinth of a store boasts over 60,000 titles — music, art, photography, literary fiction, and film, of course — on their floor-to-ceiling shelves, all guarded by two golden dogs, Great and Infamous, sitting on the top of a book shelf. 
Book Soup is West Hollywood, being a tourist destination in and of itself. Even Anthony Bourdain included it as part of his "Layover" in Los Angeles. It's hosted some of the most famous of people, like Muhammad Ali, Norman Mailer, Howard Stern, Annie Leibovitz and The Doors. Authors' readings can be heard on almost a daily basis and publicity stunts have been known to happen either staged by the author or the store. For Paris Hilton's book reading, her publicist hired protesters outside the store waving signs stating "Read a book, don't write one." 
— CP
UNIVERSITY BOOK STORE  Seattle 
After hearing about student stores in the Eastern campus, two students opened the University Book Store in a cloakroom next to the president's office at the University of Washington in 1900. It is the largest and oldest independent bookstore in Washington State and in 2014 was recorded as selling more books and supplies than any other college in the U.S. In the early years the store's location changed a few times, but in 1924 it found a permanent home on University Way where it still stands today.  
Along with The Book Shop, there a several other departments, a few Specialty Shops, The Husky Shop (Huskies is the nickname for the school's athletic teams), Art & Supplies and Technology, all selling a variety of goodies and necessities that every co-ed requires/wants/desires to complete their college years.
— CP
SQUARE BOOKS  Oxford, Mississippi
Oxford's ultra famous Square Books is four bookstores on five floors in three buildings, one hundred feet apart on the picturesque town square. That's a lot of books, y'all. The newest addition to the family, Rare Square, is an abundance of priceless rare books and signed first editions (for a price, of course). 
John Grisham launched A Time to Kill here when he sold copies out of the trunk of his car. Everyone has had a book signing here. It's on every author's "Must Stop" book tour bucket list. 
Off Square Books plays host with the most to Thacker Mountain Radio Show, a weekly live broadcast that features an author reading and interview with host Jim Dees, talented musicians from all over the place and performance snacks from the house band, the Yalobushwhackers. 
One of my favorite things Square Books doing is offering Square Care Packages as a way to send love to someone you know. The packages vary in price, and include a hardback or paperback book, and a Square Books mug and coffee blend (they have the best coffee!).
— EG
BOOKS & BOOKS  Miami
When Books & Books founder Mitchell Kaplan was in law school, he found himself in the bookstores more than in the law library. Inspired by Gotham Book Mart in New York (which has since gone extinct) and Shakespeare and Company in Paris, he left his pursuit of the bar and saved up as a high school English teacher to start his own bookstore in 1982.
Now with six stores and another three partnerships across Florida (including in the Miami International Airport), there's still something special about Kaplan's original post in Coral Gables. Apart from the inside being beautiful and wholesome, which is the essence of the independent bookstore, it also features Kaplan himself manning the hip café.
Since opening Books & Books almost forty years ago, Kaplan has co-founded Miami's Book Fair International that features over 400 authors annually and even launched a film company. After producing movies that have ended up on Netflix and feature stars like Diane Lane and Jonathon Price, it's normal to question, Is Books & Books too successful to be independent? What exactly is an independent bookstore? Kaplan says, apart from not being on the stock exchange or locally owned, "…it's basically spirit."
— Tristan McKenna
AVID BOOKSHOP  Athens, Georgia
Located right outside the University of Georgia campus, and owned by alumnus Janet Geddis, Avid does its part to keep the community independent and local. The bookshop's attitude is reflective of Athens' homegrown indie rock scene boasting graduates like REM and The B-52s. Their supplies are sourced by local stores, and they give back to the community through their Avid in Schools initiative. The program brings authors and illustrators like Henry Cole and Jason Reynolds in front of students and provides educators with affordable reading material. 
The store itself, which gets voted annually as Athens' favorite business and is one of the fastest-growing businesses owned/run by a University of Georgia alumna/alumnus, is a wonderful little nook staffed by readers who never fail to make a spot-on recommendation. Lately, they've been standing up for the simple freedom to read. We're all avid fans of that. 
— LH
BLUE WILLOW BOOKSHOP  Houston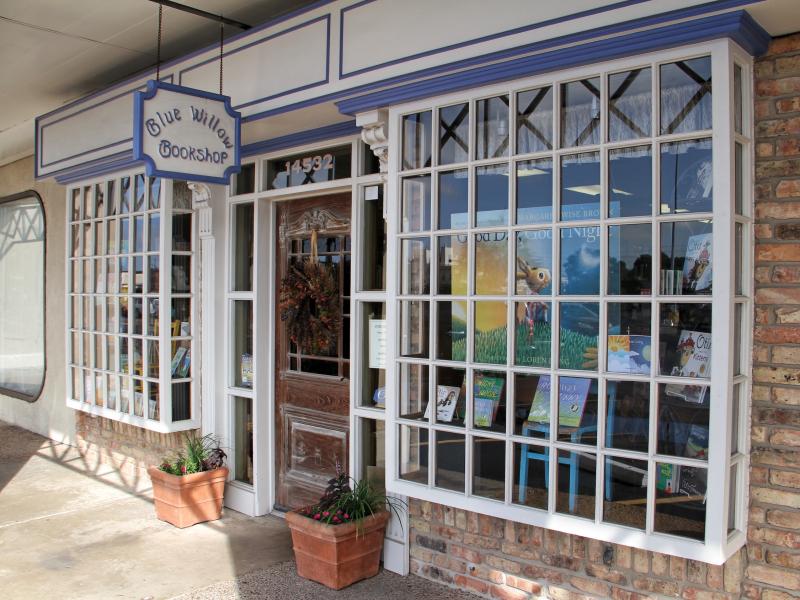 Valerie Koehler worked for this bookstore for free back when it was run by Musabelle Naut and called Musabelle's Books. Valerie bought the store from Musabelle in 1996 and named it after the pattern on china dishes. The name conjures cozy images of dinner with family and you're reminded of that feeling as soon as you step into this West Houston shop. Sunlight streams through big boxy windows and the walls are covered in over 750 author's signatures. Hidden among the signatures is one of Valerie's favorite quotes, "And so it goes."
Blue Willow is uniquely split 50-50 between children's and adult's books making it popular among families, and one of the only bookstores that takes children's literature as seriously as the adult.  
Although the store doesn't take up much space in this huge city, Blue Willow has a wide reaching influence hosting several festivals like the Bookworm Bookfest for picture books and TeenBookCon.
— LH
FULL CIRCLE BOOKSTORE  Oklahoma City
Full Circle is the bookstore for Oklahomans looking for books about Oklahoma. Readers here are greeted by a bison statue named Pearl because, you guessed it, she's covered in pearls! The bison, of course, is incredibly important to Oklahoman history with its strong Native American roots, and throughout the store there are small Pearl prints pointing out important Oklahoman literature.  
Stocked with an impressive 60,000 titles, Full Circle is marked by its formidable oak bookcases equipped with rolling ladders. After perusing, and maybe climbing up a couple of rungs, readers inevitably settle next to one of the wood burning fireplaces with a book as classical music tinkles in the background.
— LH