5 THINGS TO EAT IN 

NEW ENGLAND
Lobster rolls and clams are obvious, so here are 5 treats indigenous to the northeast region you should really know about…
Here are some distinctly New England dishes you may not know about, and our recommendations for where to find them.
POUTINE
If you haven't had poutine, we feel sorry for you. Take a pile of French fries, smother them in gravy and cheese curds, and you have one of the most savory, good-for-the-soul indulgences in New England. Poutine drifted down the East Coast from Canada, but New England has made it their own, decorating the dish with anything from a fried egg to the best local fish. You can't go wrong with any version of this delicious delight, but we're recommending The Little Tap House in Portland, Maine, which shakes up the old standard by topping it off with some savory braised beef.
FLUFFERNUTTER
Take some whipped marshmallow — Fluff, in the parlance — and traditional white bread and creamy peanut butter, and you have a fluffernutter sandwich. New England kids of a certain generation (one that wasn't obsessed with nutrition) get a nostalgic sparkle when you just say the name, but try someone from inner-America and they may heretically mutter: "That's gross." Well, don't knock it 'til you try it! Want a serious sugar rush to get you through that mid-afternoon meeting? Trust us, you will sail. Can't find Marshmallow Fluff? No excuse. They sell it on Amazon, along with Jif peanut butter. Insider warning: Don't try and get fancy, you'll only look like an amateur.
RIBBON CANDY
Thought it was just for your grandmother? Try telling that to all the folks who flock to Kellerhaus in Laconia, New Hampshire, a candy and ice cream store founded in 1906, so famous for its limited-edition ribbon candy that every fall when it's ready for sale, it sells out in a matter of days. Rarely is candy such an old-time artistry as this — shimmery, thin hard candy designed to fold on top of itself like a ribbon — hailed more for its looks than taste. And hey, it's New England, people, and we're all about tradition. And candy. (Can't get enough? While you're in New Hampshire take the trip to see Chutter's, a candy store that currently owns the Guinness Book of World Records title for longest candy counter at 111 ¾ feet long. Don't worry, it's New Hampshire! There are tons of lakes where you can swim it off. Or drown! From eating too much candy!)
APIZZA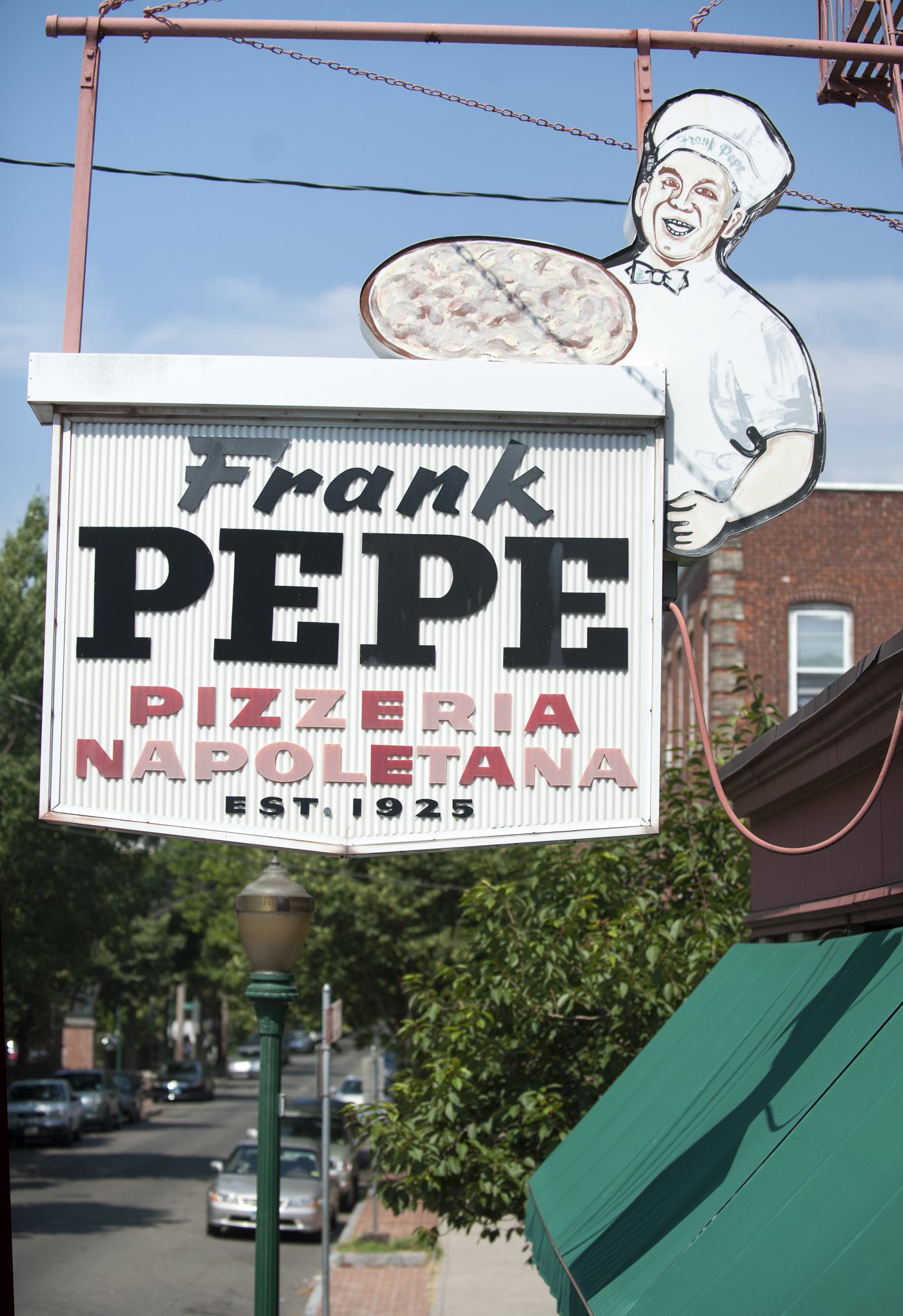 This isn't really a word, unless you're familiar with the Neopolitan-style pizza founded and still pretty specific to New Haven, Connecticut. Frank Pepe Pizzeria Napoletana is the originator of what starts out as a humble pie with a little seasoning and tomato sauce, and ends up Pepe's famous "white clam pie" after it's doused with grated cheese and littleneck clams. What makes it special is not just the clams, but the distinctly thin crust and very little cheese. Naturally, many local pizzerias adapted Pepe's prototype and made it their own, but we're suggesting you stick with the original pioneer, whose pizza is baked in a seriously hot coal-fired oven, and served by whole pie only.
COFFEE MILK
While so many kids all over the world squirted chocolate syrup in their milk throughout the day, New England kids did the same, but with coffee syrup. Likely to contain the exact amount of nutritional value as chocolate milk (a.k.a. NONE), coffee milk has one added advantage: actual coffee extract. And you wonder why New Englanders are so tough? We start drinking coffee, essentially, from the time we can walk. Ironically, as adults we'll pay an easy six bucks a day for iced coffee, so why is coffee milk so different? It's the official state drink of Rhode Island, which has some of the greatest food in America, coffee milk notwithstanding, all likely thanks to its large Italian immigration population starting over a hundred years ago. While no one seems to know exactly when coffee milk became a Rhode Island — hence New England — favorite, we do know it beat out another local favorite, Del's Lemonade, for the State Drink title in 1993. Don't bother using anything but Autocrat Coffee Syrup, which you can easily find on Amazon.