THE 5 BEST

CYCLING TRIPS IN AMERICA
On yer bike! Take a great vacation on any of these spectacular routes (and nifty tips on how to get going)
During the pandemic,  the cycling market has seen a gargantuan boost in sales. It's easy to see why. Besides being a (mostly) safe and efficient way to exercise, cycling unlocks a new world of adventure that allows you to travel great distances without missing anything as you whiz by. If you're looking for a new hobby right now, you can't beat cycling.
And for a (mostly) safe vacation, you need not look much further than your own backyard. Across the US there are astonishing and affordable opportunities for cycling trips. Here's a handful of suggestions to check out as the country reopens.
Monterey Bay Coastal Recreation Trail, California
Monterey is a cycling gem. It's also a literal breath of fresh air — according to the American Lung Association, Monterey has some of the cleanest air in the nation.
Eyecatchers lay everywhere: alluring sand, sea lions splayed on rocks, scattered patches of wildflowers, and fantastic views with conveniently placed benches. Twisted and sculpted by coastal winds, you might also find peace in Cupressus macrocarpa trees perched here and there (they're commonly referred to as the Monterey Cyprus, we just thought the Latin was fun).
The trail is 18 miles of experiences. A lot of the path is safe from cars. Along your cycling way, there are plenty of restaurants to take a break at, presuming you can get some service. Go now, during the peak summer season, but a slightly cooler September is also worth considering. 
With Adventures By The Sea's scattered Monterey locations, you can rent a bicycle for a half day ($25-30) or the full day ($30-40). They also offer tours, electric hybrid bicycles, and, for water fun, paddle boarding and kayaking.
Work Horse Bicycles offers hybrid bike rentals per hour ($9), for half day ($27), full day ($35), 24-hours ($39), and two days ($42).
If you want to test your family's functionality with a surrey (a bike that fits four people), try it for two hours ($60) at Pacific Grove Adventures.
If freedom was an oceanside, it'd be the Monterey Coast.  
Lake Champlain Bikeways, Vermont
Nestled right on the border with Canada, a cycling trip around this lake would take you through two countries. With over 1,600 miles of cycling routes through forested hills, quaint historic towns and quiet country roads, this is a cycler's dream. Take on a 363-mile route around the lake with a road bike like Jamis' Ventura Comp. You can also just go for a short cruise near bohemian Burlington, and cap the day off with a jaunt downtown for farm-to-table restaurants like Hen of the Wood (if it's open). There are several rental spots in Burlington like Local Motion. The best time to visit is in autumn, where the trees burn bright red in a display of color renowned throughout the country. Now is good too.
Valles Caldera National Preserve, New Mexico
About a million years ago, a series of volcanic eruptions formed this unique landscape. Once a violently mangled land of lava, this national preserve now offers you a variety of serene cycling options.
One moment you're pedaling by a stream, the next in shaded woods. You can be in a sunny field and, before you know it, headed up a mountainous hill. Valles Caldera is Mother Earth's variety pack! You can pick and choose what scenery and cycling intensity you wish for.
Valles Caldera is an hour from Santa Fe and about two hours from Albuquerque. Exploring this natural wonder provides fantastic opportunities to spot animals (it's extremely populated with elk), but research safety tips for more dangerous creatures like bears. You can handle an elk.
Unfortunately, there aren't options to rent a bicycle here. In fact, you can't even get there by train or bus. If you have a car, your own two-wheeler, or want to rent from the nearest towns of Jemez Springs or Los Alamos, consider checking this ancient crater out. 
Washington, DC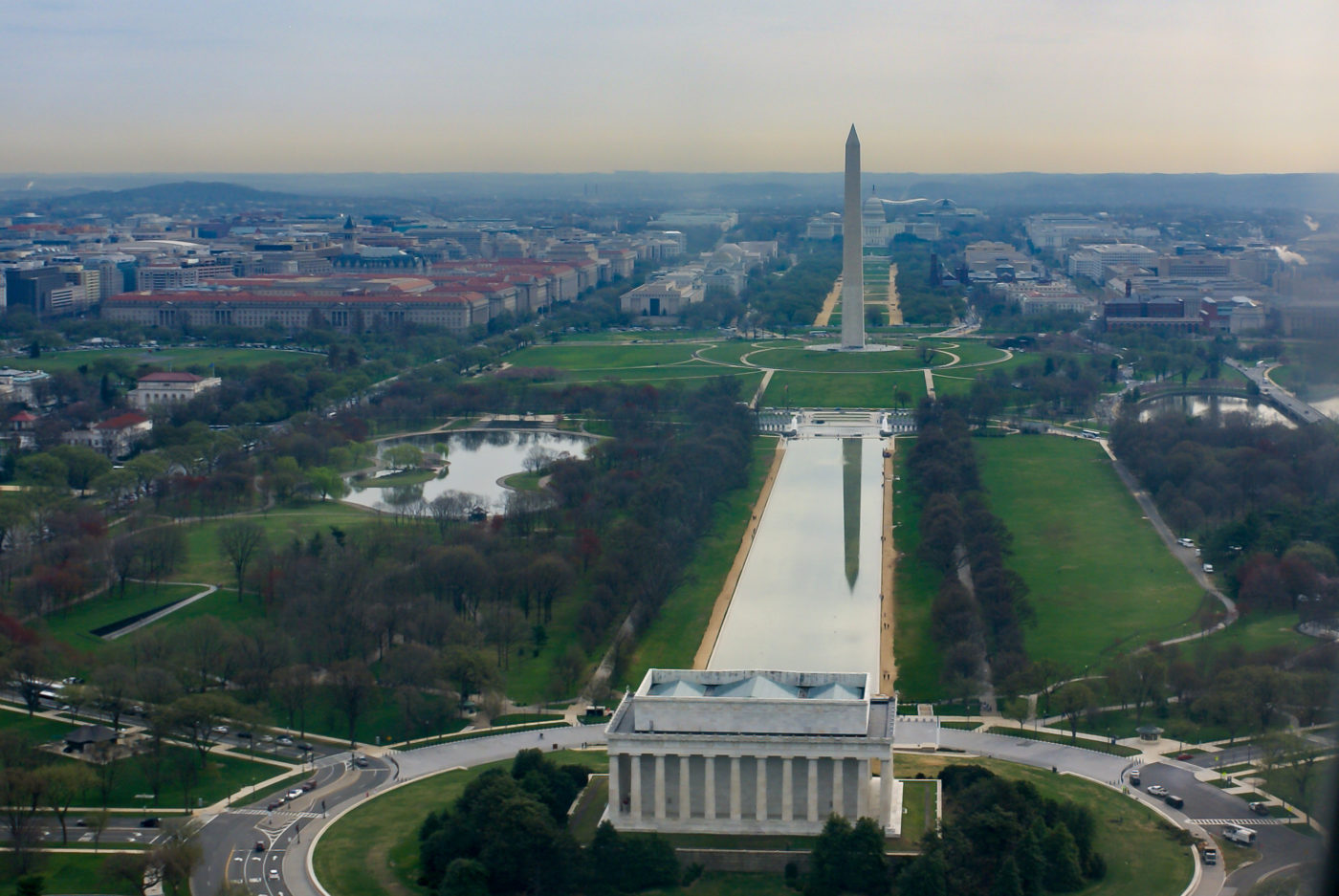 There's a lot to see in DC. The National Mall itself is two miles long, and if you're trodding through museums, you're in for some sore feet. So take a bike! Roll past the tourists in style and hit all the big monuments in one day, or coast down the Potomac and watch the sun set. Then head quickly into the bike-friendly city for some carbs at Centrolina. Nothing too serious is needed here, something like a Schwinn cruiser will do. Bonus points for one with a basket that can hold a picnic. Yes, we give bonus points! You can rent a bike, and book a tour, at Bike and Roll.
Moab, Utah
With a wide variety of trails and scenery, Moab is a mountain bikers dream.  It's known internationally for highly technical trails like Slickrock through Arches National Park. The desert climate is perfect for anything from a strenuous workout to a scenic cruise through an otherworldly landscape marked by iconic rock formations. Moab City is criss-crossed with several trails. You can rent a bike at Double Down bike shop or Moab Cyclery.  You'll need a pretty serious mountain bike like a Marin Hawk Hill to tackle the more difficult trails, but some of the easier ones can be handled by an e-bike which makes for a delightful and relaxing experience.
Bringing your bicycle on a plane?
If you want to bring your own bicycle, simply hop the fence of the tarmac and try to tie it to one of the wind turbines. We're kidding! Please don't do that, we speak from experience and the memory of being tased. Don't try to put it in the overhead bin either, it's not worth the concussion.
Bringing a bicycle on the plane really depends on your airline and destination.
Call whoever you're flying with, they will give you details about dismantling the bike and what sort of case you might need. For example, you can use a soft or hard case, but an airline might make you sign-off their damage liability if you use a soft case. You'll probably be required to deflate your tires and remove your pedals.
Costs can shift if a flight is domestic or international. In recent years, there's been a change in the fees that major American airlines charge. Delta and American Airlines once charged $150, but now allow you to bring your bike as one of your checked luggage items (with no extra fee provided it's not overweight).