Art for Art's Sake
Flights of fantasy: Emily Mitchell draws inspiration from the raw beauty of Vermont for her extraordinary paintings
What about living in Vermont (or New England in general) inspires your work?
Cresting my road and seeing miles of rolling hills, ski resorts and Lake Champlain — the colors, light, space are always changing and moving. Some mornings, when I am up very early to swim in a small reservoir near my home, I am truly in awe of what I see. For me, being active and fit is an essential component to my creative fuel. My work is SO much more alive after I move. I live four miles from two amazing mountain bike/running centers and other trail networks, three miles from Cochran's Ski Area (where Olympic Gold Medalist Barbara Ann Cochran teaches most of Chittenden County how to ski!), nine miles from Lake Champlain, 40 minutes from three major ski resorts, 90 minutes from pristine open water swimming, and only 11 miles from downtown Burlington. I am in awe of the entire state.
How would you classify your painting style? Your technique?
My work begins with playful applications of leftover paint on spare canvasses, and slowly evolves from loose, colorful marks into vibrant and complex "landscapes". My narrative imagery, which is rooted in my strong connection to nature (specifically New England and Vermont) and water, evolves over time and is a response to the canvas in front of me, rather than a specific plan.
Making art, for me, is a back-and-forth play between spontaneous, intuitive mark-making and careful deliberation and intention: a blend of letting things happen and making things happen. I look to the canvas itself to guide me, working with "what's working" to move forward. This practice takes patience — there is no quick solution to any problem. However, this process does allow unexpected colors, imagery and ideas to become part of my art. Each day, each painting, each moment is new and I am always learning.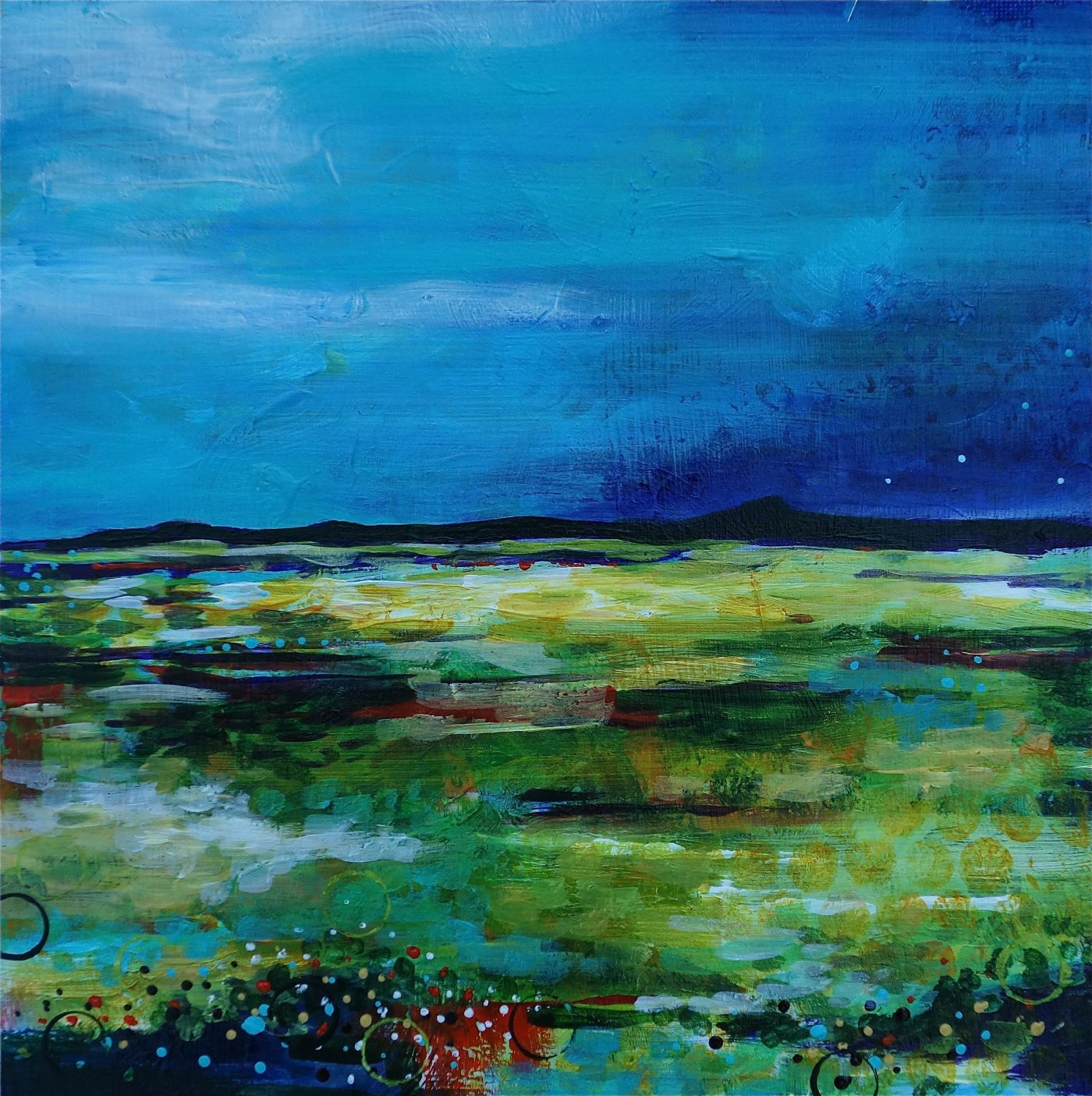 Who are your greatest influences?
Besides the landscape of Vermont, Helen Frankenthaler, Peter London, Flora Bowley, Jane Davies, Galen Chaney, Wolf Kahn, Karl Blosfeldt, Fredrich Hundterwasser.
I'm a tremendous fan of yours. There are several paintings that, when I look at them, remind me of a colorful rainstorm on a window pane (in the best way possible, I promise!). Is there a specific place you paint about/for?
In terms of how I achieve that effect — it is through the layering and layering of acrylic paint. Each layer adds a little "something" to the canvas — even if it later gets covered up and hidden by new paint. There is a tremendous difference in how the canvas looks with layers of paint, compared to a canvas that is minimally worked.
I paint for our entire world and interconnectivity, really. Everything is so interlinked and interconnected — the farming community here has a great effect on the health of the lake, for instance. That's why so many "new" approaches to dealing with fertilizer run-off gain support here because we all do better with a thriving lake free of methane and invasive species. I feel so deeply connected to so many people and places, yet I paint in isolation most of the time!
Also, I never know what something will look like until it is done — however, the various mountain views I have from my house appear in my work a few times per year. The iconic Camels Hump (the Abanaki name is tahwahbodeay wadso, meaning the sit down place) appears often.
You work with bird images. What's the significance there?
The bird symbolizes the idea of always moving forward, putting one foot in front of the other and pushing your soul through, no matter what.
Where can people find and purchase your work?
Work can be purchased through direct contact with me, at The Artisan Shop in Boiling Springs, PA, and at the Beachhouse Gallery in Dunedin, FL. Limited images can be purchased as reproductions and lifestyle goodies [clothes, accessories, phone cases, etc.] via Society Six.
Where would you like to travel to most, an ideal place to create and why?
Prince Edward Island, Vancouver, New Mexico (COLOR AND LIGHT!), New Zealand, Australia and the South Pacific (a la Gaugin), Iceland, Ireland, Italy, Morocco, Egypt. I would also like to do several of the "Swimming Vacations" offered in various parts of the world.
I actually think I live in an ideal place to make art right now. The primary reason I would want to visit these places would be to create art with different color and light palettes.