Black History Month
Money, Mississippi
In late summer 1955, Emmett Till was murdered, for whistling at a white woman outside Bryant's Grocery and Meat Market
This is part of our series of places where Black History happened
On August 20, 1955, Mamie Till put her 14-year-old son Emmett on a bus at the 63rd Street station in Chicago. She hugged him goodbye and gave him a signet ring that belonged to his late father. Emmett wanted to visit his family in Mississippi and Mamie agreed to let him go.
Three days after his arrival, Emmett Till visited Bryant's Grocery and Meat Market, a white-owned store in Money, Mississippi — two hours north of Jackson — for two cents worth of bubble gum. As a resident of Chicago's South Side, Till was accustomed to black-owned businesses and the thick, heavy air of racial tension in the Mississippi Delta was new to him. He encountered Carolyn Bryant, the owner's 21-year-old wife, allegedly whistled at her (although it has been said that Emmett had a lisp, and it was unlikely that he could whistle) and flirted with young, beautiful Carolyn. Aghast and appalled, she told her husband Roy Bryant and his half-brother J.W. Milam what happened.
At approximately 2:30 a.m. on August 28th, Bryant and Milam kidnapped Till. They brutally beat him, dragged him to the banks of the Tallahatchie River, shot him in the head, tied him to a large metal fan with barbed wire and threw his body into the river. When he was pulled from the water three days later, his body was only identifiable by the signet ring on his finger.
The trial that followed was sensational. Carolyn testified under oath without the jury present that Till said "ugly remarks" to her before whistling, which was deemed inadmissible since it didn't have anything to do with the act of the murder itself. Unsurprisingly, the all-white, all-male jury took only an hour of deliberation to acquit Bryant and Milam of murder. Four months later, they admitted their guilt for $3,000 for a feature for Look magazine. Because of Double Jeopardy, they couldn't be tried again.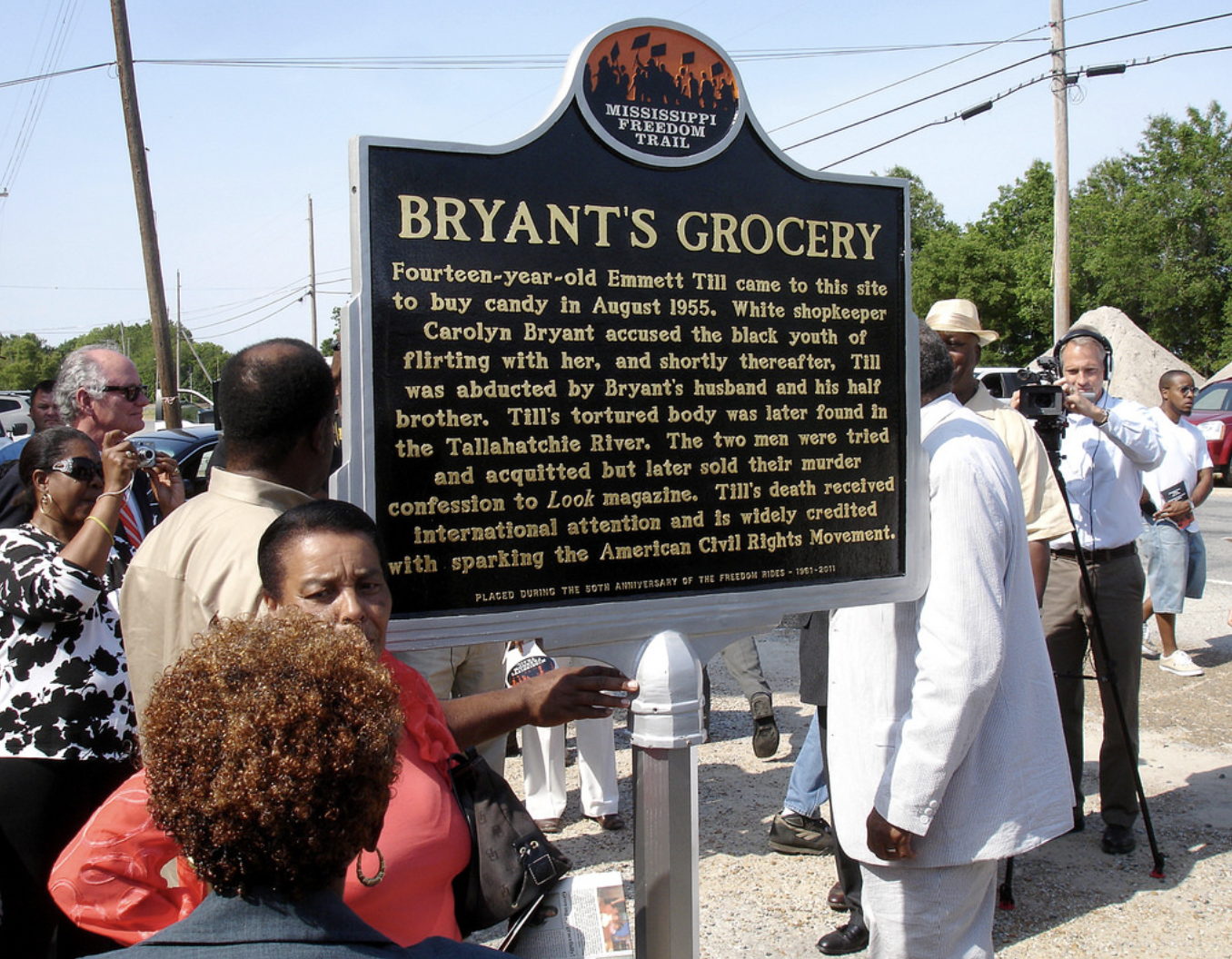 The question isn't whether or not Bryant and Milam kidnapped and brutally murdered Emmett Till. They definitely did. In a 2007 interview with Timothy Tyson — a Duke University senior research scholar and author of The Blood of Emmett Till — Carolyn Bryant (now Carolyn Donham) admitted that she fabricated most of her story and couldn't remember exactly what happened at Bryant's Grocery. J.W. Milam and Roy Bryant both died of cancer; Milam in 1981 and Bryant in 1994. Carolyn's whereabouts are unknown, or whether or not she's even still alive, but the manuscript for her memoir is currently held at the Southern Historical Collection at the University of North Carolina Chapel Hill library archives. It will be available for public viewing in 2036. After which, they should just burn it.
Following the trial, Bryant's Grocery and Meat Market went out of business when locals boycotted the store. The remaining structure as it barely stands today, is four crumbling brick walls with trees growing inside of it. A sign was put up in 2011 to signify the location was part of the Mississippi Freedom Trail. Since then, the marker has been destroyed by bullet holes and a second sign was vandalized in summer 2017. Despite efforts to revitalize the dilapidated property for its due as a true Civil Rights landmark, the current owners are unwilling to sell the building to preservationists. 
Till's mother Mamie became a powerful voice in the Civil Rights Movement. When Emmett's body was returned to Chicago for burial, she insisted that his casket remain open so the world could see what life had become for blacks in the South. More than 100,000 people viewed Emmett's body at Chicago's Roberts Temple Church of God in Christ; at the time it was the largest American civil rights demonstration in history.
Emmett Till's history is quickly fading away in Money, a town of only 100 people, though his death and subsequent public funeral shined a light on his race's oppression and ignited the Civil Rights movement.