UNDER THE MARCHE SUN
Two Type A New Yorkers decided to go to Italy and open a cooking school. Best move ever. And you should go when you can
All photographs by Liza Lentini
Thirteen years ago, two American newlyweds, Ashley and Jason Bartner, honeymooning in Italy, fell in love with the quality of life there. It was a stark contrast to life in NY, where Ashley worked in hospitality for a private club, and Jason was Executive Chef at another private club. When the couple returned home, Ashley googled the Italian cost of living and was struck with a revelation: for a fraction of what they were paying to be in Manhattan, they could live in Italy. So she said, why not?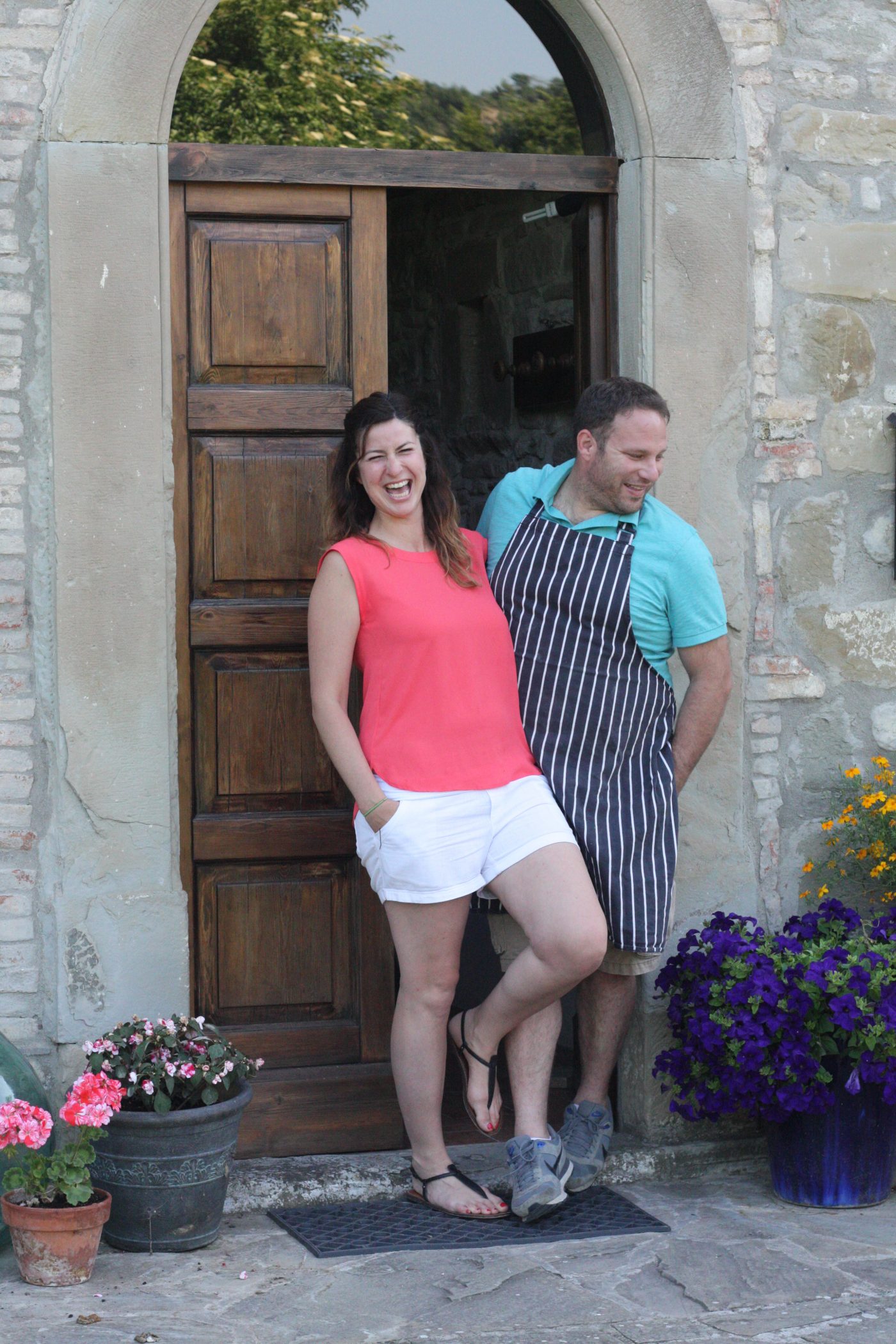 It's a dream of many that remains a fantasy for most, but Ashley and Jason, as soon as they could afford to move, did, and trawled all over the peninsula before settling, oddly, on a remote region, mountained-off from tourist fertile Tuscany and Umbria, called Marche, which even most Italians don't know much about. They rented a 300 year old, light colored stone farmhouse, on 200 acres of hilly land with beautiful views of other higher, steeper hilly land, and opened an agriturismo and cooking school they called La Tavola Marche.
"The idea to do something together, build something, get our hands dirty, was really exciting," says Ashley. What they built is beautiful, a gem in an idyllic setting. The property consists of a very big house where the guests stay in comfortable, unspectacular rooms, and a smaller building where Ashley and Jason live. Except when the weather is bad, all meals are eaten outside, in the crisp air and clear sky of the mountains.
Normally their new season begins in May but this year there is no normally, of course, so right now they are doing virtual cooking classes, fascinating podcasts and recently did a seminar, presumably re-viewable, on moving to Italy, for those of you who want to cross the bridge from fantasy to reality. And they now also rent out their property for groups to stay in exclusively. Check out their site for details, and the ever-moving situation on re-opening: www.latavolamarche.com
But it is remote. If you come here, ignore the directions on the website — they were written by Satan. That, admittedly, is my assumption rather than provable fact. But, well, just trust me and mapquest it yourself.
Skipping the part where it took six hours from Rome to get where it should have taken three, when you do finally find the general area it is rumored La Tavola Marche, like some modern-day Brigadoon, is situated, you still have to claw your way through thin, unlit mountain roads and villages smaller than a Walmart, entreating suspicious and perhaps frightened locals to guide you to a place none of them have heard of. Meanwhile you are still looking for the sketchy clues the La Tavola site gives, like some maddening riddle from Harry Potter. Then you find — by nothing less than a certifiable miracle — a tiny, hand written sign at the base of a hidden turn, that takes you onto a Strada Bianca, which is Italian for an unpaved road, white with dust, riven with potholes the size of swimming pools, and pregnant with evil.
James Fenimore Cooper's Pathfinder would have given up. But Liza and I were hungry.
The cooking classes are the heart of the experience offered at La Tavola Marche. They are moderately expensive but fun. Full day classes and half day ones are offered and the half day is enough, just right. And you can drink, because it's in the afternoon, and that is more difficult to justify at 10 a.m. Not impossible, just more difficult.
Jason is a first class chef and could easily have a Michelin starred restaurant if he had gone down that path. French trained, in NY, he has nonetheless attained the zen of simplicity that makes Italian cuisine so special and sensual. And he's a great teacher.
We started off with what sounds simple, turns out in the end to be simple, and delicious, but isn't so easy to do: a flat bean salad (recipe below — you really should make it). First, apparently, we have to know how to use the knife correctly. Jason demonstrates this and as we chop beans into roughly inch long pieces, I chop irregularly and incorrectly, even after being shown a few times, while Liza immediately gets it and chops perfectly.
"That's it, Liza. Perfect!" coos Jason.
Next we have to slice onions very thinly. Jason explains the philosophy of mouth feel, that the wrong size or shape and therefore texture of an ingredient negatively influences how we taste it. Hence a chunk of onion in our mouth is overpowering and unpleasant, but the right shade of thin is delicious.
I get this right, and she does not at first. "Look how thin my slices are," I say to Liza. She gives me a curt smile. "Well done!" says Jason.
I keep slicing. "Look, mine are translucent!" I say. Liza shoots me a dark, death-promising look.
I slice more, somehow even finer. "Mine are like fingerprints!" I announce proudly. The knuckles on Liza's hand gripping her knife whiten.
Perhaps more providentially than I'll ever know, we're done with the onions and, now that we are knife masters, move on to halving cherry tomatoes. Jason then explains that we have cut the beans the approximate size of the tomatoes, the smaller of the two main ingredients, for the visual aesthetic as well as practical issues, like getting them into your mouth. As we continue preparing the ingredients he elucidates his FASSA principle: Fat, Acid, Salt, Sugar (the sweet, not always sugar), and Aromatics (herbs, including pepper). All dishes require at least three, very rarely just two. There was also a science to the order of application — for instance salt doesn't dissolve in oil as well as it does acids like lemon juice or vinegar. The full science of it escapes me, and he hasn't written it down anywhere, deliberately, as he wants you to hear it from him in person.
We also prepared veal carpaccio. We laid on a long plate ultra thin strips of tender vitellone, the middle option of the three possible, the others being Vitello al latte, the youngest calf, which Jason says is the tenderest but has the least taste, and the older bovino adulto, which is beef from a cow rather than a calf and which he says tastes less delicate. In America you can't get the vitellone, because it is illegal to kill a calf weighing less than 150 pounds, consequently beef carpaccio in the US is from the adult cow.  
To the slices of meat we added salt, then lots of fresh lemon juice, and then a lot of olive oil, and then some cracked pepper. I tasted this and thought it was mesmerizingly good, and personally would stop there, but Jason sees further horizons than mortals, and added arugula from his garden, and shavings of parmesan, presumably from a store. The end result is magnificent, the meat melting in your mouth softly.
In the course of our lesson we also made a delicious fresh salsa verde from olive oil, garlic, parsley, capers, anchovies, vinegar and chopped chili peppers; a regional pasta Norcina, basically a short macaroni with a cream and sausage sauce, although that is an inadequate description of its lightness and the pleasure it brings; and skewers of different kinds of pork with rosemary which were grilled over wood. For dessert we poached fresh peaches in wine and rosemary, which is again a stunningly simple dish deceptively complex to pull off right.
A couple of hours later this was dinner for us and the other guests. 
They wound up in Marche because "it wasn't in any of the guidebooks," says Ashley. "It wasn't full of tourists and expats. We wanted to live with Italians."
Building the business was a tremendous amount of work, and required that particular patience that foreigners need to develop to accomplish their goals in Italy.
"We spent the first couple of years figuring out how to be Italian" says Jason. "The thing about Italy is you have to accept Italy for what it is." It took three years to establish themselves and become successful. They didn't advertise, preferring to rely on word of mouth. Eventually even the skeptical locals began turning up for dinner and particularly for pizza night, which became a convivial tradition at La Tavola.
"There a lot of cooking schools or classes in Italy, but there are very few run by professional chefs, who've worked in kitchens. That's not to say the others aren't good cooks, but this is different," says Ashley. She says the Marchigiani  are "incredibly warm and welcoming" and wanted to hand down to Ashley and Jason the traditions of their cuisine because the younger generation shows almost no interest in preserving them.
She points to a hill across the white dirt road. "There is an island of Umbria in our front yard. 500 years ago there was a battle, won by the Umbrians, and they still own this piece of land. The Mayor of the nearest Umbrian town is considered the baron of the hill."
I ask them what would they say to another couple, somewhere in America, tired of the rat race and thinking to themselves, we'd like to do this?
"Do it!" they both say at once.
Most of their recipes are available on their website, latavolamarcherecipebox.blogspot.it
Flat Bean Salad
serves 4
3 big handfuls of flat beans
couple of handfuls of cherry tomatoes, halved
1 medium red onion, sliced thinly
fresh herbs of your choice, chopped: marjoram, oregano or basil work well
3 tablespoons red wine vinegar
9 tablespoons extra virgin olive oil
salt & pepper
In a pot with plenty of salted water, bring to a boil & quickly blanch the flat beans (they will intensify in color) make sure not to let boil too long as you still want them to have a nice crunch.
In a bowl combine the beans, tomatoes, onion, cucumber. Add in the herbs.
Combine the oil & vinegar then toss with the salad.
Season with salt & pepper.
Let stand 10-15 minutes to let the flavors come together. Recheck your seasonings (taste it) and adjust.  Serve.