LAS VEGAS WITH CHILDREN
It's actually not a gamble as our intrepid Deputy Editor found out firsthand, when he and his wife brought their son…
Las Vegas' legendary tourism campaign "What Happens Here, Stays Here" has become synonymous with unlimited lust on the edge of the Mojave desert. But back in the early '90s gambling revenues plunged, causing Vegas to reinvent itself. So Sin City concentrated on families, making you believe it could be a kid-friendly town. After about a decade of touting its new excess — newly erected monolithic hotels, pools, shopping centers and an exploding food scene, much of it driven by celebrity chefs — the campaign proved successful and the number of tourists dramatically increased.
However, casinos realized parents weren't gambling! So the see-saw went back to the good ol' days of strip clubs and edgy, sexy entertainment. Nowadays, Las Vegas reigns supreme in ways to transgress, but in 2017 I personally discovered that the self-styled "Entertainment Capital of the World" can still very much entertain children.
My mother-in-law loves Las Vegas. I don't know why. I've been there five times and my only memory from my previous visit was wanting to leave upon checking into the hotel, the name of which I cannot remember.
But all Joanne wanted for her 70th birthday was to spend a few days with her daughter, my wife, in Las Vegas. After they booked their trip, I thought, 'Why should Levi, my son, and I stay home? How about we come too!' This was his first time on a plane and the longest we'd traveled together outside of our annual four-hour drives to Washington, DC for July 4th.
I didn't know how Levi, then an adventurous and precocious five-year-old, would handle flying. Luckily security was a breeze at Newark Airport.
"Why do you have to take your shoes off?" Levi asked.
"To check for smelly feet," I cunningly answered.
Six hours later, as the plane pulled into the gate at McCarran Airport, Levi awoke from a restless nap, and with a huge smile on his tired face exclaimed, "We're here!"
We arrived at the off-Strip Orleans Hotel — located only four miles from the airport but 45 minutes by airport shuttle (kids ride free!) because we were the last drop-off. The moment we walked into the lobby, I quickly realized why I despise this town: the smoke. The rancid scents of Swisher Sweets, sulfur-released matches and flatulents from the free drinks and the all-you-can-eateries was a punch in the face. All of our normal humid-city living skin dried up — Theresa's legs turned into alligator skin and Levi developed a slight rash above his lip — Burt's Bees should have sponsored our trip. However, The Orleans is touted as a kid-friendly hotel for its giant and very clean and shallow pool, and an arcade that makes it easy to blow through $30 in an hour, plus there's a bowling alley and a movie theater.
Most would think the late arrival, lack of in-flight sleep, going to bed late and time change would cause a child to sleep in. Not ours. Every day started the same: rise and shine by 7.30, eat breakfast where Levi felt the "bacon was outstanding" and the buffet pancakes were "too sweet," then head to the pool to enjoy three hours of sunshine, laps, pool games and (for the adults) piña coladas before venturing off for the day and into the night.
Day 1 of Our Most Excellent Adventure
We took a taxi to Mandalay Bay for their Shark Reef Aquarium. Be sure to pay your fare in cash or you'll be charged a $3 fee for using a credit or debit card. (You're better off using a ride-sharing service — we prefer Lyft — as the fares are cheaper and the hotels now have designated pickup locations for them.)
This wasn't your run-of-the-mill hotel attraction. This is a full-on aquarium that's accredited by the Association of Zoos and Aquariums and prides itself on its extensive research, conservation, education and animal care. The over 2,000 animals — saw fish, endangered sea turtles, octopus, jellyfish, golden crocodile, komodo dragon, piranhas and 11 different sharks — were all swimming in harmony. Which makes you forget you're in a hotel in a landlocked state.
Our first taste of nightlife was at the Excalibur. Not for their Thunder From Down Under show, but for the Tournament of Kings! But before that we hit up the Fun Dungeon, a carnival-style arcade.
The dinner theater wants you to eat, drink and be merry. We embraced all three. That spoonless bowl of tomato soup was really good for a Las Vegas dinner theater show. The Spanish knight, who we were assigned to support, didn't win despite Levi's instructions to "whack the other knight in the face," which seemed like a good plan, but good times were had by all, particularly during the [spoiler alert] unexpected fireworks. The end of the show was the start of the barrage of souvenirs: one hotel-branded flashlight and a tube of mini knight figurines for the boy and a $40 family photograph for mama and papa.
Day 2
After a night of such merriment, how could this trip get any better? It did despite the side of my mouth being so dry it felt like I ate too many potato chips. Wait, did I? Eating top-shelf cuisine was one concession we had to make while traveling with a young'en. After taking the hotel shuttle bus to the Las Vegas Strip, Theresa and Levi went on the High Roller Observation Wheel. At 550 feet above the center of the Strip, it's currently the world's tallest observation wheel. Dubai's will be 689 feet once completed. (Of course Dubai's will. Do they just stay up all night wondering where someone, somewhere in the world still has something they haven't bested yet?)
Taking the High Roller is best done at night to see all of the lights — and to take part in a slowly moving happy hour — but you still get a birds-eye view of all of the hotels and the mountains beyond the desert during the day. At a revolution of one foot per second, this 30-minute "ride" inside a 300-square-foot pod is for folks of all ages.
While waiting for the High Roller to come full circle, I was happy to see The Strip was absent of two of its most iconic symbols of perversion: those escort card-slappers, the guys handing out photo cards for prostitutes, and their flyers of nude women scattered along the sidewalk. Thankfully The Strip has been cleaned up, although that's got a lot to do with business being done now on the internet.
We arrived too late at The Mirage for their Secret Garden, so we had an early dinner and Theresa scored prime seats to magician extraordinaire Mat Franco at The LINQ. The Season 9 winner of America's Got Talent showed off all of his talent, prompting Levi to ask after every trick, "How'd he do that?" We still wonder how he took one audience member's signed $100 bill and hid it in the hermetically sealed spice packet inside a package of Top Ramen, among a pile of hundreds of packages of Top Ramen. Seriously, how'd he do that? Franco's final feat was a card trick that required audience participation, giving Levi the chance to help pick up cards that were blasted out of a canon over the room, even letting him take some home. Real cards from a real magician! Souvenir averted. Memory created.
Day 3
Our final full day of child's play. After a lunch of "too thick" and "slippery" hot dogs and a carrot cake that scored a "40 out of 10" at the Carnegie Deli, according to you know who, we finally made it on time to the Siegfried and Roy Secret Garden and Dolphin Habitat at The Mirage.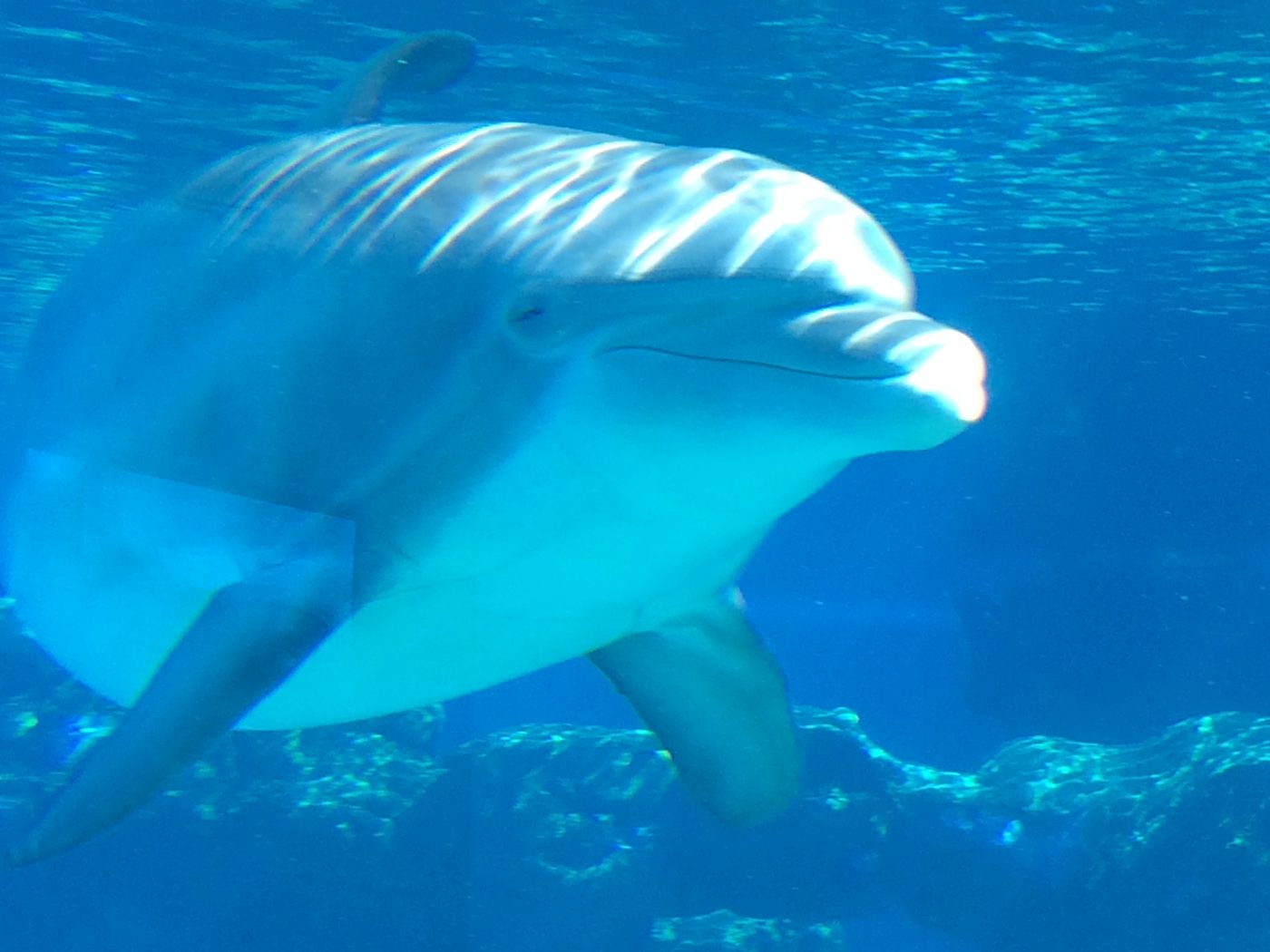 We watched a video on the namesake magicians and witnessed a tiger poop! The dolphins are the main attraction. All of the trainers are well-educated in all 37 different types of dolphins in the world and advocates for the ones on hand, waxing on how they are not used for entertainment purposes, yet they do entertain, every 15 minutes so paying customers can watch them eat, jump in the air and swim up close. You can even pay extra to paint with them. The souvenir was settled with a simple flip of coin: heads tiger-striped binoculars, tails tube of African animals. Heads won.
The evening festivities involved a bit of old-timey Vegas at the dusty and gloriously dated Circus Circus. Levi wanted to ride the Chaos at the hotel's Adventuredome. "You get strapped in going 40 or 80 miles per hour. Spin right side up. I don't know if I'm old enough to go on it. I read it in my book." We never found out if he could experience Chaos because it was closed.
To the arcade! This was a time warp as most games cost twenty-five cents and still took quarters, none of those prepaid cards like at the other hotels. They even had a Simpsons game circa 1990 whose screen was so scratched you could hardly make out the characters…and we crushed it! Levi and I were so enthralled by this arcade, we missed the free circus show that's put on every hour. Levi's haul of tickets was enough to cash in for a plastic pull-back airplane that was so cheaply made I couldn't believe it made it home intact.
So what should you do? Book your plane tickets now because you can have acres of fun bringing your kids to Vegas (and I'm not sure I entirely believe I just said that).
After telling Levi of the trip two months beforehand, we researched and read books about Las Vegas. He was most looking forward to The Strip, the arcade and the pool. We certainly had our fill of all three. When I asked him, as we checked out of The Orleans, what his most memorable moments were, he declared: the pool, arcade and Tournament of Kings. Since our return home, he's been asking when we can go back. And I actually now have, dare I say, a proclivity for this town.
Who would think that a toxic city, filled with 24-hour prostitution, strip clubs, legal marijuana, indoor smoking and gambling is such an innocuous place to bring a child? Well, today, apparently what happens here, stays with them forever.
NOTES FROM AN ADVENTURE
Levi's top thoughts about traveling to Las Vegas:
"Air traffic controller – it's a stressful job."
"Did you know we're in between California and Arizona?"
"Can you wheel my luggage? I'm reading."
"Look, palm trees. They smell like paper. Where are the coconuts?"
"Mama, can I be honest with you? I didn't like the piña colada. I only liked the whipped cream and cherries."
On The Mirage fountain: "Look at all of that loose change. There must be a billion dollars."
On the flight home: "I'm going to take a look at the safety card again because it looks interesting."
KID-FRIENDLY LAS VEGAS ITINERARY
Tournament of Kings & Fun Dungeon arcade / The Excalibur  www.excalibur.com
Mat Franco Magic Reinvented Nightly / The LINQ  www.caesars.com
Siegfried & Roy's Secret Garden and Dolphin Habitat / The Mirage  www.mirage.com
Shark Reef / Mandalay Bay  www.sharkreef.com
Carnival Midway / Circus Circus  www.circuscircus.com 
High Roller Observation Wheel / The LINQ  www.caesars.com