UNSPOILED MEXICO
La Paz is the anti-glamour answer to all your Mexican prayers
Mexico is one of the most nuanced places on the planet. I have now been roughly 20 or so times, in fact, I have lost count somewhere along the jaunts. With every trip I marvel at how I am able to barely scrape under its beautiful, alluring skin. It is natural beauty like you've never seen, it is subtleties in cuisine and warm people and thousands of different cultures and interests. It is even big brazen crazy American-style tourism plus virginal gorgeousness that has been preserved for its absolute magic. And every variant betwixt and between.
Mexico is also a destination that fulfills oh-so-many of my needs. A little hit of history, a lick of ancient food from the gods that has now been modernized and just zings me, and that delightful warmer weather. Mexico is also so vast that I seemingly can't run out of places to denude. 
La Paz, right at the Sea of Cortez, in particular, is where Mexico shows off all this allure — with a quiet solemn charm and an undiscovered natural twist. As Graham Greene pronounced, in his novel Journey Without Maps, "There is not so much virginity in the world that one can afford not to love it when one finds it."
It is so often that I read a piece that submits some strange premise of "where is the next…" and my inclination (pause for the irony here please) is to keep my mouth shut. I have discovered this unique, beautiful place and now I am sending people to come and crowd it out. But, the reality is a quiet place like La Paz would actually benefit from the tourism money and also, sharing this gem with people interested in more than just a touristy (that word in all its filth) hot spot. 
So, just a few hours north of insanely tourist madness, Cabo San Lucas ("kAbo" as Americans call it), is where La Paz hides away. It's the capital of what they call Baja California Sur, but don't let that formality distract you — it's a tiny little homey spot on the peninsula. I have always loved this little sliver that seemingly protrudes from California — in the northern part it is all wine country and down here it's beach felicity. La Paz was always a sort of jumping point for Cabos, but luckily now that they have their own airport and infrastructure most people don't just commute through here. 
The little town of La Paz is known for its seafront Malecón promenade where there is a kaleidoscope of art exhibitions — unlike the rest of the world they didn't put in some famous international artist of great acclaim to drive tourists here to come "Insta." They did the opposite, they took mostly locals, or lesser known artists who have some connection to there and gave them a platform to bring their creations to life. As I strolled around, I did think of what a relief it was not to have to see hordes of people, but also for things to not have to be over the top extraordinary — it's beautiful enough to just stroll side by side with a warm gust of sea breath with just a hint of seaweed.
Of course, one of the best things about traveling is meeting locals and hanging out where they hang out — it's that simple really. I was just putz putzing around town when I met a local, ruminating surfer who was getting ready to open up a tiny (think a small New York City walk up apartment) Mezcal bar as the sun was coming down. In fact, he works as a mixologist all over town but tonight this is where everyone comes to cháchara. After a few drinks were poured, the chit chat was less about surfing and what cocktails locals love, and much more dreamy and existential. 
"I believe La Paz is an undiscovered treasure, I think it's part of its charm, that mystery, that captivates you with the incognita of not knowing how far you can go," shared said surfer, Ricardo Villareal. He asks me, "Have you yourself ever doubted the existence of lively nothingness?" 
As I smile he says to me: "That shade of beautiful resilience can only be felt under the pink skies in this city of ours. La Paz lacks infrastructure, stores, and restaurants close after 8:00pm and humans seem to have zero conscious about driving laws. Still they manage to get by not caring nor realizing about most flaws in their city. It's funny to watch this kind of behavior so unlike any other part of the world, as if we just walked into a different, deserted outback dimension or into a western movie that came to life." 
And it was this surfer Mezcal gent who told me about where the action would be taking place tonight…
Most thrilling, Terry Townson, the Grammy award winning horn player, just happened to be performing that night underneath towering old grain silos a slink down the street. Turns out he lives in La Paz, and luck would have it, it was the city's annual jazz festival. After his set, we sat on silly plastic chairs with sweating beers swirling, and he shared his La Paz story with me — one vacation and he knew he had to live here. 
"I love the variety La Paz offers me as a musician. I can be playing jazz with a quartet one night, the next day I'm playing a private event with one of the many talented mariachi bands in town. Performing the hallelujah chorus with a local orchestra to jamming with a reggae band at an after hours club. I also have the privilege to be working with a talented group of musicians playing Big Band jazz, La Comunidad Big Band de La Paz. It is a community band I started three years ago for anyone who wants to learn how to play big band jazz. And I really love being such an active part of this community."
After all the music stopped and the silos were in darkness, the motley crew of us were just milling around town, walking along the dusty streets, just aimless, just enjoying the gentle nudge of the warm air. Somewhere in the ether was music still fizzing through our heads…. 
And that's when I had a moment to reflect on my day. I spent it with my husband Michael and a freediver, Jorge Herrera, who took us out to a remote island maybe an hour away from shore. We hopped this little fishing boat and set off towards where the explorer and conservationist, Jacques Cousteau, set up camp for research, Isla Cerralvo. For decades he used this as a place to gather knowledge with his knowledge-gathering boat circling it at all times, skimming all kinds of research. With abundant marine life, due to underwater topography and ocean currents, I am told by Jorge that it's a prime spot for big game fishing. With golden grouper, marlin, swordfish and sailfish in abundance, I was on the lookout for whale sharks.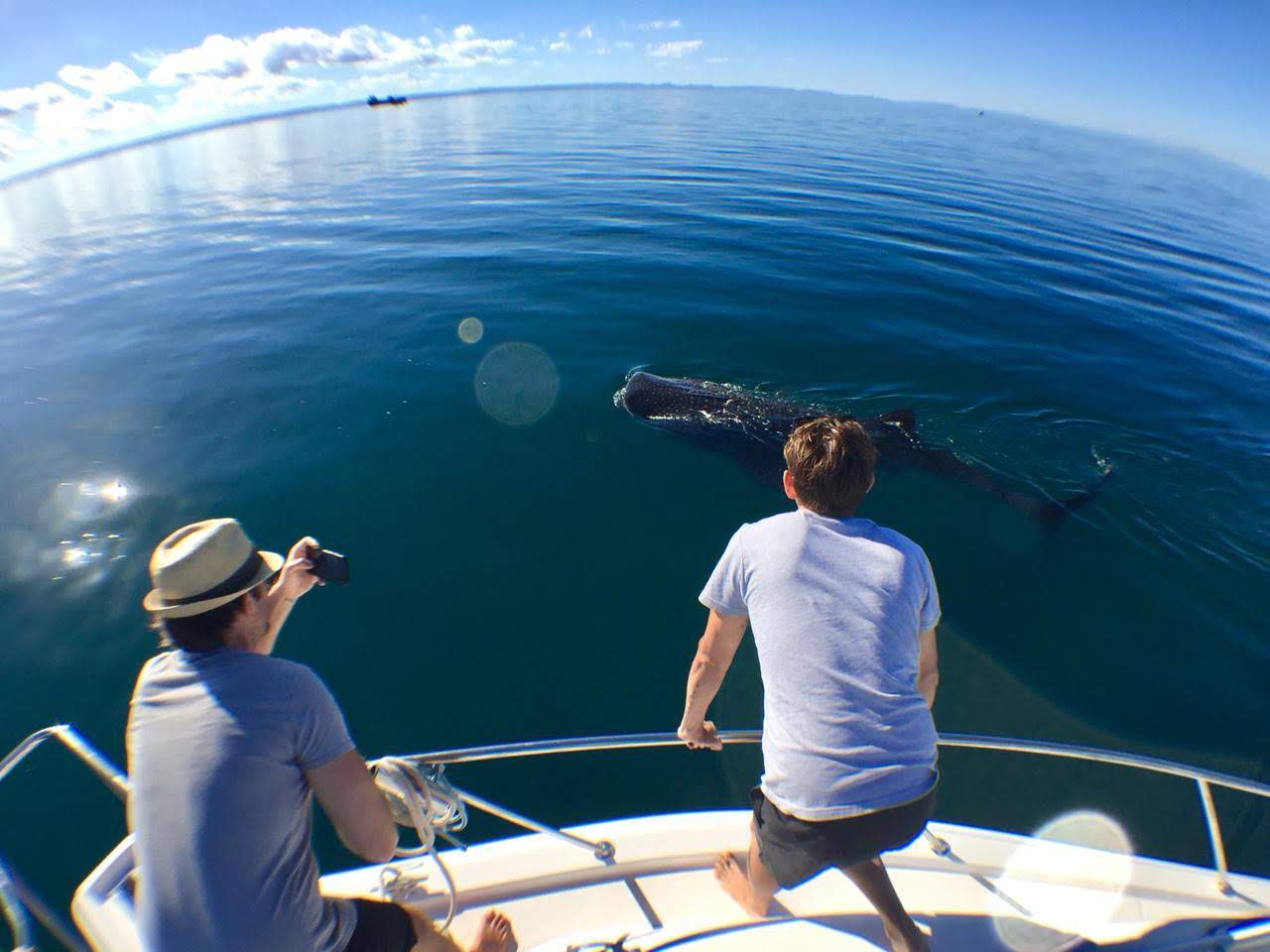 Whale sharks are strange and mystical, because, really, are they a shark if they're not "Jaws?" They are however 10 feet long, at least, and oh-yes-scary, due to that given name. But really, they are sweetheart plant eaters, and have zero interest in my tanned flesh. But when they are swimming fast below the boat, they could knock my socks off, and kill me in a pathetic instant. So I decided today's not my day for swimming with giant sea creatures. As we're bobbing around watching the whale sharks Jorge shares, "more than 70% of the territory here is included in some form of national park, protected area, or marine reserve, so basically the economy here is focused on all things eco. We are not Cabos, we don't have people just interested in money, we have people who really enjoy to open their arms and say welcome to everyone with respect to the place, to the locals, and the environment." 
And then we saddled up to this remote, uninhabited island where Jorge left us whilst he ventured into the water to fish for our lunch. And so, here we were, just laying out on a pinky pebbly sandy beach. Just us. And this is what I truly reflected on — it all felt so utterly luxurious. This simple, almost negligible, experience of privacy and beautiful quietude. I didn't need a fancy resort or a camera, or an award winning restaurant. I certainly didn't need a pillow menu. Or six iPads in my room. I had it all: peace, quiet and an escape. The fresh-from-the-ocean caught fish grilling right on the beach was a sweetener. 
Where you can certainly rest your head and more: 
Puerta Corté has everything — villas, condos, a marina, and also a Gary Player golf resort. And it is also the entrance to the Sea of ​​Cortez, a natural paradise that Jacques Cousteau described as the world's aquarium.