LAKE GEORGE WITH CHILDREN
Rain or shine, the birthplace of the American vacation is divine. It just needs better restaurants
In late August, with the first day of school approaching, my wife Theresa wanted to connect with nature – stars, hiking, fishing, a lazy river, fresh air – so what better place to take a family vacation than to the birthplace of the American vacation: Lake George!
We stayed in a completely renovated plank farmhouse from the 1830s with "historic" plumbing — beware any description of plumbing as "historic" — in Warrensburg, New York, a town known for antique shops and hosting the annual World's Largest Flea Market. It's just 15 minutes from Lake George Village, the epicenter of, well, the universe.
DAY 1
We arrived late afternoon, so Theresa quickly sifted through some tourism brochures and decided on a one-hour captain-narrated boat ride on the lake. Ticket price included a free adult beverage.
The first 30 minutes of the boat ride is the captain's telling of the lake's fascinating history. It's 32 miles long (that's three Manhattan islands stacked end to end), two miles at its widest, and over 170 islands surround it. Lake George was originally named Lac Du Saint Sacrament – Lake of the Blessed Sacrament – by Father Isaac Jogues, a French Jesuit Missionary, in May 1646. The name was changed 110 years later for King George, when the British and Native Americans defeated the French in the French and Indian War (aka the Seven Years War). Along the western edge of the lake is Millionaires Row, an enclave of palatial mansions, each with dozens of ornate bedrooms — we have not been in all of them but are confident they are, in fact, all ornate — dating back to the 1800s.
The 60 minutes on the lake were blissful. Our son Levi, now 7, (previously the star of this fine article leaving Las Vegas) imbibed on a caffeine-free Sprite (hey, he's on vacation). The wind was blowing just right as we listened to our history lesson, taking in the mountains and islands and petting the two dogs on deck. 
For dinner we went to Mezzaluna's. The place was bumpin'! Some fried calamari, a few personal pizzas, bread dipped in olive oil from the Lake George Olive Oil Co., all resulting in belly satisfaction. 
Each night we strolled along Canada Street, the Village's Main Street, clustered with arcades, ice cream and fudge shops, souvenir stores. They all sell the same three things you find at most souvenir stores: stuff, junk and crap. You had your Lake George branded lifeguard sweatshirts, beach towels, those proverb signs typically hung in suburban homes, magnets, T-shirts. But what separates these souvenir shops from all others, is they all sell knives, big ones! Even the arcade has them to win! There was one store I fell in love with: A Christmas to Remember. They had every type of ornament possible, even WWE ones! Theresa is Catholic so we celebrate Christmas too, but I'm Jewish and this store would make any Jew want to at least think about converting.
DAY 2
Our first full day was spent with the fine and mostly teenage folks at Adirondack Adventure Center in Lake Luzerne. We signed up for their treetop adventure and lazy river tubing combo package. After being outfitted with harnesses, clips, trolleys and given a tutorial on how to stay safely connected to all the ropes, we were ready to zip line and cross aerial obstacles like Tarzan ropes, swinging steps, tightropes, balance beams, pogo posts and horizontal tires.
Each obstacle had a varying degree of difficulty and each of the three levels is higher off the ground. It took the whole two-hour session to complete just levels one and two; three was closed for maintenance, so be assured the course is inspected every morning. The session concluded with climbing a 30-foot ladder to a very, very tiny platform where you depart from to shoot across the 550-foot-long zip line. Since level three was closed, we did the zip line twice. It's nerve wracking, but once you're hurtling at speeds upwards of 30 miles per hour, it's exhilarating! You're doing this with their photographer snapping away. Of course, the photographs are available for purchase, and $30 for all 111 photos was totally worth it.
The lazy river tubing adventure was packed! We hopped aboard a very musty Merry Prankster-looking school bus, drove 15 minutes down a bumpy dirt road (aka an Adirondack massage – they're free) to an unloading area along the Hudson River. Levi and Theresa were tied together, and a floating cooler with our towels, bottles of water and water blasters tied to me. I was too far downstream so we weren't together for the first hour. When we stopped along a sandbar at the halfway point, I tied all four tubes together and we finally achieved lazy river joy. We used our water guns on each other and the other armed tubers and struck up a conversation with a fellow dawdler from Brooklyn. This section of the Hudson River was shallow enough it offered Adirondack butt massages. (They're free, too.)
It's possible to see wildlife among the trees, but we just saw trees. Plus, we were more focused on being lazy. 
In between the zipping and the tubing, we walked to Harris' Almost Famous Grocery. The moment you walk in — and eat one of their footlong sandwiches — you wonder how this place isn't already world famous. (Or are they just being ironic?) This was a piece of Americana at its finest. 
That evening, the only place on Levi's itinerary was Playland Arcade. Most of the games issue tickets that could be cashed in for cheap, easily breakable toys. Levi broke the record for quickest to spend rolls of quarters in order to win 850 tickets for a SWAT Team blaster that shot suction darts which, of course, didn't actually suction to anything. 
DAY 3
Rain! Damn! God — see, those ornaments already affected me — gave us lemons, so we headed to Six Flags Great Escape, an indoor water park only 20 minutes away. We spent the day zipping down waterslides, floating and walking in an overcrowded and not-quite-lazy river, got righteously soaked in the massive treehouse, waited 15 minutes to ride a giant tube through a pitch-black tunnel that was over in approximately 20 seconds, Theresa willing her fear away shouting, "This is amazing!"
My favorite, even though we had to wait at least 20 minutes each time for our turn, was the wave simulator. You're pushed out on continuous crests up to four feet tall while attempting to balance on a boogie board. You're given three, sometimes four chances to balance against the waves, from on your knees to transitioning to rolling over to sitting cross-legged and eventually standing up. When you lose your balance, you wipe out…hard. But, you also get to watch everyone else get washed away and tossed aside. Men: make sure your bathing suit is securely fastened, otherwise you run the risk of having it pulled down by the powerful surf. There are now about two dozen people, plus any security footage, that can identify me by my backside.
We stopped into Miller Antiques on Main Street in Warrensburg. Miller is home to furniture, fishing equipment, tools and perhaps the world's largest collection of Life magazines, strewn throughout one dank back room. Note: Antiquing is not a child-approved activity.
Soon it was now time for the rodeo!
The Painted Pony Rodeo has been around since 1953, making it the oldest weekly rodeo in the United States, to save you looking that up. This isn't some bush-league event. This is a real deal professional circuit rodeo and we had no idea what to expect.
The emcee made it crystal clear rodeo folk love Jesus, he's amazing and superior, the troops are a close second, and you better stand for the national anthem or get the hell out of 'Murica. Once you get past that canned crap, the rodeo is truly mesmerizing and fun for the entire family.
First up were the bucking broncos.
Then the cowgirls did barrel racing.
Then it was team roping.
Then you had calf roping, where someone grabs the calf by the horns and ties it up.
Then there was steer wrestling.
Between rounds, a rodeo fella dazzled us with his fine lasso tricks, and there was a rodeo clown. His jokes were so misogynistic, politically incorrect and awkward, and the crowd was eating them up. There were a few dance competitions for the kids to get involved in and they played everyone's favorite country/rap song, "Old Town Road".
It was getting late and we were about to leave…but wait! Hold on to your horses because it was time for what we all came to see: bull riding! We sat back down to watch a half-dozen yahoos try to hang on for the triumphant eight seconds. Everyone's a winner. I mean, the crowd is. Certainly not the knuckleheads who get tossed and chased by an enraged one-ton bull in under eight seconds. 
DAY 4
After Flapjack Pete's, allegedly "Home to the Colossal Breakfast", in Lake George Village, our main activity was horseback riding at Ruggiero's Public Horseback Riding at The Painted Pony Ranch, just down the road from the rodeo. The Ranch has been around since 1942 and is run by Cowboy Pete, a 66-year-old filterless man who's been wrangling horses since 1968. He walks with a limp, has hands the size of oven mitts and is a real straight shooter. 
But Cowboy Pete is actually all about customer service. You can text him 24/7 and he will get back to you, answer all of your questions and make recommendations for the best time to come to the ranch, based on your party size. He also takes your safety very seriously. All children must wear a helmet and Pete sizes everyone up and pairs you with the proper horse. 
We rode single file right behind our guide Shelly, who looked just like Meredith Baxter. She lead the one-hour trot through the ranch and through the six million-acre Adirondack Park, passing beaver dams and streams, breathing in the freshest air. Our first time riding horses was peaceful and relaxing. The horses do about 90% of the work. Occasionally you need to steer them back on course and restrain them from stopping to eat or drink as that slows the rest of the team, and sometimes it's hard getting them going again. Horses can be stubborn. 
There's so much to do in Lake George, the actual lake was an afterthought. We spent the afternoon at it, on Million Dollar Beach, swimming in the lake then digging in the sand. Parking is $10, but beach access is free, if that makes sense (I guess, walk dammit); the beach is narrow, ball playing is prohibited, but the sand is clean; the locker rooms are immaculate; there's a cash-only concession stand, and there's a big sign that says do not feed the seagulls and ducks.
After an unmemorable dinner at the generically named Shoreline, we headed back to Playland Arcade for a final push to win a prize. Levi had more than enough tickets for his SWAT Team blaster, but he felt like browsing the display cases. It's amazing how difficult picking a prize at an arcade is for a child. It truly is the hardest decision in their young lives and amazing to watch their excitement and anxiety run rampant trying to decide between a super bouncy ball and a laser pen, and either one will break or get lost within days. Levi eventually chose his toy gun, donated the remainder of his tickets to another child and we were $50 lighter in the wallet.
LAST DAY
We meant to pop up to Bolton Landing, about 15-20 minutes north, before leaving, just to check out one bookstore, but once we parked we quickly realized Bolton Landing is not a place you simply pop up to. Home to the historic and quintessential luxury lakeside resort, The Sagamore, Bolton Landing is home to a panoply of antique stores and local eateries along adorable Lake Shore Drive. The Trees Adirondack Gifts & Books bookstore, our initial one-stop plan, mainly sells Adirondack / Lake George-themed gifts, photographs and books.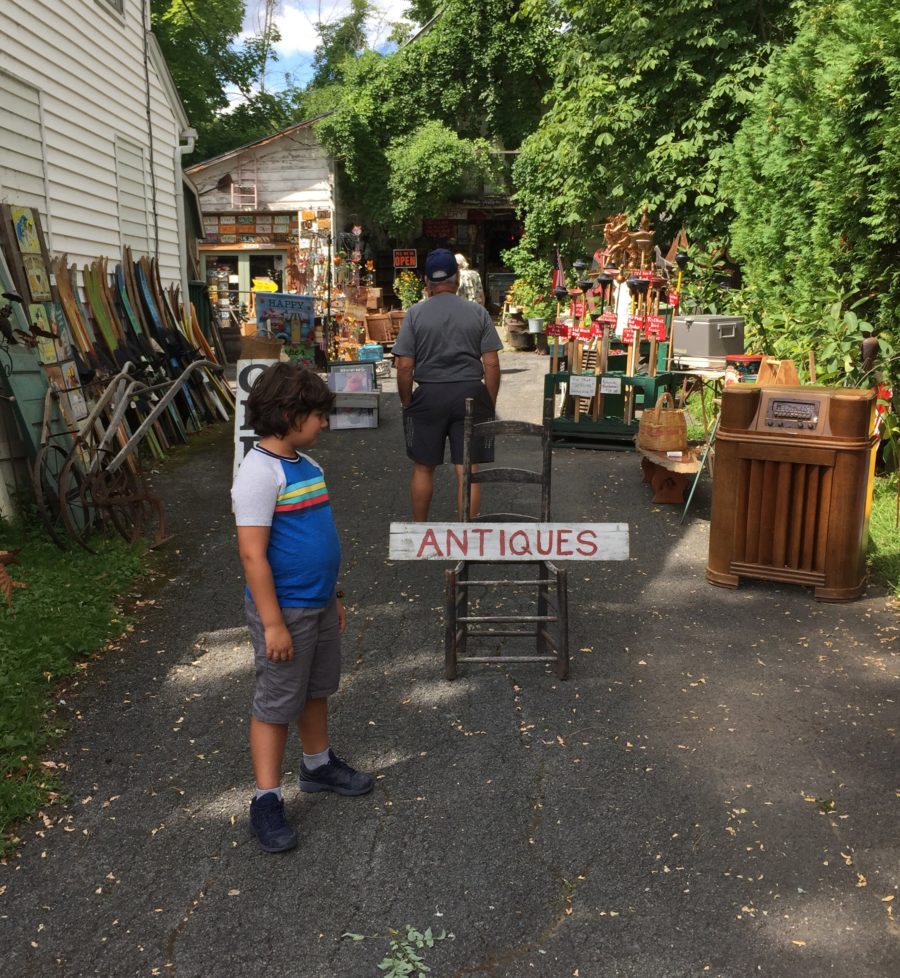 Across the street from Trees, along a driveway, is Lakeview Antiques. This is antique / bric-a-brac / tchotchke / junk heaven. An entire barn with every nook and cranny filled with magazines, glassware, baseball cards, furniture, tools. You name it, it's somewhere.
We extended our stay in Bolton Landing at Bear's Cup Coffeeshop, a husband-and-wife owned place with home-baked goods, lots of nitro coffee on tap and the right amount of hipsterness that warns, "Watch out Bolton Landing, you're next." Our final stop was lunch at Bolton Beans, where we sat inside their early 1900s trolley car-turned-diner car. We waited longer than we hoped for our meal, but mostly everything is made to order and most of the ingredients come from local purveyors and farms so it's worth the wait.
Bolton Landing, like most of Lake George, has a charming picturesque vibe that shouts, "Stroll, mosey, even serpentine around me! You'll fall in love and will want to return." 
We did, we will…
Levi's Top 6 Lake George Adventures 
1  Indoor Waterpark
2  Boat Cruise
3  Treetop Adventure
4  Rodeo
5  Horseback Riding
6  Lazy River Tubing