The World's Oldest Rainforest, Queensland, Australia
Way up near the tippy-top northeast corner of Australia, above Cairns and alongside the Great Barrier Reef, is the 180-million-year-old Daintree Rainforest, the oldest rainforest on Earth (sorry Amazon).  
From the edge of the Reef at Cape Tribulation, the Daintree Rainforest's luxuriant growth spreads across 500 square miles and is home to over 400 bird species, 12,000 insect species, and an uncountable number of Australia's reptile, marsupial, butterfly, and frog species. Maybe you can see the endangered southern cassowary or a Bennett's tree-kangaroo that can leap up to 30 feet through the tree branches.
Whether you're an avid nature lover or a hiker, you can do as much or as little as you want at this World Heritage Site. There are several walking trails and guided cultural walks where you can learn about plant medicines as well as the many rare and beautiful fauna. There are waterfalls and crystal clear swimming holes, jungle surfing through the high forest canopy on zip lines, or you can take a cruise down the Daintree River and get up close and personal with crocodiles, sans Mick Dundee, so be careful.
You can also sleep in the rainforest at any of the eco-lodges nestled within it. The Daintree Ecolodge and Spa offers luxurious villas, organic food, and incredible massage therapies using ancient tribal healing techniques to aid in the "healing of the spirit."
The best time to visit is from May to October when it's pleasantly warm and less humid than other months. Unless you like that sort of thing.
84
HOTEL
Asia FCC Hotel, Cambodia
The former Foreign Correspondent's Club in the resort town Siam Reap has been transformed into a beautiful luxury hotel. It was once the mansion of a French colonial governor, then transformed into a hangout for journalists and celebrities, and has now undergone a final restoration for travelers looking for a special and tranquil stay. Angkor Wat is not far away and Pub Street bristles with nightlife, but you probably won't even want to leave the FCC. On site you'll find a cozy cocktail bar serving drinks inspired by famous journalists — and boy, no-one inspires cocktails like overseas journalists — two outdoor saltwater pools, and even an art gallery.
– Lukas Harnisch
83
EXPERIENCE
Swim with the Fishes at the Georgia Aquarium, Atlanta
Fantasy time. Ever get the urge to jump into an aquarium and swim alongside the fish? Yeah, me too. Now our dream can be a reality at the Georgia Aquarium. The Swim with Gentle Giants Experience gives you the chance to snorkel or scuba on the other side of the glass, inside their famed Ocean Voyager Exhibit. Plunge into the 6.3 million gallon tank filled with over 50 species including manta rays, and the world's largest fish species — the whale shark. Sessions in the tank last 60 minutes. Don't forget your waterproof camera.
– Denis Austin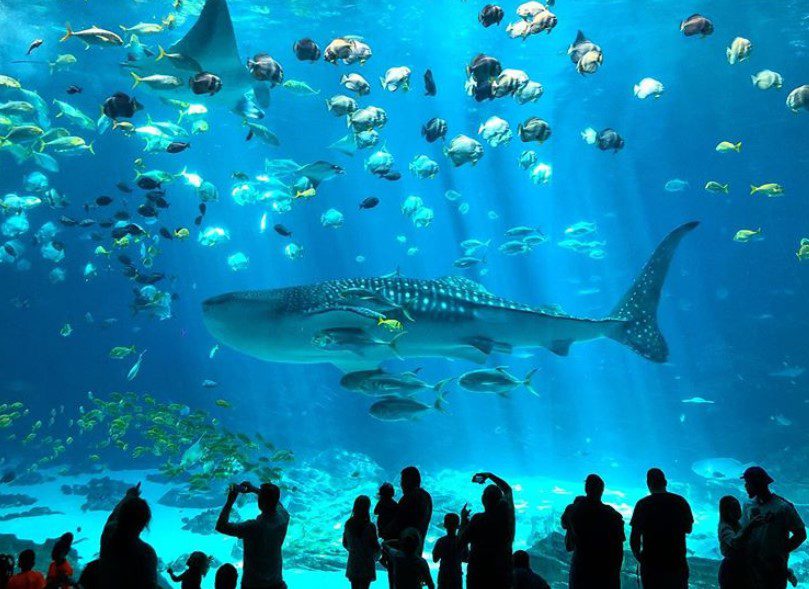 82
HOTEL
Hotel De Paris, Monte Carlo
During his life, my great-grandfather would leave his home in Suffolk, England every winter and spend the season in the warmer climate of Monte Carlo at the Hotel De Paris. Since opening in 1863, on the famed Place du Casino in the center of town, Hotel De Paris has been one of the best and most exclusive hotels in all of ultra-exclusive Monaco, and, really, the world. A simple flight of steps from the Place du Casino takes you into an awe-inspiring lobby of marble columns, crystal chandeliers underneath a domed ceiling. Each room and suite is unique, no two the same, decorated with period furniture in luxurious elegance. Have a morning dip in the rooftop pool and then sunbathe on the terrace and watch the luxury yachts come and go; after lunch maybe a visit to a haute couture shop at One Monte Carlo, it is in walking distance. Have afternoon tea in the Jewellers Courtyard and just before dinner a cocktail in Le Bar Américan complete with live jazz. Then retire to your distinctive room. Wake up and repeat. 
The Hotel de Paris' elegance has drawn Hollywood to it, too, having been a location for a number of films, including two James Bond's: Never Say Never Again and Golden Eye. You can just see Bond (R.I.P. Sean Connery) walking up the steps leading to the lobby. And when you're done sipping your shaken, not stirred martini from Le Bar Américan, sit out front and watch all the swanky cars drive up. An Aston Martin will surely pull in anytime. 
– CP
81
VISIT
Wine Cellar Dinner At Grootbos, South Africa 
When someone says "Wine Cellar Dinner," I imagine wonderful food, candles (well, you are in a cellar) and being surrounded by racks of wine waiting to be drunk! Grootbos Private Nature Reserve is therefore an experience you might want to try. The wine cellar and the wines have been curated over years. They have two wine lists, one offering wines from local wineries, the other features wines from the Western Cape and includes rare wines not available anywhere else. The owner, Michael Lutzeyer, a wine lover himself, has collaborated with celebrated South African winemakers to create Grootbos Stinkwood Pinot Noir 2013 and the Last Syrah. The resorts' wine cellar dinners are in an intimate and romantic venue next to the maturation cellar surrounded by wines from the collection, for groups up to 10 or just a private table for two giving guests an unforgettable experience to enjoy the wines and pair them with the exquisite cuisine
The story goes that when the Lutzeyer family first saw this place on the fynbos slopes overlooking Walker Bay and the ocean in South Africa, the extraordinary beauty inspired a vision for Michael. In 1994 he sold his business interests in Cape Town and opened a bed and breakfast, which is now a luxury eco-reserve, a blend of culture, biodiversity and natural wonder, incorporating 2,500 hectares of unspoiled wilderness full of endangered and newly discovered species of plants, 31,000-year-old milkwood forests, and countless birds and mammals. The Lutzeyers grow their own produce or purchase locally for their dining and the wine. The region is world renowned for producing some of the best in the world, and pretty much all are in the wine cellar at Grootbos. 
– CP