50 MOST IMPORTANT WOMEN IN TRAVEL

16-20
16  Lindsey Ueberroth, CEO, Preferred Hotels & Resorts
Preferred Hotels & Resorts, an association of more than 750 hotels, resorts, and hotel groups, has been a family business for the Ueberroths since 2004, when John Ueberroth (brother of Peter Ueberroth, who was the 6th Commissioner of Baseball and Chairman of the United States Olympic Committee from 2004 to 2008) became the majority shareholder. Lindsey, John's daughter, has been with the company since the Ueberroths took ownership, climbing the ladder all the way to the top. In 2015, she spearheaded a rebranding effort and led the company to achieve a major milestone by generating more than $1 billion ($1.011B) in reservations revenue on behalf of its member hotels worldwide, a 15% increase over the previous year. 
What do you see as the future of the travel business? What will be the next big trend? I believe more people taking more micro-cations — trips of four nights or less, truly sustainable tourism (hotels taking a broader perspective to sustainable travel and supporting their communities), and the next evolution of wellness vacations (experiences that enable a traveler to become a better version of themselves).
What's your advice to women trying to break through the glass ceiling?  My advice to women that aspire to reach the highest levels of leadership is to stop thinking that there is a glass ceiling. The saying, "you have to believe to achieve" is very true and our thoughts control our actions. Don't be afraid to take risks, volunteer to take on new projects or challenges, look for a good mentor and role model, and don't be afraid to ask for what you want.  Where is the most beautiful place you've ever been? What's your favorite hotel in the world? South Africa. It is one country that boasts everything from breathtaking ocean views and the stunning wine country to the sprawling Kruger National Park where you can go on the most amazing safari. Game drives, sipping coffee at sunrise, and enjoying a sundowner cocktail at sunset are some of the most breathtaking moments of my life. I have always said it is a country that leaves an imprint on your heart and soul. When it comes to hotels, one of my most favorite is the Leela Palace Udaipur in India. Located on a beautiful and tranquil lake, surrounded by views of the mountains, this modern palace and the staff that work there make you feel like royalty in the most approachable way. A world class spa, dining, and activities catered to your personal interests and preferences make it truly remarkable.
If you could go anywhere in the world and do anything there, where would you go? It may come as a surprise to learn that if I could go anywhere, it would be less than a 3-hour drive from where I live, and stay at Ojai Valley Inn and Spa in Ojai, California. I could spend countless days there soaking up the special energy that this resort exudes since it sits on top of an energy vortex. A few of my favorite things to do there are taking one of the free bicycles for a ride to a local winery down the road with a picnic lunch, enjoying an activity at its artist cottage, sitting by one of the resort's many fire pits at sunset, or enjoying Sunday brunch and listening to live music.
17  Olga Polizzi, Deputy Chairman and Director of Design, Rocco Forte Hotels; Owner The Polizzi Collection
Polizzi is, in every sense of the word, a force of nature. She is the brilliant and  innovative designer for the Rocco Forte Hotels, a group that includes Rome's Hotel de Russie, The Balmoral in Scotland and Brown's in London, giving these magnificent properties their distinctive, elegant look. She is also Deputy Chairman of the company, founded by her brother Rocco (they are the children of legendary Hotelier Baron Charles Forte — Baron actually being his royal given title, not my hyperbole). And recently she started her own line of boutique hotels with three small converted properties in postcard-quaint towns of Southern England: The Star in East Sussex, Hotel Tresanton in Cornwall and Hotel Endsleigh in Devon. Unsurprisingly, these hotels are exquisitely designed, with modern and quirky touches mixed in with the preserved traditional elements and facades. "Tresanton has wonderful views across the sea to St. Anthony's lighthouse, Endsleigh is set deep in the countryside in one of Humphry Repton's historic gardens, and The Star is in an unspoiled medieval village at the foot of the South Downs. They are each so different, yet complementary," in her words, as she recently told Insider Travel Report.
"Hospitality is in our blood," she says. Most siblings don't make as successful business collaborators as the Fortes, who have been doing it together now for nearly a quarter of a century, and just brought their children into the business. As she told the UK's Telegraph, "I always state my case; Rocco probably thinks, 'Will someone rid me of this meddlesome sister?' I have a thing about Muzak – I loathe it – but no one else has an issue with it."
18  Neha Parikh, President, Hotwire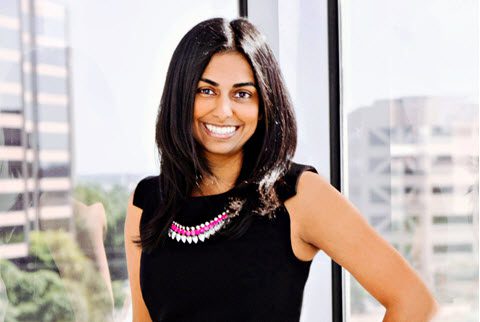 Neha is the President of Hotwire, one of the earliest and entrenched OTAs at Expedia. She came from Hotels.com, where she was Senior VP of Global Brands. Perhaps the most cool item on her glittering resume: she once worked pro bono to launch the Australian Government's Aboriginal Tourism agency, the first of its kind. She has a lot to say about women in travel, and for an International Women's Day feature on the company's blog, she said, "We're starting to see more balance in terms of background, gender, etc. But (as with many industries) we have work to do. I realize I'm often the only (or one of a few) female, ethnic leader in the room when it comes to travel, so I don't think we're there yet, but it's getting better."
She also thinks that women "need to raise their hands for opportunities even if they feel they're not ready. I have seen it time and time again where women don't  — including myself. The fact is, you're never going to be 100% ready for the next step. If you wait, you're just holding yourself back. I once read that "men apply for a job when they meet 60% of the qualifications, whereas women apply only if they meet 110% of them!" Women need to raise their hands, even if they're uncomfortable."
19  Stephanie Chung, President, JetSuite
Dallas-based Stephanie Chung is the first African American president in private aviation. JetSuite owns its own fleet of planes, which can carry between four to seven passengers. 
Often the only woman in the room, Chung believes women should be who they are, telling Women in Aviation, "When you're coaching and developing people— women in particular—one of the most important things is teaching them how to say no and not feel guilty about it."
Chung first found success as a saleswoman for Mary Kay cosmetics, which she began doing so she could eliminate having a car payment. Five pink Cadillacs later, she has more than 30 years of experience in aviation after first getting into the business as a baggage handler for Boston's Piedmont Airlines. She literally wrote the book on sales and leadership (seriously, her book is titled Profit Like a Girl, A Woman's Guide to Kicking Butt in Sales and Leadership), and along with the late Judith E. Glaser, she created Neuroscience Selling, a training method for salespeople that combines neuroscience and psychology. 
Her biggest challenge? Surviving breast cancer, telling Worth, "I'm a cancer survivor. Cancer changes you. You have to decide that you're going to fight the disease." 
20  Tali Golan, Director of Social Impact, Tripadvisor
Tripadvisor gives travelers an easy way to book and review hotels, restaurants and experiences worldwide, with platforms operating in 28 languages and in 48 markets worldwide. With that much global economic impact on communities, Tali Golan has a big job on her hands, creating initiatives for local impact, volunteerism and leading the Tripadvisor Charitable Foundation, which supports programs designed to relieve the suffering of people around the world, with an emphasis on critical human needs, disaster aid and crisis relief. This past October, Golan sponsored efforts of Miles4Migrants, a non-profit organization that coordinates donations of unused frequent flier miles for refugees and asylum seekers in need of travel assistance.
With Golan's leadership, Tripadvisor gives each new full-time employee $50 on their first day on the job to donate to a non-profit. She doesn't consider it a "benefit," per se, but more of a way of building a positive culture for employees. She said to Employee Benefit News, "These programs are really robust and they're multilayer; they require many relationships. I think they're part of the overall dynamic employee experience that happens at a company."