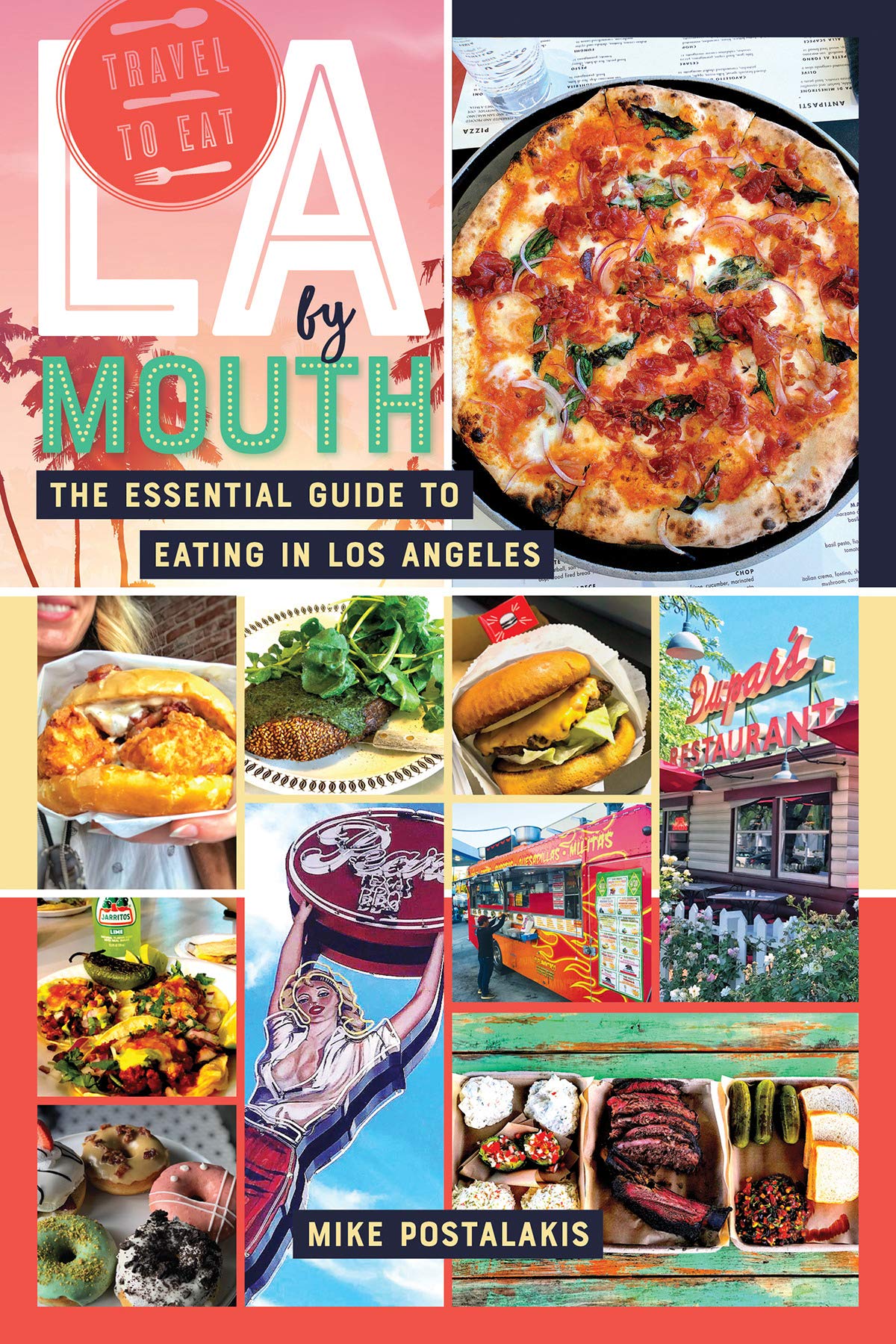 L.A. BY MOUTH The Essential Guide to Eating in Los Angeles By Mike Postalakis  
The Countryman Press, $21.95
Mike is one of our own, and many of you will have read his excellent restaurant reviews for us (here, here and here) and his extraordinary piece on Las Vegas (he was there the night of the awful mass shooting).
Now he's written a great book on eating in Los Angeles — he appears to have eaten in/at every food establishment in the entire city. I'm sure I'm exaggerating, but not a 1000 percent sure. At any rate, the book is comprehensive, a virtue of course but not the major one, which is that it's a funny, truly fabulous and fascinating read. Normally a book about just one city, even one as large as the moon, couldn't help but be parochial, but LA is — as in so many other ways — a unique proposition. For a start it encompasses just about every imaginable ethnic culture's food, a veritable, mutating World's Fair that never closed down. Some districts are states unto themselves — they could have their own consulates:  Chinatown, Korea town, Little Ethiopia, Thai town and multiple enclaves of dizzyingly delicious Mexican food. And he could have written a book just about what's available from the city's magical armada of food trucks. Mike loves food trucks. Maybe unnaturally, but who am I to say?
Mike himself, in perhaps the longest introduction ever written to a book about places to eat, suggests that we "think of this as an informed enthusiast's guide rather than a compendium of snobbish judgments handed down from on high." He understates his work. This is a frigging bible, and I, for one, am going to use it as scripture the next time I go to LA.
— Bob Guccione, Jr.
I MISS YOU WHEN I BLINK By Mary Laura Philpott
Atria Books, $26
I have followed Mary Laura Philpott's writing and stellar penguin cartoons for years and to be honest, if she said, "Hey, Emily! Let's hold hands and jump off this cliff!" I'd probably do it because she's one of those people you just trust. Like, she totally has her shit together, does everything (seriously, she's even the Emmy Award winning co-host of Nashville Public Television's "A Word on Words"), she's funny and her hair is awesome.
Appearances can be deceiving, and Philpott has laid bare her soul and inner workings of her super Type A brain, as a gift to us all that we truly don't deserve, but we'll take it because this book is the therapy we all need. You are not alone. Even if you do everything right, it can feel all wrong. And that's OK. No one actually knows what the hell they're doing. Identity crises are completely normal. You are going to be fine.
Told with her signature sharp wit and big giant heart of gold, this book is a must read for women of all ages, even if you're not Type A. You're in these pages.
— Emily Gatlin
Out of Print Books We Love…
No reason not to download a free one from Project Gutenburg on your Kindle, or buy a used hard copy for under $10, or sometimes $5. We contain multitudes said Walt Whitman, so all the better to embrace high-low spending and a book bargain too.  
For some of us, most roads lead to Europe, so here are  two historically amazing and kick-ass books. A paradox to ponder is that history is all about dates — but it's never out of date–because history is us!
— Helen Mitsios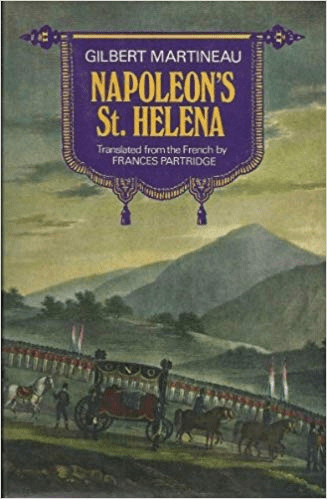 NAPOLEON'S ST. HELENA By Gilbert Martineau
(published in 1968)
Breaking travel news: you can now take a commercial flight to St. Helena. And why, pray tell, would you want to? So you can visit the obscure island (and house museum) where Napoleon lived under house arrest for six bitter exiled years until his death in 1821, at the age of 51.
Whether you love or hate Napoleon, or maybe you don't care because he's just not your cup of chocolat chaud, this meticulously researched book dissects the island's micro-culture and craggy geology. We learn about St. Helena's petty bureaucrats, of its "society" men and women (considered hicks by the French) with their jealous squabbling for hierarchy, of Napoleon's so-called jailers who record almost every nano-second of his house arrest—and for good reason too, because being Napoleon, he was indeed plotting escape. Whether you think he deserved it or not, Napoleon was hoodwinked into getting on an English vessel that he believed was taking him to country-gentleman exile on an English manor. Instead, the Northumberland took off in an entirely different direction and sailed 5000 miles away with the dethroned emperor and his loyal entourage of twenty eight aboard. Unfortunately, Josephine, the woman he never stopped loving, was not allowed to join him on St. Helena. Here, the French try to make the best of it with their courtly manners and high-Empire style (including titled French ladies with trunks of ball gowns and jewels, who were obediently at their husbands' sides) on the rat-infested, mildewy island known pre-Napoleon days only as a pit-stop for ships from India sailing back to England.
Was Napoleon poisoned with arsenic? You'll read about this and infinitely more (like a post-mortem description of his genitals) in a book that includes the last hours of the life of a megalomaniacal genius.
LADIES OF THE GRAND TOUR: British Women in Pursuit of Enlightenment and Adventure in Eighteenth-Century Europe By Brian Dolan 
(Published in 2001)
If you think travel verges on masochistic sport these days, you'll feel better after reading Grand Tour travel travails during the Georgian and Victorian era. True, we might romanticize long carriage rides of laudanum-filled nights, but these British adventurers risked ongoing highway robbery, harrowing carriage accidents, endless posting delays (what, no available carriage horses?) and inns so full of bed-bugs that travelers brought leather sheets to sleep on.
We read about the women who accompanied husbands and brothers or sought refuge abroad from unhappy marriages. Mary Wollstonecraft went to Paris so she could witness revolutionary machinations first hand, and soon published the famous A Vindication of the Rights of Women in 1792.  Because when the rights of "man" were declared, it meant equality for men, not women. Many of these early travelers were the Christiane Amanpours of their day, witnessing and writing first hand accounts of historical events. These accounts earned women writerly props. For the first time, instead of writing for other women, the eye-witness published accounts of historical events — which contained details men often overlooked — captivated readers of both sexes.