Oh gonna dance all night to that Memphis Beat
I'm going to Memphis where the beat is tough
Memphis, I can't get enough
It makes you tremble and it makes you weak
It's in your blood, that Memphis Beat
Jerry Lee Lewis, 1966
Elvis. Beale Street. Peabody Ducks. Rendezvous ribs. Memphis has long been shoved in a one trick box, mostly known for barbecue and Graceland. Vacations to Tennessee are thought of as a trip to the Great Smoky Mountains or Music City, but tucked in the far west corner, the Bluff City is king of the state. 
Historically speaking, Memphis reigned supreme at the height of the cotton boom which was magnified by the beginnings of rock 'n roll and soul music, recorded right downtown. It was the South's brightest light, with beautiful early 20th century architecture along the banks of the Mississippi River and more gorgeous stately homes than Charleston. After Martin Luther King, Jr. was assassinated at the Lorraine Motel in 1968, the city took a tumble and, one day, everyone simply forgot about the city.
My first trip to Memphis was in 1987, when the 3,000 year old Colossus of Ramses II made its way from ancient Memphis in Egypt to the Memphis Convention Center in Tennessee. I was four years old at the time, but I vividly remember straining my tiny neck to take in all 21 feet, 60 tons of it. To this day, I can't help but be underwhelmed by other statues. 
I have probably had championship gumbo and Voodoo Chocolate Passion from King's Palace Café no less than a dozen times (and I'd eat Voodoo Chocolate Passion a hundred more), and shared enough diver buckets from Silky O'Sullivan's to hide my head in shame. I married a man who was raised in Memphis, so my visits as an adult have been a reunion tour of childhood favorites. 
Recently, we ran the Memphis in May River Run and got a full glimpse of downtown. My two thoughts throughout the race: "Whoa! What's that?" and "How did I not know Beale Street had a hill?" 
I am here to tell you, I was shocked by the entirety of what Memphis had to offer. There were museums and restaurants all over the place. Midtown has exploded with niche bars and small, hip places to eat. I shouldn't have been surprised, it's a city of 650,000 people (not including the suburbs, which extend into Mississippi), but why wasn't anyone talking about it? "Nashville, Nashville, Nashville."
It's the perfect destination for a weekend trip, and, probably because FedEx is based there, the airport is efficient and easy. And you don't even have to eat barbecue. 
STAY
The Hilton Memphis just completed an extensive renovation and is a fantastic place to stay if you want to be close to excellent shopping or if you're traveling with children. The regular rooms are large, and suites with kitchens and separate living and dining rooms are available on higher floors. It has a great pool, a fitness center and a lobby bar, breakfast, room service and Provisions Market. It's convenient to I-240, which takes you anywhere in Memphis lickety-split.
If you want downtown, there are lots of options. The Peabody is about as iconic as you can get and is worth a visit to the lobby to watch the world famous Peabody ducks march in and swim in the fountains. "The South's Grandest Hotel" was opened in 1869 and boasts the self-explanatory Feathers Spa, Chez Philippe, Capriccio Grill, The Peabody Deli & Desserts, Peabody Afternoon Tea, The Corner Bar and my personal favorite, The Lobby Bar. 
Big Cypress Lodge is a hotel built entirely inside the the mega Bass Pro Shop Pyramid (which was once the Pyramid Arena), with 100 rustic-style luxury suites. Its design was intended to bring the outdoors in, and reconnect people with their love of nature (by paradoxically taking them out of it, but let's not split hairs). The Governor's Suite can accommodate 8 people and features three electric fireplaces, a full kitchen and a terrace overlooking the rest of the property. There's a 13 lane bowling alley, aquariums, a shooting range, restaurants, a rooftop bar at the top of the Pyramid, 100-foot-tall cypress trees — indoors don't forget — and some of the rooms seem to float in the treetops. And there is an 84,000 gallon alligator habitat, so you can reconnect with your love of alligators… 
Hotel Napoleon is on the National Register of Historic Places and while it doesn't have ducks or other aquatic wildlife living in it, the building has unique touches like exposed brick in the luxurious guest rooms and free cappuccino in the lobby. Napoleon would take cappuccino over ducks any day.
The ultra trendy Hu. incorporates the laid back Memphis vibe with modern touches, and the new Hotel Indigo is really, really cool. 
EAT
I mean, that's why we're really here right? Memphis has so many dining options that it's hard to narrow it down, so here is a list that doesn't include a single barbecue restaurant. For which we deserve some kind of James Beard food journalism award, surely.
DOWNTOWN
Arcade Restaurant is Memphis's oldest cafe, founded by Speros Zepatos in 1919 after he emigrated from Cephalonia, Greece. It's a classic Southern diner that's survived for a century, a major feat considering it is directly across the street from the Lorraine Motel. It's charming and delicious, with a wide variety of food from breakfast favorites to pizza and sandwiches. 
Alcenia's is a bonafide Soul Food restaurant, in the sense that owner B.J. Chester-Tamayo greets you with a hug at the door. She says, "Among our race, so many times our heritage dies with our ancestors. Great cooks, great people, but we never get the recipes. And I didn't want that to happen. I wanted a legacy to go on with my mom (Alcenia)." She opened the restaurant after losing her only son in a motorcycle accident, because she couldn't fathom working for anyone but herself. Just get on a plane and eat there. Be prepared to wait! Everything is made to order and simply freaking perfect.
3rd & Court Diner is a new concept diner in Hotel Indigo founded by the creators of Central BBQ and Sweetgrass. (Also, I know I said no barbecue joints, but FYI, Central is the best.) They have breakfast and daily specials, and Friday is fried catfish day. Get down with a pimento cheese ball.
Edge Alley has a classic upscale breakfast and they're known for their avocado toast. The pimento cheese BLT is mighty fine, too. They offer seasonal juice drinks and booze with breakfast (who doesn't love breakfast booze?). Lunch and dinner range from house made pasta dishes, shrimp & grits, burgers, market fish and bacon & black eyed pea hushpuppies. 
Catherine and Mary's is the first downtown brainchild of James Beard nominated Chefs Andy Ticer and Michael Hudman (you'll hear their names again). It's a blend of "grandmother cooking" with Southern ingredients and an Italian philosophy to dining. The menu changes often and is always creative. Their second downtown restaurant The Gray Canary explores, they say, the way cooking techniques can influence flavor and the way fire can "coax flavor from produce and proteins." It's a memorable dining experience, to say the least. 
The Four Way in Soulsville has been open since 1946 and was a hangout for Stax Records artists. They have plate lunches — neck bones and liver & onions are options — and homemade pie, cake and cobbler. What else could you want, besides more cobbler? (Also, if you've never had a neck bone, you're missing out.)
Puck Food Hall is close to the National Civil Rights Museum and features ten restaurants under one roof. It's eclectic and has something for everyone.
MIDTOWN
Midtown Memphis is where you go for food and serious fun. There are two different areas to check out: Cooper Young and Broad Avenue. Both have a wide variety of options for whatever mood you're in, and the vibe each district has is something to experience. It's not the Memphis you think you know.
The Beauty Shop Restaurant & Lounge conjures up a '50s beauty shop and serves exquisite food and cocktails. At one time, it was a real beauty shop that was Pricilla Presley's curl-and-dye spot, so there's a little history within its walls. Original mint green wash basins line the bar, which is made of tiger maple wood. The terrazzo floor is original, as well as the menu. Order the Watermelon & Wings and enjoy the nostalgia. 
Knifebird is a new wine bar that serves carefully curated wines, a small selection of craft cocktails and fine cheese, meats, and breads. They're a small space so make sure to reserve a spot. Oddly, they do not accept cash — credit/debit cards only — and are a perfect spot to grab a drink before dinner.
Celtic Crossing is a cool Irish pub that opens early for soccer games before 11 a.m. Seriously, they have a whole separate soccer watching menu.  They have eight television screens and five channel options available every day, so if your team is playing while you're in town, give them a visit and order some dirty chips and a hand pie.
Muddy's Bake Shop is every sweet lover's dream come true. They use organic whole milk, cage free eggs, real fruit, pure extracts and real butter to bake their treats. It's a whimsical place to visit and they do mail orders, so you can have some Memphis love delivered to your home wherever you are.
Stop by Bluff City Coffee for a boost of Italian-style espresso beverages, smoothies and teas. They also have breakfast and lunch sandwiches and free wifi. 
Over on Broad Avenue, you'll find The Liquor Store which obviously has amazing cocktails, but also all day breakfast and Latin-inspired cuisine. Lots of Cuban pork and vegan-friendly options. The atmosphere is laid back but ultra-hip. 
Bounty on Broad is farm-to-table with snazzy cocktails, using meats and produce from local farmers.
Rec Room is a legitimate arcade with console games, table games, board games and vintage arcade games. They've got pizza, beer and specialty "game themed" cocktails. Perfect spot to call it a night if you're traveling with a group of good friends.
Global Cafe is in the Midtown area known as Crosstown, and it is definitely worth a stop. It's an international food hall that hosts three immigrant/refugee food entrepreneurs who serve authentic dishes from Syria, Sudan and Venezuela under the same roof. It's managed by Juan Viramontes, a talented chef in his own right who immigrated to California from Mexico with his family when he was a child. They're open for lunch and dinner, and have a full bar. 
You don't want to leave Memphis without visiting Chef Kelly English's Restaurant Iris which is upscale Creole food and recently had a major overhaul, or The Second Line whose offerings are more casual New Orleans po'boys and a "So You Brought Your Child to a Bar" kids menu. In all honesty, it's a damn good menu and post pubescent humans can order off of it for an extra $10.
EAST
East Memphis is its own unique place and home to Novel bookstore, Joseph (where you can buy all the Louboutins, Gucci and Prada shoes your heart could desire), and Dinstuhl's Fine Candy Company. It isn't Christmas at my house without their cashew crunch, which you can order online and you should right now.
Hog & Hominy is another Andy Ticer and Michael Hudman baby with plates and wood fired pizza made to be shared. The mushroom pizza is a personal favorite of mine and where else can you get crispy pig ears loaded with hot sauce?
Folk's Folly has been a staple of Memphis fine dining since 1977, and its origin story is almost as good as its prime steaks. Humphrey Folk, Jr. was a developer with zero restaurant experience, but he loved good food and wine so he converted a quaint little house into a restaurant. His friends were kind of jerks about the whole thing, so he added "Folly" to the name. Joke's on those guys! The meat is so good you can have it shipped to your house. 
The Grove Grill offers Southern fare from local farmers and local draft beers, as well as an extensive wine and bourbon list. Great place to grab lunch if you're shopping.
IT'S BACK! Ronnie Grisanti's has reopened and it is as good as it ever was. There has been a Grisanti family restaurant in Memphis for 110 years, serving authentic Italian pasta and gravy. Yep, they call it gravy. It's the real deal. Ronnie's has a superb bourbon and whiskey selection and their pizzas are fired in an Italforni oven. It's magic old school Memphis. You can't help but feel like part of the family. (No joke, there's a strong possibility that a family member will come visit with you.)
DO
So much to do in Memphis, so little time…
MUSEUMS
Do not visit Memphis without stopping by the National Civil Rights Museum at the Lorraine Motel. Even if you don't go inside (which you should block off a morning for), JUST GO. Pay your respects to Dr. King. 
The Stax Museum of American Soul Music in Soulsville is another can't-miss. Although the original Stax recording studio building was razed, the facade was rebuilt and thanks to generous patrons, the world's only museum purely dedicated to preserving and promoting the legacy of American soul music was created. It holds over 2,000 artifacts, including Isaac Hayes's glorious peacock and gold custom 1972 Cadillac Eldorado which was purchased for him by Stax as part of his negotiated contract. The museum opens in an actual modest country church, circa-1906, which was brought from the Mississippi Delta and reassembled inside. There's an exact replica of Studio A with instruments that were used by Stax recording artists.
Sun Studio is right up the road, and it's the true birthplace of rock 'n roll. And probably not what you're thinking, although yes, Elvis was discovered there. "Rocket 88" was recorded at Sun and that was the day that Ike Turner invented rock 'n roll. Because he did. Be prepared to wait for a 45 minute tour — the space is small and busloads of foreign tourists pack it to the walls — but know it's worth every minute when you reach the end and get to walk on hallowed ground inside the actual recording studio with U2's drum set and Elvis's microphone. It's still a very active recording studio so when the tours end at 6 p.m. the world's biggest artists sneak in and record overnight. 
The Blues Hall of Fame on Main Street celebrates over 400 inductees and includes artifacts like RL Burnside's guitar, Otis Spann's piano, Mavis Staples's Grammy gown and 10 individualized galleries.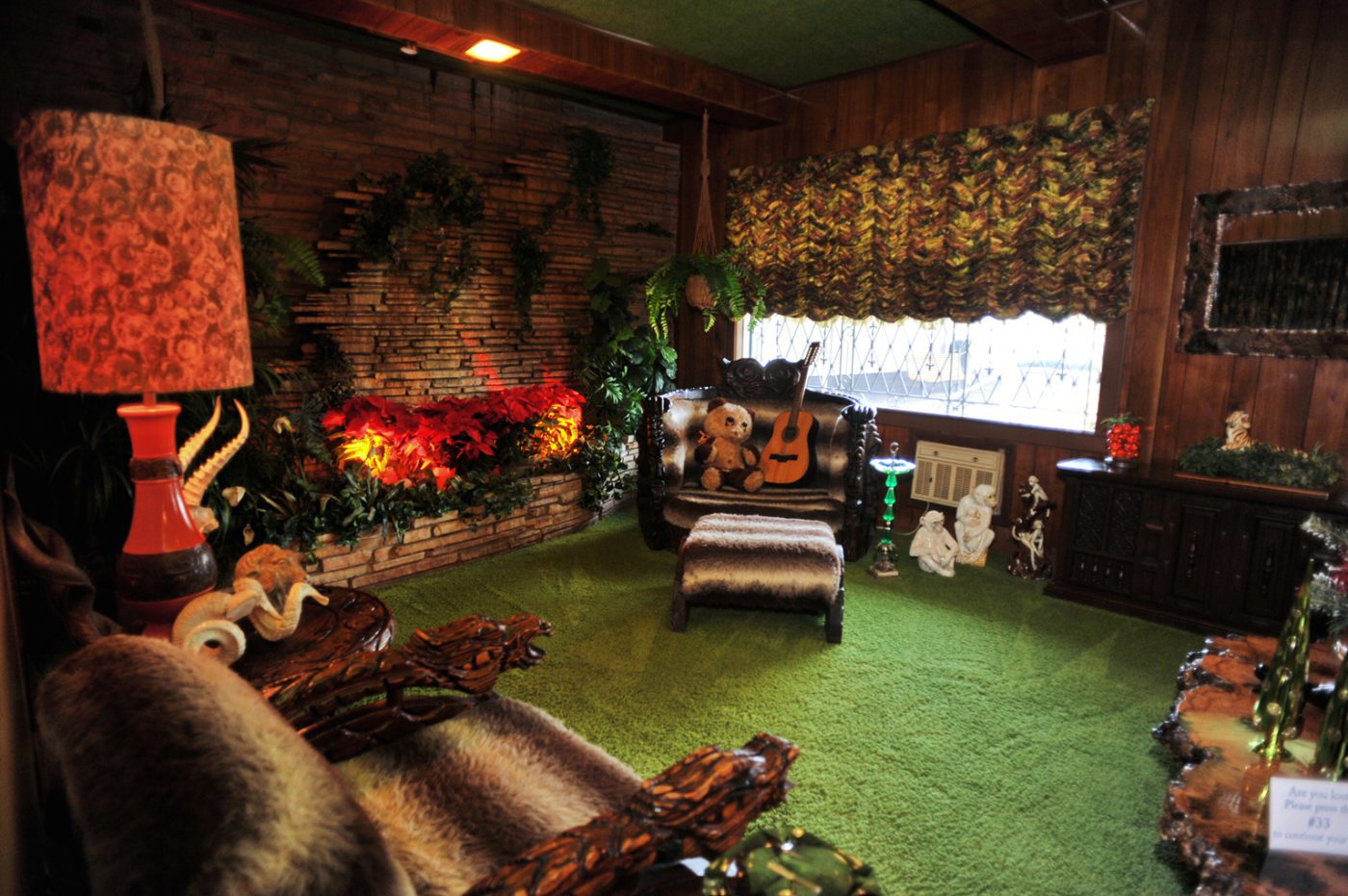 Graceland is in Memphis.
The Memphis Rock and Soul Museum is part of the Smithsonian Institution Affiliations Program and tells the complete Memphis music story. In case you have missed the memo that Memphis is the true Music City, and it's worth noting Memphis has been mentioned in over 1,000 songs, making it the most included city in recorded song lyric history. If you don't believe it, the museum challenges you to prove them wrong.
FAMILY FUN
The Memphis Zoo is a world class zoo and is home to North America's oldest African elephant, Ty, who just turned 55, and giant pandas Le Le and Ya Ya. It's open year round and has tons of special events and exhibits on a regular basis.
The Pink Palace Family of Museums feature a wide-ranging collection of historic, educational and technological attractions and is the perfect place to spend a day with the kids. The 36,500 square foot mansion was built in 1922 by Piggly Wiggly founder Clarence Saunders, and when he lost his fortune in the Stock Exchange in 1923, the company who acquired the uncompleted house gave it to the City of Memphis to use as a museum. $150,000 later, it was completed and opened in 1930. They have a CTI 3D theater, which they did not have in 1930, a planetarium, a nature center and a science center.
The Children's Museum of Memphis has interactive exhibits and educational programs for kids, and the 1909 Grand Carousel, a hand-carved Dentzel carousel (one of only four or five all-horse Dentzels remaining in the world) which was recently restored to its original beauty.
SPORTS
Memphis has game! The NBA's Memphis Grizzlies play at the FedEx Forum, the St. Louis Cardinals affiliated Memphis Redbirds call Autozone Park home, and so does the Memphis 901 FC, in soccer's USL league.