BLACK HISTORY MONTH 
OBAMA CENTER, CHICAGO
The Barack Obama Presidential Center is coming to Chicago's South Side
It was 1985. A gallon of gas cost $1.88, and Dire Straits was crooning "Money for Nothing." A smiley Barack Obama — then community organizer — slipped into Chicago. Even he couldn't have predicted that decades later, that the Barack Obama Presidential Center would be getting underway here.
The Presidential Center, which had some design shifts done to be more inclusive and respectful of its locale, is scheduled to open in 2021 in Jackson Park. But the South Side of Chicago, which is in need of this economic engine, has been readying itself for this moment, from that almost-summer's day in June of 1985, when Barack Obama moved in.
Somehow his presidency, now dearly missed by so many, is one of the most iconic ever. The first African-American President to rule this crazy experiment of democracy, filled with immigrants and natives all trying to make their American Dream happen. Oh the history, to be so beautifully merged right here at the Center. Chicago — the balance between the intellectual east and lifestyle-proud west, holding the real country's values evenly in the sort-of-middle.
Chicago, with great dining, fine hotels, beautiful lake scenery, is suddenly more than just another big American city. It's not even Windy anymore, or Friendly — it's surpassed those silly modifiers. It's where the President met Michelle. It was their home. It is where he started his grassroots campaign and eventually rose to US Senator from Illinois, and consequently became the Democratic party's representation. It is here in the South Side where Barack Obama evolved into our graceful and gentlemanly lionheart.
But, lest we forget, the South Side is also home to the first black presidential candidate to win a primary, Jesse Jackson, and the first female black U.S. Senator, Carol Moseley Braun. So Obama's crown was bought and paid for, he just had to finally wear it — as James Baldwin told Maya Angelou so perfectly.
For Obama, it was always about what inclusive history could be, people of a rainbow nation. Even the architectural firm chosen to be the lead of the Obama Center, the husband-and-wife duo, Tod Williams and Billie Tsien, from TWBTA, said, "This has been a transformative presidency, and we will work to make a Center that embodies and expands the Obamas' vision."
That vision, designed to sprawl across 20 of Jackson Park's 500 acres, would include a museum with an auditorium, forum offering programming and a library (that's a 5,000-square-foot public library in partnership with the city) all wrapped around a public plaza; and an athletic center. No word if the President will be showing off his hoop skills there.
The Obama Foundation website says the building of this Center "represents a historic opportunity for Chicago" to build a world-class museum and public gathering space.
"Not only will the Center generate billions of dollars of economic opportunity and help reconnect and revitalize Jackson Park," an Obama Foundation spokesperson says, "it will also serve as a reminder to young visitors—from around the city and from around the world—that their potential is limitless.
"We are confident that our plan for the Obama Presidential Center is consistent with Chicago's rich tradition of locating world-class museums in its parks, and we look forward to developing a lasting cultural institution on the South Side."
Despite all of this, it's still unclear if this $500 million complex will be even built. Ground has yet to be broken due to a lawsuit filed by green space advocacy group Protect Our Parks. They want to halt construction of the Obama Center because the land reportedly lies above Lake Michigan, making it part of the public trust. And the feeling was the Center got too valuable land, for too little remuneration. (The Obama Foundation was going to pay the city of Chicago $10 for the land for 99 years.) Other opponents of the Center say the bird habitat will be disrupted and the Obamas will use the Center to raise money for the Democratic party. According to the Associated Press, the city of Chicago responded in November saying the "buildings would sit on land that wasn't subject to restrictive public-trust laws."
The AP went on to report: "Even if the judge concludes the land falls under the public trust doctrine, the filing argues, the complex qualifies for the exceptions because it will enhance the public value of the area, including by providing new educational and recreational opportunities."
City lawyers are now trying to get the lawsuit tossed.
If successful, we now have a few years to wait to see Barack and Michelle's vision become solid, once again, this time constructed in concrete, for everyone to experience. And so, it is a reminder that sometimes a neighborhood's destiny isn't finite.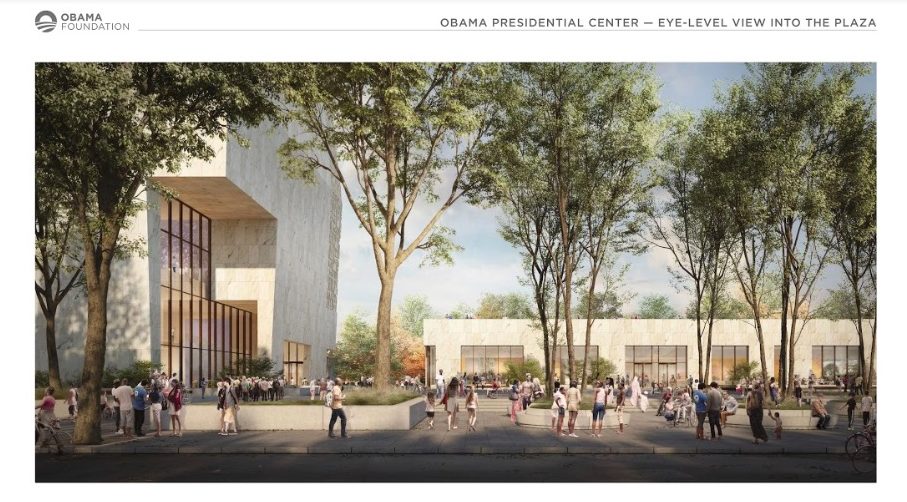 STAY
Soho House: The best spot to meet some interesting people. The rooms are gorgeous and the restaurant downstairs worth lounging in for hours. sohohousechicago.com
Chicago Athletic Association Hotel: Stay for the decor, the views and the Milk Room micro bar. chicagoathletichotel.com
EAT
Marisol at the MCA: It's not only interesting inside that museum, but also understated in the best way. marisolchicago.com